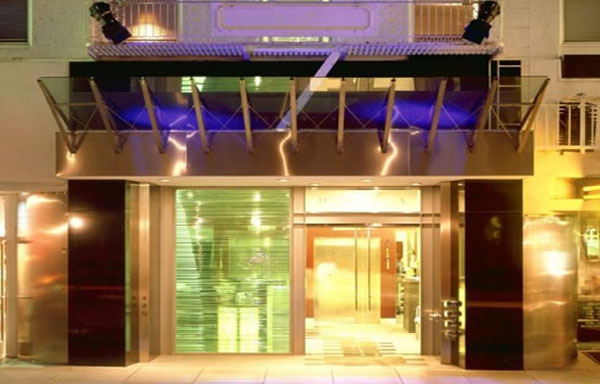 Hotels
Hotel Diva is sleek and sexy, exuding a cutting edge-style all its own. Upon arriving, stroll past the Diva sidewalk of fame featuring signatures of past celebrity guests and then walk through a fluid glass-wall entry to a sophisticated lobby. Cobalt blue carpet and stainless steel sculpted headboards set the stage for your own Diva experience. With an excellent location near the shops and restaurants of Union Square, theatre and art galleries, guests can find everything right outside the door. Walk directly across the street to find two of the city's best performing arts theatres, the American Conservatory Theatre (ACT) and the Curran Theatre. Or just turn left to explore bustling Union Square, the heart of San Francisco!
The Diva has recently undergone a facelift with new bedding, lighting, and the designer "Suite Within Reach" with all furnishings from Design Within Reach. Immerse yourself a pool of cobalt carpeting sets the stage in each of the hotel's guestrooms. Envelop yourself with comfort and ease amidst sumptuous linens, beneath a sculptured steel headboard fashioned after a wave.
Designed by renowned Architect/Designer T. Olle Lundberg, CEO and Founder of San Francisco-based Lundberg Design, the Hotel Diva Meeting Room features a black and sepia color scheme and is outfitted with highly textured charcoal grey carpet tiles, a custom-designed golden onyx and steel under-lit buffet by Lundberg Design, Carre modular tables in rich cherry wood and brushed stainless steel, "cornflake" chairs upholstered in felted wool, artwork by Carol LaBarge and lighting by Artimide, EOS and Starship. Two of the walls have been sculpted in a dramatic wave pattern to add texture and drama to the room, while the onyx buffet is lit from below, casting a dramatic golden hue over the entire room. A large flat screen television and projection screen complete the room.