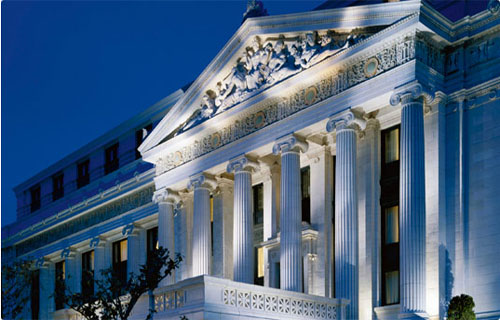 Hotels
Located in the heart of downtown, The Ritz-Carlton, San Francisco is one of the finest hotels to call Nob Hill home. Welcoming guests into a timeless escape of elegant luxury, this 1909 Neoclassical landmark has been transformed into a beautiful retreat of modern classic design. It is a gateway to iconic memories, enveloping guests in the sounds, flavors and imagery of San Francisco. A mini Golden Gate Bridge model offers sweets for the taking. And the signature restaurant, Parallel 37, is named after the geographic latitude that runs through the Bay Area. Beyond the hotel's doors, it's easy to explore the city's spirited atmosphere and diverse cultural experiences as the historic cable car stops right outside.
Discover elegant details within every corner of your spacious accommodations, stylishly appointed with everything you need for a relaxing and memorable stay in San Francisco. The spacious luxury suites are reflective of your need to spread out, to entertain, to be wholly comfortable within superior surroundings.
One of continually praised restaurants in the culinary-centric city of San Francisco is Parallel 37, named for the prevailing geographic latitude that runs through San Francisco and the Bay Area. Savor globally inspired California cuisine as envisioned by Chef Michael Rotondo, and crafted with hyper-seasonal ingredients found only in this geographic location. Hailing from legendary Charlie Trotter's in Chicago, Chef Rotondo has crafted a menu filled with interesting ingredients and unexpected components. The lively San Francisco bar offers guests a kitchen to cocktail mixology program that incorporates fresh ingredients from the local farmer's market to create house-made syrups, juices, salts and infusions for innovative cocktails. Popular sips include the Bar Fly with Templeton rye, Benedictine, poblano pepper, vanilla and lemon; and the Fort Orange with New Amsterdam gin, Tempus Fugit Crème de Menthe, lemon, orange blossom water and soda.
Casual fare can be found at The Lounge, where guests will enjoy exquisite San Francisco views plus a menu of seasonal cocktails with local spirits, and a selection of local beers.
Step into the ultimate in relaxation and reflection at Spa~De~Vie, where a world of comfort quickly replaces worldly concerns. Offering a full menu of services including massages, facials and body treatments, Spa~De~Vie endeavors to reconnect body, mind and soul. Learn more about this San Francisco hotel spa today.