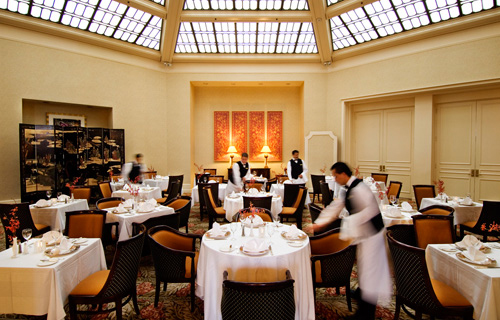 Hotels
As splendid now as when it opened to great fanfare in 1926, InterContinental Mark Hopkins San Francisco is one of the city's finest hotels. Located at the crossing of three cable car lines, the venerable landmark is minutes from Union Square, Chinatown and the Financial District. Fisherman's Wharf and the Golden Gate Bridge are short drives away.
The hotel's five luxury suites are reminiscent of a fine home or estate. Each suite is elaborately furnished in a unique style, filled with luxury appointments and original art representing the city's diverse and international cultural heritage.
All rooms face outwards boasting spectacular views combined with fine fabrics, rich woods, first class amenities and state-of-the-art technology. An electronic temperature, lighting and housekeeping communication system provides travelers with the utmost in personal comfort control.
RESTAURANTS & BARS
Nob Hill serves California cuisine for lunch, dinner and Sunday morning breakfast. The Top of the Mark is a must for cocktails, entertainment and an incomparable view.
Nob Hill Chef Clayton Van Hooijdonk reinterprets California cuisine in ways that can only be described as tantalizing. He scours Napa and Sonoma counties to find the freshest ingredients, creating seasonal masterpieces such as Oven-Roasted Prime Beef Tenderloin with Pistachio Crust, Mascarpone Polenta and Garlic Jus with Mint. Nob Hill's diverse wine list is equally appealing, featuring finds from Chile, Australia, New Zealand, South Africa, France, Italy, Germany and, of course, California.
Just when you think you've seen the best of San Francisco's sights, the Top of the Mark will thrill you all over again. The legendary sky bar lays the city at your feet with near-360 degree vistas that take in the Golden Gate Bridge, Fisherman's Wharf and Alcatraz Island. Almost as famous as the view is the 100 Martinis menu, which features popular concoctions such as the Lychee Martini, the Lemon Drop and the 24 Karrot.
Other Amenities
Our 24-hour fitness center is equipped with Precor ellipticals, stationary bikes, treadmills and Paramount weight machines, many with flat-screen TVs and DVD players. A complete 24-hour fitness room located on the California Street Level is available to all guests. Other recreational facilities available offsite.