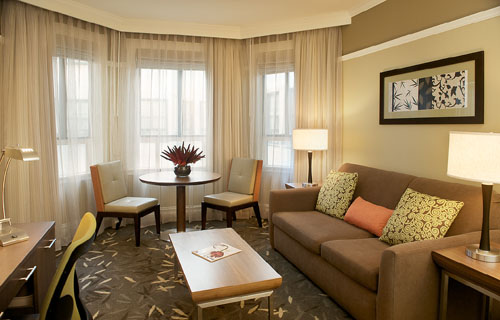 Hotels
The Hotel Abri is the epitome of urban style in the heart of San Francisco's Union Square. The Abri, formerly known as the Monticello Hotel or the Monticello Inn, features 91 newly remodeled rooms adorned with modern décor, convenient amenities, and exciting specials that will leave you asking for more. What better reason to select Abri as the San Francisco Hotel is ideal for both the leisure and business traveler, this Union Square Hotel is a modern day urban refuge.
Accommodations
All 91 of the urban-inspired, premium guest rooms, including 28 suites, are appropriately outfitted with all of the trappings that big-city living demands - high-end, modern conveniences, innovative technologies and sleek contemporary décor and furnishings - all perfectly fitted for its downtown San Francisco beat. Unique in structure and style, each of the redesigned eclectic guest rooms embrace soothing earth tones which are featured in modern furniture pieces, creating a stylish, yet comfortably productive, living space.
Amenities
This urban retreat is the epitome of cool confidence. Boasting high-end, thoughtful amenities designed to appeal to both the professional road warrior and urban adventurer alike. All guests of Hotel Abri are of course treated to such amenities as a fully wired, complimentary business center, a stylishly radiant fireplace lounge, and personal concierge services - because in a city like San Francisco, our guests' whims are our pleasure - no matter what time it is.
Meetings & Events
Quietly secluded just off the stylish lobby is Hotel Abri's complimentary business center and City Room - a fully wired meeting and conference room which makes doing business in San Francisco a cool breeze. Ideal for groups up to sixteen, the City Room is private but brings the outside in with oversized frosted sliding glass doors and windows. In addition to top-of-the-line audio/visual equipment, conference call capabilities and complimentary wireless Internet, the City Room features a corner lounge inviting breakaway sessions. Meeting professionals are available to help groups plan and customize as well as provide food and beverage services.