By Jarone Ashkenazi Oct. 16th, 2019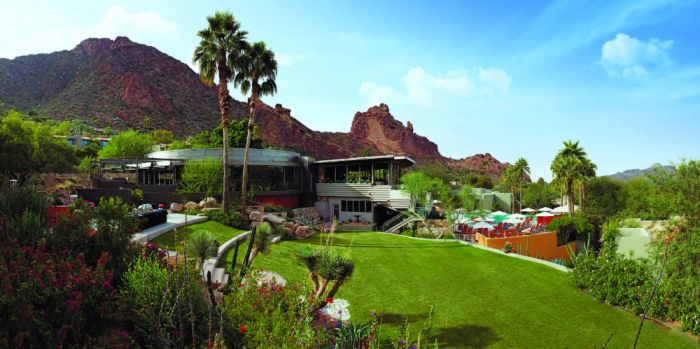 Credit: Sanctuary On Camelback Mountain Resort & Spa
On the north slope of Camelback Mountain overlooking Paradise Valley, Sanctuary On Camelback Mountain Resort & Spa issituated on 53 acres of lush desert. Featuring 109 casitas and eight private villas, the luxury boutique resort and spa blends into its mountain setting emanating serenity, relaxation and tranquility. Along with the intimate Sanctuary Spa, three pools andfour Deco-Turf championship tennis courts, the resort features an al-fresco dining area, cocktail bar and fine-dining restaurant.
New to the resort in 2019, sees Villa Ventana receiving a facelift including an expansive suspended patio, along with unique programs tailored to every guest at the resort. The active guests can book Sanctuary's Hike-Tech package and document their adventure on their own GoPro Hero Session or bookStand Up Paddle Board Yoga in the sparkling infinity pool. Two new yoga classes at the fitness facility are: Aerial Yoga which combines yoga with a soft fabric trapeze suspended at hip height, and Yoga Nidra, a relaxing yoga which incorporates sleep-guided meditation.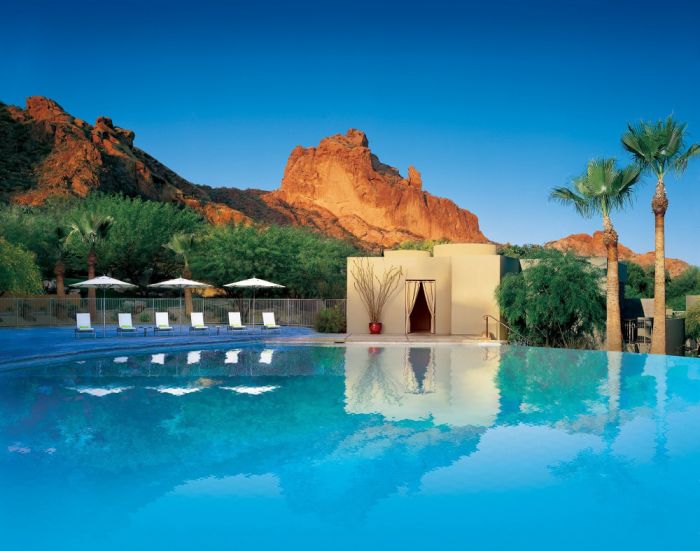 Credit: Sanctuary On Camelback Mountain Resort & Spa
Whether in one of the Camelback or Mountain casitas, suites or villas, guests enjoy the most modern of pleasures and conveniences. From the resort's casitas which feature a separate seating area with a table, to its suites which include a wraparound, a dining area and wood-burning fireplace, the accommodations embrace the desert landscape. Surrounding thestunning infinity-edge pool – which is Phoenix/Scottsdale's largest infinity-edge pool –as well as Sanctuary Spa, the Spa Casitas range from 1,200-1,500 square feet inclusive of multi-level living areas, walk-in closets, luxurious al fresco soaking tubs and canopied daybeds, guests will enjoy a private oasis in the desert. In their eight private villas,available at nightly (two night minimum), weekly and monthly rates, each is unique in style and present the ultimate retreat from the modern Villa del Sol to the 5,000 square foot Villa Luna with stunning amenities and floor-to-ceiling windows.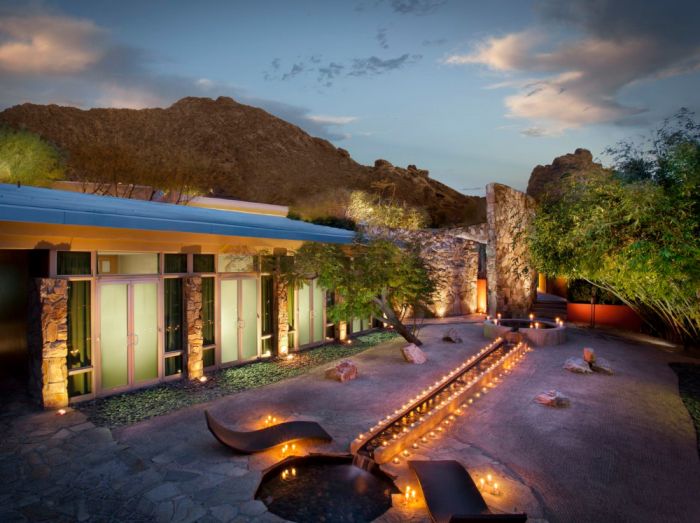 Credit: Sanctuary On Camelback Mountain Resort & Spa
Asian-inspired treatments in twelve indoor and outdoor treatment rooms are offered at Sanctuary Spa creating a balance of relaxation and tranquility. From their treatment rooms to its outdoor meditation garden, reflecting pond, Watsu pool and new Women's Quiet Room, the spa inspires tranquility and rejuvenation. It offers Sensei therapists, who take a multi-dimensional approach to body work and must pass rigorous certification, as well as Sanctum, the spa's private, stone-walled outdoor treatment room. Sanctuary Spa also offers classes in its state-of-the-art fitness center and movement studio, a salon and 25-yard lap pool as well as a three- or four-day Satori Wellness Retreat.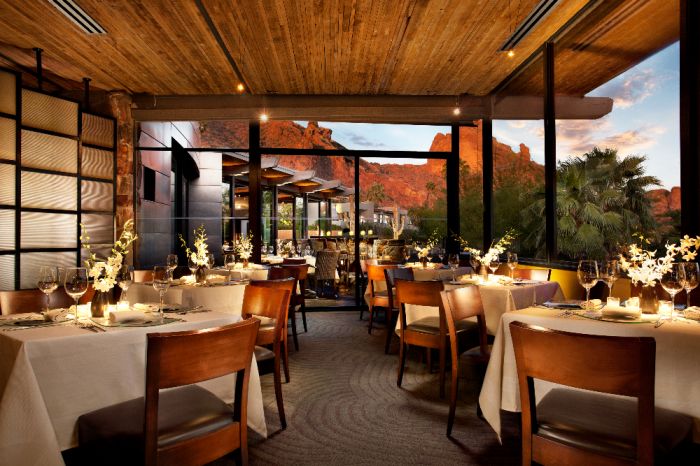 Credit: Sanctuary On Camelback Mountain Resort & Spa
Due to its location, the resort is also a favorite for nature lovers who want to take advantage of the abundant playground just outside the resort. For those who want to get out and about, they can enjoy challenginghiking and climbing spots, and for those who want to take in nature at a slower pace, can visit resort's Hummingbird Sanctuary or certified Monarch Butterfly Garden. Located within the resort,four Deco-Turf championship tennis courts give guests the opportunity to use the latest Prince demo rackets and daily tennis clinics.
After a long day taking advantage of the resort's surroundings, dining options aim to delight every palate with exquisite flavors and views. The farm-fresh focused menu at elements changes seasonally and always incorporates local, organic produce and sustainable fare. As one of the premier luxury dining options in Scottsdale, its pristine dining room presents a sophisticated setting while its outdoor patio which overlooks the infinity pool and mountain beyond is mesmerizing. The contemporary jade bar invites guests for libations and light bites nightly as well as hostingevents and live entertainment offered on select days of the week. From live music on its shaded patio to its authentic backlit jade onyx drink rail, jade bar presents hand-crafted cocktails using premium spirits with farm-fresh local fruits, herbs, vegetables and juices.
Located just eight miles from the Phoenix/Sky Harbor International Airport and just over six miles from the Scottsdale Airport, transportation can be arranged through the resort's concierge. Book your stay at the resort and take advantage of one of their special packages like theSanctuary Elevated or Thrill Seekers package, or its Mi Casa, Mi Chef package to plan a customized dining experience.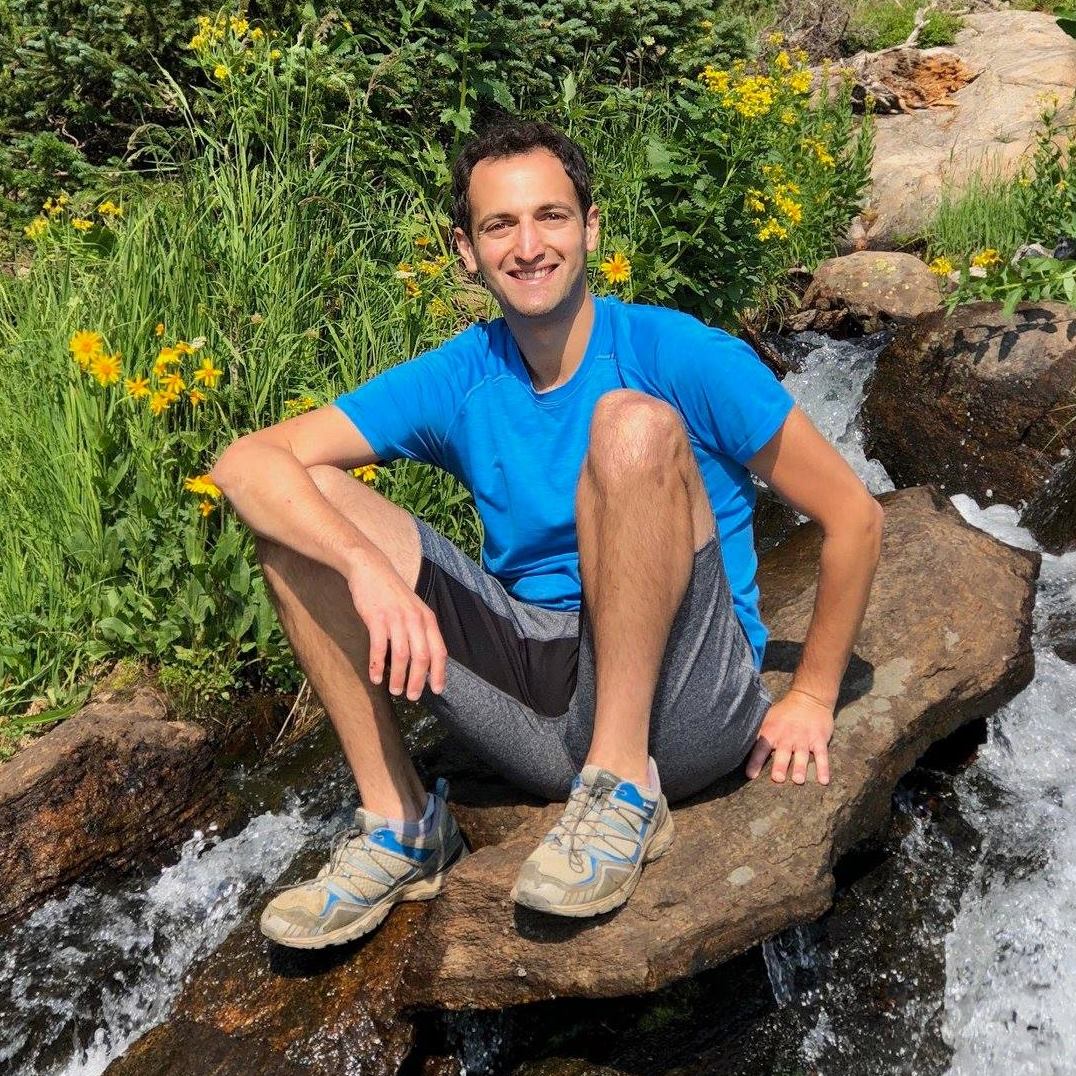 Jarone Ashkenazi
Jarone Ashkenazi is a seasoned writer who covers: travel, luxury items and other lifestyle topics. View more work at www.jaroneashkenazi.com. Connect with him on Twitter at @JaroneAsh ...(Read More)