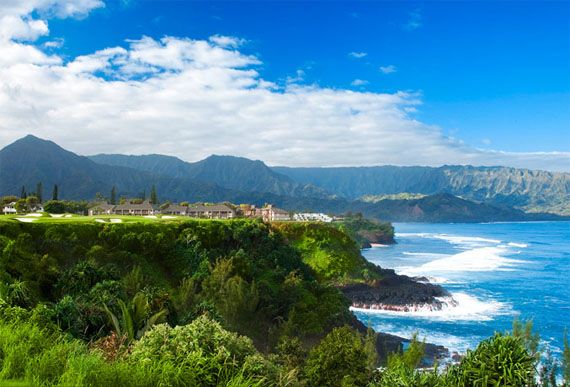 Photo Courtesy of St. Regis Princeville
Of the Hawaiian islands, it is hard to beat the lush scenery and organic beauty of Kauai. And no resort puts you in a better position to admire it than the
St. Regis
Princeville Resort.
Long known as the standard for luxurious resort accommodations and amenities, the St. Regis comes to Kauai with all the trappings of exclusive travel the brand has to offer.


The St. Regis Princeville Resort is the first St. Regis to land in Hawaii and boasts 252 guest rooms and 51 lavish suites, perfect for traveling with friends, family or just a special loved one. In addition, there is the unforgettable Halele'a Spa, the infinity pool hugging the ocean, Princeville's two premier 18-hole golf courses and more incredible amenities.

Upon arrival to your room, you will be greeted with the warm and calming Hawaiian elements: earth-toned color palettes, custom furnishings, amazing views of the Kauai landscape surrounding you and the fresh island breeze. Each room features an outdoor terrace perfect for enjoying your morning coffee or a breath of warm air before hitting the sheets.


Suites boast that special level of St. Regis luxury and offer some of the most stunning views available on the island. With marble baths, dressing tables, enormous windows, sitting and dining areas, all topped off with St. Regis's signature Butler Service, you will find it a challenge to leave the room and venture outside.

But once you do, you will not be disappointed. The resort includes an athletic center featuring the latest in workout equipment and personal training techniques, the prestigious Makai Golf Club at The St. Regis Princeville Resort, the unique 5,000-square-foot infinity swimming pool just steps from the beach, retail boutiques and the Halele'a Spa.


On any vacation to a St. Regis property, it would be a crime to not visit the spa, and the St. Regis Princeville's Halele'a Spa is no exception. The list of spa treatments is extensive, with traditional massages like the Hawaiian Lomi Lomi (always a good choice) and more exotic treatments like the Taro Butter Pohaku Massage, using basalt stones in combination with Taro Butter for deep muscle tissue relaxation. The spa also
offers facial and salon treatments ideal for a day of rejuvination and pampering.


But at the end of the day, the best way to indulge during your time at the St. Regis Princeville resort is a trip to one of the property's restaurants. Some amazing choices include the Kauai Grill (of Jean-Georges Vongerichten fame), the Makana Terrace for stunning views of the Hanalei Bay, the Nalu Kai Grill and Bar for light Mediterranean influenced cuisine, or the Napali Café for an easygoing meal.



Whether you have visited the islands before or are looking for your first adventure, you will not be able to surpass the luxury of the St. Regis Princeville Resort. It will quickly become your destination of choice
for Hawaii–and maybe even vacations all together.

St. Regis Princeville Resort
5520 Ka Haku Road
Princeville Kaua´i, Hawaii 96722
808.826.9644
www.stregisprinceville.com