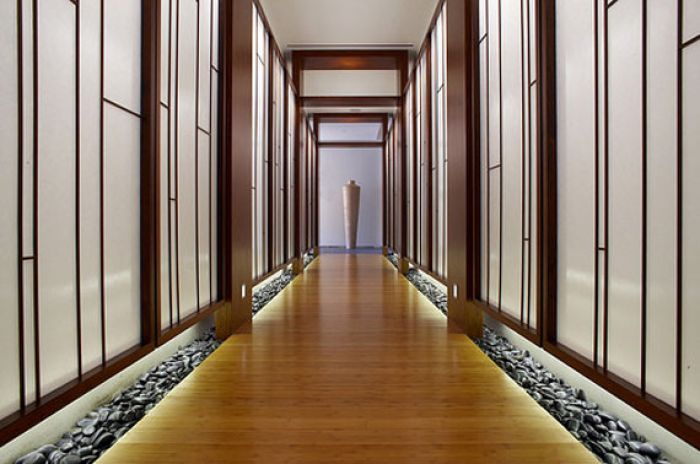 Photo Credit: Chad Chisholm & Westin Riverfront
Daron Spaulding didn't begin his career wanting to be a
massage therapist
; he was actually dating one. After experiencing the healing effects of massage therapy and the delight of helping people through the craft, he was hooked.
Attending the Utah College of Massage Therapy, Arizona Campus, Daron knew that what he was delving into was right for him half way into his certification and he hasn't looked back since. Originally from Florida, Spaulding joined the team at Spa Anjali at Westin Riverfront in Beaver Creek. His career climb is best described as meteoric. Within three months, he became the Lead Therapist; three years later he is now the Education Coordinator, organizing vendors and training, interviewing and adding to the elite team of therapists, and maintaining the high standards of Spa Anjali.

Specializing in sports muscle therapy and triggerpoint massage, he is now diving in to the relaxation and energetics side of the art. Developing the "Himalayan Journey" section of the three journeys offered at Spa Anjali, Spaulding is learning and expounding upon the concept which incorporates specialties from the Alpine: European spa trends; Rocky Mountain: local products and Native American inspired treatments; and his current focus Himalayan: spa adaptations of the Ayurveda treatments.


Ayurveda is one of the oldest systems of medicine and with Spaulding's interest and guidance; Spa Anjali incorporates the synergistic approach to the well-balanced healing and enriched lifestyle concept. "I've observed patrons are now more experienced with body work," Spaulding remarked when asked about trends within his field.



"Clients are now more in tune with their bodies. I think the recent increase and interest in yoga has a lot to do with patrons seeking a scene of balance both physically and mentally."

In the female-dominated practice of massage therapy, Daron is also seeing more men seeking spa services. "Whereas spas used to be more inclined to pampering, we're now focusing more on wellness and taking care of yourself." From athletes to homemakers, the well-tuned talents of Daron lend well to the holistic lifestyle.


With Spa Anajli and Westin Riverfront developing the Wellness Center, incorporating yoga, massage, and fitness facilities, Spa Anjali could be breaking ground for the newest trend within the industry. The hand-picked therapists and team atmosphere are not going unnoticed. Condé Nast naming Spa Anjali the #2 Resort Spa in the United States.

Utilizing the 23,000-square-foot facility, 14 unique treatment rooms, and maintaining Silver LEED status through Green incentive programs, Spa Ajali fosters extreme success and achievement on the banks of the Eagle River. With talented individuals such as Daron Spaulding, the hospitality industry anticipates even more to come from this spectacular mountain spa. Visit SpaaAnjali.com to make reservations at this esteemed spa in the Vail Valley.

Via Examiner.com