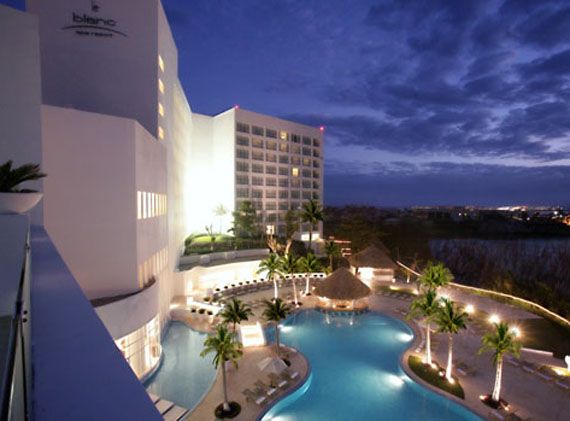 Photo Courtesy of Le Blanc Spa Resort
Hola! In
Mexico
you will always be greeted with a warm smile and friendly face; add to that the convenience and value of flying to Cancun in the heart of the Caribbean and you will find it all - a perfect destination for a convenient getaway.
Consider that the icing on the cake will be the sweetest when you choose Palace Hotels. Yes, every princess needs a palace and Palace Resorts sets the standard for all-inclusive, five-star accommodations each with their own character and style to suit the needs of anyone looking to indulge in a seashore vacation.


Aventura Spa Palace
Located on the Riveria de Maya coast, this resort offers a tropical "seashore experience." An "adults only resort," the property features a rugged natural rock and coral formation beach landscape enhanced by a variety of beautiful thematic gardens, waterfalls and tropical foliage filled with colorful, singing birds. Each suite has its own balcony with hammock and a garden or ocean view.


The all-inclusive features include top-shelf drinks and liquor dispenser cabinet, 24-hour room service, unlimited phone calls with free calls to the U.S., sensational entertainment, non-motorized water sports (yeah, tropical paradise not a haven for loud jet skis), internet service and taxes and gratuities.

The Spa boasts 72 treatment rooms with seven couples massage rooms including one Golden Spa Suite, featuring double Jacuzzi and treatment tables, private sauna and steam rooms, double showers and its own resting area.


Isla Mujeres Palace
If you ever wanted to run away to a deserted island, Isla Mujeres may just be the place for you. Once a sleepy fishing community, the island is just eight miles across the Bahia de Mujeres (Bay of Women) from Cancun. The "Island of Women" is only five miles long and half a mile wide at its widest point. There are few cars on the island, but there are plenty of activities. One life-changing experience on Isla Mujeres is the Dolphin Discovery water park where you can connect with dolphins, sea lions, sting rays and even manatees. These friendly, trained animals will astound you with their intelligence and desire to entertain and be touched.


Also, in the beautifully clear waters surrounding the island just off the coast of Cancun is the largest underwater museum in the world. What is most compelling about this project is that the artist, Jason deCaires Taylor, in collaboration with marine biologists and other experts, has created sculptures which are designed to become artificial reefs and are constructed from special materials that promote marine life.



Because of this, the sculptures change in their appearance, as coral grows and marine life establishes itself. It is hoped that the underwater museum will lure tourists away from the area's natural coral reefs which have become damaged over the years.


The Sculptures
"Dream Collector," "Man on Fire" and "The Gardener of Hope" were installed first, Silent Evolution was completed in November 2010. All were submerged to a variety of different depths throughout the national park and can be visited either by snorkeling or scuba diving. Silent Evolution can also be seen from a boat on the surface where the 400 pieces form the silhouette of an eye.


Getting to Isla Mujeres is relatively easy. You fly into Cancun and then take ground transportation to the Isla Mujeres Ferry. The ferry takes you across the crystalline waters of the Bay of Mujeres to the island. During the day, the Ferry runs about every 30 minutes and takes about 20 minutes to cross the bay. When you arrive on Isla Mujeres you can rent a taxi to take you to your hotel or a tricycle operator to take your bags while you walk to your hotel depending on its location. The Palace at Isla is only 62 rooms, making for a smaller, more intimate wedding. A "buyout" of the hotel is possible. Remember that your all inclusive amenities may be utilized at any of the Palace Hotels in Cancun.


Le Blanc Spa Resort
Le Blanc is the premier Palace property and it offers the chic of Miami or L.A. with upscale design elements, and high cuisine at restaurants like Blancitalia. Here you can savor seasonal specialties, a la carte dining and a wonderful selection of wines from the cellar. Le Blanc, a five-star AAA hotel, is located in the heart of Cancun and is consistently ranked as the number one hotel in Cancun on TripAdvisor.com.

When you arrive at Le Blanc you will be greeted by butlers presenting tropical frozen drinks, cool scented towels and tropical flowers. The 24-hour Le Blanc Butler on each floor caters to your every whim including turn down service that features a petit four tray and a selection of aromatherapies including your choice of scented pillows.


In fact, scented spaces throughout the hotel make for a unique experience. As part of the resort's all-inclusive rate, each guest staying three nights or more receives complimentary use of the legendary spa facilities and a free, 25-minute massage. For brides there is a special, oversized privacy room where you can experience head-to-toe spa treatments with a special food-service amenity not available elsewhere in the spa. So pick you Palace, princess, and enjoy the crystal clear water and the glistening beaches in sunny Mexico where you will be royally treated.