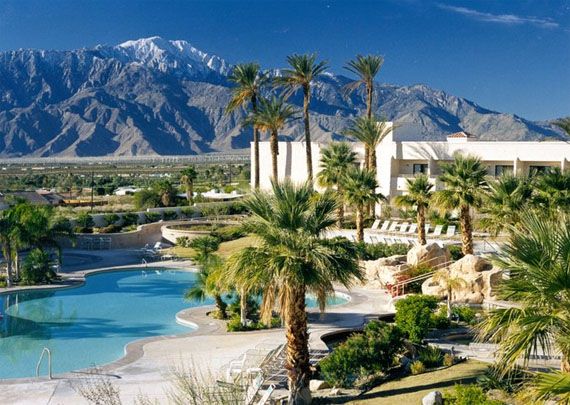 Many times,
Palm Springs
and other affluent Coachella Valley enclaves in the
Southern California
desert get all the respect when it comes to spa getaways. But just a 15 minute drive north of I-10 lies the town of Desert Hot Springs with stunning San Jacinto Mountain views in every direction.
The naturally occurring hot water that gives Desert Hot Springs its name is different than many hot springs found throughout the world. Not only is there a huge hot water aquifer under the city that's clear and mineral-rich with no sulfur odor, but a separate cold water aquifer provides award-winning drinking water from the tap. Gold and silver medals have been repeatedly given at the Berkeley Springs International Water Festival for supplying the best-tasting tap water in the world.

The hot water aquifer is fueled by San Bernardino mountain snow melts that flow deep beneath the city as an underground stream filling cracks in the earth's crust. Superheated rock along fault lines heats the water to a toasty 180°F which then boils back toward the surface filling vast underground caverns.

A man named Cabot Yerxa, Desert Hot Spring's founder, discovered this desert phenomenon in 1914 using little more than a pick and shovel when digging a well. He hit crystal clear 132 degree mineral water at 36 feet. Today, no fewer than 22 spas are clustered within 10 blocks of a newly restored downtown drawing on this same restorative aqua vitae.

Not only does each spa in Desert Hot Springs have its own distinct non corporate ambiance and personality, but many are genuinely themed on specific cultures. Family run and often spanning multiple generations, spa treatments at each are influenced by practices from across the globe. Here are 5 spas that allow you to experience a different country without leaving town:


El Morocco Inn and Spa
Fully fashioned on a Moroccan spa experience, 10 guestrooms cluster around a jacuzzi and sumptuous pools where you can lounge in curtain-draped thrones. Inside, every nook and cranny is decorated with imported Moroccan treasures like ornate lamps, area rugs, handcrafted end tables and a hookah in the common area. Rooms like the Sultan's Playpen with a round bed and Berber's Boudoir have their own outdoor sitting areas. This attention to detail and cultural authenticity provide a full sensory experience.

Fresh water, iced tea, a nightly happy hour, and breakfast served in The Kasbah Lounge are all included in the room rate. Once the sun sets, their nightly Happy Hour kicks in featuring signature Morocco-tinis, two fireplaces to snuggle in front of, and an assortment of other aperitifs like Humphrey Bogart (Moroccan mint tea and lemonade) and cream sherry. You're guaranteed not to leave without experiencing a traditional Moroccan hand-washing ceremony where water is splashed over ornate silver bowls.

Chances are that you'll have the property all to yourself much of the time since it's so small.

The pools (one at approx. 89 F and the other at 104 F) along with the sauna can be accessed 24 hours. One of the two pools is enclosed in a gazebo just in case a rain shower intervenes. Healthy spa refreshments include fresh figs and dates, along with French press coffee served with an assortment of tea & biscuits.

Spa highlights include Marrakesh Melting massages, the Royal Foot Treatment, and a sauna powered by infra-red lighting.

Yamazaki Onsen Miracle Hills Hot Springs Inn
It is here on Miracle Hill that Eastern Culture meets Western comforts at Desert Hot Springs' newest addition to the spa community. Featuring several outdoor hot spring fed soaking tubs, indoor Japanese baths, and a dry sauna.

Yamazaki Onsen offers a total of four different accommodations. There is one standard room that connects to a second double which can be reserved together to provide suite-style lodging. The double, as well as the other two rooms, all have fully equipped kitchens. Best of all, each suite's bathroom is outfitted with a deep Japanese soaking tub along with private access to the outdoor pools.

The outdoor terrace overlooking all of Desert Hot Springs and a dead center view of the San Jacinto Mountains make it the perfect place to solidify the cleansing and relaxation into a strengthened mind, body and spirit.


Swiss Health Resort
A retreat perched on a 1250 foot overlook, the Swiss Health Resort offers breathtaking mountain views, an oasis-like garden, and a murmuring waterfall spilling into a tranquil koi pond.

A classic Swiss style breakfast buffet greets you in the morning with organic breads, muesli, and fresh fruits which are typically followed by a one-hour guided walk on adjacent desert trails. Upon returning, little niches abound to sit and relax enjoying your Zen moment. Kick back for a BBQ under the covered gazebo and of course hang out in their three mineral pools, one of which is enclosed.

Using all three pools in a specific sequence gives you a "euro-massage" experience. First you soak in the body-temp pool to your heart's delight. Then move to the hotter pool and soak until you cross the comfort threshold. Next, jump into the "cooler" 90 degree pool which causes your pores and skin to contract expelling impurities giving your body a gentle internal massage.



All pools are continuous flow meaning that new water is constantly being pumped through eliminating the need for chlorine. Unlike spas that recirculate the same water over and over, the water here has a vibrancy
you can feel. Sit very still and tiny air bubbles will form on your skin.

And when it's time for napping on something other than a lounge chair, spacious studio apartments await with comfy beds, bright tiled floors, and full kitchens. Their Swiss Water Massage is a highlight of the spa treatments offered here suspending you in the pool of your choice as your muscles are kneaded into total relaxation.

Tuscan Springs
Whether Garden or Mountain View Jacuzzi, pick from 16 rooms filled with neo-Renaissance furnishings at this newly renovated and lavish Italian inspired Hotel & Spa. The ambiance indeed lives up to what you might find in a Tuscan villa. Each room invites you with French Doors opening up to a beautiful desert garden and sitting area. Decorative Italian ceramic tile floors with area rugs, ceiling fans, and armoires give the rooms an intimate and cushy touch.



But it's the entire unhurried indulgent experience that sets this spa apart. Rise in the morning, wrapping yourself in a plush terry robe, grab a French Press Starbucks Coffee along with a handful of fresh SoCal berries or melon and head over to one of their 3 mineral pools for a soak. Even though the mineral waters are extracted directly from the ground like any other Desert Hot Springs spa, all 3 pools are maintained at varying temperatures for personalized swimming and soaking comfort.

Spa treatments cover the usual range of full body massages, facials, body wraps but the stand out here is that your canine companion is welcome to accompany you on your quest for bliss.


Living Waters Spa and Condos
Americans are discovering what our European friends have known all along, that nude doesn't mean lewd. Living Water's two natural mineral water pools allow swimsuit optional sunbathing. And for those neophytes among us, staff are ready to help assuage any initial hang-ups. After all, what better souvenir than returning home with no tan lines?

This European style mini resort has nine rooms surrounding the pools along with six condo units a few steps away. The smaller pool is the size of a large Jacuzzi covered with an awing so au natural guests can enjoy the waters in comfort. Most always at a perfect 100 degrees, the large pool is under the sun-kissed desert sky and even in winter, the water temps never dip below the mid-80s. Beyond the pools, activity centers around an outdoor BBQ and a large lounge with fireplace that is particularly handy during the winter months.

All rooms feature custom mattresses, fine linens, European style décor, and free wifi. Most rooms surrounding the pools have kitchens and match the spa concept of no phones or TVs. The condos are two bedroom units complete with living rooms wired with flat screen TVs and DVD players. Fully equipped kitchens come with granite or tile kitchen counter tops.

The couples' massages are their specialty here along with a spectacular sauna lined with vintage heart redwood powered by a dry heating element imported from Finland.

This post originally appeared at CityRoom.com.