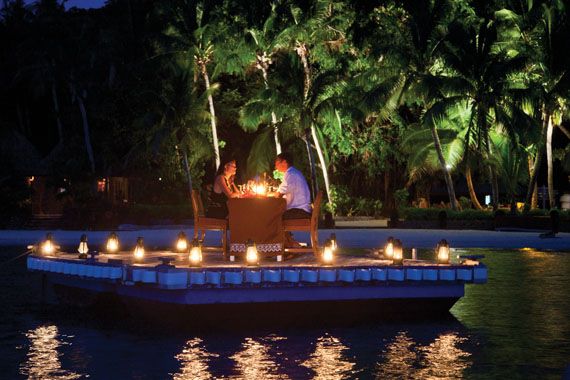 Cast away on a desert island, the story of a young and doe-eyed Brooke Shields had once captured the hearts of audiences worldwide. The incandescent waters of the Blue Lagoon brought a profound sense of wonder to the silverscreen, but the real essence of such beauty is one that travels well beyond the imagination.
What it you could spend a week in paradise, picnicking on your own private beach, exploring lush vegetation, and connecting with the one you love in a way you never thought possible? Turtle Island offers just that, and more.
Tucked discreetly along the South Pacific, Turtle Island ? the same Fijian Island where Blue Lagoon was filmed ? provides couples an opportunity to create their own modern day love story.
While its pristine beauty and welcoming hospitality surely add to its appeal, the resort's intimate nature is what best defines this lover's paradise. Accommodating only 14 couples at any given time, Turtle Island is designed to offer guests an unsurpassed level of seclusion. With 500 acres to explore, it's quite possible for couples to spend an entire day without any outside interaction, that is of course, if they can resist the charms of their dedicated Bure Mama.
Upon arrival, each couple is appointed their own personal concierge, who remains at their disposal for the duration of their stay. It is the Bure Mama's responsibility to ensure the satisfaction of her discerning guests, tending to each and every request.
The resort offers an array of both day and evening activities, each promising to kindle the romance and ignite new passion. Couples can enjoy a stroll through the lush organic gardens, embark on a private sailing excursion, share a romantic horseback ride along the shore, unwind with a relaxing "Lomi-Lomi" massage, or perhaps board a floating pontoon for a moonlit dinner down the Blue Lagoon.
Accommodations on the island consist of 14 private villas or "bures" ? traditional, authentic, eco-friendly, two-room cottages built by Fijian craftsmen. Each bure is outfitted with all the lavish amenities and creature comforts one would expect in paradise, including separate sleeping, dressing, and bathing areas, as well as a bar stocked with drinks and fresh tropical fruit, Bose CD players, and Pure Fiji body products.
Each beautifully appointed bure presents a unique character in regards to design and layout, offering bespoke elements of art throughout. Having accommodated its fair share of celebrities and notables, many of the bures have been named after past guests, including the likes of Brooke Sheilds (Brooke's Bure) and former Fiji President (Ratu Mara Bure).
For anyone who happens to be planning an exotic honeymoon, a fabulous destination wedding, or just happens to be in need of some one-on-one time with his or her better half, Turtle Island promises to deliver an unforgettable romantic getaway.