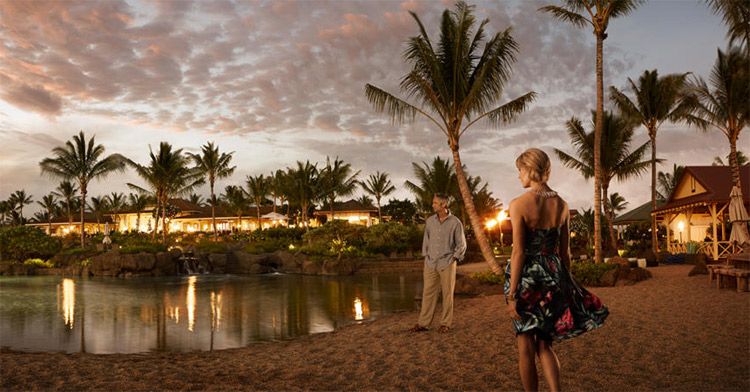 Photo Courtesy of Kukui'ula
"This is absolutely where I'm coming for my honeymoon," I murmured to myself as I explored the heart-achingly, beautiful grounds of this $100+ million, 1,010-acre private resort community overlooking the Kukui'la Bay on the South Shore of Kauai near Poipu Beach. Of course, I have absolutely no marriage plans in the near (or even far) future, but spending a honeymoon week here would certainly sweeten the deal.
Unlike many restricted properties, Kukui'ula is the antithesis of stuffy elegance. In fact, this community, which is being built on the site of a century-old sugar plantation, is the epitome of laid-back luxury. The best part is that if you'd like to stay in one of the property's castaway-chic plantation cottages (and trust me, you really do) you no longer have to buy one (prices begin at $2.2 million) although they will be more than happy to help you with your purchase if you're interested.
Kukui`ula has recently opened some cottages to visitors starting at $1,000 per night, which includes exclusive access to the Plantation House with its pools, restaurant, spa and championship golf course. While honeymooning here, my mythical new husband can spend the morning on the Tom Weiskopf-designed 18-hole private golf course, which was just listed in Robb Report's "Best of the Best" issue. Beautifully landscaped with colorful native flowers, coffee bushes, citrus groves, and even a small pineapple plantation, the buzz often reaches a feverish pitch when players reach the 14th tee as lucky golfers might spot a humpback-whale swimming by during the winter breeding season, (Between January and early April).
Spa Seduction
While hubby's playing, I'll be happily ensconced in, what I consider, one of the
best luxury spas
in the world. Once you enter the gorgeous 20,000-square-foot Spa at Kukui'ula, you'll instantly feel a sense of peace and well-being. A dramatic 20-foot waterfall, indoor-outdoor treatment rooms that open to a private, breezy, tropical garden and black lava-rock shower, comfy poolside lounge chairs for catching the rays in peace and quiet, (or plenty of shaded daybeds are also available) a yoga/dance studio, lap pool, a state-of-the-art-fitness center complete with stunning ocean views. They even have some sort of cutting-edge treadmill with infrared lights that supposedly melts off your fat!
The spa menu includes modern treatments such as the Vichy Shower and Hydrotherapy as well as traditional ones such as a healing LomiLomi massage. Many indigenous products, such as coconut, papaya, pineapple and coffee are specially blended in a variety of curative oils and exfoliants. Customized treatments all begin with a ritual food bath, the gracious equivalent of a spa amuse-bouche (Note to self: It would be very thoughtful to book a Golfer's Massage for my new mate).
But one of my favorite parts of the spa was going on the culinary treasure hunt. Chef Ben Takahashi goes nuts creating all sorts of healthy treats that are cleverly hidden in refrigerated drawers of antique dressers scattered throughout the spa. I took enough tasty homemade granola bars, dried fruit and nut mix and chocolate treats to last me for the week, while merrily sipping on mini- tropical smoothies and ginger/herb elixirs during my pursuit. He even created the prettiest little rectangular, herb-infused ice bars to take with you into the steam room for cooling off.
Kukui'ula "Made in Kauai" Cuisine
Time to head back to "our" charming cottage and change for dinner, when we can really appreciate the talents of Chef Ben and his farm-to-table cuisine, which he has dubbed "Red Earth Epicure." The menu changes weekly to best showcase the organic fruits, vegetables and herbs harvested from Kukui'ula's Upcountry Farm. Guests are encouraged to pick their own produce or cut a bouquet of flowers to brighten up their cottage.
Kukui'ula
Our dinner was healthy and straightforward, with clean, fresh flavors. The baby mesclun salad tasted like it had been picked to order. The grass-fed local beef was as tender as my well-massaged body and the house-made macadamia nut, caramel-swirled ice cream provided the perfect sweet ending.
Off-site Adventures
If you can tear yourself away from the heavenly surroundings there are some exhilarating, uniquely Kauai adventures that await you. A few standouts are:
Rocking ATV Waterfall Adventure
For a completely different lay of the land, get down and dirty while having some serious fun on an ATV tour at the Kipu Ranch Kipu, a 4,000-acre working cattle farm filled with Black Angus steer, wild pigs, pheasant, peacocks. The super fun tour guides will teach you how to drive the all-terrain vehicles; it is quite easy to learn, although it does require some upper body strength to steer this 500 pound beast.
At top speeds of about 25 mph, you'll spend the next four hours winding through forest trails, stopping for photo-ops, a picnic lunch and a refreshing dip in the Hule'ia River, where you can cool off by jumping in from the actual rope swing used in the
Indiana Jones
movie.
Tip:
Wear something old that you don't mind getting red dirt all over.
Flying High with Island Helicopter
While there are many helicopter companies, Island Helicopter has exclusive landing rights at the Manowaiopuna Falls, the famous waterfall featured in the movie
Jurassic Park
. We spent the rest of the hour zipping in and out of various valleys and mountain ranges, the ten mile long Waimea Canyon aka "the Grand Canyon of the Pacific," the spectacular NaPali shoreline and Wai'ale'ale—one of the wettest place on earth.
Tip:
If you tend to fall into the "I even get sick on roller-coasters" category be sure and pop a Dramamine beforehand.
Napali Coast Snorkel Sail
The rugged beauty of the Napali Coast can only be seen by air, sea or by hiking the 11-mile Kalalau Trail, which can be quite challenging. Kauai Sea Tours offers a five hour catamaran tour that includes a continental breakfast, buffet lunch, and Mai Tais. A snorkel stop (they supply all the gear and instruction) lets you frolic with the turtles and possibly a dolphin or two. Photography buffs will be in their element, shooting the towering sea cliffs, pristine waterfalls and wild coastline. The adorable young guys, who make up the crew, could not be more enthusiastic or helpful.
Tip:
If you have any Dramamine left over from the helicopter ride, it wouldn't hurt.
Luau Kalamaku's
No visit to Kauai would be complete without going to at least one Luau. Luau Kalamaku's is held in a huge, renovated carriage house at the historic Kilohana Plantation. After "pigging out" on the kalua pig (which is a huge smoked porker cooked underground) and other Hawaiian delicacies you'll be treated to a surprisingly sophisticated theatrical show including talented hula dancers, exquisite singing and heart- pounding fire-dancers that could light up a Vegas stage.
You know, I've been thinking it over and I have come up with a much better plan. I think it would be a lot more fun to forgo the husband and instead I'll return to Kukui`ula for a fabulous girlfriend getaway. For more information, visit
Kukuiula.com
.