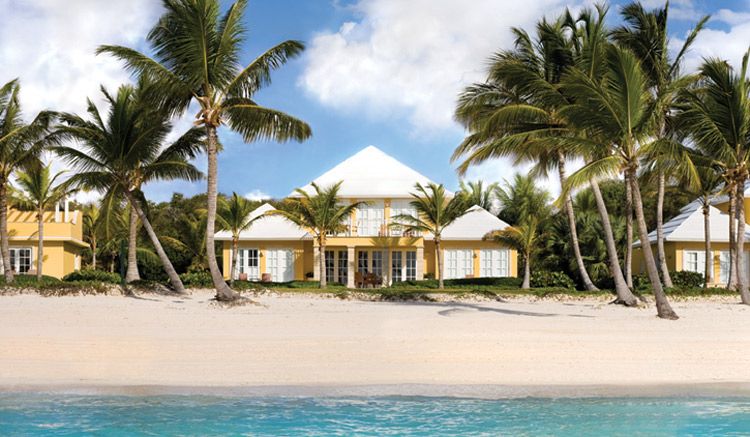 Photo Credit: Cynthia Dial/Tortuga Bay
You've heard there's one chance to make a first impression and there's no where better to illustrate this truism than PUNTACANA Resort & Club's
Tortuga Bay
boutique hotel in the Dominican Republic.
First Impression, Last Impression
Here's my first impression. Arrival at the airport is the old fashioned way—you disembark the plane by descending stairs onto the tarmac. Upon landing, it is warm (polite terminology for hot) and the line of passengers to get through immigration/passport control is lengthy, spilling onto the tarmac. As one of the last to disembark, I dread the impending wait when I notice an attractive young woman at the base of the stairs holding a sign with my name.
Thus my introduction to Tortuga Bay's "VIP Whisking Service" begins...whereafter I am swept to the front of the line, through passport control, baggage claim and into a private car where I'm served an icy drink for the five-minute ride to the resort.
Bottom line:
Within 20 minutes after rising from my airline seat, I am checking into my hotel home for the next several days. Is this service because I'm a journalist? No. It is because I am a guest of Tortuga Bay.
Luxury Loaded
Luxe perks are not unusual for this resort. Tortuga Bay, PUNTACANA's luxury boutique hotel, recently received the coveted AAA Five Star Diamond Award (second year running), making it the Dominican Republic's only hotel and one of only four in the Caribbean to tout this distinction.
Here's why:
Three miles of private, white-sugar-granulated sand, called the Coconut Coast.
Crooner Julio Iglesias and fashion designer Oscar de la Renta are resort partners.
Tortuga Bay villas are designed by Oscar de la Renta, as are La Cana Golf Club and Bamboo (one of the PUNTACANA's eight eateries).
Tip: Should you go to Playa Blanca restaurant, which I advise for its beachside location and open-air atmosphere, order the Spicy Goat Stew, the chef's recommendation (now mine as well).
Cynthia Dial
The upscale Oscar de la Renta boutique recently opened on property.
A stay in the exclusive pale yellow-and-white villas equates to personal use of a golf cart (your transportation throughout the 105-acre resort) and your own private cell phone connecting you 24/7 to the villa manager, whose job is to ensure your every request is met and your stay is luxury loaded.
Tortuga Bay's Six Senses Spa represents The Americas' only location—its master therapists are trained in Asian techniques.
Tip: The Dominican Republic is known for its coffee and coffee is known for its cellulite-fighting properties, so make an appointment to luxuriate in the spa's coffee-based body treatment.
Punta Cana International Airport is the world's first privately built, owned and operated airport. Direct flights connect the area with such international cities as New York, Paris, London, Moscow and Sao Paolo.
Luxury Links, Too
Cynthia Dial
I was there to play golf, 45 holes of golf. It's been said that the idea behind the design of Tom Fazio's 18-hole Corales Golf Course was to make "every view a postcard." Picture-perfect it is, including six ocean-front holes, the last three known as
El Codo del Diablo
, Devil's Elbow, because they bend toward the sea. And from personal experience I consider its name perfection as I find it almost necessary to make a pact with the devil to play well this trio of holes.
Cynthia Dial
Then there's the 18-hole La Cana Golf Course, a PB Dye designed course. Top accolades come from
Golf Magazine
, which compared La Cana to Pebble Beach, declaring it the "number one course in the Caribbean." And new on the scene is the nine-hole Hacienda Course, another PB Dye creation.
Celeb Magnet
Speaking of the noted golf architect, PB Dye is at breakfast in Bamboo on my first morning of golf, which I'm told is not unusual. His home is nearby and we chat over coffee about golf and his renowned golf-course-designing father Pete Dye. But this sighting is almost considered the norm, as it's not uncommon to rub elbows with Oscar de la Renta and Julio Iglesias, as well as the Clintons who frequently celebrate the Christmas holidays at PUNTACANA.
Much More
Is there more than golf, you might ask? The resort's marina is the focus of a myriad of water activities. One of our afternoons is spent on a catamaran sailing along the pristine coast, where we anchor near sandbars, spending time on the sea-surrounded white banks of sand, all the while drinking champagne with passengers of other yacht-anchored vessels.
Then there's the private, eco-chic 1,500-acre ecological reserve. Like a back-in-the-day swimming hole, it's after a 10-minute trek into the jungle that I'm rewarded with a lush vegetation-surrounded pond, complete with a wooden dock and ladder extending into the water.
End Product: Exclusivity
Cynthia Dial

Tortuga Bay is the complete package—haute couture, 45 holes of golf, world-renowned spa and celebrity clientele—all wrapped in luxury. And all live up to "my first impression."
Visit
Puntacana.com
to learn more.