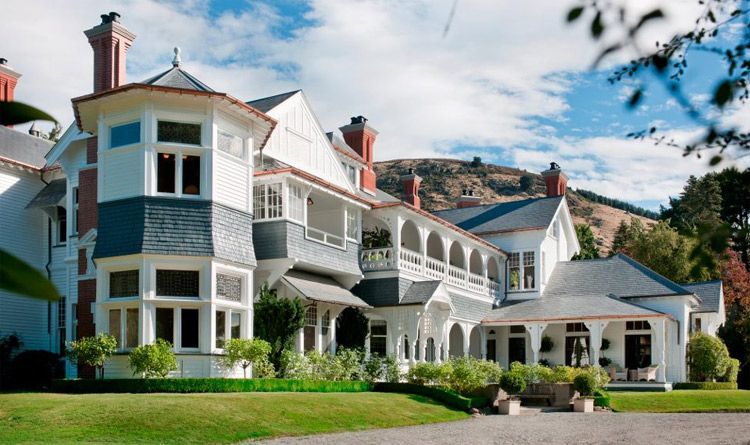 Photo Courtesy of The Otahuna Lodge
While many travelers visit New Zealand for the breathtaking scenery and adrenaline-pumping adventure sports, this idyllic island nation also has a dynamic and delicious food scene that's taken farm-to-table cuisine to the next level. Visitors will find fabulous foodie scenes not only in the cosmopolitan restaurants of cities like Auckland, Wellington and Christchurch, but also in small, out-of-the-way places where the food on the plate was grown on the land just out back behind the kitchen door.
One such place is Otahuna Lodge, a Relais & Chateaux property about 30 minutes from Christchurch on the South Island. It inhabits a historic home that was once the largest private residence in New Zealand and has been gorgeously restored. It now welcomes guests with the same genteel sophistication that surely shone here back in 1895 when it was originally built.
Though just a short distance from Christchurch, Otahuna lies in a secluded valley amidst 30 lushly landscaped acres. The name Otahuna is a Maori term that roughly translates to "little hills among hills," in a clear reference the rolling landscape that flattens to the Canterbury Plains in one direction and rises to the Southern Alps in the other.
The Lodge
The main building dates back well over a century and was for many decades the home of one of New Zealand's most well-to-do families. The 41-room house was built in the Queen Anne style with signature white siding, sharp gables and expansive verandahs for taking in the views. The current owners, Miles Renfro and Hall Cannon, spent years refurbishing the house and restoring many of its original features including burnished kauri wood paneling, period-authentic brass fixtures, and one-of-a-kind glazed tiles in the fireplaces. Their efforts earned them reviews in
Architectural Digest
among many other publications.
These days, the house contains seven sumptuous suites, including two master suites. Each contains original architectural features such as elaborate fireplaces and stained-glass windows, while incorporating luxurious amenities even the most discerning travelers should appreciate, including enormous bathroom suites with deep soaking tubs, separate rain showers and Penhaligon's of London toiletries.
The Rhodes Suite is actually a set of four connected rooms and once comprised the master bedroom, while the Verandah Suite has an enormous private balcony for relaxing and taking in the fresh air. For character, the Polo Suite takes the prize with polo mallets on the wall, houndstooth-patterned fabrics and even a pair of chukkas in the corner. And the upstairs Garrett Suite is cozy and romantic with a wooden ceiling that takes its shape from the house's eaves.
With plenty of gourmet snacks and help-yourself beverages available out on the second-floor landing, and the allure of a crackling fireplace, reading in a cushy armchair in the snug library, or just finding a sunny corner to take a nap, it's difficult to leave the Lodge, but there are plenty more features of the property to enjoy.
The Gardens
While the Lodge itself is a masterpiece, it is the gardens where Otahuna truly blooms. The original owner, Sir Heaton Rhodes, was an avid horticulturalist, and among the many restoration projects undertaken by Renfro and Cannon, was the restoration of the various gardens surrounding the homestead. This was Renfro's particular domain, and guests are treated to walking tours of the property from time to time as he outlines with encyclopedic knowledge the flora and fauna that make this such a distinctive spot.
The Technicolor-yellow daffodil fields across the great lawn and manmade lake (two words: garden party!) in front of the house is a truly breathtaking sight, while down a path of towering trees lies the distinctive Dutch Garden with a formal layout and exotic trees from every corner of the globe. For quiet strolls or a lazy afternoon alongside small ponds, the Woodlands garden is the place to come, while gourmands will be fascinated by the walled-in potager garden and hot house that supplies the kitchens.
Activities
Apart from exploring the surrounding grounds, guests have no end of activities to keep them occupied. For winding down, a quiet afternoon by the pool might be on order, but guests can also visit the award-winning wineries of Waipara about an hour to the north, past Christchurch. Fly-fishing, helicopter tours, golf, horseback riding and more are available as well, as is a day-trip to the tiny harbor town of Akaraoa, about 45 minutes away, where visitors can swim with rare miniature Hector's dolphins and explore the dramatic coastline by boat.
Gastronomy
All that activity is bound to work up an appetite, and there are few finer places to experience New Zealand's culinary reawakening than in the Victorian-style dining room of Otahuna. Chef Jimmy McIntyre draws inspiration from what grows in his potager garden and the estate's orchards, as well as from the produce and meat of local farmers and ranchers. Before dinner, there's a customary canapé and drinks hour in the daintily decorated drawing room where guests are treated to nibbles like local pâté along with glasses of local wines.
Dinners here are multi-course affairs and feature flights of New Zealand wines paired to every dish. Your meal might start with homegrown Otahuna onion soup with homemade sourdough croutons and topped with melting Richmond Red pecorino-style cheese and fried sage leaves paired to Felton Road Riesling then continue with ceviche incorporating fresh-caught salmon and a Sauvignon Blanc-Semillon from Pegasus Bay, one of the region's best-known wineries.
Next it's a Te Mata red Bordeaux blend from the North Island's Hawkes Bay region to sip along with a duet of local lamb—cutlets with herbs and olive oil, and slow-roasted shank with crisp-fried gnocchi and baby salsify tapenade.
Finally, it's time for a course of local cheeses and garden strawberry shortcake with sorbet and vanilla cream washed down with Vinoptima Late Harvest Gewurztraminer. Of course, each meal is different, and the menus change according to what's in season and what is freshest. The only thing more delicious than dessert is the prospect of retiring to your suite and falling asleep in a plush bed to the flicker of flames and the sound a fire crackling in the fireplace.
A hidden gem tucked away mere minutes from the South Island's largest city, Otahuna Lodge is the perfect place to experience the best of what New Zealand has to offer—be it nature, gastronomy, luxury, or a combination of them all.

Rates through April 2013 range from NZ$1,650-$2,300 ($1,350-$1,875 USD). They include a daily five-course degustation dinner with wine pairings, pre-diner drinks with canapés and a full cooked breakfast, laundry facilities and full use of the Lodge's facilities and equipment.