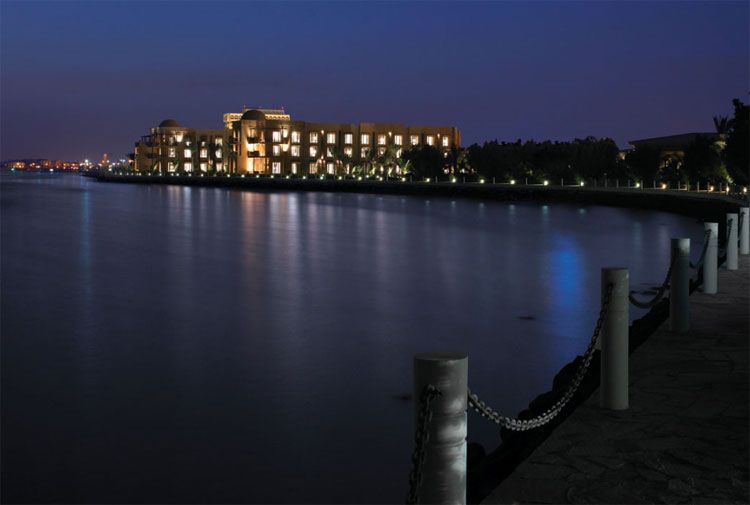 Photos Courtesy of Park Hyatt Jeddah
The warm sea breezes and beautiful landscapes of Jeddah's Corniche are made even more appealing with the help of the
Park Hyatt Jeddah - Marina, Club & Spa
sitting along its shores. The lavish 5-star hotel is conveniently nestled among the most exquisite of Jeddah restaurants, nightlife and shopping districts. Seamlessly blending world-class service with unrivalled views of the Red Sea, Park Hyatt Jeddah is the natural choice for any Saudi Arabian getaway.
The hotel has made a remarkable name for itself among business travelers, earning many awards such as 2012 Business Traveller Awards Middle East's "Best Business Hotel in Jeddah" and 2012 Middle East North Africa Travel Awards' "Best 5 star Business/Corporate Hotel." For its guests, Park Hyatt Jeddah provides a dedicated team of coordinators to assist in executing the best business meeting for your team.
As an added benefit, Park Hyatt Jeddah has the latest technology and includes a private car park and a multi-lingual staff for your event. The elegant Lazurde Meetings & Events Centre, offers nearly 27,000 square feet of meeting and banquet facilities and is equipped to host intimate corporate meetings, high-profile product launches, and larger conferences of up to 800 guests.
Staying at the hotel is also a treat with a variety of guestrooms and suites outfitted with modern technology, sleek design elements, and the best in quality linens. The Seaview King room shows off stunning views of the Red Sea and famous King Fahd fountain. The stylish setting is created through the use of European accents and Arab-Andalusian highlights. Each room comes with a 42-inch flat-screen TV, high-speed Internet, separate work area, and 24-hour room service.
The more spacious Park Executive Suite also has unrestricted panoramic views of the Red Sea inside its 860-square-foot quarters. Your king-sized bed is lined with crisp white sheets and looks directly out onto the sparkling sea; a sight any guest is sure to enjoy. In the sparkling bathroom, the five-fixture bath with rain shower is separate from the tub and is stocked with the highest quality bath products. Separate from the bedroom are the living room and private patio or balcony.
For the women of the hotel, The Evania Ladies' Spa is there to provide a relaxing and therapeutic retreat from the hustle and bustle of everyday life. Women will enjoy an array of treatments and activities while at the spa including a fitness center, indoor and outdoor swimming pools, three hydrotherapy suites, an authentic hammam, and seven treatment rooms with private terraces. Using essential oils as well as local products and therapies, the menu gives guests a chance to experience ancient healing rituals mixed with classic techniques.
Click Here to Book Park Hyatt Jeddah - Marina, Club & Spa
After working up an appetite at the spa, head over to one of the restaurants within the hotel. Nafoura, a Mediterranean style restaurant, features a menu focused on "freestyle cuisine," a concept combining the chef's innovative ideas and organic seasonal produce. Stone flooring, high ceilings and contemporary designs set the soothing tone for the restaurant. Guests can also view the cooking process right from their tables as the restaurant boasts an open show kitchen. Over at Andalusian, a family buffet restaurant, the menu is made up of Andalusian cuisine and is the ideal choice for a relaxed dinner setting.
Whether a corporate event, a spa weekend, or a chance to escape to a whole new country, Park Hyatt Jeddah - Marina, Club & Spa will warmly welcome you and exceed your expectations. Living in perfect harmony with its marine surroundings, this striking resort is a feat of modern design and superior luxury.
Park Hyatt Jeddah - Marina, Club and Spa
Al Hamra District, Southern Corniche P.O. Box 5863
Jeddah 21432
+966 2 263 9666
Kingdom of Saudi Arabia
Jeddah.Park.Hyatt.com