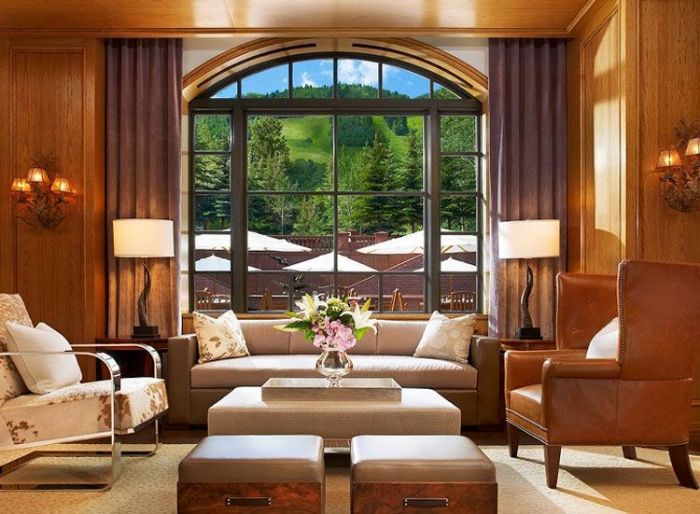 Photos Courtesy of St. Regis Aspen
The grandeur of the St. Regis name speaks volumes on luxury, yet the details make for so much more. Particulars especially garner interest when discussing the location at the magical retreat of Aspen during the summer. At the foot of Aspen Mountain, right in the thick of downtown, the resort maintains 176 guest rooms and suites, a heated pool and Jacuzzi, all surrounded by purple mountains majesty.
In 2012,
The St. Regis Aspen
stepped up its sophistication via a $40 million renovation conceptualized by renowned Rottet Studio. Enhancements include redesigned guest rooms and suites, an embellished ballroom, along with a new lobby and fresh restaurant concepts. The revamp, along with the impressive Remede Spa,
Travel + Leisure
's #2 hotel spa in the Continental U.S., makes it seem as if we've arrived in Rocky heaven.
Comfortable and cool, The Blue Mountain Lounge and resort lobby space opens up to majestic views of Aspen Mountain, bright green during the warmer months. Fountains spout all day long, while fireplaces inside and out welcome evening sprawling and socializing all summer long. Fireside fun also includes irresistible s'mores with house made graham crackers, which the St. Regis offers to all guests.
Concierge service and an attentive front desk staff made our stay feel all that more exclusive as we made our way through the manicured hallways. Valet service charmed us even further with complimentary car service to nearby Smuggler's Mountain for a hike, though they're happy to go anywhere else downtown as well as to and from the airport.
Overlooking the town and awe-inspiring mountain range, our junior suite door opened to Mary's delight, and my expectation, with chocolate-dipped strawberries and iced champagne. Mary and I delved into the plush sleeping space equipped with marshmallow-like king size bed and 52-inch flat screen television, same as that in the spacious living room. A charming tub, separate from the large rain-shower in the one and a half bathroom spread, buoyed us through the entire visit. I, however, still claimed a spa reservation.
At the full-service Remede Spa, I opted for a 60-minute deep tissue massage that left my muscles pliable and my thoughts soothed. Prior to, the eucalyptus steam room softened my pores and allowed me to really surrender to this vacation. An icy plunge pool expelled initial stiffness, espousing the cold-to-warm technique. "Mr. Alsobrook, some champagne with your oxygen?" asks my masseuse as I tuck into a recliner complete with oxygen tank. "Affirmative," I respond. After all, it's the Rockies and Aspen's elevation is over 8,000 feet above sea level. And after a rejuvenating spa visit, what better way to top off an afternoon of relaxation than a dip in St. Regis' heated pool and Jacuzzi.
During the summer season, which begins Memorial Day weekend, the hotel offers a realm of accessible summer activities for all interests. Fly-fishing with Aspen Outfitting on the resort premises caught our fancy and for good reason. Over 40-years in the area, AO professionally handles a host of other outdoor activities, including firing ranges and a wine tasting tour.

With the renovation also came the permanent stationing of
FOOD & WINE
's annual visit in June, specifically to the Chefs Club by FOOD & WINE restaurant on property. Remarkably, each winter and summer, Chefs Club bestows an honor on five up-and-coming culinary talents, specifically from
FOOD & WINE
's "Best New Chefs" list. Dishes are prepared to paint a picture of seasonality, and are paired with an extensive wine selection and craft cocktails. Sipping the Pillow Rd Pinot Noir (which we highly recommend), we begin counting the days until our return to indulge once again in all the St. Regis has to offer.