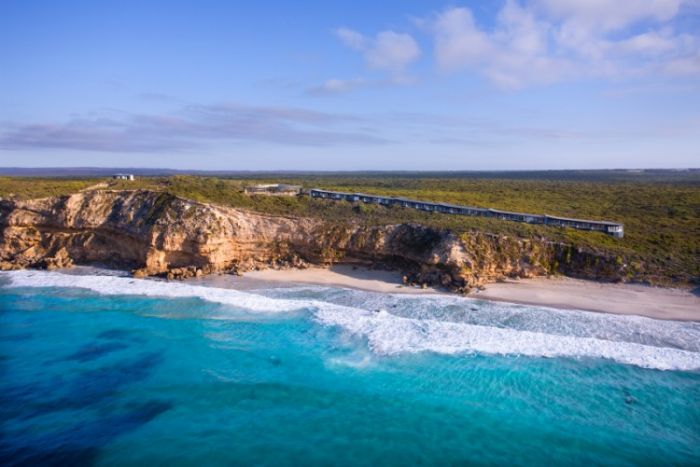 Photo Courtesy of SOL
A leap and bound over a small section of the Southern Ocean, Kangaroo Island awaits for a distinctive adventure just south of Adelaide, Australia. The unique ecosystem of Kangaroo Island is a well-kept travel destination; even products from the mainland are not permitted on KI due to a rare Ligurian Bee Sanctuary and delicate balance of the indigenous wildlife. The Island is not only home to unique flora and fauna, it also is where globetrotters can discover the stunning
Southern Ocean Lodge
.
Having been to Sydney, Melbourne, and Cairns, South Australia was hardly on my radar as a "must-go" on the continent. I was wrong. From the Barossa Valley to Kangaroo Island, this region known as Australia's Galapagos is rich in natural wonders and conscientious hospitality; this part of Australia just seems more authentic than their East Coast neighbors. Memorable sites and luxury services are tucked away amidst the bush, and the scent of eucalyptus blends with fresh ocean air from the winds off Antarctica, permeating the SA atmosphere.
Photo Courtesy of SOL
Kangaroo Island's commitment to natural beauty is prevalent in the accommodations that you will find at Southern Ocean Lodge. Atop a sea cliff, the 21-suite resort sits in the middle of a vast and isolated stretch of beachside bliss. Upon entering the main lobby, guests are greeted with a panoramic view of crashing surf and wide-open sky through floor-to-ceiling windows. Contemporary furniture and natural light bathe the expansive lobby and lounge space, flowing into the dining area and outdoor patios.
Photo Courtesy of SOL
The suites boast modern interiors, with rooms that feel cozy and comfortable, yet stylish and minimalistic. Welcome amenities of local spirits, cheeses, and cookies accompany a help-yourself minibar and wine cave for guests to browse and imbibe from. The super-premium Osprey Pavilion affords panoramic views that could leave travelers at an apex of destination lodgings—whether enjoying a romantic honeymoon or a family vacation. From the sunken lounges to open floor plans and uninterrupted vistas, the rooms at Southern Ocean Lodge are sure to leave an indelible impression.
Photo Courtesy of SOL
Being on a first-name basis with guests is a staple here, making visitors feel like family from the initial greeting, to drink order, to fond farewell. The welcoming and grounded staff embody typical Australian friendliness without airs. Upon arrival, we were asked our names only once at check-in and everyone from the front desk to the wait staff would address us that way at every encounter.
Photo Courtesy of SOL
From remembering prior orders of food and wine, our likes and dislikes, and personal preferences, the familiarity is genuine and warm. I was extremely impressed when ordering dinner and the waiter offered a pairing along the lines of what I had ordered at my previous meal; recalling not only my order, but our conversation, where I was from, and what I had experienced that day—from my itinerary to how long I was staying at the lodge.
Photo Courtesy of SOL
"At Southern Ocean Lodge, we strive to anticipate guests' needs even before they have articulated them. It's that very fine balance between being highly trained in personal service, but knowing it's not always necessary to fuss and flutter," explains Alison Heath, the Lodge Manager. "It's not exactly mind-reading, but I like to think that sometimes, we can be so perceptive, it's as though we know our guests better than they know themselves! To share the wonders of the island with each and every guest is an honor; pristine natural beauty, abundant wildlife, superb local produce and a dramatic history to which we contribute a new chapter. Guests are invited to enjoy the lodge as their own island home—and to put it quite simply: it's our treasured home, too."
Photo Courtesy of SOL
A visit to the Southern Ocean Spa is another experience to be had while on property. The separate building is a short walk along a charming boardwalk to another impressive cliff-top vista. Feeling extremely exclusive, the private retreat truly is a place to get away from it all while unwinding with a massage, body treatment, or just a good read in slippers and a robe.
Photo Courtesy of SOL
I booked the Southern Ocean Signature Massage; the therapist was talented and attentive, but also let me have my space while at the spa. Floor-to-ceiling windows in the shower overlook the ocean cliffs, adding to the relaxing spa experience as the waves crash and the clouds roll in on other side of the window panes.
Photo Courtesy of SOL
Whether savoring a light breakfast or made-to-order dinner, the dining at Southern Ocean Lodge is superb. We liked having dinner with newly-made acquaintances, chatting about recent outings or remarking on the local artwork throughout the lodge. As an all-inclusive resort, not having to worry about splitting a bill or who needed to tip what, the evenings carry on seamlessly.
Photo Courtesy of SOL
We enjoyed the local white fish dish and artisanal cheeses, and paired wines with each of our five courses prepared in the quiet ambiance of the main dining area. The fading light over the ocean transitioned from dusty lavender to a star-sprinkled night sky as the gentle clinking of glassware and the murmur of conversation subside and the day finishes.
Photo Credit: Chad Chisholm
Nearby attractions and activities include bush walks, fishing excursions, and visiting natural wonders like Seal Beach where hundreds of sea lions bask in the sun. Guests will be pleasantly surprised by the wildlife that is just steps from their doors, as wallabies and echidnas can often be seen from the boardwalk to the ocean. Touring company Exceptional Kangaroo Island partners with the lodge to take guests to all the desired attractions.
Photo Courtesy of SOL
Our bush walk included a gourmet prepared "bush lunch" of grilled sheep's cheese and fresh salad, as well as a stop for tea on Emu Bay and stroll to the underbrush to look for chocolate-colored kangaroos napping in the midday sun. Remarkable Rocks is another must-see while on Kangaroo Island, with the wind-hewn rock faces sharply contrasting the broiling ocean below. Exceptional Kangaroo Island employs extremely knowledgeable guides, many of whom grew up here and provide true insider's knowledge from where to find koalas to spotting echidnas and glossy black cockatoos.
Photo Credit: Chad Chisholm

"Kangaroos and Canapés" is an early evening activity provided by the resort, where hundreds of grazing kangaroos surround guests in jaw-dropping numbers. Sipping champagne and nibbling hors d'oeuvres during the dusk hours, we were treated to the unique experience. Boxing males, females carrying joeys, and troops of kangaroos gather in the vast plane for an indelible memory down under. Strolls along the beach, romantic private dinners, and watching the sunset over the ocean only add to the Lodge's appeal and exceptional natural beauty, making it one of the world's finest stays.