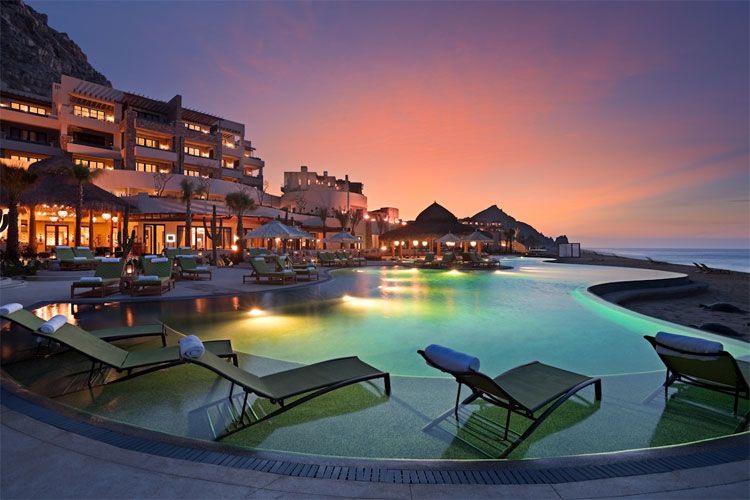 Photos Courtesy of Capella Pedregal
There's a moment upon arrival—after you pass the larger-than-life steel entrance gates and continue on through the 1,000-foot torch-lit private tunnel—when it hits you, a quiet awareness of the beauty that lies ahead; a feeling that leaves you speechless. For those few seconds before exiting your chauffeured Escalade, Capella Pedregal hotel sits in front of you like a new crush that you can't stop admiring.
Lining the walkway to the outdoor lobby, lanterns sit along small pools of water and wooden columns direct your gaze to the ocean laid out directly behind them. The gentle cooing of the sea and Cabo San Lucas' warm breezes create a serenely calm atmosphere which is enhanced by the complimentary welcome margaritas each guests receives upon arrival.
Cacti rest next to palm trees while artisan-made turtles relax by vases holding indigenous plants in the open reception area. In this place, the delicate balancing act between nature and architecture are fully met, a sense of place achieved.
Among its 96 guestrooms, this Mediterranean-style mountainside resort holds a good mixture of size and style ranging from Ocean View Kings to Two Bedroom Casitas and the ultimate in luxury: the Three Bedroom Beachfront Suite. Regardless of the category of room you choose, each one comes designed as luxuriously as the next, sparing no detail. All come with a private terrace and plunge pool; binoculars for whale watching; complimentary refreshment center with sodas, water, juices and coffee with a Nespresso coffee machine; fireplace; rainforest shower and separate tub; iPod docking station; and telephone. The property really makes it a point to ensure that no matter the level of accommodation a guest chooses, the experience is five-star; a trait that makes this resort unique among its nearby competitors.
As an added treat, a bottle of Jose Cuervo Platino (complete with limes and salt), awaits guests in each room. Pair that with the fresh salsa, guacamole, chips and salsa, and mini Coronas brought to suites daily at 4 p.m., and it's clear that Capella enjoys spoiling and pampering its guests.
Throughout the property, complimentary Wi-Fi is available as well, which is great since you'll want to flood your social media feeds with images of this property. If traveling with family, friends, or you just prefer a little extra space, the Three Bedroom Ocean View suite is a great option. Behind the large hand-carved wooden entry door, the spacious suite opens up to a living room, dining room, kitchen and entertainment terrace with private plunge pool and lounge chairs. Coloring the room are hues of light greens, blues and soft pinks sprinkled around custom-made furniture, light fixtures and local artwork.
The kitchen sits next to the laundry room (complimentary detergent provided) and comes with professional stainless Viking appliances, utensils, cookware, and a dishwasher among other amenities. If staying for a longer period of time, ask for the kitchen to be stocked before you get there. With a dining table on your terrace, you may just want to spend a night in enjoying a home-cooked meal while overlooking the Pacific Ocean. Or if you're in a one- to three-bedroom Beachfront Suite, you can book a private chef to whip up a meal at your dining cabana.
Floor-to-ceiling sliding glass doors open up both the main room and master bedroom, allowing fresh air to permeate the suite. Because of the thick walls and wooden doors on each of the three rooms, it is difficult to hear when those in the suite are awake or making noise; an aspect that is wholly appreciated while on vacation.
It can be hard to leave the suite at times, but the property is worth exploring, especially the infinity pool overlooking the sea and its charming swim-up bar. Unfortunately, the water of the Pacific Ocean in this area is too harsh for swimming, so the pool is where you'll find guests most of the time. Sun bathers can choose a green lounge chair sitting directly in the water or opt for a white-cushioned lounger or cabana. All drinks and meals can be purchased from staff members who regularly patrol the area. Try the Guava Margarita, ask for it "skinny" to cut down on the sweet taste. If you visit between December and March, there's a good chance you'll catch a glimpse of whales breaching right in front of you while at the pool.
Capella Pedregal also has a list of activities and attractions including culinary programs like a cooking class and tequila tasting session. The one- or three-day cooking classes can be purchased from $70-$200 per person and range from ceviche-making demonstrations to shopping with the Chef at a local farmers market and preparing traditional Mexican desserts. Held inside a room that is decorated like a quintessential Mexican kitchen, participants really get a hands-on experience and a taste of the country's foods and culture. The group classes are also a fun way to mingle with those staying at the hotel.

And what is a trip to Mexico without a little tequila to quench your thirst? Capella provides three Tequila Tasting sessions to choose from, each delving a little bit deeper into the amber-gold substance that originated in "Magical Town" in the state of Jalisco. For $45-$95 per person, guests can learn the history of the liquor and taste the fruits and ingredients in each style that make each product different. Chips, salsa, guacamole and ceviche are served alongside the tequila plus mixed fruit and vegetable juices to try with each taster.
Set inside an elegant dining room with floor-to-ceiling windows that open up onto a patio, Don Manuel's, the hotel's signature restaurant, is both chic and rustic. Serving breakfast, lunch and dinner, the atmosphere is reminiscent of an authentic Mexican Hacienda. Hand-painted tiles, illuminated hanging stars and plush chairs decorate the room that is colored in greens and pinks. Like the rest of the resort, the menu is impressive and filled with dishes prepared using old world techniques and modern twists. Not only are their creations rich in flavors but they are all locally sourced, organic and grown specifically for the restaurant. The beautiful combination of spices and fresh ingredients makes the Beef Tenderloin with onion puree, glazed grapes, spinach, organic cauliflower, cashews and chocolate sauce a remarkable dish that should be savored one slow bite at a time. El Farallon, the Beach Club and Crudo bar are also available for dining.
Last year, Capella Pedregal was named Travel + Leisure's #1 Cabo San Lucas resort on their "World's Best Awards" (#41 in the world), came in at #2 for TripAdvisor's 10 Hotels with Incredible Views and found themselves in TripAdvisor's #8 spot for the World's Greatest Hotel Spas list (among other accolades). But what really makes this destination such a pleasure is the wonderful staff who are available whenever you need and provide service with a smile. With so many amazing offerings, it's hard not to write pages upon pages. So let's just let the pictures do the talking and maybe we'll see you there next time.