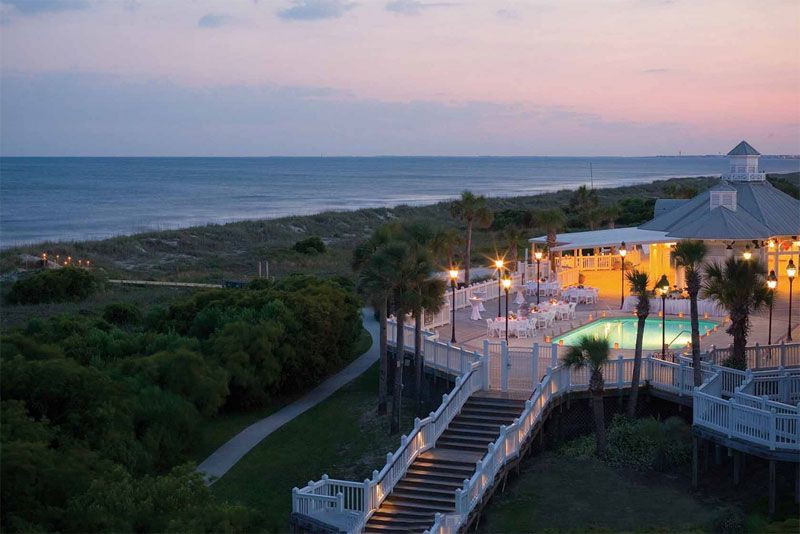 Photos Courtesy of Wild Dunes Resort
Spend a few days in Charleston South Carolina's Low Country and you'll either hear about Wild Dunes Resort or be staying there. An iconic beach getaway across the harbor from downtown Charleston in Isle of Palms, Wild Dunes is a sanctuary from the everyday. And it's culinary offerings are just as impressive.
Experiencing the real essence of South Carolina's Low Country can be as simple as savoring a bowl of creamy She Crab Soup, Hoppin' John, or classic shrimp and grits. The country is as much a culinary sensibility as geographical area roughly defined by South Carolina and Georgia's coastal estuaries teeming with shrimp, fish, crabs, and oysters. Rich tidal soils and a mild climate also provide ideal growing conditions for rice and a wide array of fresh produce. Ready access to these ingredients combined with a vibrant Caribbean/African culinary heritage, similar in many ways to New Orleans' Cajun roots, have long attracted top culinary talent to Charleston.
You are guaranteed to work up an appetite while indulging in golf, tennis, or simply chilling out at the pool at Wild Dunes. When it's time to eat, Chef Jeff Miller has you covered with an ever-changing seasonal lineup of traditional and nouveau Low Country dishes at the on-site Sea Island Grill & Lounge and Lettered Olive Restaurant. "My culinary style is a mix of traditional techniques balanced with the modern. I still use roux in a good bit of my sauces and I still mound with butter, but then I may turn around and have spheres or caviar on the plate to give it a chic look and feel," says Miller.
In addition to Miller's preparations, you'll be introduced to a wide variety of locally crafted beers and artisan liquors like Firefly Distillery's sweet tea vodka in their Rocking Chair cocktail or a Pluff Mud Porteron tap from Holy City Brewery. Wild Dunes' Hudson's Gourmet Grocery is the perfect place to hunt down local specialties like Benne Wafers from Food for the Southern Soul, bags of aromatic rice and stone ground grits from Palmetto Farms, as well as fresh dried teas grown at nearby Charleston Tea Plantation.
In addition to region's near religious devotion to fresh and local ingredients, Chef Miller is particularly excited about Charleston's evolving culinary scene. "People are no longer visiting for the historic scenery alone. This town will not be one that is known for its food for a decade and then forgotten because of who is rising through the ranks, and who they are training with." Another trend he points to is the renaissance of small plates saying, "Thanks to the Gen Y crowd who are food savvy, want to try eight different dishes for two, at a price no higher than $40."
For those inspired to dig deeper, Wild Dunes is happy to connect you with Charleston Culinary Tours. Often multi-generational residents, guides know just where the gustatory hotspots are on Upper King Street as well as the hottest farm-to-shaker mixologists sprouting up in bars across town. You may visit Sugar Bakeshop for the fluffiest artisan cupcakes or try out HOM's decidedly southern toppings like fried green tomato chutney on their hand-pressed burgers.
But no visit is complete without sampling Chef Steve Klatt's southern plate of pimento cheese, pickled vegetables, country ham, and grilled bread at Swamp Fox Restaurant & Bar inside the historic Francis Marion Hotel named after General Francis Marion, the "Swamp Fox" of the American Revolution. Whichever route you take for a culinary journey in Charleston, chances are you won't be disappointed, especially at the hands of Wild Dunes' chefs.