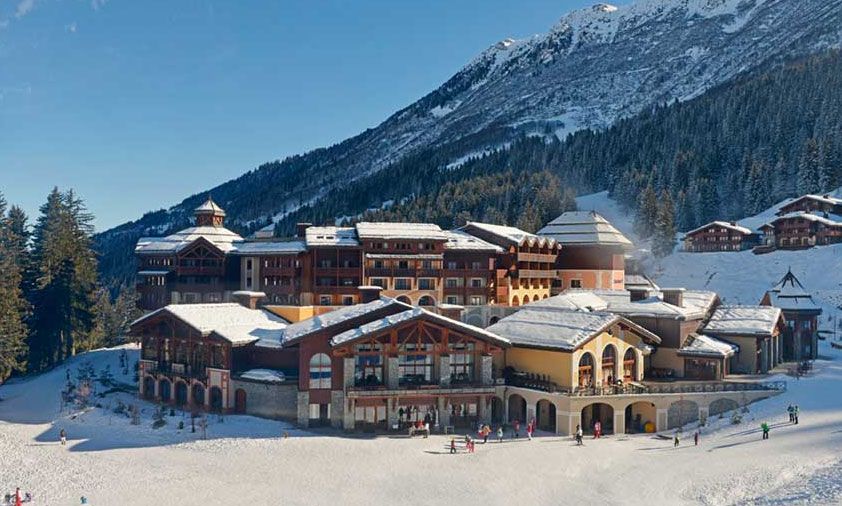 Photos Courtesy of Club Med Valmorel
The end of the ski season is fast approaching, and Club Med Valmorel is one of the last resorts in the French Alps to remain open in April. If you caught the ski bug this year and haven't had the opportunity to break out the equipment, why not gather up the passports for a family trip to the French Alps?
Offering families a luxury "five-trident" vacation to the Savoie region of the French Alps, exciting activities await at the resort like ski lessons for all ages, snowshoeing, sled rides, relaxing spa treatments, and upscale bars and lounges. Also, the weather remains around a comfortable 50 degrees, so there is very little risk of frozen toes. Ski season in Valmorel ends on April 20 and will reopen mid-December.
Nestled in the French Alps, the resort offers multiple-bedroom Chalet-Apartments, complete with private butlers and personal chefs. It is also the first environmentally-friendly ski resort in France with a High Environmental Quality certification. For winter sport enthusiasts, downhill skiing and snowboarding lessons are plentiful with 95 miles of slopes waiting to be navigated. There are a total of 85 including 17 red and eight black slopes located between 3,986- to 7,814-foot altitudes, which are comfortable elevations for children.
According to my instructor Sebastien Lange, "French ski instructors have to train for five to eight years in order to be able to teach." This means that you and your family will be getting valuable instruction from one of the best trained ski and snowboard experts in the world. Included in the lessons are daily group sessions, where parties can be as small as four people to a group (such as my advanced beginners course). You are also able to receive personalized treatment, and the kids are even grouped according to their skill level. For children that are just learning to ski, there is a Club Med Ski Garden, where from four years old, participants are able to learn the basics in a fun way. For non-skiers, Valmorel offers alternative activities such as ice skating, hiking, snowshoe rambles, and even Nordic walking.
When you are ready to pull the kids out of the ski clubs and their private lessons, take part in some of the family activities available. The Snake Gliss bob-luge excursion connects ten people to each other via sleds, and then they are driven down the slopes as one. If you and the children are intermediate-level skiers, have an instructor take you on a 1.5 hour ski trip to a sheep farm in the lovely village of Celliers, where local cheese is made.

Another fun activity for families or couples is an evening walk on snowshoes, where an instructor leads you on a stroll up a slope. After a bout of cardio, a trapper aperitif rest stop is made, and beverages, cheese, and meat are passed around. Evening entertainment like cabaret or acrobatic shows are great for children and adults, and most guests that attend participate in the songs and dance with the actors. Having a car is not a necessity as there are complimentary shuttles that take you into the village. At the Valmorel Village, share a le Gateau de Savoie (French specialty dessert) or visit one of the souvenir shops for a keepsake.
According to one guest, "The kids run this resort." The cleverly designed décor, like the intricately designed brunch and lounge spaces by Marc Hertrich are beautiful, but washable for kid's accidents. Luckily it is also parent-friendly. The all-inclusive resort offers luxury amenities like the Club Med Spa by Carita and the premium bar lounges puts adults at ease.
Relax at the Carita Spa with a treatment after a long day of skiing and family time, located conveniently adjacent to the ski lockers. The hammam will help sweat out impurities, and the tasty Moroccan tea is a perfect complement to the relaxation room with a view of the mountains. After the kids are asleep, take your mate to the lobby for a drink at the bar or pop a bottle of Champagne at the Bar de la Tour. As you relax by the fireplace in the lounge, you will wonder, "How did it become so easy to pair a luxury escape with unforgettable family time?"