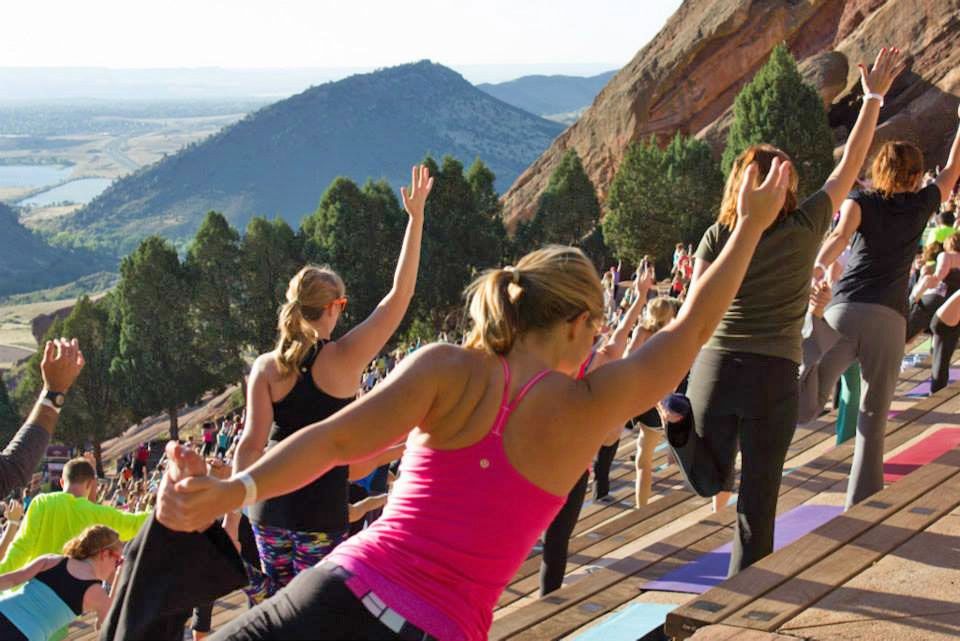 Photo Courtesy of CorePower Yoga
If you've been hankering for a rejuvenating experience unlike anything else, consider escaping on a yoga retreat for the ultimate getaway in mind, body and spirit. I recently had the privilege of doing just that on not one, but two yoga-centric trips this past summer, and I can say with confidence that they both changed me for the better.
Photo Courtesy of CorePower Yoga
CorePower Yoga (CPY), the buzzy brand of national studios that has attracted the likes of Reese Witherspoon, Vanessa Hudgens, and plenty other Hollywood notables, hosted an empowering yet relaxing weekend trip in Denver in honor of their annual Yoga on the Rocks event. For the second year in the row, CPY led an hour-long yoga class at the famous Red Rocks amphitheater for around 2,000 yogis on an early Saturday morning, and I was thrilled to be a part of the experience.
Photo Courtesy of CorePower Yoga
As you can imagine, watching the sunrise at Red Rocks among the majestic scenery and awe-inspiring elements of nature while practicing yoga among peers made for a pretty memorable weekend getaway. I still get chills thinking about how magical that morning was, and have since continued my yoga practice as much as possible to return to that place of zen.
Not only was the invigorating yoga practice exactly what my mind and body needed way out there in Denver, but the unstoppable energy from yogis (of all different levels, whew!) all around you flowing in sync, was simply indescribable. We stayed at the luxurious Four Seasons hotel and enjoyed their impeccable spa facilities and pool to fully unwind. While this year's event is over, check back with CorePower for next year's schedule so you don't miss it!
Photo Courtesy of Blue Osa Yoga Retreat & Spa
Being rejuvenated from the CorePower Yoga trip, I decided to really push myself and embark on a weeklong yoga retreat at Blue Osa Yoga Retreat & Spa in Costa Rica later that month. With bags packed, I headed down south eager to discover a new country while tackling new yoga poses and incorporating meditation as an added bonus. Blue Osa proved to be far more challenging in more ways than I could have ever imagined, but I emerged a stronger, braver and more peaceful person in a matter of just seven days.
Photo Courtesy of Blue Osa Yoga Retreat & Spa
For starters, the accommodations were far from the Four Seasons. I say that gingerly, as I recall the shared rooms, which are charming and quaint, but not quite what I had in mind. Tucked away on the tiny peninsula of Osa, the eco-conscious facility is far removed from city life, and instead populated with animals and insects galore, plus natural beauty for miles. It's just steps away from the beach and is a special relaxing place that simplifies life and cuts corners on luxurious amenities (air conditioning, electricity, plush towels, etc.) in exchange for a knock-your-socks-off experience.
Photo Courtesy of The Legendary Adventures of Anna
Yes, you will sleep in a mosquito net and be covered in bug spray and sweat just about every waking hour of the day during your retreat, and you will also never touch a hair appliance or complicated cosmetic product in lieu of a more natural mindset. But, I can tell you, that even as a bonafide city girl, a true fashionista through and through, I learned to acclimate to this lifestyle quickly and embraced the natural elements wholeheartedly.
The warm, inviting community becomes your family during your stay, as the meals are all deliciously home-cooked with love from the staff and served communally. There's also a stunning lap pool and spa to enjoy (where I received the best massage of my life), and of course, daily yoga practice (filled with some meaningful discussions) with Yogi Aaron, one of the resort's awesome owners.
Photo Courtesy of Blue Osa Yoga Retreat & Spa
Last but not least, there's additional fitness training options and adventurous excursions to partake in, too. Guests can bravely rappel off a waterfall (much easier said than done) or venture on a chocolate tour in the jungle. You may go back to the States covered in scrapes, cuts and bug bites, but your heart will also be beaming with pride for all of the obstacles you overcame. All in all, I couldn't imagine time better spent. Yoga invigorated and challenged my mind and body, while both unique travel experiences renewed my soul and sense of adventure. Namaste, indeed!