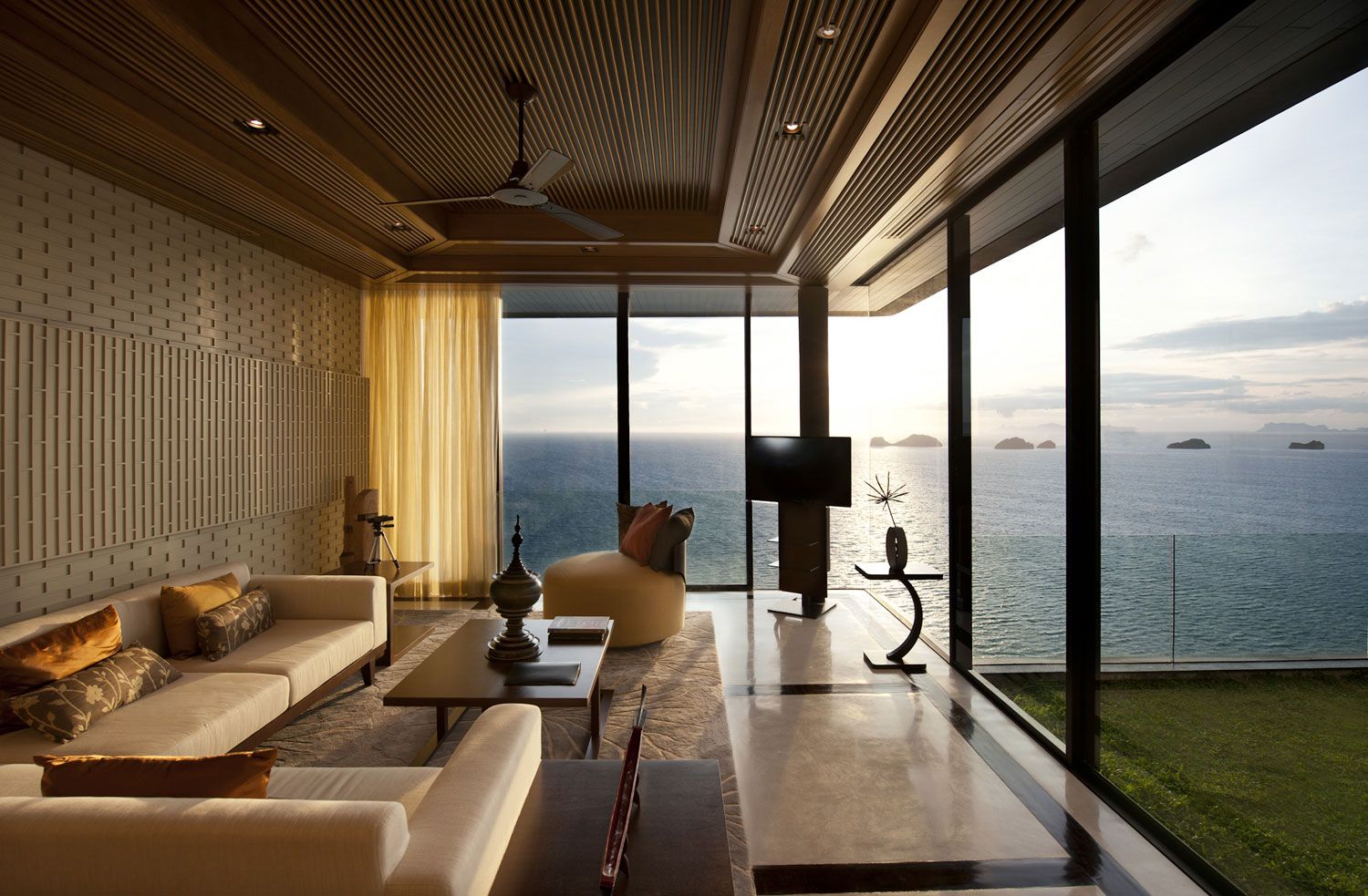 Photos Courtesy of Conrad Koh Samui
Sometimes I wonder if I chose a life of traveling or if it chose me; the age-old "What came first?" question. At five it was El Salvador, at 16 it was all about Costa Rica, and later Spain sealed my love for the world. A plethora of destinations followed over the years. Twenty five years after that first overseas trip, Thailand brought me right back to that same place of awe and discovery.
Driving the 45-minutes from the airport to my accommodations at Conrad Koh Samui, layers of tropical rainforests colored my view outside. Turquoise blue waters with white sandy beaches sat to one side while small towns and Thai residents went about their daily lives. It is beautiful there, to say the least. As expected, the weather in Thailand is hot and humid, however, the breeze flows generously throughout the island, making the heat an after-thought.
The closer to the hotel we got, the more secluded the area became until we arrived on a hillside sprinkled with the resort's villas. Your first introduction to this five-star property is a large bowl-like fountain with panoramic views of Aow Thai Beach resting behind it, immediately giving you the impression that this is just a glimpse into the sheer beauty and tranquility that this resort has to offer. Set on 25 acres, the property has 81 free-standing one- to three-bedroom villas, all with 32-foot infinity plunge pools viewing out onto the ocean.
Conrad Koh Samui is one of the brand's few forays into resort-style accommodations, with the majority of their portfolio consisting of city destinations and business-centered hotels in 17 countries and territories. But just one step into one of their villas, and you'll likely question why they aren't opening more properties designed with more of a leisure focus. Inside the 426-foot one-bedroom, dark hardwoods cover the walls and floor and floor-to-ceiling windows and doors open up to your private patio with lounge chairs, dining table and cushioned bench seating.
Clean crisp designs and a distinctly-Thai aesthetic, the villa is grand without being too extravagant for its quiet island destination. There is free Wi-Fi throughout the property and accommodations come standard with in-room technology such as next generation Apple internet TV with laptop connectivity, iPod docking stations and plenty of plugs to keep all your devices powered up.
The spacious marble bathroom comes with his and her sinks and a glass-walled rain shower viewing the sea, but the real center piece here is the round, oversized soak tub sitting directly in front of your patio's glass doors. Throw some of the provided bath salts inside, turn on your favorite music and pour a glass of Champagne before you get in, you're going to want to stay there for awhile.
If traveling with family or a group of friends, look into booking the three-bedroom villa. With two stories, an even larger plunge pool, bar, kitchen, and living and dining areas, it's exquisite, and the property's best accommodation. Outside your front door is a private lawn terrace which can be used for barbequing and indoors, the open-plan living and dining area opens up to the sun deck with an area for al-fresco eating.
There is a master and two junior suites, with the former including its own living area with a 42-inch plasma TV, circular bed, private study, and a walk-in closet. Of course, with a room as splendid as this, it makes sense that the bathroom is a masterpiece on its own. It includes an outdoor shower, whirlpool and a sunken circular tub.
The resort was about 80 percent full the weekend I arrived, but by the looks of it, you would think it was nearly vacant. Guests are escorted throughout the property via golf carts and even seeing others scooting on by was rare. One reason for this is that you can practically live in your villa at all times because everything is at your fingertips and meals can all be delivered to your room. Another is that those who stay there are looking for the kind of privacy and seclusion that the hotel offers. Visitors can be found at the main pool, but mostly they tend to soak up the rays in their private pool. (Keep this in mind if you're the type who loves conversing with and meeting other guests during your stay).
Last year, the resort's wellness facility was awarded "Best Luxury Wellness Spa for Asia" by the World Luxury Spa Awards and named one of the "Top 50 spas in Asia" by NOW Travel Asia Magazine in 2012. Offering 270-degree views from its treatment rooms, the spa therapies combine traditional and contemporary techniques to help guests unwind. Before even entering the facility, guests are treated to a delicious warm herbal tea in the reception area to begin the calming process. The naturally lit suites include private decks, oversized tubs, steam rooms and are steeped in sweet smelling fragrances. Sixty- to 90-minute massages are among the many offerings at the spa, but go ahead and book the longer option, you'll appreciate the extra 30-minutes afterwards.
Because the resort is located off-the-beaten path, getting into the more touristy areas of the island requires a little extra planning since walking out your front door onto the street isn't possible. However, the hotel can arrange to get you to your destination via shuttle, taxi or car service. Once in the main cities and towns, there are a number of places to check out. Golfers can tee off at Santiburi Samui Country Club, an 18-hole, par 72, 6,930-yard championship golf course. There's also the Wat Kunaram Temple, elephant jungle-trek, rainforest zip-line (always a must-try), and plenty of water activities, such as snorkeling and diving, to experience. A taxi back to the hotel can be pricey, so be sure to carry enough cash for the return trip after all your adventures and shopping excursions.
Presenting a mix of local and international cuisines, Conrad Koh Samui has four restaurants on site and a private wine cellar featuring over 3,000 vintages and seats only eight guests at one time. At Jahn, the property's crown jewel, diners are treated to contemporary Thai cuisine at the hands of Executive Chef Woothigrai Mungjit. Floor-to-ceiling windows, low hanging lanterns and candle-lit tables decorate this award-wining restaurant. Probably one of the best meals I was able to experience on my trip, Jahn's dishes were savory and delicate, perfectly presented with both garnishes and small florals coloring the plates.
Black Ivory Elephant coffee is served here as well, and is considered a delicacy among the Thai people. Created through a process of utilizing the help of elephants to naturally refine Arabica coffee beans through consumption and excretion, the beans are then sun-dried and roasted to create one of the world's most interesting coffees. Don't worry, they also have regular coffee (sans elephant assistance) for the less adventurous drinker.
Visiting places and resorts such as Conrad Koh Samui is a reminder of why I love traveling. And that reminder is thanks to a property that gives you a true sense of your destination, offers memorable service and creates a place that you'll want to return to.