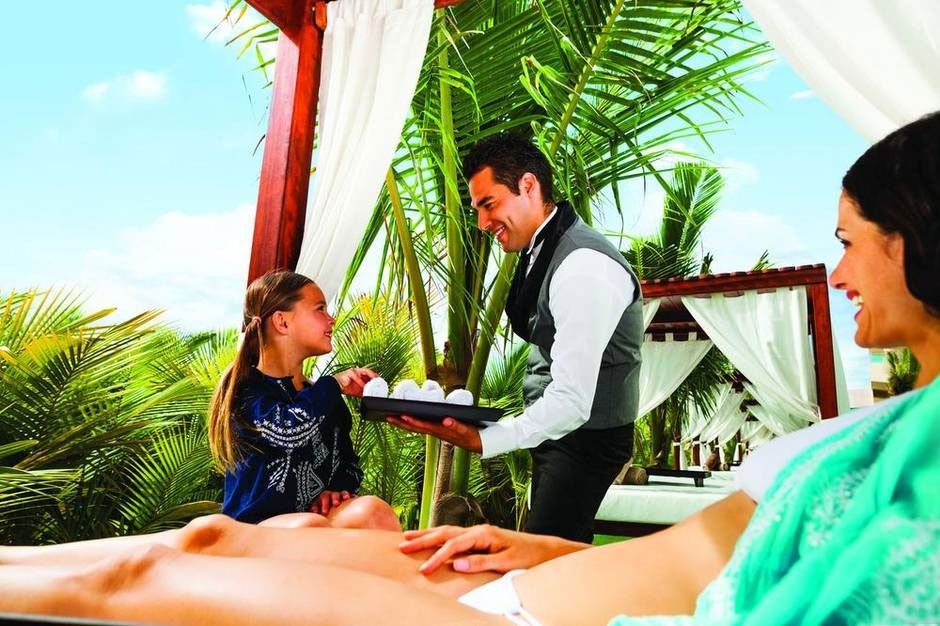 Photos Credit: Karisma Resorts
Is there a happy medium between child-free and family-friendly? How can a resort welcome both groups while annoying neither? Karisma Resorts, stalwart of upscale all-inclusive in the Riviera Maya region seems to have hit upon the perfect solution.
Designating age-appropriate spaces for everyone is a tricky problem that many brands have attempted to solve by declaring some areas of a property 18+ and others all-ages. This method is not entirely effective, since if a family chooses to ignore the posted rules, it'll cause a potentially awkward situation when someone has to enforce policy. So Karisma created Generations, a family-friendly standalone property that's just a few footsteps away from adults-only El Dorado.
When you arrive, it takes under an hour to realize that the pretty, cheerful little property is actually like a wing of the massive El Dorado Royale. It's separate in its name and its policies, but 18+ guests get shared access to El Dorado Royale facilities.
Generations typically only has two dining options for lunch and dinner, but its casual poolside café is the stuff Mexican daydreams are made of: a relaxed sunny beachfront spot with free-flowing micheladas. The chalkboard menu presents a dozen fresh salsas, tiny soft tacos and grilled plates.
If Generations guests wind up child-free for a time and want some peace and quiet, it takes two minutes to cross over to El Dorado Royale, with its many restaurants and sun-splashed panoply of bars and pools. By day, choices range from a Caribbean beach grill to a smoothie bar and beach-chic palapa lounge.
It's no surprise to learn that groups traveling for a wedding or other special occasion often book the child-free parties in El Dorado and the families at Generations. Either property is perfectly equipped to host any occasion; there seems to be a picturesque gazebo or ocean view deck every few yards if you walk the beachfront.
Lush and exotic tropical gardens are reminiscent of Bali or Thailand, and Generations gardens might even have the edge aesthetically. This is thanks to multiple Asian statues and art pieces dotted around the property which are relics of the owner's travels and wealthy friends.
The one typical all-inclusive staple you won't find at either Generations or El Dorado Royale? A raucous nightclub. There are many places to get a drink after dinner, but with views and amenities like this, we can see why it probably wouldn't matter once you're there.