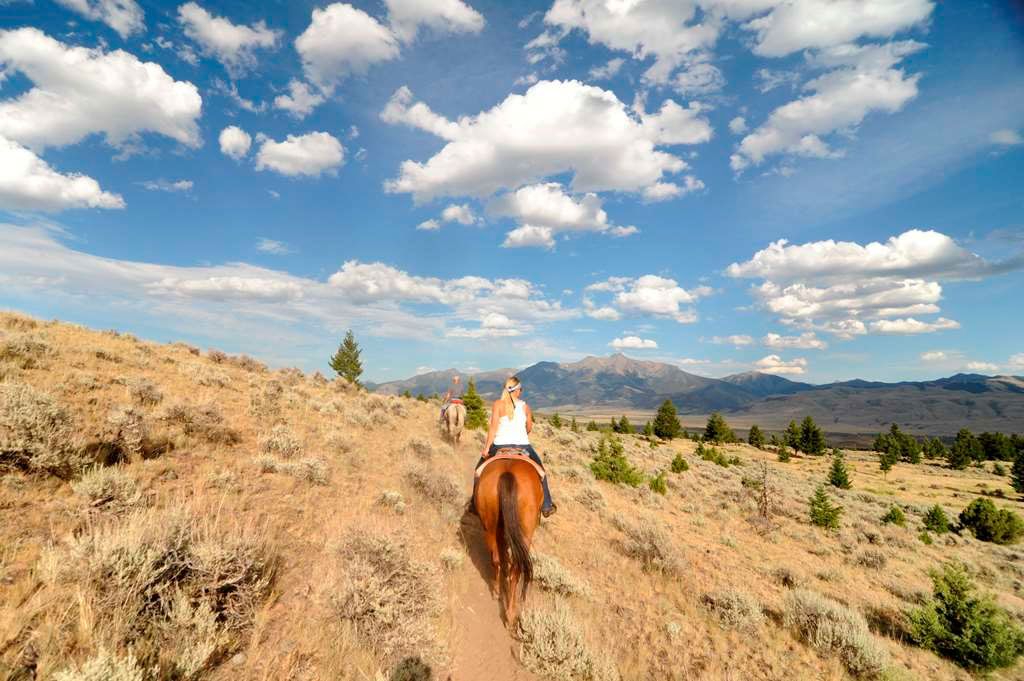 Photo Credit: Mountain Sky Guest Ranch
I turned off the highway and followed a dirt road for four miles. There was absolutely nothing around other than nature, and lots of it. A stream meandered through the trees, I imagined a bear wandering alongside the road. This was all a part of my first dude-ranch experience. I'll let you in on a little secret, I've been somewhat obsessed with Montana for years. I've read about the state, studied maps and watched Brad Pitt and Robert Redford's A River Run's Through It, at least three times. So it's was with an open heart and soaring spirit that I arrived at Mountain Sky Guest Ranch.
Photo Credit: Parmjit Parmar
The property opened its doors in 1929, and the original lodge house and cabins are still in use. The ranch received major upgrades after Billionaire Arthur Blank, former co-founder of Home Depot, purchased the property 17 years ago. Don't be surprised if you run into an occasional football player from the Atlanta Falcons; Blank owns the team.
Photo Credit: Mountain Sky Guest Ranch
The walls of the lodge are lined with western memorabilia including paintings, elk antlers, horseshoes and cowboy sculptures. The cabins have a rustic western charm with luxurious interiors, some with fireplaces which are a welcome treat on a chilly September evening. The upscale bar, or saloon, where guests can mingle with other visitors, is also the perfect way to end a day. The ranch rests on over 8,000 sprawling, pine-studded acres in Emigrant, Montana and has great amenities including a gym, spa and swimming pool. While these are lovely facilities, I headed straight to the corral for a visit with the 130 horses on property. The next morning I rose early to watch the wranglers tackle them for their first ride.
Photo Credit: Parmjit Parmar
Riding at a dude ranch is an iconic experience and was definitely one of the highlights of my visit. There's nothing more impressive than taking in the surrounding views from the back of a horse, a true Montana Moment. Julie Tate, Assistant Head Wrangler, is a good instructor and I confidently followed her direction to keep control of my horse, Molly. Once completely at ease, I took in the picturesque vista. Tate tells me that summertime at the ranch is very popular with families; in fact, many are repeat guests.
Photo Credit: Mountain Sky Guest Ranch
Back at the ranch, the dining options are a gourmand's dream. Meals are carefully crafted by Chef Brian Bielen and his talented team. I quickly devoured the pan seared beef tenderloin with potato gratin and haricot vert, served on the first night. Breakfast is served buffet-style, and includes made-to-order omelets upon request and sweet Montana huckleberry pancakes, along with breads and pastries baked in-house.
Photo Credit: Mountain Sky Guest Ranch
Mountain Sky was one of my best travel experiences, from the gorgeous scenery, horseback riding and superb food, to the warm engaging staff who went out of their way to make their guests feel at home. The proximity of the ranch to Yellowstone National Park and Bozeman Montana, provide easy access to the airport and excursions. Unless it's a family holiday, the best time to visit is in the shoulder season in the fall when it's quieter and the leaves are changing colors.