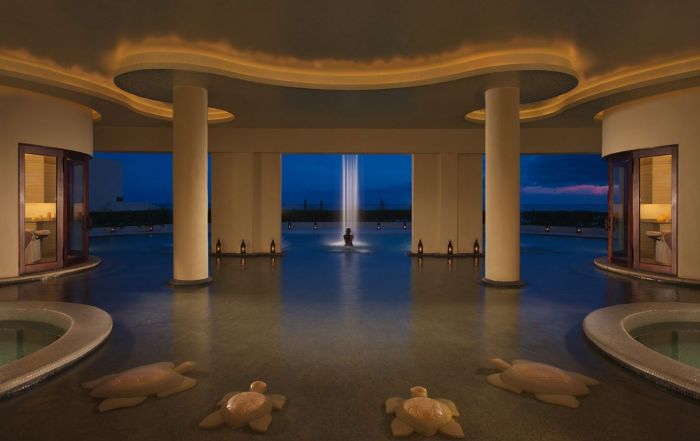 Photo Credit: Resort at Pedregal
Traveling can be tough on our bodies. Throw in jetlag and a new climate to acclimate yourself to, and it can be pretty tiring. But any smart vacationer knows that finding the perfect hotel for your trip means ensuring that its spa is just as distinguished as its guestrooms. And these days, resort spas are becoming more than just another amenity. They themselves are luring visitors through their doors because of their award-winning treatments, quality therapists and luxury niceties. Luckily there is no shortage of great facilities out there. Here are 10 of our favorite spas across the globe that will have you dreaming of warm saunas, scented oils and plush robes:
Photo Credit: The Ritz-Carlton, Vienna
Guerlain Spa at The Ritz-Carlton, Vienna
The day spa at The Ritz is exactly the kind of facility you'd expect from the world-renowned brand. Elegant and chic, the award-winning Guerlain Spa has six treatment suites, men's and women's wellness areas, a fitness center and a 59-foot pool playing underwater music. It is considered the longest in Vienna.
Killer Treatment: Orchidée Impériale Prestige Treatment
Photo Credit: Sofitel So Mauritius
So SPA at Sofitel So Mauritius
Design takes center stage at this Mauritius spa. Beautiful archways and tiled pathways lead to cozy nooks, while tropical vegetation and fresh flowers add pops of colors to the space. So SPA's beauty treatments blend organic Thémaé products with French cosmetology practices and traditional Chinese therapies.
Killer Treatment: HI!..So Energizing
Photo Credit: Crown Melbourne
Crown Spa Melbourne
World Luxury Hotel Awards named Crown Melbourne's facility one of the best hotel spas across the entire continent in 2015. A big honor for sure. Considered a sanctuary for those who enjoy the finer things, the decadent spa is decorated to the nines, and guests are immediately transported into a zen-like state-of-mind upon entering the large enclave. The facilities include a hammam, vitality pool and an 82-foot lap pool.
Killer Treatment: Platinum Rare Facial
Photo Credit: Armani Hotel Milano
Spa at Armani Hotel Milano
The Spa at Armani Hotel Milano is broodingly stylish, dashingly dark and attractively appealing. Designed to reflect the fashion house's creative philosophies and lifestyles, the spa has a very exclusive feel to it within its refined atmosphere. The 3,280-foot facility sits on the top floor of the hotel and each guest receives a personal consultation before treatments.
Killer Treatment: MU Body Massage
Luna y Mar at Resort at Pedregal
Although new management took over the five-star hotel last year, Resort at Pedregal's award-winning spa is just as luxurious as ever. For one, its 10 treatment rooms are situated in small pods overlooking the spa pool. Just as its name states, the spa centers around three central themes: the moon, the sea and Mexican folk healing.
Killer Treatment: The Restoring Moon
Egoista Spa at Principe Forte dei Marmi
Set inside a 4,305-square-foot space, Egoista Spa at Principe Forte dei Marmi is a huge facility that really takes spa-ing to the next level. The spacious spa is home to a Finnish sauna, Russian Banya, indoor heated pool, Turkish Steam Bath, Jacuzzi and an Ice Cascade. They offer outdoor treatments and use Spanish brand Natura Bissè skin care products.
Killer Treatment: Indian Ayurvedic Ritual 120' By Cinq Mondes
SPA Cenvaree Centara Ras Fushi
Who doesn't love a good vacation in The Maldives? Add to that a spa day and you're pretty much guaranteed a great holiday. When guests first enter SPA Cenvaree at Centara Ras Fushi Resort & Spa, they are greeted by exotic fragrances and the calming sounds of the ocean. The center is laid out in a series of Healing Huts that are hidden away so that spa goers can enjoy a high level of privacy. Plus, the private outdoor balconies overlook the sea, making for an even more appealing session.
Killer Treatment: Wanalee
Spa Le Bristol by La Prairie
Spa Le Bristol by La Prairie's has eight treatment rooms and is the only hotel in Paris to offer facial treatments by La Prairie. One treatment room is dedicated to the Baniya ritual performed by a Russian masseur. During the therapy, birch leaves and caviar are used to promote well-being. The room includes a private hammam, heated marble table and effusion shower.
Killer Treatment: Swiss Bliss Treatment
Shanaya Spa Kempinski Ambience Hotel
Shanaya means "first ray of the sun," which signifies a fresh beginning. As its name suggests, the spa at Kempinski Ambience Hotel was designed to offer a relaxing respite and rejuvenate its guests before they retreat back to everyday life. Along with the usual body scrubs, massages, wraps and facials, the facility also offers an Ice Fountain therapy, hammam and Ayurvedic sessions. Plus the spa in itself is stunning to look at and experience.
Killer Treatment: Shanaya Harmony
Spa at Four Seasons Resort Bora Bora
Four Seasons Resort Bora Bora has all the makings of a luxury getaway: tropical destination, five-star amenities, overwater bungalows and a gorgeous spa. The "holistic healing center" utilizes French Polynesia's natural resources such as tamanu, vanilla, monoi and kahaia in their treatments. Their exclusive Kahaia spa suite (pictured) is perfect for couples and features a completely private space with a soaking bath for two, relaxation area and an outdoor terrace.
Killer Treatment: Kahaia Haven