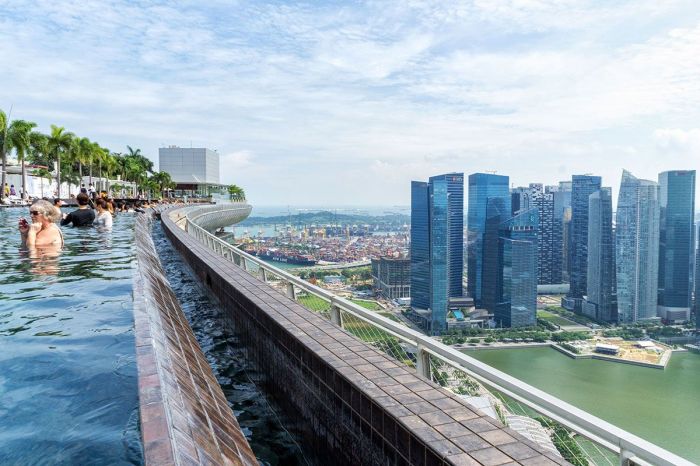 Unless you have been living under a rock, you have at least seen pictures of what is arguably the world's most famous infinity pool. Hovering thousands of feet above Singapore, it sits atop the city's most iconic building: the Marina Bay Sands. Comprised of a hotel, casino and shopping mall, the complex came with a staggering cost of over $5 billion, making it the world's most expensive hotel ever built.
The structure also houses a 1.3-million-square-foot convention and exhibition center, an 800,000-square-foot shopping mall, seven celebrity chef restaurants, an ice skating rink, and the world's largest atrium casino. But the property's biggest claim to fame is its rooftop SkyPark and highly-photogenic 492-square-foot long infinity pool.
So what is it like to stay at such a magnificent property? Although accommodations start at around $399 a night, the standard rooms are somewhat underwhelming, small and cramped for two people. Redeeming qualities included floor-to-ceiling windows and a balcony offering amazing views of the Gardens By the Bay and the sea. The all-marble bathrooms lack a tub and offer a very plain shower-head that does not scream extravagance. This was all especially unimpressive for a resort of this caliber. At 10 million square feet the hotel has 2,561 rooms, 18 unique room types and over 200 luxurious suites. So naturally we are going to recommend upgrading.
The SkyPark offers an observation deck where the public can enjoy incredible views of Marina Bay from 57 stories high. Dining options here include CÉ LA VI, Spago by Wolfgang Puck, Sky on 57 by Justin Quek and the Flight Bar & Lounge. Getting the opportunity to take a swim in the world's highest and longest infinity pool is what lures many travelers to this property. Access to the pool is exclusively for guests, yet it can become crowded. It is open from 6 a.m. to 11 p.m., and is a simply jaw-dropping place to watch the sunset.
Marina Bay Sands' large shopping complex offers many of the world's top fashion labels and luxury brands from clothing to jewelry. Combined with over 60 dining options, a shopaholic could spend hours roaming the vast array of stores without ever feeling the need to leave.
To top it all off, Asia's largest light and water show, Wonder Full, takes place in front of the hotel. It is best viewed from across the way at the Merlion Park, just a leisurely walk away. Showing two to three times nightly, the visual effects are dazzling. Many of Singapore's top attractions are also a short walk away including The Gardens By the Bay, Supertree Grove, Helix Bridge, Merlion Park and the Singapore Flyer. Along with close proximity to so many attractions there's also an MRT subway station attached directly to the hotel.
So is a stay at Marina Bay Sands still bucket-list-worthy? Absolutely. We loved the novelty of the rooftop swimming pool combined with the resorts' plethora of amenities and entertainment. Just make sure you book a suite.