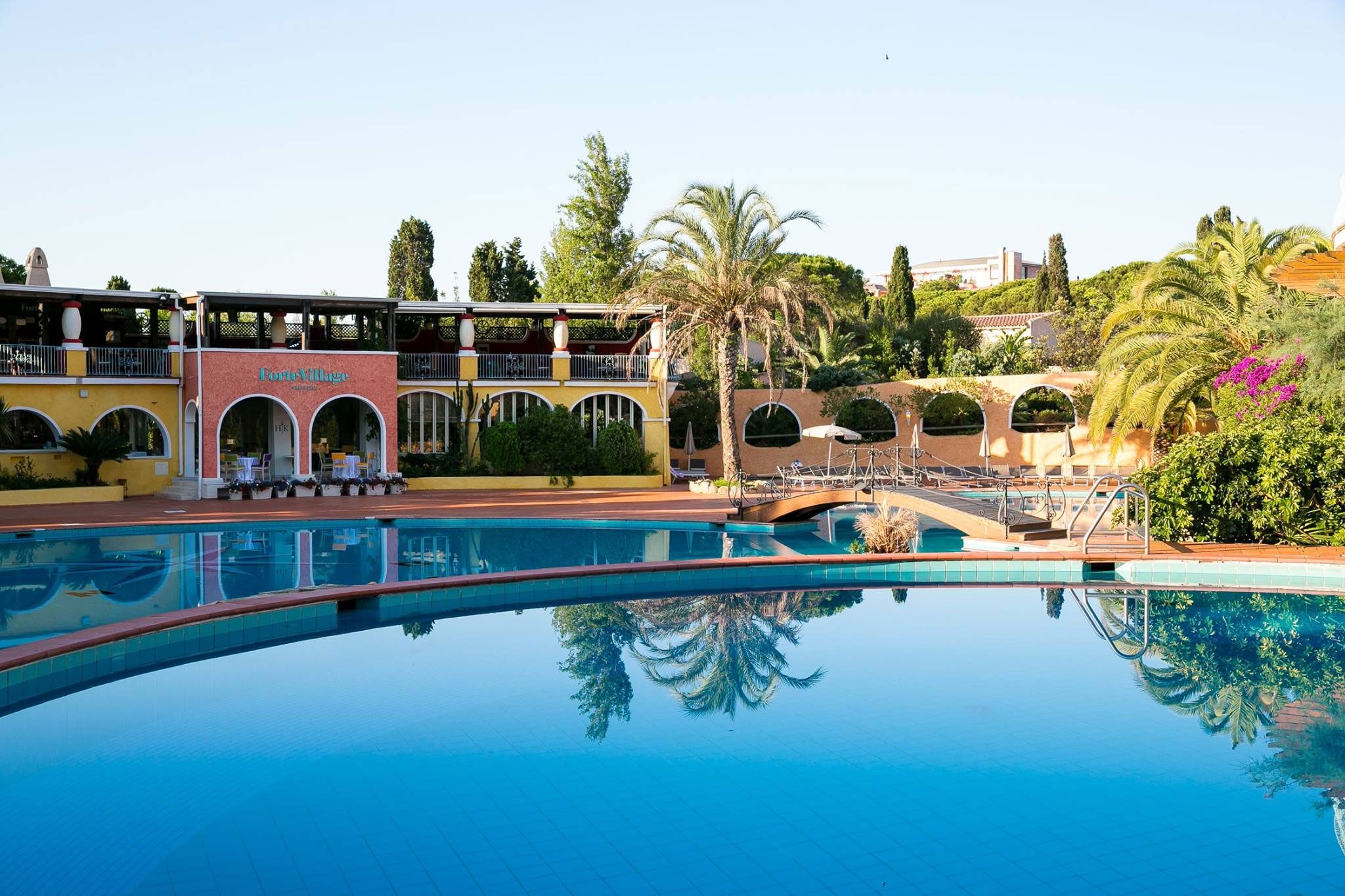 Photo Credit: Forte Village Resort
With more than 30 restaurants and bars and 61 different room categories, it doesn't get much better than the Forte Village Resort on the southern tip of Sardinia, 25 miles from Cagliari and its international airport. Making it even more attractive is the fact that the entire property has just undergone an estimated USD $33 million renovation and a new open-air theater seating 5,000 people is set to open this summer. Italian tenor Andrea Bocelli will be the venue's first musical performance.
Opened in 1970 under Lord Charles Forte, an Anglo-Italian hotelier and then chairperson of the Trust House Forte chain, the beachfront resort now spreads across 116 acres. It encompasses eight hotels as well as eight villas each with their own extensive private gardens, pools, kitchens, and some come with a butler service.
Photo Credit: Columbia Hillen
Guests at Hotel Villa del Parco have access to Acquaforte Spa while Pineta is nestled in between pine wood trees and oleanders. Bungalows at Hotel Le Palme and the new Hotel Bouganville have private gardens, close to the newly-refurbished Oasis pools surrounded by flowers and typical Mediterranean maquis plants. Hotel Il Borgo is well-suited for large families since it's located next to Children's Wonderland, the Oasis pool and slides at the Baia delle Palme pool. Le Dune is a group of elegant bungalows and exclusive suites.
We experienced the Nora suite on the fourth floor of Il Castello, with its impressive 796-square-foot verandah offering glorious views over the Mediterranean Sea, the beaches and the backdrop of mountains behind. The suite also features not one but two Jacuzzis, one inside and one on the balcony.
Photo Credit: Forte Village Resort
Around the resort, there are also a number of restaurants, some linked to award-winning chefs such as Gordon Ramsay, Emanuele Scarello and Alfons Schuhbeck. We enjoyed dinner in the 25-person La Cantina del Forte, an intimate restaurant inside a narrow wine cellar. Elegant, bottle-filled wooden boxes line the walls filled with impressive brand name vintages such as Dom Perignon, Bollinger, Masseto, Veuve Cliquot Cave Prive, Banfi Summus, Sori Tildin Gaja and Terlaner I Terlano.
The cellar contains 5,000 to 9,500 bottles, depending on the season. With 450 labels, its most expensive is a Masseto, priced at around USD $2,209. Here in this intimate, cozy setting with a terracotta-tiled floor and simple wood tables and cane chairs, we enjoyed a traditional Sardinian dinner prepared by chef Paolo Simeoni. Portions are generous so be sure to leave space sweet treats such as seadas: Sardinian fritters made with pecorino cheese and glazed with honey.
Celebrity chef evenings will also take place over the next several months in what is billed as a "festival of flavors" featuring Michelin-starred chefs. A new Cooking Academy will also open this summer, a series of cooking classes running from June to August, for a total of 14, two-hour lessons. Guests will learn how to make the most famous of Italian dishes, from pizza to homemade lasagna, fresh ravioli and risottos. Other lessons include sushi preparation, cupcake classes and traditional Italian pastries. A special class will be dedicated to vegan cooking. The resort also includes a new Wine Bar & Wine Shop.
Photo Credit: Forte Village Resort
Realizing the needs of families on vacations, Forte Village provides extensive sports, play and educational areas for children of all ages. These include a colorful Mario's Village with nine houses, a café, cinema, gas station and even a city hall. Separately, there is also a Barbie house and activity center. The resort also has a driving school with a souped-up Hot Wheels on a track. A Thomas the Tank train transports guests throughout the complex and the Fisher-Price Nursery keeps tots up to two-years-old occupied under the watchful eye of staff. Educational workshops from origami to balloon art, Velcro work to ceramics (with top Sardinian craftspeople) stimulates children's imagination, not to mention light-hearted entertainment through a succession of shows, music and performing clowns. Marvin's Magic Academy hosted by British magician Marvin Berglas teaches those over 10 years of age some of the tricks of the trade.
Sports activities are also abundant including special training academies hosted by professionals in soccer with players from the London-based premiership league Chelsea football club. Basketball, biking, rugby, boxing, cricket, netball, dance and Killerspin are also on offer. Tennis lovers are well served with 12 courts, nine being clay, and annual tournaments hosted there. Former Wimbledon champion Annabel Croft runs personalized courses and a Train with the Stars program has included players such as Ilie Năstase, Paul Haarhuis, Magnus Larsson Dominik Hrbaty and Karel Novacek. Sporting facilities range from Zumba and total body workout classes to aquagym, and diving courses to help people gain PADI certification.
Photo Credit: Forte Village Resort
With Sardinia having been a spa center for thousands of years, especially through its ancient Nuragic civilization that practiced the cult of water around the lunar and astronomical cycles, it may come as no surprise Forte Village has developed its own innovative style. Working with the thalassotherapy experimental research center at the University of Milan, it has created Acquaforte Spa with an outdoor area comprised of six baths with different temperature and salinity gradations.
Floating in these pools are rejuvenating ponds of sea salt, aloe vera and mint oils, surrounded by lavender, palm, pine and banana trees. The spa also offers massage therapy and aesthetic technologies such as radio-frequency treatments, microdermabrasion and oxygen therapy for face and body skin-treatments. Don't leave without a rejuvenating Ayurvedic massage by Hymalayan-born Shahin.
Photo Credit: Columbia Hillen
The resort's medical center, headed by Prof. Pier Francesco Parra, a sports specialist whose patients include Novak Djokovic and Serena Williams, has two clinics with a range of electronic equipment required for a complete physical check-up service. Parra is also a laser surgery specialist, which he has used to treating such ailments as muscular, tendon, joint, ligament, cartilage and bone injuries.
With its massive investment and recent renovation and expansion of facilities, Forte Village caters to any age with its comprehensive range of activities and restaurants to suit all tastes.