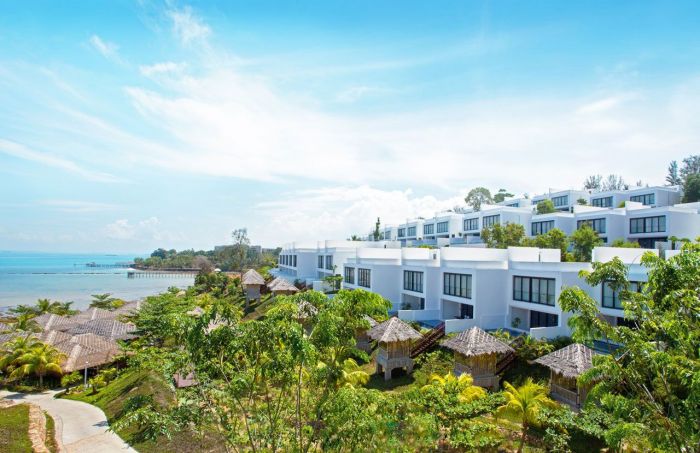 Photos Credit: Montigo Resort Nongsa
The Montigo Resort Nongsa is an impressive resort for the well-heeled traveler, offering breathtaking villas with panoramic views of the South China Sea and stellar service. Batam Island, Indonesia, where the hotel is located, is a 45-minute ferry ride away from Singapore. In fact, the city-state's coastline is visible from the property and locals flock to the property on the weekends to join the throngs of international travelers that visit.
Upon entering the resort, the striking white building is in contrast to the verdant green and lush grounds of the hillside. The design motif is modern with clean lines and bits of black lattice work paired with the occasional pops of color in blues and yellows. There are four types of villas available to choose from. The two bedroom villa is three floors of impressive design, with the first level offering a spacious great room with large plasma TV, wet bar and a WII game system. Outdoors is the centerpiece of the villa, a private infinity-edge pool along with a dining table for al fresco meals.
On the second floor are the two bedrooms. The master is exceptional with its black poster bed and floor-to-ceiling sliding windows providing an uninterrupted view of the sea. The bathroom features a large bath for two under the skylight along with rain head shower and bespoke bathroom products. The villa's interior décor is clean and boasts alabaster white and contrasting black trim and pieces of rustic drift wood made into lamps, door handles and natural sculptures. The third floor is an open living space with couches and tables. The property also has residences which are available for sale or rent. The villas have three separate bedrooms with en-suite bathrooms, a large pool, outdoor living spaces and a great room with kitchen and maid's quarters. The master bedroom is spacious with a king-sized bed, Jacuzzi tub, an outdoor terrace and another outdoor living space in a gazebo.
The dining experience is as unforgettable as the villas. Guests can choose anything from having a meal prepared by a private chef in their villa to exploring one of three restaurants, or participating in a cooking demonstration where you prepare your own local meal. For the private chef experience, the chef and a server arrive with baskets of ingredients for your feast. As the fire heats up the formal table is set with a linen table cloth and romantic candles. We enjoyed salad, grilled prawns, sea bass, chicken, steak and lamb along with roasted veggies of bell peppers and baby potatoes. Dessert was a sweet ending of fresh fruit and cookies.
Pantai is their signature Asian seafood haute cuisine dining venue with exotic and tasty dishes such as fried snapper with lemon grass, turmeric and ginger flower. The TIIGO beach club is where the Singaporean jet set crowd descends on the weekends. There are shaded indoor loungers, cabanas and a live DJ spinning tunes at night. The cooking class starts with a tour of the organic gardens which are on the property. From there, you'll head to the long pier to fish for your supper. We enjoyed our own, freshly-caught sea bass with coconut milk and chili sauce. The last and most fun dish to make was the baked seabass wrapped in banana leaf.
The Montigo Spa provides its guests with an array of authentic services and holistic regimens to revive the body. The spa is located in its own alcove of the property facing the beach with authentic Indonesian huts as the treatment rooms. They even have two authentic, century-old Sumatran huts transported from other islands and used for group therapy sessions. Aside from enjoying a relaxing massage, the resort also has a number of activities to participate in such as water sports, yoga, water polo and tennis. For golf enthusiasts, there's an 18-hole course fronting the resort. Young children are catered to as well through their OLO Kids Club.
What's great about Montigo Resort Nongsa is that it can serve as a quick weekend escape for those visiting Singapore. Especially since a Visa is not required, you can easily travel back and forth with just your passport as long as you're on the approved countries list.