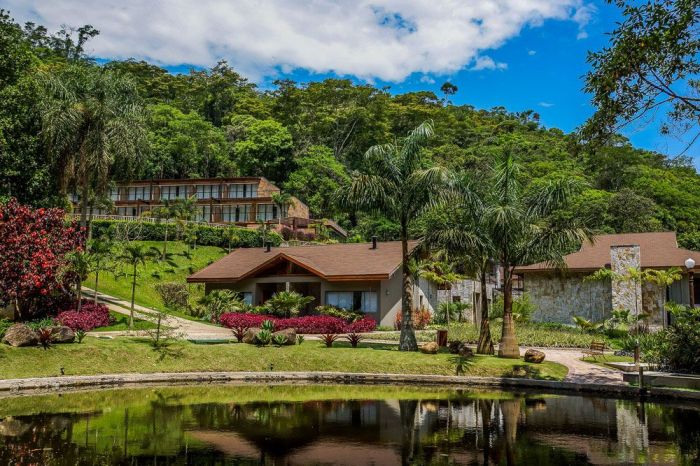 Photos Credit: Andre Maceira
Located a couple of hours from Rio de Janeiro, in the picturesque town of Penedo, at the foot of the Mantiqueira Mountains, Rituaali is a blissful new getaway for those looking to unwind after the Olympics. Set amidst lush green hills, the resort is in one of Brazil's best-kept secret regions, settled by Scandinavians many generations ago, and still retaining its Nordic influences. The wellness retreat like blends Nordic spa customs with indigenous Brazilian naturopathy.
Unlike other destination spas—which either focus on weight loss, relaxation or aesthetic treatments—Rituaali is a holistic program which promotes self-care as a lifestyle. Highly-qualified professionals assess each guest individually upon their arrival, customizing the program that will be best suit their unique needs. The objective is to begin each traveler on a path toward improved physical condition, spiritual alignment and psychological wellbeing. "Rituaali believes that healthy habits contribute to longevity. Despite the importance of genetics, what we do or do not do on a daily basis has a great impact on our health and quality of life," said Rituaali's clinical director Luiz Fernando Sella. "We exist to support people in their process of change. We wish to provide our guests with the blueprint for longevity, self-care and quality of life."
The hotel's medical staff is trained in Lifestyle Medicine—an innovative category of medicine developed at Harvard University. The minimum recommended stay at Rituaali is seven days. Upon arrival, all guests undergo a cleanse period that lasts between 48 to 72 hours, after which they are gradually cycled into a custom-designed optimum nutrition plan. Completing this cycle is fundamental. Their belief is that proper nutrition combined with correct treatment optimizes cell recovery, and thus, the healing process begins.
One of the key wellness pillars is to custom-design a nutrition plan for each guest, made with vital ingredients that are locally grown, natural, organic and free of animal byproducts. The ritual of eating is also a pleasure. Natural juices are a main diet staple. Expect a true alchemy of flavors, made with delicious Brazilian super fruits, fresh vegetables and nuts, with no added sugar or salt. Vital juices provide a rest for the digestive system. They also improve acid reflux and digestion issues.
While cleansing, purifying and meditating, guests can pamper their bodies with a range of therapeutic spa treatments customized to their individual needs. Soak in specialized baths or soothe damaged skin with nourishing wraps. Of special interest in the alternative medicine areas is the Medicinal Clay Therapy, which uses dolomite and activated charcoal clay poultices enriched with oils, salts and herbs, and is said to be beneficial to inflamed joints and some skin problems. Kneipp path hydrotherapy is also a great option. It's a European treatment that treats pain and improves circulation in the legs and feet.
Once a guest is past the purification/cleanse cycle and re-energized, they can fully enjoy Rituaali's rich schedule of activities. This is designed to appeal to guests of any fitness level, from the anti-exercise crowd to the fitness enthusiast. Outdoor activities are most common, since the verdant natural setting is one of the resort's most glorious features. In addition to wellness classes like outdoor yoga, guests can enjoy innovative or international activities such as deep water running, Nordic walking (hiking with the aid of two sticks, like a cross between walking and cross-country skiing), and piloxing (a hybrid of Pilates, boxing and dance). Traditional fitness classes include spinning, running, weight training and stretching.