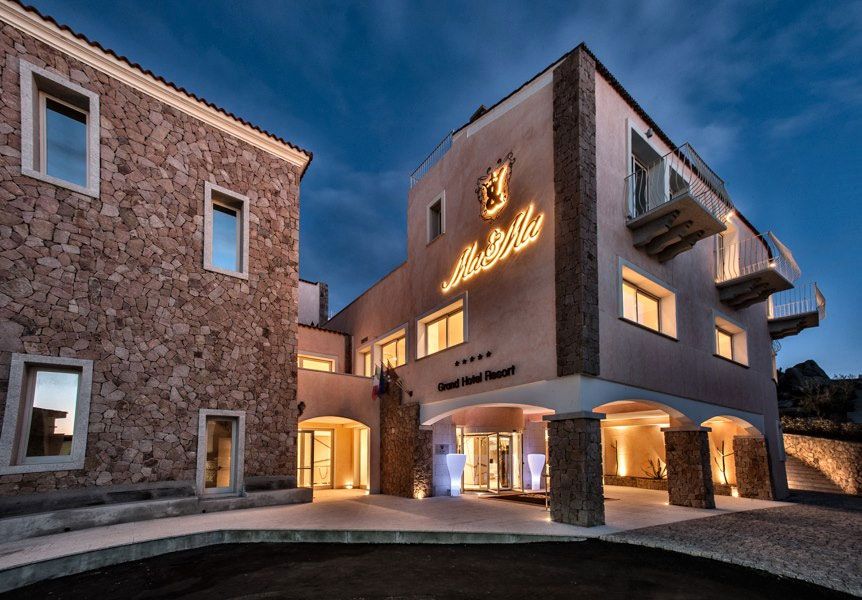 Photo Credit: Ma&Ma Grand Hotel Resort
Nestled amidst more than 20 scattered Sardinian islands and islets that make up the Archipelago of La Maddalena along the Bonifacio Strait, Ma&Ma Grand Hotel Resort & Spa could hardly occupy a more scenic maritime corner. Owned by Manila Salvati and Mario Mela (whom the hotel is named after), this coastal property is comprised of 92 rooms, suites and villas, some in private ownership.
Photo Credit: Columbia Hillen
Featuring ochre and yellow painted villas with sloping tiled roofs, the property stands so close to the rocks you might think it was hewn directly from them. Spread over four floors, the rooms are spacious and include private balconies. Most also overlook the residential complex called Borgo Punta Tegge, which is set in seven acres of Mediterranean vegetation that surrounds the hotel. Our room's interior was designed in a contemporary, Italian-style with contrasting black and white leather, wenge and polished wood furnishings.
Photo Credit: Ma&Ma Grand Hotel Resort
The hotel's ground-floor restaurant L'Antica Isola is the domain of chef Agostino Simeone, where a comprehensive four-course dinner is served. Not surprisingly, considering the location, emphasis is on fresh seafood with bluefin tuna, prawns, octopus, amberjack, lobster and monkfish among the menu items. Meat lovers can dine on dishes such as Sardinian Melina beef fillet wrapped in radicchio or the island's local lamb with violet potatoes and flavored with marine rosemary and suckling pig. Another highlight of the mains is the saltimbocca with fish, wild sage and Sardinian prosciutto in Torbato wine cream.
Photo Credit: Ma&Ma Grand Hotel Resort
Possibly one of the resort's best features is its 8,611-square-foot spa. The facility includes a magnapool full of magnesium and potassium salts, a sauna, Turkish hammam and a Technogym. Guests can enjoy the Float Room which utilizes the method of the buoyancy in the absence of weight.
Photo Credit: Ma&Ma Grand Hotel Resort
Shaped by wind and sea rushing through the strait between Sardinia and Corsica along the Gallura coast, the scenery close to the hotel is quite spectacular, beckoning swimmers, boat enthusiasts and hikers alike. The La Maddalena Archipelago National Park, a protected geo marine area on the Island of Caprera, is a mere 15-minute drive away. Home to turtles and reclusive lizards, it is a perfect place to enjoy a day's outing.
Photo Credit: Ma&Ma Grand Hotel Resort
It is also the home of the Giuseppe Garibaldi Memorial Museum. Military general, politician and nationalist whose efforts finally led to the unification of Italy, Garibaldi came to live here in 1857. Four separate buildings contain a wealth of information and artifacts including video, audio recordings, paintings, statues books and newspapers about his intriguing life. You can also visit his countryside home a few miles away where he died and where one-hour walking tours take place every day.