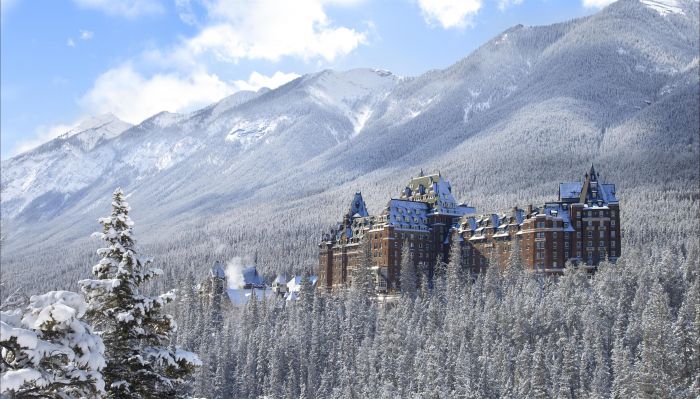 Photo Credit: 2017 FRHI
The first time I spotted the Fairmont Banff Springs it was from a lookout spot miles away on the Tunnel Mountain hiking trail. With fresh snow clinging to my boots, I was dumbstruck by the view: the Canadian Rocky Mountains, the sky-high fir, pine and spruce trees and the hoodoos that tower over them. And there, right in the middle of it all, nestled far across the valley, was the Banff Springs.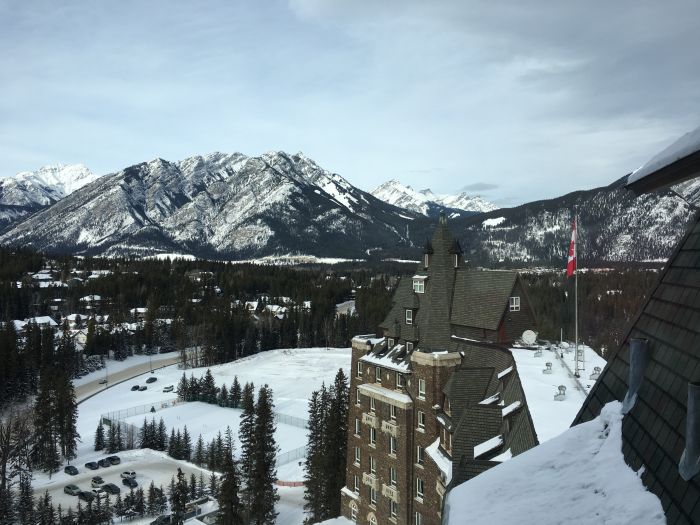 Photo Credit: Mila Pantovich
Aptly nicknamed Canada's "Castle in the Rockies," the historic luxury hotel is basically the reason why Banff exists today and having the privilege to stay there is truly a once-in-a-lifetime experience. Found in the heart of Banff National Park (a UNESCO World Heritage Site), the 19th-century hotel was first opened in 1888 as a way to bring in some much-needed money after the high cost of the Canadian Pacific Railway. The hotel has been renovated and expanded since, with one of the biggest changes being in the room views—originally the best views were apparently given to the kitchens and not the guests (whoops). Declared a national historic site by the government of Canada, the establishment offers guests a year-round resort experience that includes pampering at their award-winning European-style Willow Stream Spa, skiing in the winter and golf in the summer.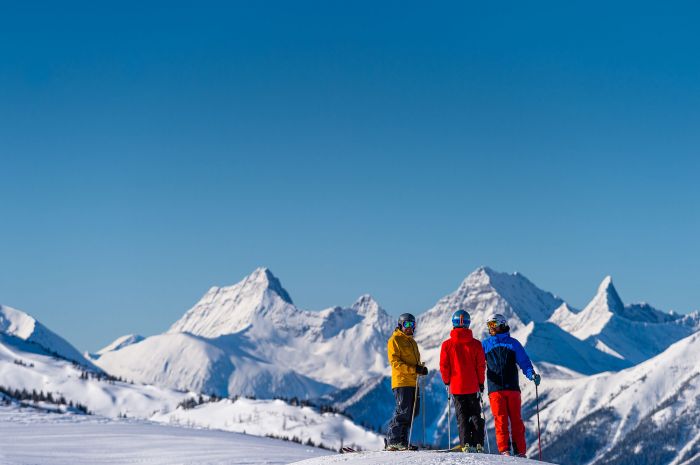 Photo Credit: Reuben Krabbe
I'm sure visiting in the summer (which is actually the height of Banff's tourist season) is beautiful, but there is something to be said for the magic of winter, with its frozen lakes and blankets of snow. If you aren't used to a winter climate though, prepare a little bit better than I did and buy real winter garments—my California-appropriate sweaters and gloves were pretty useless in -11 F weather. Since the winter isn't as popular of a time to visit, despite bringing in snowboard and ski enthusiasts by the droves, it happens to be the most romantic time for a getaway.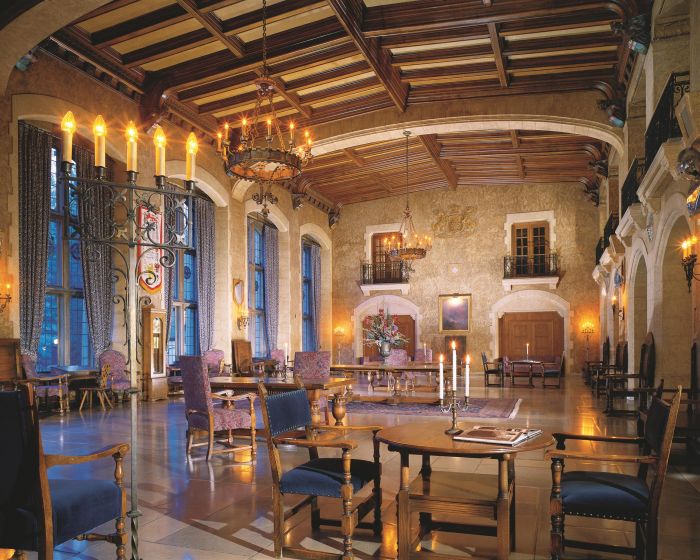 Photo Credit: 2017 FRHI
At times, it felt like my partner and I had the Banff Springs all to ourselves. Though the hotel looks like it is segmented into different buildings, there are little skywalks built within so you never actually have to step outside if you don't want to. There are also countless little eateries and wine bars, billiards and sitting areas, meeting rooms, a movie theater and a bowling alley. Some of my favorite moments spent in the hotel involved wandering its many floors and wings, discovering grand ballrooms, spiral staircases and countless little nooks that inspire romance. And since we were exploring at night, we came across very few people, which made those ghost tales and darkened ballrooms a little more exciting. Sure, we could have signed up for a tour of the grounds, but I prefer our way. Besides, the Banff Springs is unique in the sense that because it's in a national park, pretty much every local and employee you come across can regale you with history.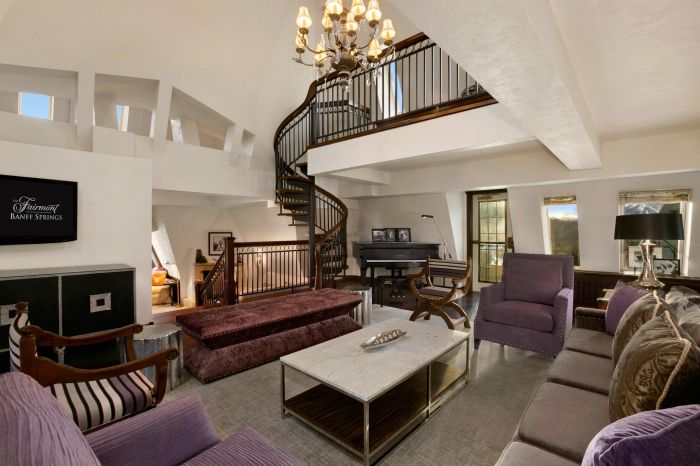 Photo Credit: 2017 FRHI
The Banff Springs offers its discerning guests several different accommodation options that range from around $290 per night to over $1,290 per night (depending on the season, of course). The Fairmont Gold experience includes a private reception area, rooms on the 4th and 5th floors of the main building (from the basic 165-square-foot Fairmont Gold Room to the more lavish 850-square-foot Two Bedroom option), breakfast in the exclusive Gold Lounge and a team to ensure your needs are being met. To be honest, I would skip these options and go straight to the suites and specialty rooms, since no matter what room you're in, you're basically receiving the same gold-star treatment—and good luck forcing yourself to get out of the ridiculously comfortable bed in the morning. The suites range from the 325-square-foot Junior Mountain View Suite to the 1,500-square-foot Royal Suite, all offering fantastic views (some even panoramic) of the scenery, living rooms and jet tubs. The larger suites feature details such as spiral staircases, private entrances, crown molding, powder rooms, gas fireplaces, and a grand piano and library.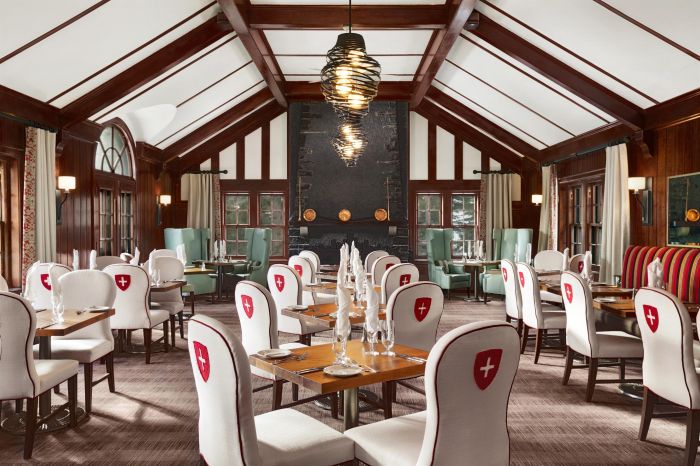 2017 FRHI
When it comes to dining, the hotel doesn't mess around. There are over 10 different food and cocktail options, ranging from Executive Chef JW Foster's 1888 Chop House (delivering the best Alberta beef with a menu developed through lasting relationships with local farmers and purveyors) to the Samurai Sushi Bar & Restaurant (with fish flown fresh from Vancouver). There are also little wine bars and cafés sprinkled throughout the grounds, as well as a full breakfast buffet when you want a little of everything and Rocky Mountain Afternoon Tea for when you're feeling fancy. Nothing quite beats breakfast (or any meal) in bed when you're on vacation, especially a romantic one, so it's a good thing the in-room dining is available 24/7 and has everything from light fare to gourmet dishes.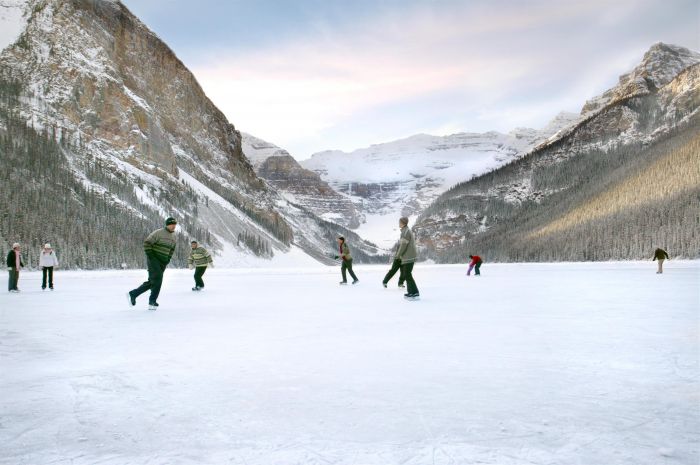 Photo Credit: 2017 FRHI
Naturally, there are tons of outdoor activities to check out during your winter stay, like romantic horse-drawn sleigh rides, dog sledding, snow shoeing, heli-hiking, snow tubing and catching the sunrises and sunsets from pretty much anywhere. If you want to try ice skating—because falling down is always more fun with the one you love—you should definitely visit the Fairmont Chateau Lake Louise. The hotel is a 50-minute drive from Banff and sits right at the north-east end of Lake Louise. Known for its emerald green waters in the summer, the lake is surrounded by jagged peaks of the Victoria Glacier that photos will never do justice. Speaking of photos, since you will likely have your cell phone out every 10 minutes to snap pictures, do yourself a favor and invest in a good winter-proof case. I didn't and had to constantly tuck my tortured iPhone 6 into my top every few minutes to keep it from shutting off due to the cold air.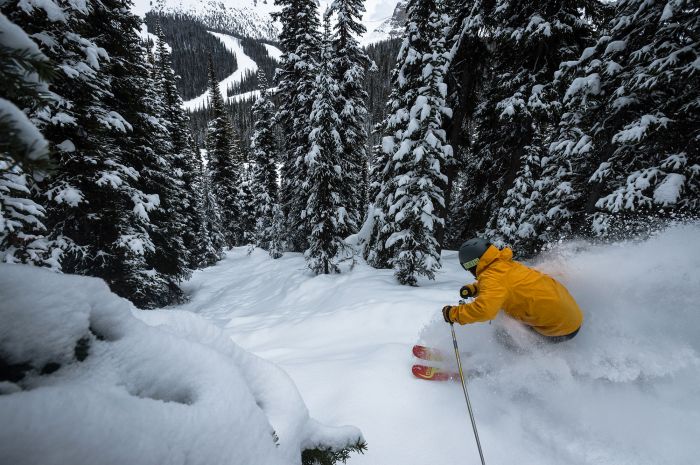 Photo Credit: Reuben Krabbe
And of course, there's skiing the famous "Champagne powder" at the three Banff ski resorts—Sunshine Village, The Lake Louise Mountain Resort and Banff Mount Norquay. Banff Springs not only has its own rental store that can set you up with equipment, but it also teams up with a local company called SkiBig3. Offering group or private lessons, the award-winning ski school is the only one in the area that offers three-day bookings that service all three of the resorts. Even if you consider yourself a pro, it's still a good idea to venture out on the mountain with a real professional who can spill each mountain's trickiest and best secrets. And when you don't feel like skiing anymore, you can ride the gondola to the top of the mountains and take in the views or hang out in the comfortable ski lounges with some hot tea. If interested, SkiBig3 also offers packages that actually include reservations at Banff Springs, allowing you to book everything at once.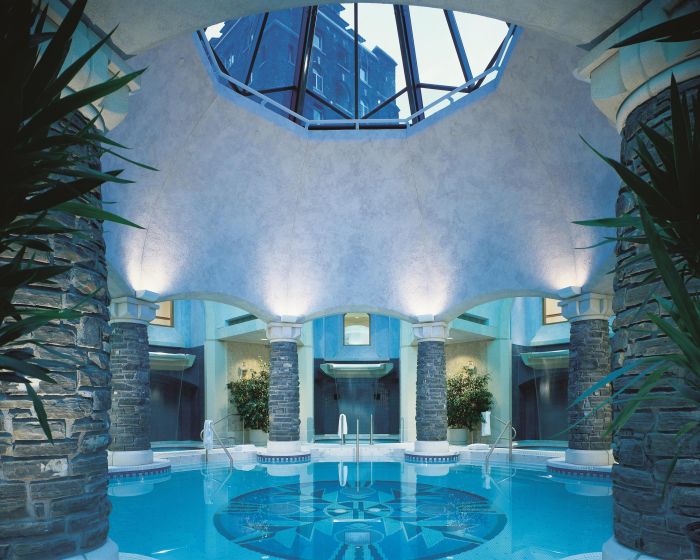 Photo Credit: 2017 FRHI
When it's time for that rejuvenating massage after a long day on the slopes, head back to the Banff Springs to visit the 38,000-square-foot Willow Stream Spa. Designed to feel like the natural hot springs discovered in Banff years ago, "steam rooms, saunas and eucalyptus inhalation rooms bring welcome relaxation, while spa terraces and an outdoor whirlpool harness the healing power of the alpine air." Guests will find exceptional spa and skincare lines Kerstin Florian International (the hotel's principal partner), Tara Spa Therapy, Jane Iredale Mineral Makeup and Willow Stream Reviving spa products. The spa offers several different experiences designed for couples, like the customized two-hour Rockies Healing Retreat for Two. Offered in the spa's deluxe couple's suite, the experience features a footbath, mineral body scrub and body mask (selected from local favorites glacial mud, red mineral mud, or native clay and corn), a bath in the spa's Japanese soaker tub and side-by-side massages. For a little extra romance, there's the Hip Honeymooners option that includes rose petals, rose water and rosehip oil. A side-by-side dry-brush exfoliation is followed by a massage with rosehip oil, a full-body wrap and a facial massage.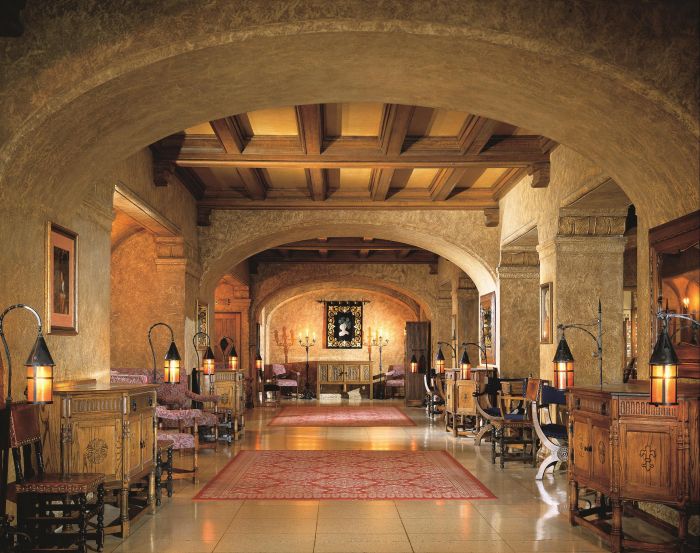 Photo Credit: 2017 FRHI
As gorgeous and historic as the Banff Springs is, if you are a frequent lodger at other Fairmont locations, you may notice a few differences. One major difference being the décor and room sizes. Obviously, the steeper price, the more lavish the room will be, but even the largest suites may seem a little old fashioned in terms of style. You have to remember that this hotel is in a national park, which means that there are a lot of rules and there is only so much the Fairmont can do in terms of upgrades. What they have done is remarkable and fit for royalty. Remember that you're staying in a castle that was built in 1888 and enjoy the history that is deeply engrained in each stone. The Fairmont manages to make the hotel seem historically old and wonderfully modern at the same time and that is something that should be celebrated and admired.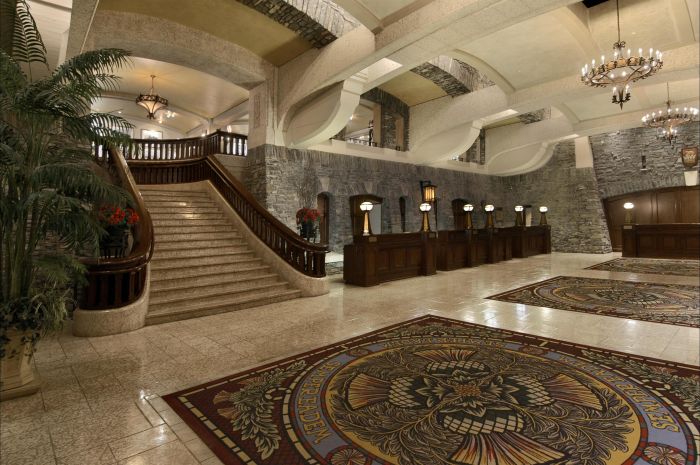 Photo Credit: 2017 FRHI