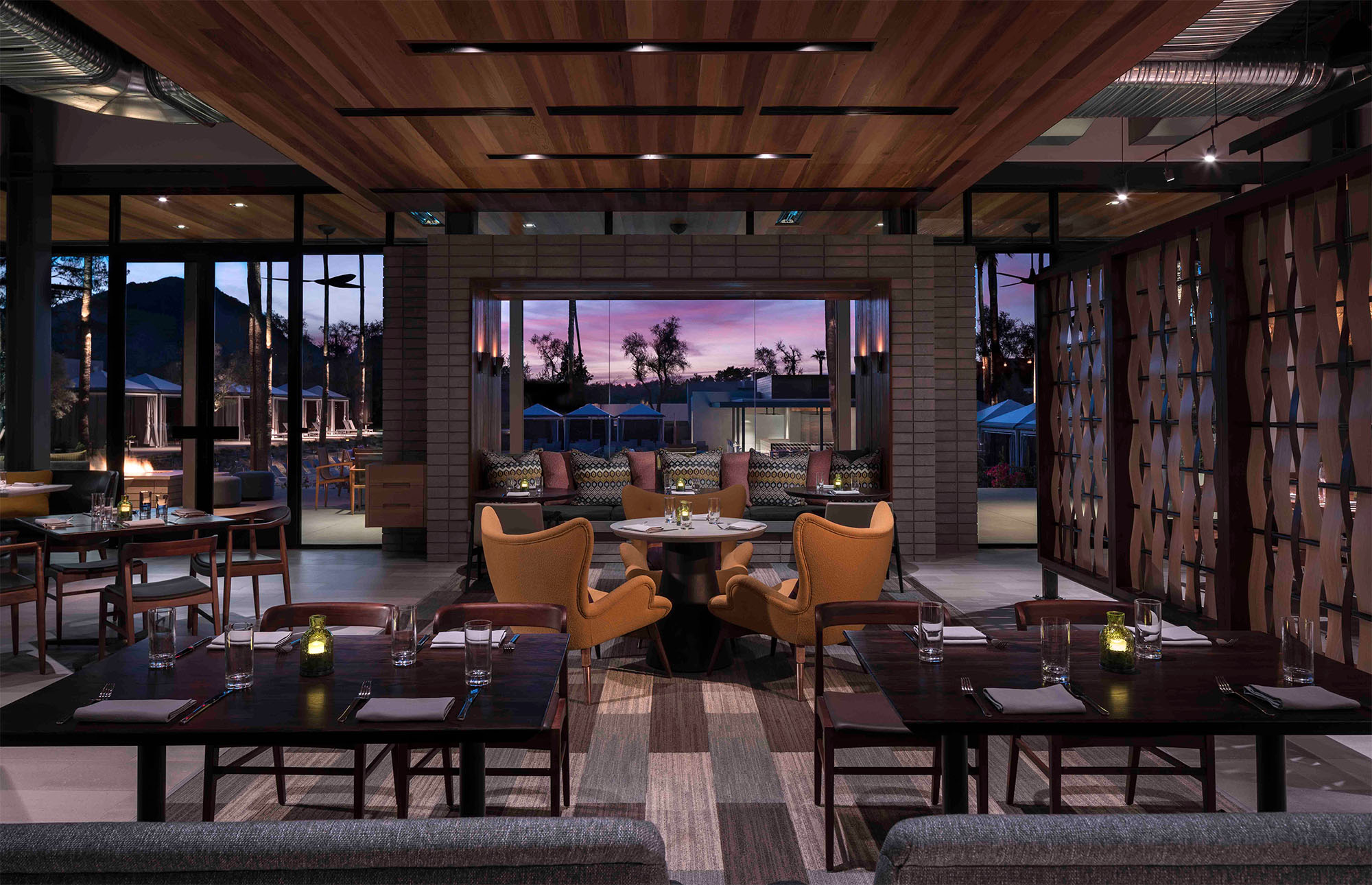 Photos Credit: Andaz Scottsdale
It's been said that Scottsdale is the "Beverly Hills" of Arizona. However, those in the know will tell you that if Bel Air is more your type of luxury, you'll need to head to Paradise Valley. The city frequently tops Arizona's wealthiest city list and is home to multimillion dollar homes and affluent residents. So when Hyatt announced it'd be opening a new Andaz property there, we wondered if it'd be able live up to its posh surroundings.
Thankfully, the recently-opened Andaz Scottsdale Resort & Spa is every bit as chic as its new city. The hotel even made Condé Nast Traveler's 2017 Hot List, just months after it had debuted. The four-star property is set on 23 acres of desert land and is set against the Camelback Mountains. The resort features 201 casita-inspired bungalows, a 12,000-square-foot spa, multiple pools and several dining concepts. Like many hotels these days, instead of checking in at a physical front desk, guests are greeted by staff members in a living room setting and are offered fresh iced tea upon arrival.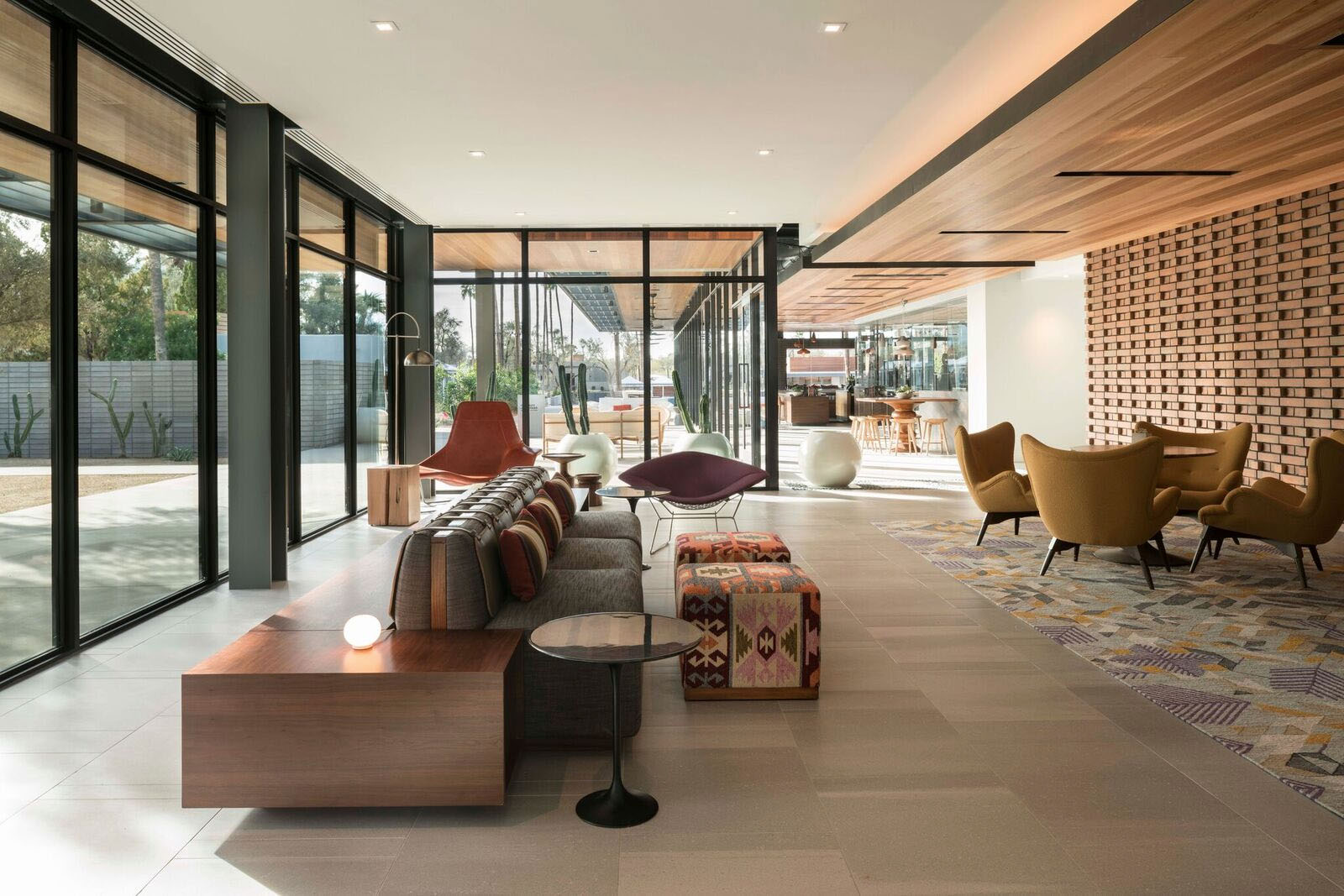 Called the "Guest House," the lobby area is outfitted with warm tones; a mix of patterned textures on the walls, rugs and furniture; and artwork by locals. In fact, all throughout the hotel are pieces of art curated by Cattle Track compound artists. The facility opened in 1963 as a ranch for artists to live, create, perform and present, and has been home to many notable artists throughout the years.
Today, it houses six full-time residents and has 35 working artists on-site. Through their partnership with Andaz, Cattle Track has been able to color the property with unique pieces that speak to the city's history, culture and current art community.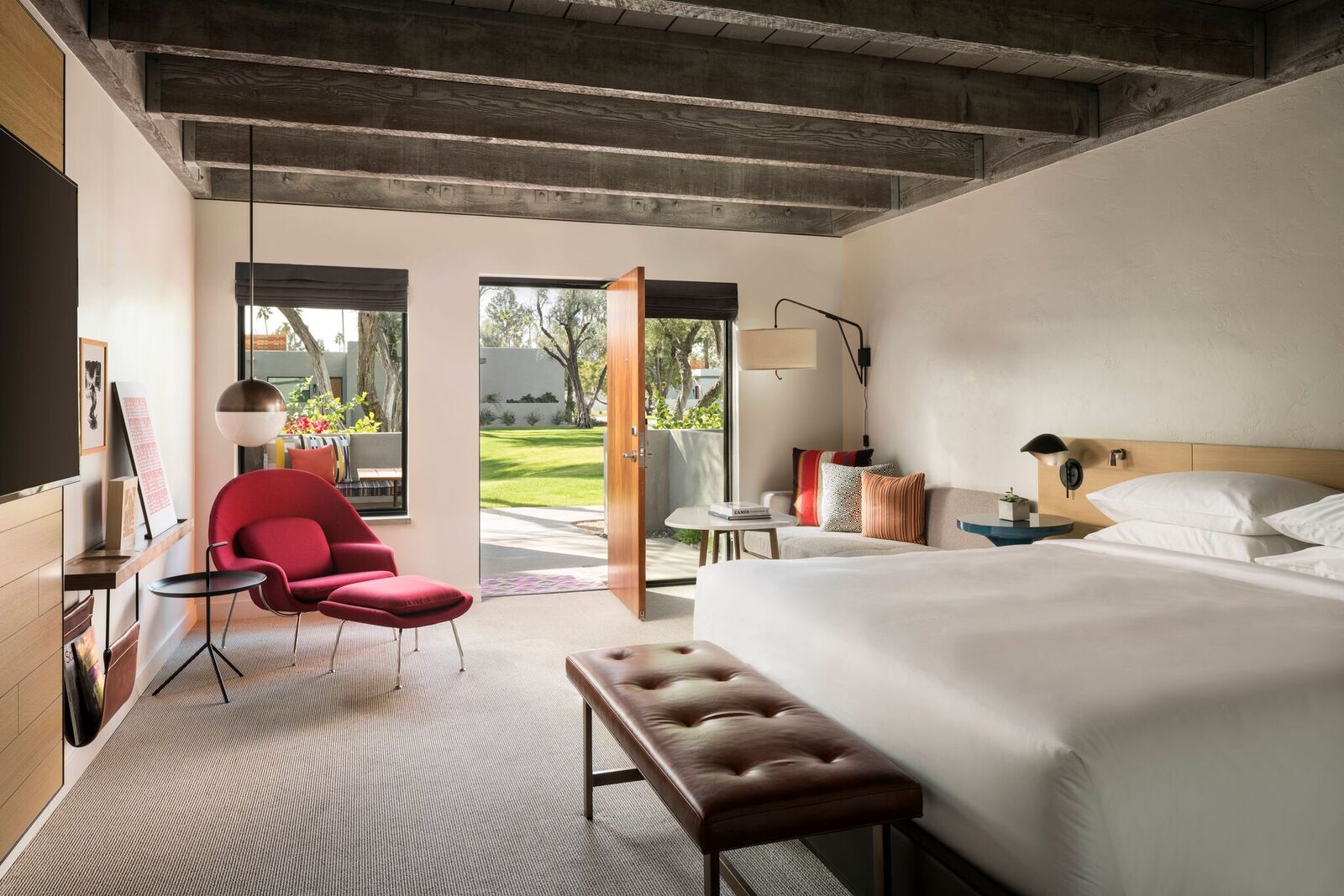 One nice aspect of the hotel is that there is not a bad room on the property. All guestrooms are situated into pods of four to six casitas and come with separate sitting areas, spacious bathrooms, extra-large showers, a front patio and some with a back terrace and extra-high walls for added privacy. There are also six rooms that come with their own cabanas overlooking the pool area. Each retreat is decorated with folk art, inspired designs that pay homage to the Zuni Tribe and local artwork such as prints by Brent Bond, Matt Magee, Mark McDowell and Koryn Woodward.
All accommodations come with local complimentary snacks, non-alcoholic drinks and water as well as adult beverages for purchase. Since the city is known for its warm weather, as a fun amenity, guests are treated to flip flops instead of slippers with their robes so they can easily trek back and forth to the pool. The best part of these rooms, however, are their showers. Meant to allow guests to have a more spa-like experience, the extra-large space includes a small bench, two shower heads and a towel rack to hang your robe so you can wait until the room is warm before undressing. When you're done, head to your patio and bask in the sunshine on your private loungers. Feel free to go au natural, since other guests can't see over the walls.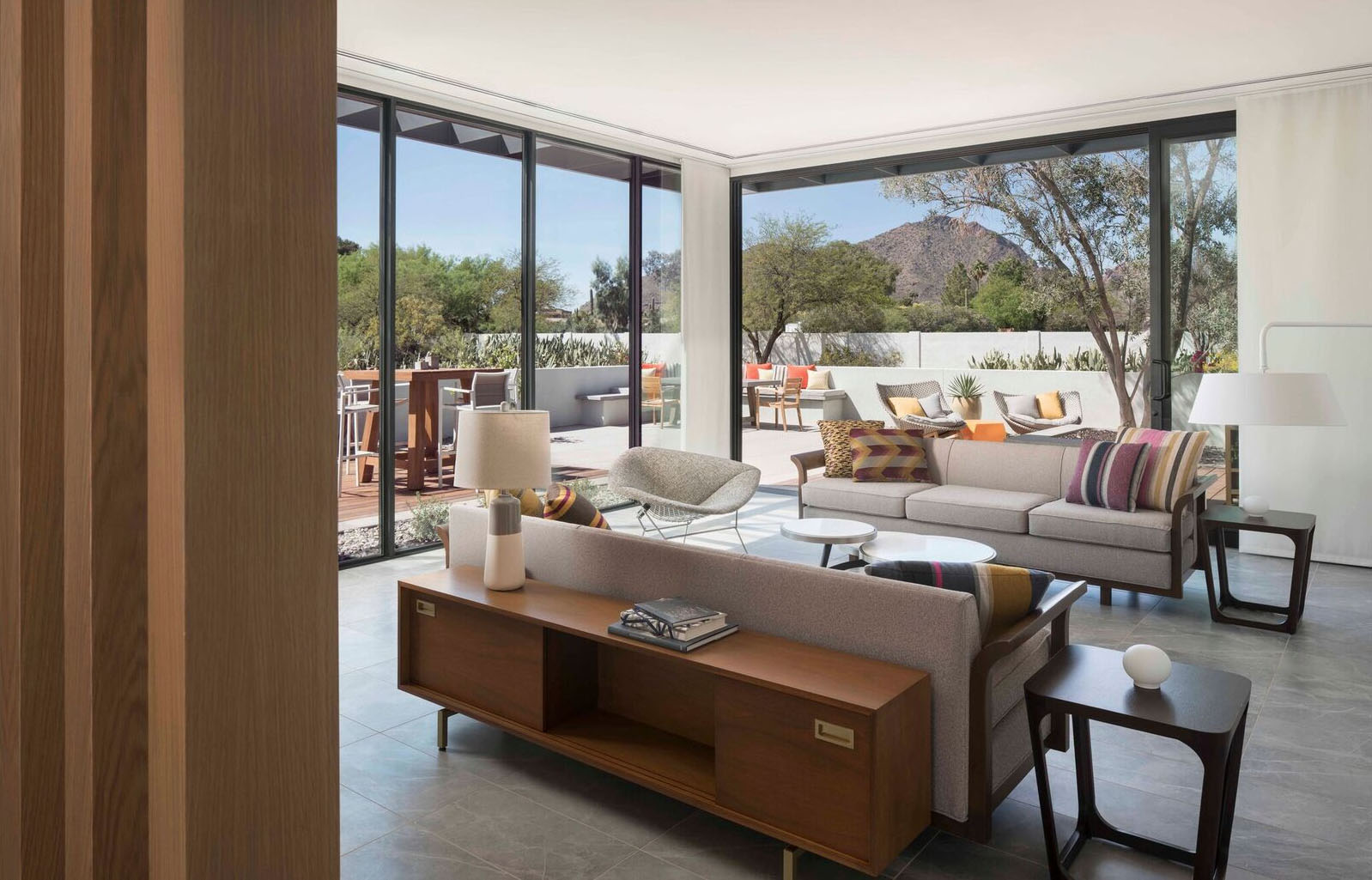 On the south side of the property, guests have the option of staying at The Retreat at Andaz. The area sits away from the main hub of the property which allows for a more exclusive stay. It's a great option for wedding parties, private gatherings, families and corporate retreats. The site has its own pool, 22 rooms, one suite and indoor and outdoor meeting spaces. Among the hotel's top accommodations are the Harper, Girard and Albers houses and suites. The latter, loacted in the Retreat, boasts two bedrooms, a grand living and dining room with floor-to-ceiling windows, an outdoor shower and a patio with a fire pit, dining table and lounge areas. This house is the perfect backdrop for a desert getaway. Plus, one of the living room walls can be completely opened up to allow for fresh breezes to flow through the estate.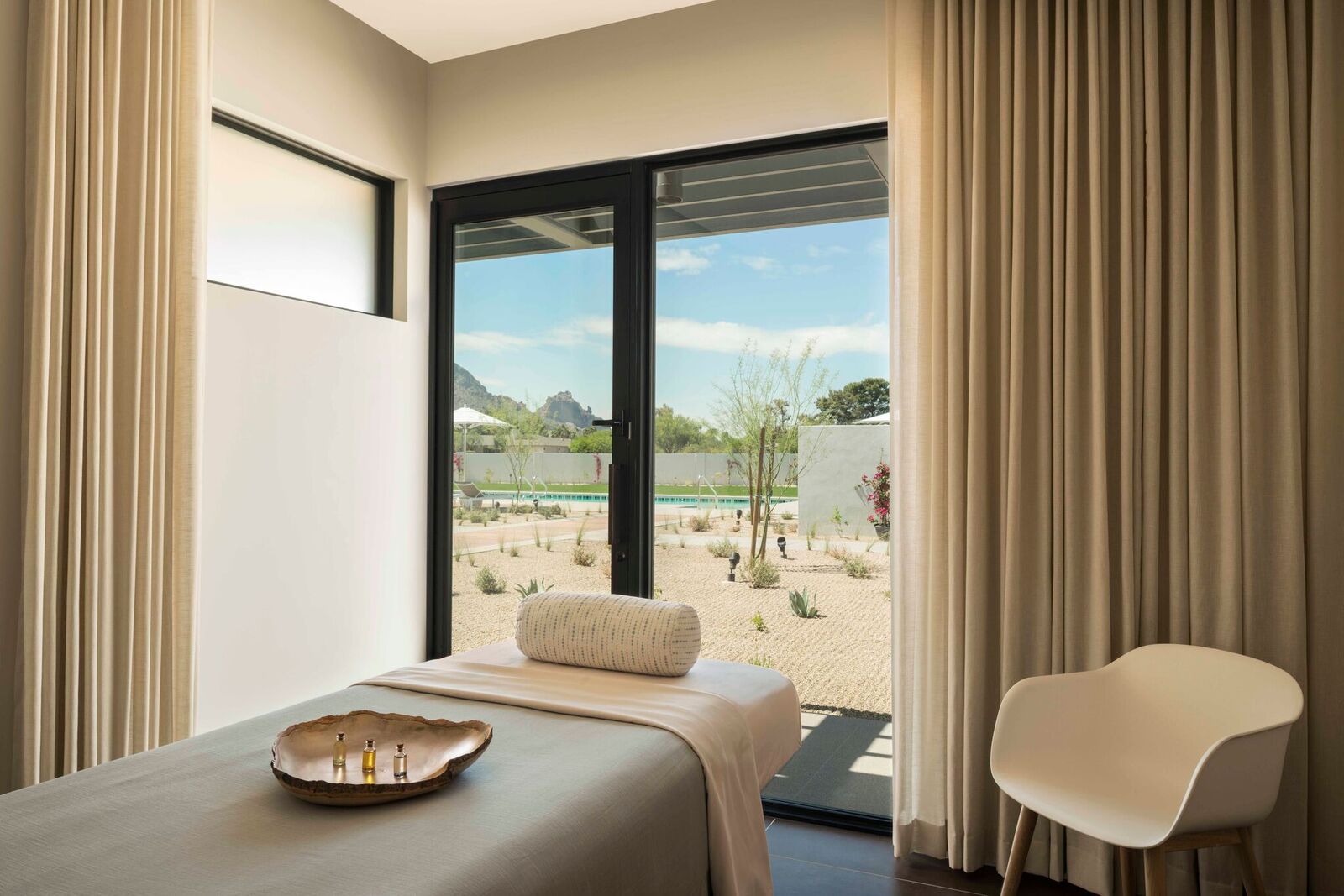 The Retreat also sits next to the Palo Verde Spa & Apothecary facility and fitness center which officially opened in April. The spa features four treatment rooms, a full-service nail and hair salon, a private outdoor pool, men's and women's lounges with eucalyptus steam rooms and a co-ed indoor relaxation lounge. I booked the True Essence Massage which begins with choosing your essential oils alongside an apothecary consultant. After answering a few personal questions (such as birth date and year), you can create a mixture that is wholly unique to you. Guests can even take the remaining oils home with them as a small souvenir of their massage experience.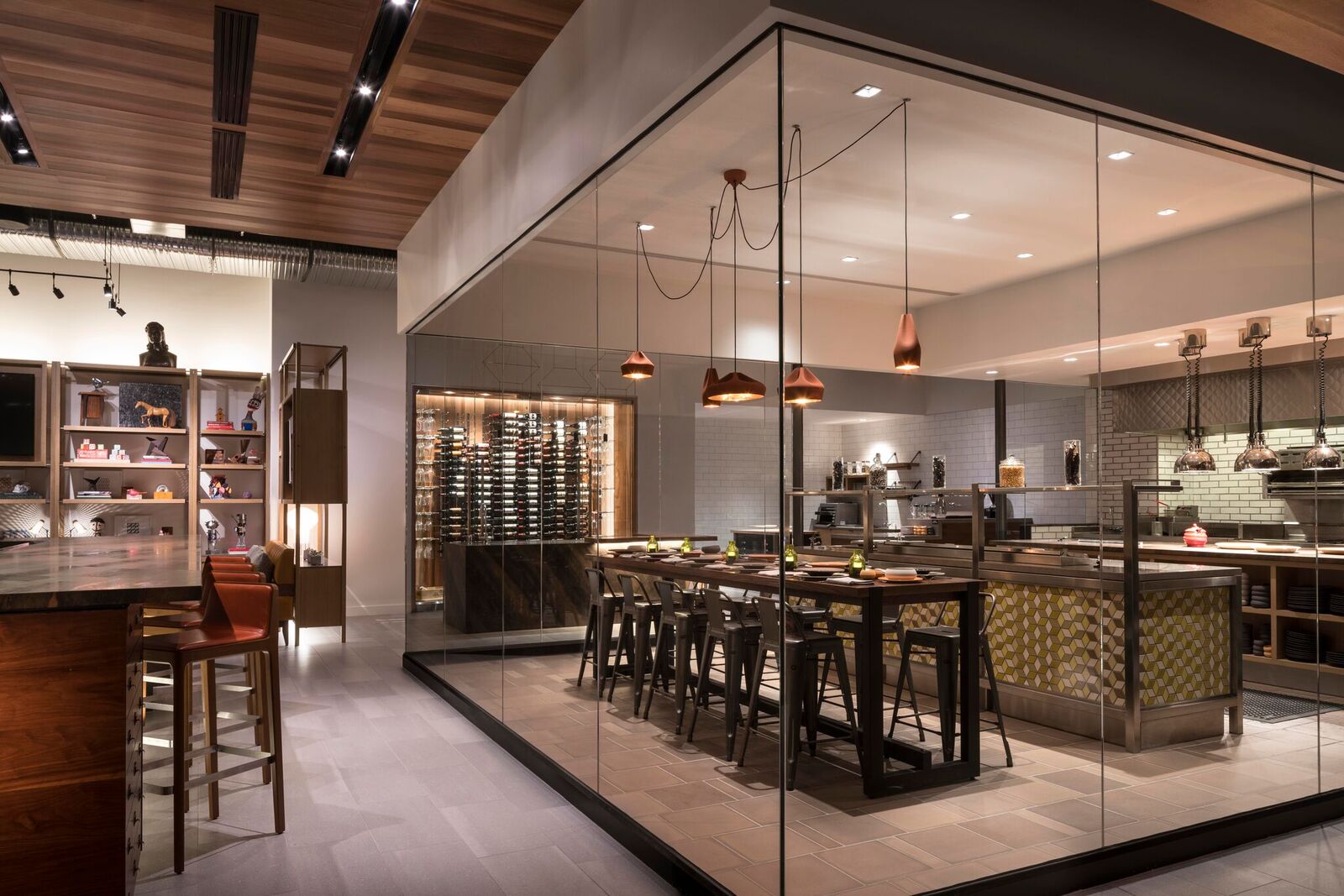 Back at the Guest House, visitors can stop into Weft & Warp Art Bar + Kitchen for breakfast, lunch or dinner. The restaurant's design is chic yet enjoyably quirky with handmade trinkets and art pieces from Cattle Track artists scattered around the space. On one end, its floor-to-ceiling windows open up onto the outdoor deck and pool area, while on the other side is the glass-enclosed exhibition kitchen.
For a unique experience, book the Chef's Table inside the kitchen to try Executive Chef Adam Sheff's menu. Using local ingredients and influences, Chef's dishes give you a better understanding of the region's bounty by offering unexpected combinations with bold, bright flavor profiles. Do yourself a favor and order the Whole Trout From The Plancha which comes with grilled lemon, cauliflower and pecan romesco. It will most likely surprise you, even if you're not a big seafood fan.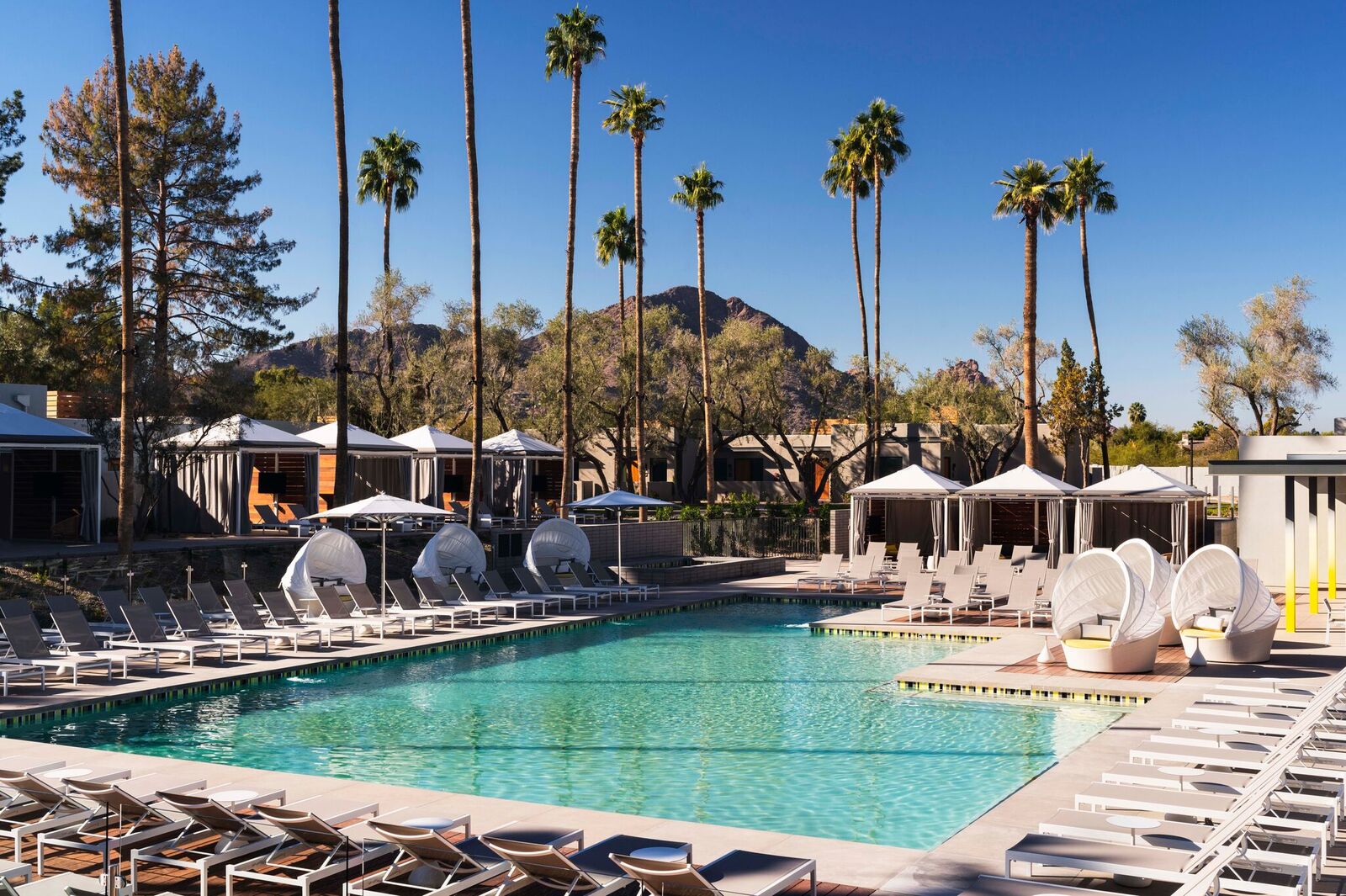 Because the hotel is only two miles north of Old Town Scottsdale, guests can easily head into the city to check out the area's restaurants, entertainment venues, art galleries, museums and shopping centers. Be sure to check out the legendary Taliesin West house designed by Frank Lloyd Wright. The tour takes about two hours and walks you through the iconic property's history and current status (it's still being used by architect students today).
As a guest of the Andaz, you can also book a tour of the Cattle Track Arts Compound to get a closer look at the artist lofts and meet the locals behind the property's décor. After exploring the town a bit, drop into the family-owned FnB Restaurant which serves local wines and dishes helmed by James Beard Award semi-finalist Chef Charleen Badman. The atmosphere is intimate and fun, and the menu changes based on the season. Once back at the hotel, finish your evening with a night cap from the bar and a swim in the main pool. Floating under the stars is what a desert vacation is all about.