Photos Credit: The Dhara Dhevi
Most of us are proud of our heritage, culture, and our people. In the north of Thailand, in Chiang Mai, a monument has been created to pay homage to the heritage of the Lanna people and dynasty that once ruled the region. Like the Burj Khalifa in Dubai, New York's Waldorf Astoria, or the great castles of Europe; the Dhara Dhevi is masterpiece and a rare jewel of South East Asian hospitality which has been created to honor a proud people.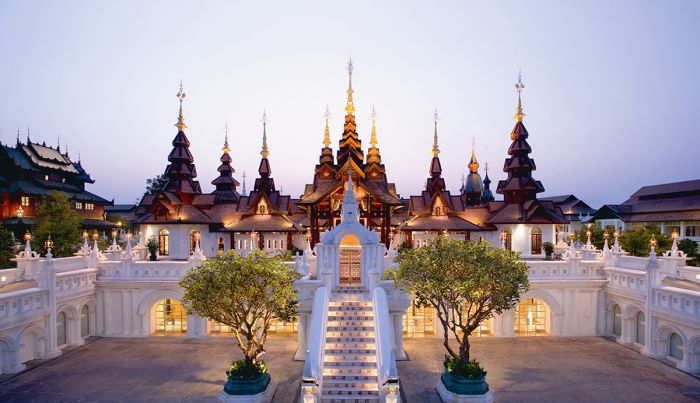 Thailand is a big and diverse country. The north is completely different than the south in terms of climate, pace and even culture. Where the south is known for its pristine beaches and frantic pace, the north and Chiang Mai are known for their laid back pace and cultural pursuits. Chiang Mai and the Dhara Dhevi are the destination for those looking for a different type of Thailand. It is a place where dignitaries, celebrities and titans of business are quite common guests as the resort provides such a level of accommodation and services.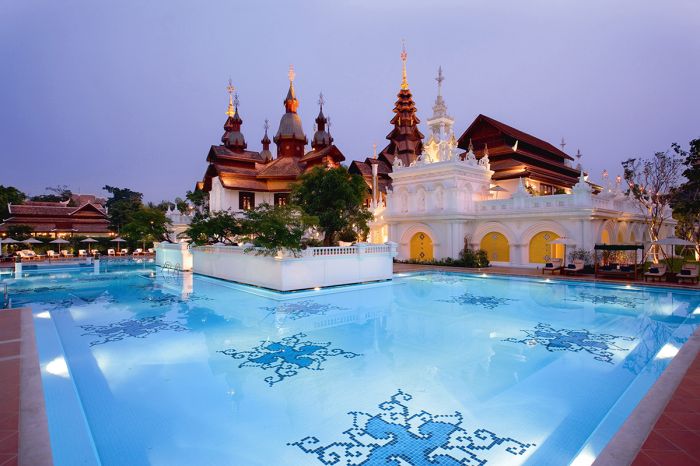 Entering through the gates of the resort, you feel that you be taken back to times past and an era of elegance and grandeur. You'll even see guests riding around the resort in high style on a formal horse drawn carriage. The resort is a collection of palatial buildings of ornately carved teakwood, British colonial mansions and traditional Thai wooden rice barns spread over 60 acres. There are 130 suites and villas with an active rice plantation as its centerpiece.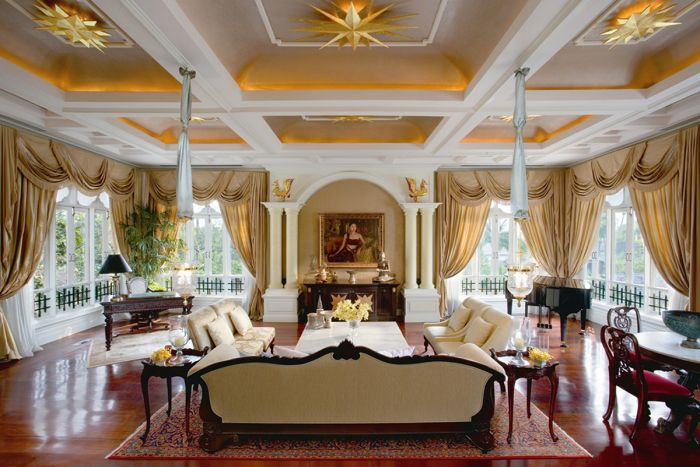 There is opulence at every turn with rare statues and artifacts about the property seamlessly mixed in with replicas and contemporary Asian art. There are no rooms, just villas and suites. The colonial wing houses suites with a sitting room and separate bedroom. The accommodations are spacious with 15 foot tall ceilings, a fresh and light décor, and lavish furnishings.
The resort concept is traditional Lanna village with royal residences and a rice field. So your villa is actually in the working rice plantation and you'll see the rice patties around the villa. The 123 two-story teakwood villas that range in size from one to four bedrooms. All are created with a traditional Lanna and colonial style architecture and crafted by local artisans.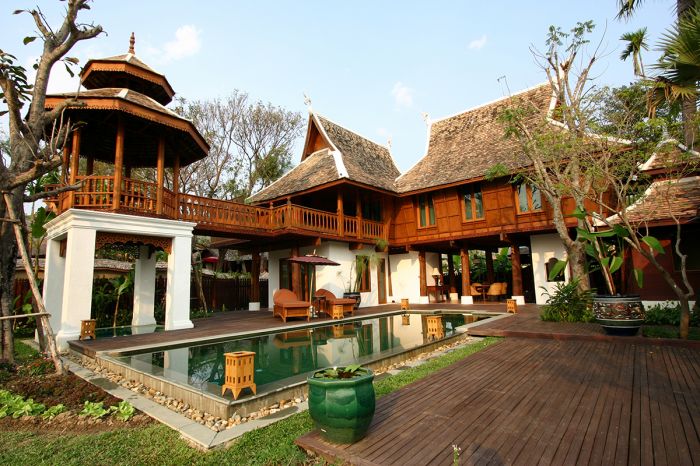 The downstairs living area features fine rattan furniture and local artwork and artifacts. There is an extensive outdoor living space with swinging couch, large patio and Jacuzzi. Many of the villas also have private pools. On the second floor there is a sundeck terrace with chaise lounges and a gazebo overlooking the tranquil setting of the rice fields and grounds.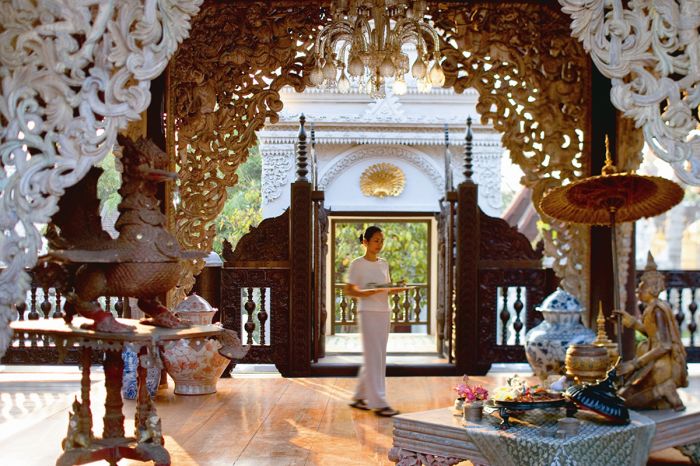 The resort has four signature restaurants serving Chinese, Japanese, Thai and French. Le Grand Lanna is their classic and northern Thai and a dinner experience that must not be missed. The restaurant is in a beautiful setting of grand old trees and is on raised pavilions. The ambiance is romantic as couples dine al fresco under the stars with views of a tropical garden. There is a spectacular dinner show each evening with artists performing traditional dances in period costumes as musicians performed traditional live music. The dinner experience is a feast for the eyes as well as for the palate.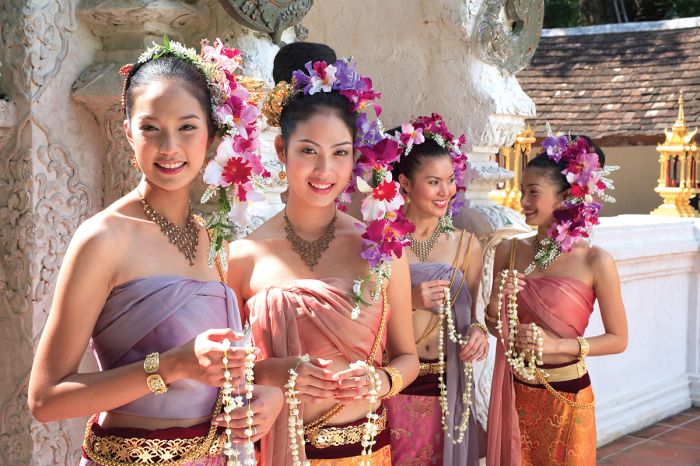 The resort is on sixty acres and there's always something to do there. Most will just enjoy walking around the property and marveling at the historic sites, manicured grounds and fabulous buildings. The resort also provides cooking classes and even has its own crafts village with arts and crafts demonstrations and lessons. One "must-do" activity is to participate in rice planting. Participants dress in traditional clothing and go to the rice field where they actually plant rice in the patty.
The resort also has a shopping village with boutiques and their very own bakery known for having Thailand's best macaroons as well as their afternoon high tea service. For a bit more shopping and exploration, guests can take a short ride into Chiang Mai with their complementary shuttle.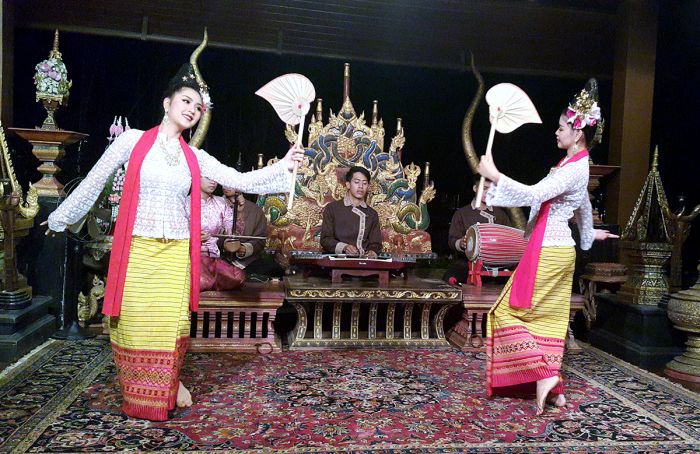 One thing that is guaranteed is that children will never get bored there. There are several pools and the Lanna Kids Club with a host of activities including art and crafts, petting zoo with Alpacas or a ride on their albino water buffalo.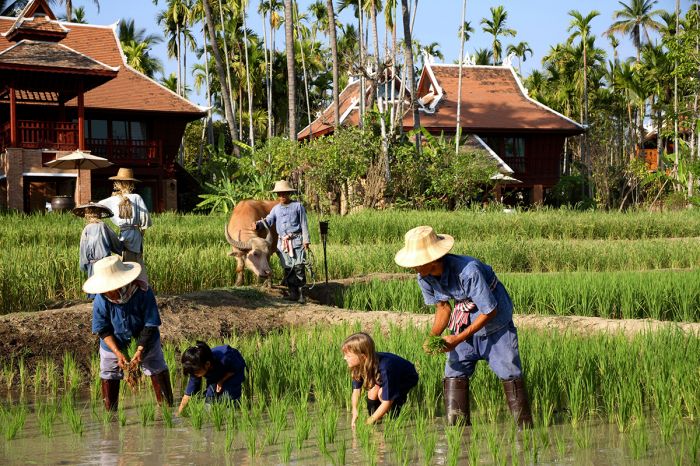 The Dhara Dhevi is a modern day palace created as a monument to the Lanna people of Northern Thailand. Guests experience a luxury vacation in a kingdom of opulence. Forget what you think about Thailand, The Dhara Dhevi in northern Thailand is an unforgettable vacation experience to another place and time.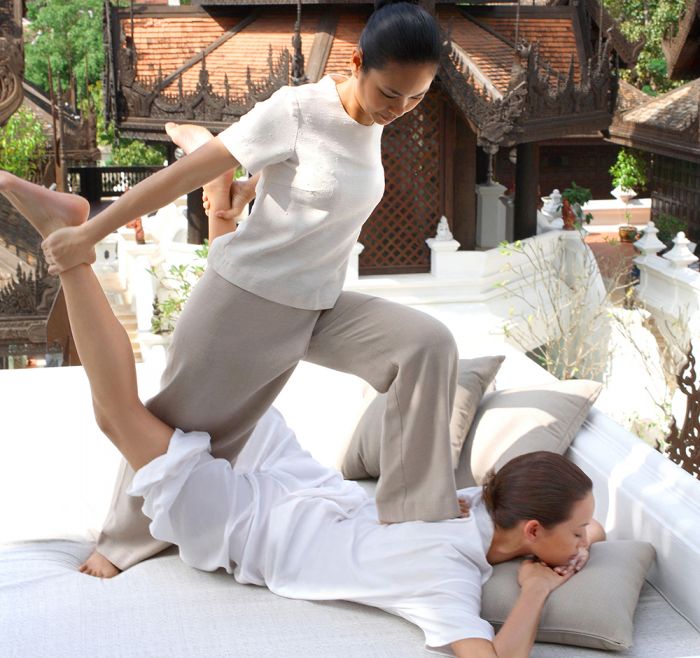 For those looking for deeper relaxation, Dhara Dhevi has a fantastic destination spa experience. The Dheva Spa hosts 11 private treatment rooms that are the size of most hotel suites. They provide an array of European, Asian and North African spa services as well as Indian holistic treatments based on Ayurveda. This Ayurveda treatment begins with the specialist who takes a photo scan of your body to understand how your energy is flowing and where you may need most healing. From this diagnosis she will then recommend a series of treatments to get to the root of your health issues.