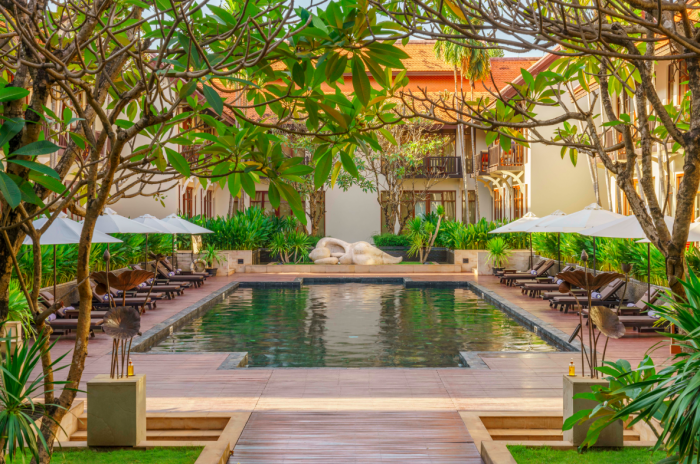 Photos Credit: Anantara Angkor
As the gateway to Cambodia's spectacular Angkor, Siem Reap has long been a popular stop for tourists. As such, it has good range of luxury hotels, but some are far superior to others. With just 39 suites, Anantara Angkor Resort is one of the best, offering a glamorous and tranquil base from which to explore Angkor. Here's how it measures up.
Style & Ambiance
Anantara Angkor Resort is stylish, peaceful and intimate, merging traditional Khmer design with contemporary comforts. The style is a mix of colonial and Cambodian elements—think manicured lawns adorned with fountains, an impressive 59-foot-long saltwater swimming pool that's modeled on Srah Srang (a pool built for Angkor's kings) and grand sculptures throughout the grounds.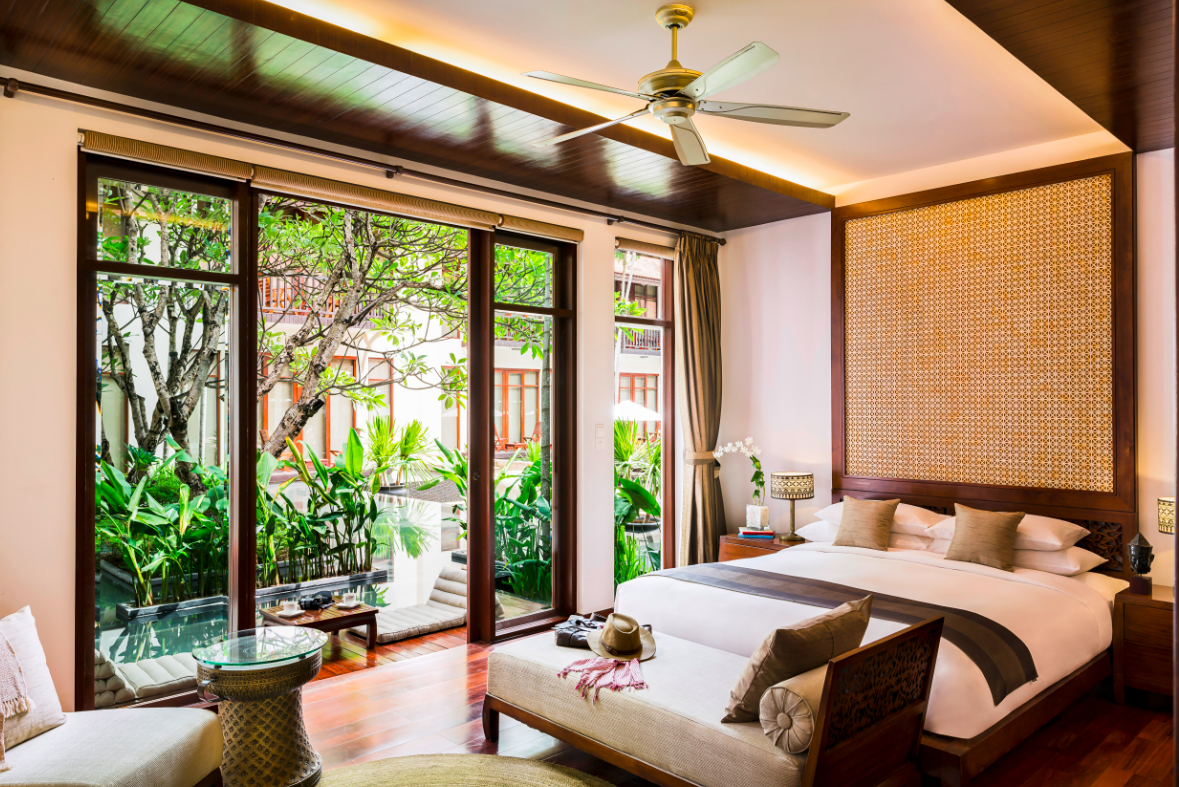 The bedrooms are an attractive blend of classic Cambodian decor and modern touches, like intricate, dark wood panels, hand-crafted teak furniture, traditional textiles and replica statues. Deluxe rooms have wall-to-wall windows that look out onto the pretty pool, and boast big, airy bathrooms complete with clawfoot bathtubs—perfect if you fancy a lazy soak after a day of dusty temple trekking.
Premium Deluxe Rooms have indoor and outdoor showers, and for families or groups, there's the 1,022-square-foot Anantara Suites, which feature enormous canopy beds and separate living areas. One step up is the newly-renovated Jim Thompson suites: with a private garden and pool, hot tubs, adjoining bedroom for guests, and his-and-hers massage beds, these opulent and exquisitely designed rooms will make it hard for you to leave your suite.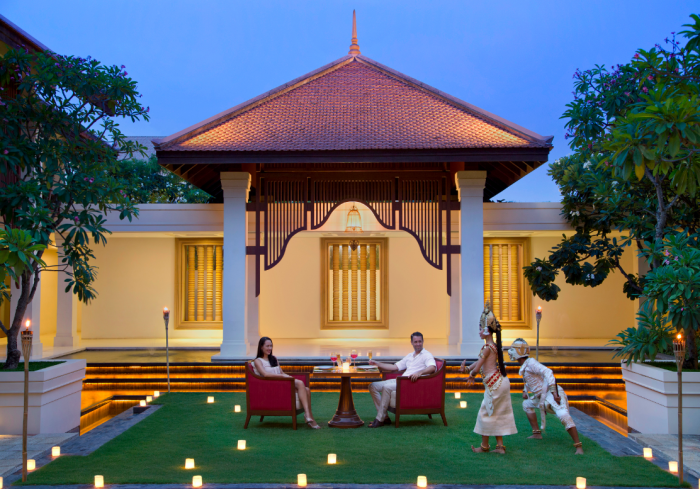 Service & Facilities
The service is excellent—the staff is warm, bright and friendly—and you're greeted on arrival with a complimentary foot massage. The Anantara Spa is the perfect place to enjoy some well-deserved pampering after a hard day of touring temples. The spa features three spa suites with outdoor Jacuzzi and rain shower, two massage rooms, one foot-massage room for reflexology, a wellness relaxation area, and changing rooms with sauna, steam and Jacuzzi. You can also take a yoga class on the rooftop garden or courtyard.
Treatments include the Signature Anantara Massage, Indian Head Massage, Thai Herb Compress, and the luxurious Essence of Anantara treatment, which is 190 minutes of pampering heaven. Best of all is the traditional Khmer massage: this unique massage style uses no oil and provides myriad holistic benefits, such as improved flexibility, enhanced circulation, and a perfectly relaxed mind and body. If touring the temples hasn't zapped your energy, you can work out at the smart hotel gym, too.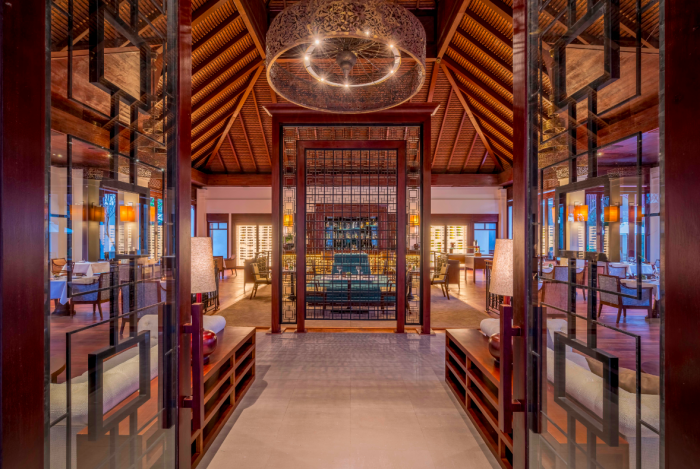 Food & Drink
The main restaurant at Anantara Angkor is Chi Restaurant & Bar, where you can feast upon authentic Khmer specialties in fine-dining style. The large dining room, with its huge handmade brass chandeliers and intimate ambiance, is the perfect setting, and executive chef Kien Wagner is enormously talented, seamlessly merging the traditional aromatic tastes of Cambodia with international flavors.
The Dining by Design experience is highly recommended, where you can choose your own menu and dine in the romantic courtyard, rooftop gardens or poolside, with your own personalized butler and chef delivering an entirely unique, bespoke service. Guests can take advantage of happy hour from 6:30 p.m. to 7:30 p.m., where you can enjoy a free selection of Cambodian canapes and sundowner drinks. L Lounge serves up fresh international dishes, mouthwatering cocktails and a good range of tapas plates to share.
Rates include breakfast, butler service, a welcome drink and nightly turndown service.