Photos Credit: The Gwen
Sponsored Content by The Gwen, a Luxury Collection Hotel, Michigan Avenue Chicago
The Gwen Hotel Unveils New Art Deco Design
Keeping with Chicago's penchant for constant reinvention and renewal, The Gwen, a Luxury Collection Hotel, Michigan Avenue Chicago boasts an update of its own. The hotel features an all-new Art Deco inspired aesthetic, complete with contrasting design elements—it is both modern and traditional, masculine and feminine, creating a dynamic experience for visitors. These elements combine to transport guests to the luxurious '20s, while maintaining and exceeding what the 21st century traveler has come to expect of a modern metropolitan hotel.
The Gwen, which resides within the historic McGraw-Hill Building, exemplifies the opulence and extravagance of 1920s Chicago. The building was finished in 1928, featuring the classic Art Deco look that remains intact to this day and is the inspiration for the hotel's updated interior. Gwen Lux, one of the few female sculptors at the time, was commissioned to design the façade and serves as the hotel's namesake.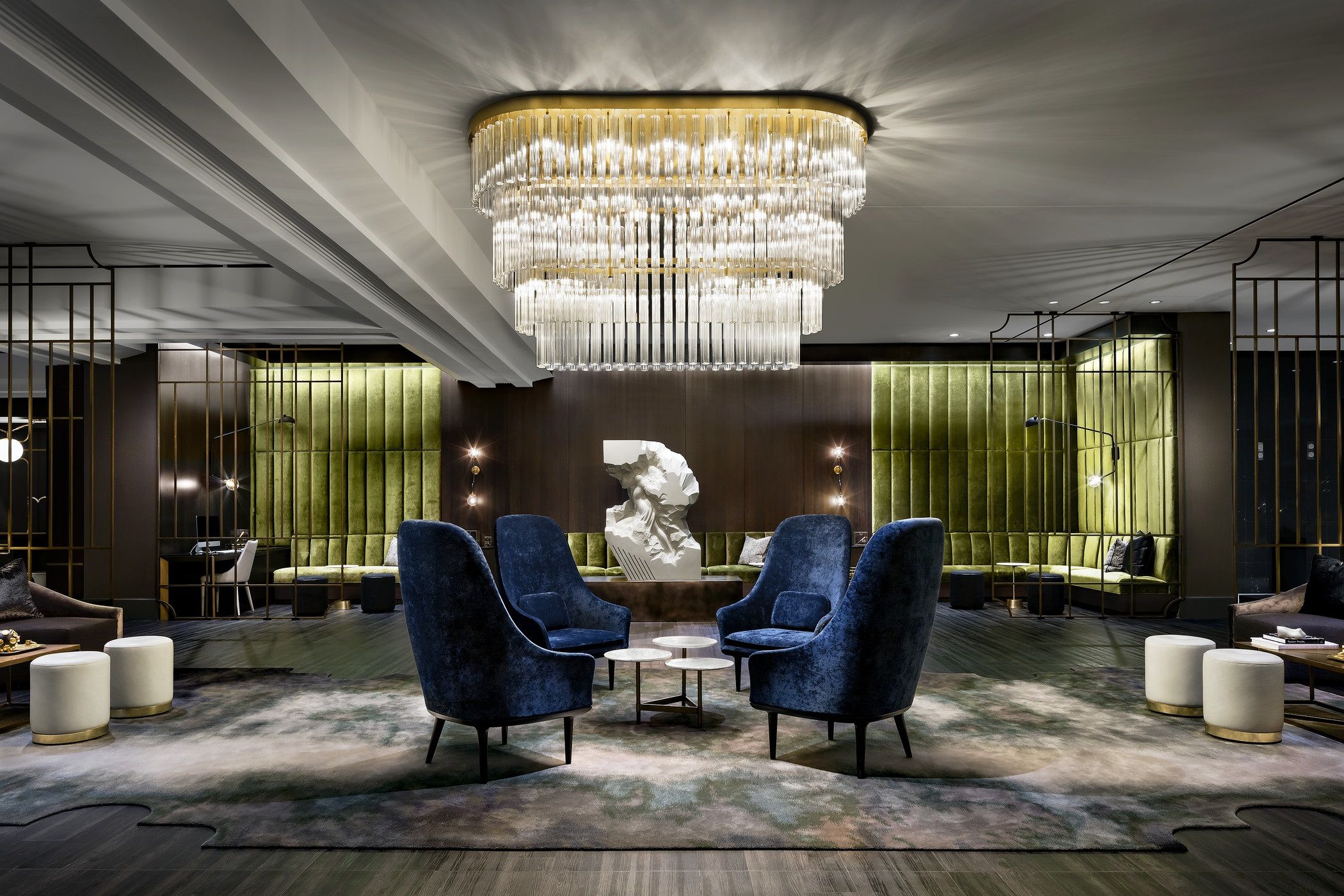 The Lobby at The Gwen, a Luxury Collection Hotel, Michigan Avenue Chicago
The hotel's new design relies heavily on the dramatic contrast between masculine and feminine design elements, which is seen throughout the main lobby and all guest rooms. Guests are encouraged to socialize with one another through comfortable and stylish lounge space, complete with built-in furniture wrapped in faux furs, leather and velvet to ensure a cozy, yet luxurious, atmosphere.
Subdued sophistication was kept in mind throughout the entire renovation process for The Gwen's 311 guest rooms, 32 of which are suites. Each room offers a mink gray, tonal palette, and features a Gwen Lux design above the bed's headboard. Soft accents are sprinkled throughout the room, such as plush peach-colored pillows and delicate brass fixtures. Guests are greeted with ample living space in every room, with king-bed rooms providing a soaking tub and glass-enclosed steam shower in the bathroom.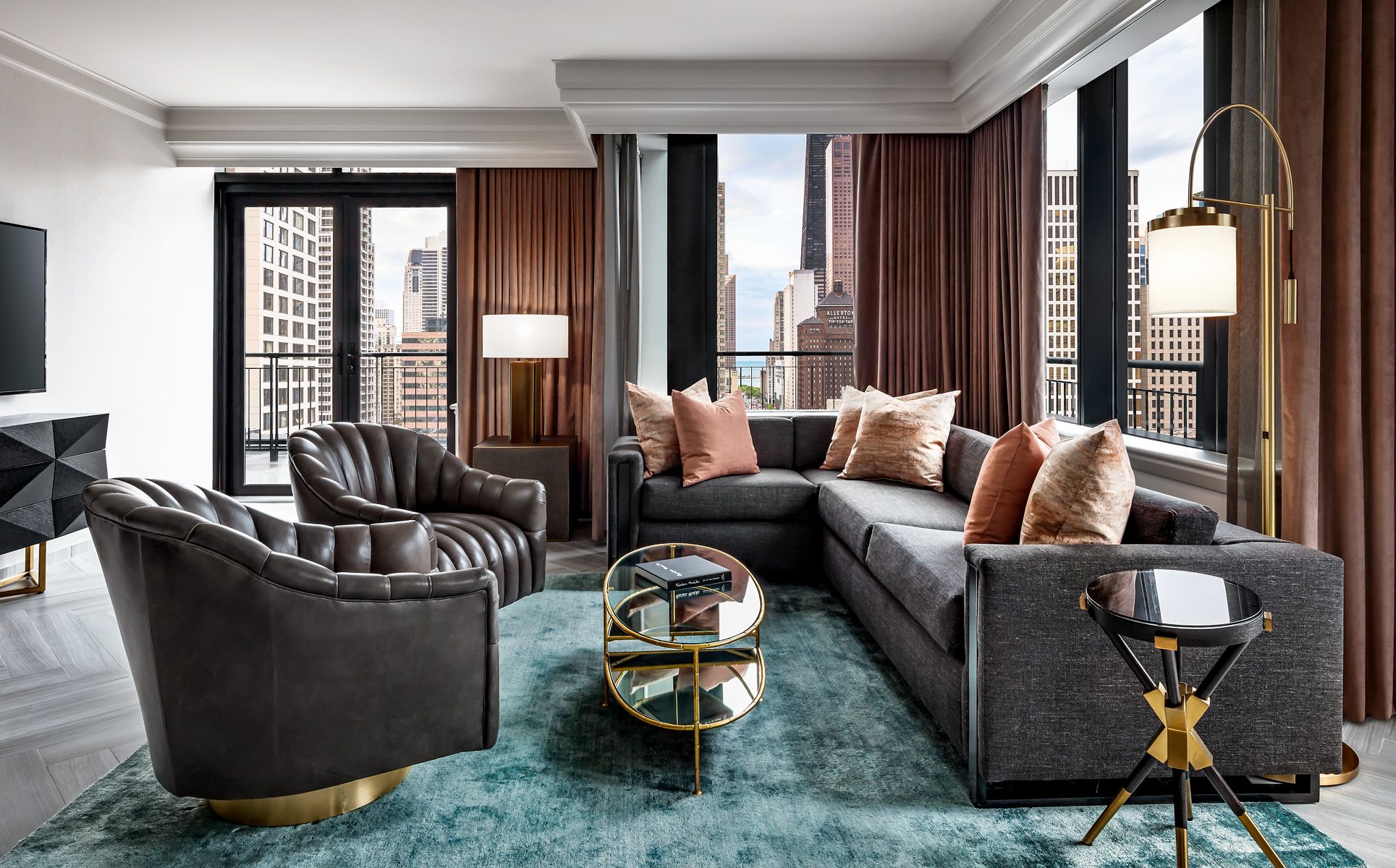 Gwen Lux Suite at The Gwen, a Luxury Collection Hotel, Michigan Avenue Chicago
The crown jewel of the hotel is the opulent Gwen Lux Suite, clocking in at an impressive 2,500 square feet. The suite features a private 1,100 square-foot terrace on the 16th floor, placing guests in the very center of the skyline and offering a unique view of both the skyline and lakefront. The suite boasts two separate rooms, a sleeper sofa, and a private bar. It provides a unique and memorable experience for an intimate wedding or a romantic honeymoon getaway.
Chicago's big-city atmosphere also translates into the hotel's approach to hosting corporate meetings. Companies looking for the perfect place to host a corporate retreat will find 15,000 square feet of both indoor and outdoor meeting space available at The Gwen. Meeting rooms are equipped to host groups as small as 30 or as large as 320.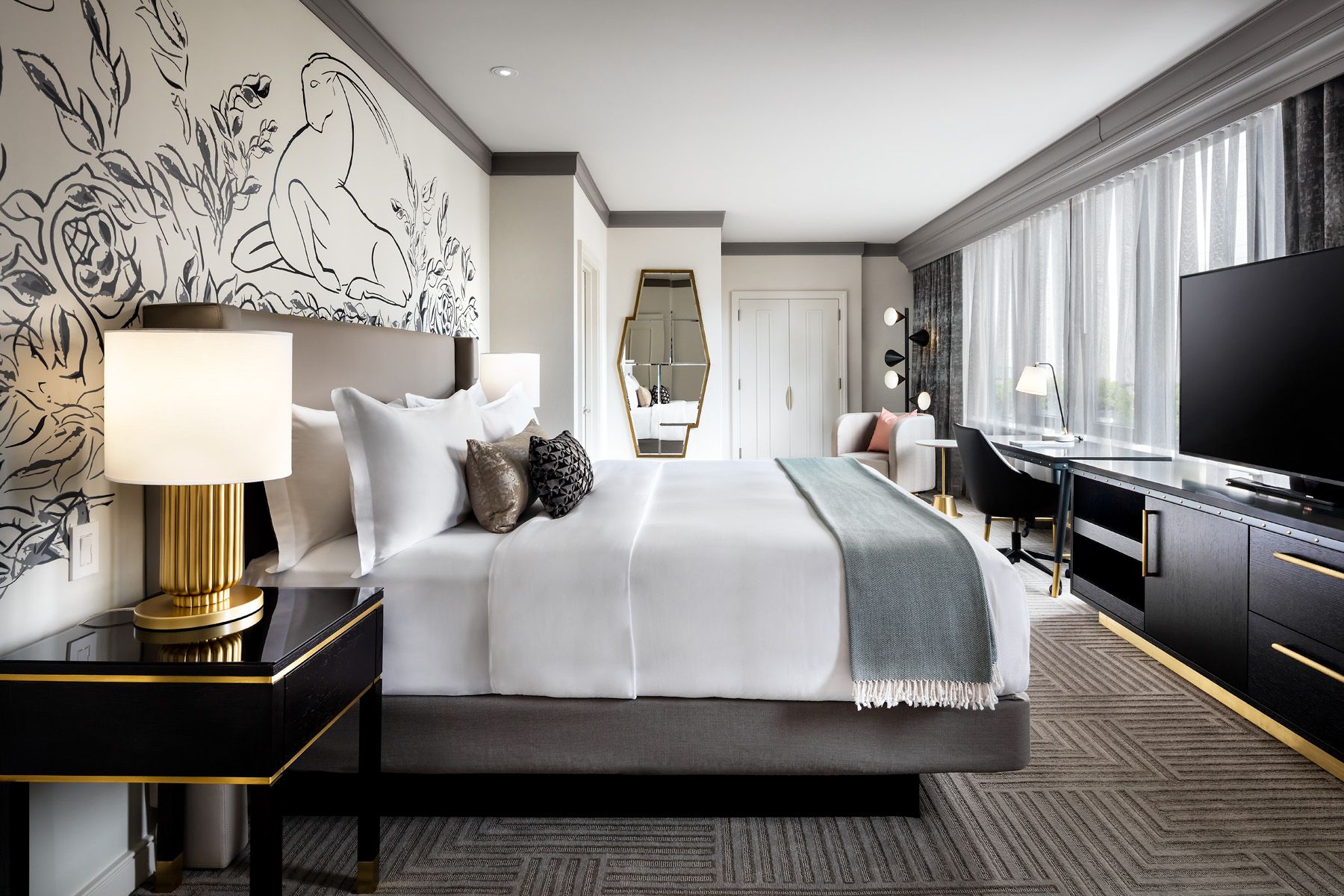 Gwen Lux Suite at The Gwen, a Luxury Collection Hotel, Michigan Avenue Chicago
Guests who want to maintain optimal health during their stay have plenty of options available. The property's fully equipped fitness center is open around the clock, and now features brand new cardio and strength training machines, as well as multiple flat-screen televisions and complimentary healthy snacks to grab on the go.
Anyone who has spent time in the Second City knows its culinary offerings are reason alone to visit. The Gwen provides sophisticated all-day dining with weekly live-music programming. Enjoy brunch in one Circa Restaurant's cozy banquettes, while sampling classic American dishes such as the eggs Benedict made with lump crab, paired with one of the many local craft beers on tap, such as Goose Island, Revolution, Apex and Off Color.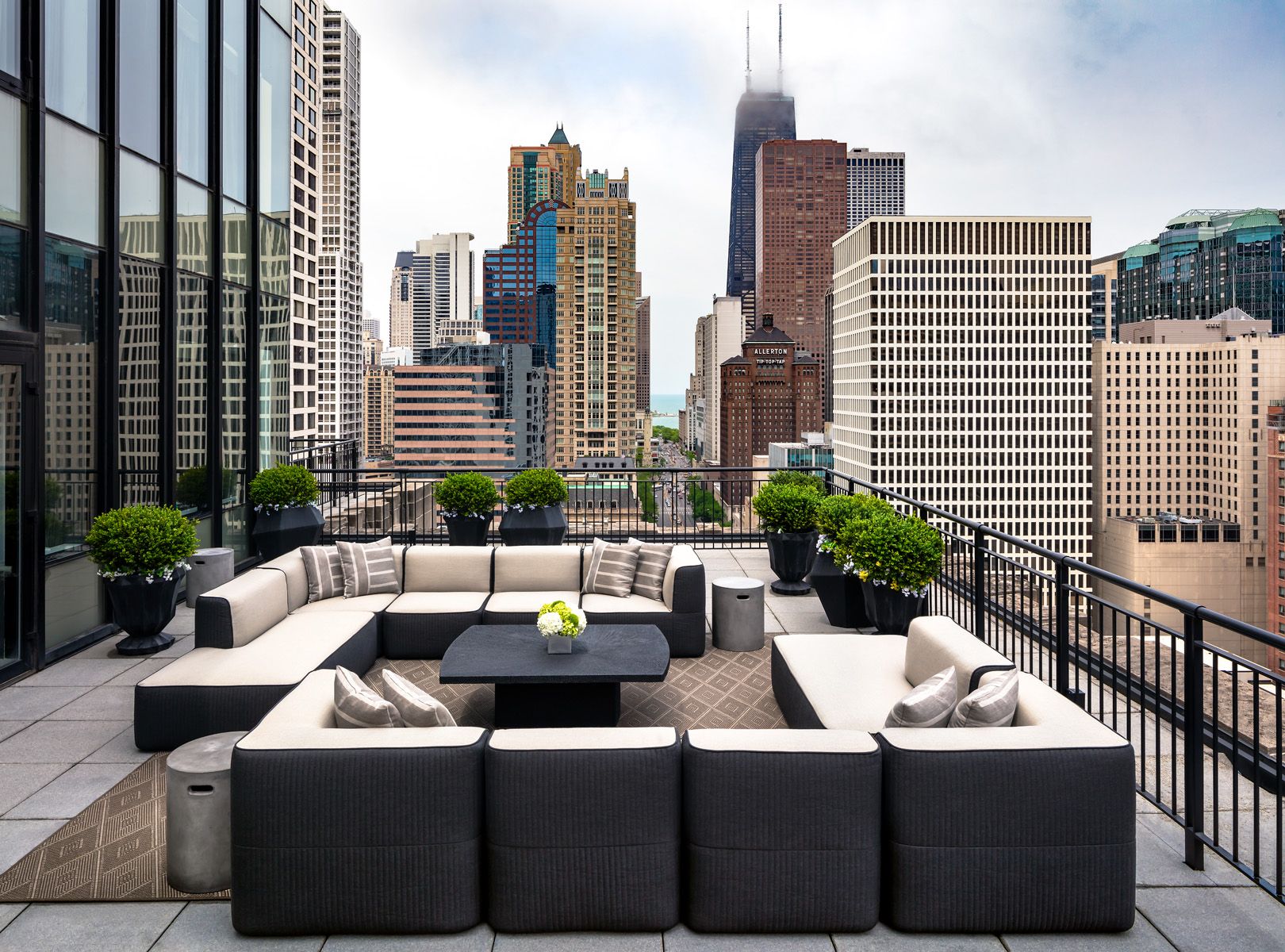 View from Gwen Lux Suite Terrace at The Gwen, a Luxury Collection Hotel, Michigan Avenue Chicago
In the evenings, take in the sunset views at Upstairs at The Gwen, their lobby concept which extends onto an outdoor terrace on the fifth floor. A fire pit and sweeping views of the city serve as the picturesque backdrop for guests while sipping on signature cocktails crafted by industry lauded Mixologist Freddie Sarkis. Sarkis' cocktail menu is inspired by various art periods and artistic styles, including renaissance, contemporary, pop, street, and minimalist. Sarkis is a longtime favorite on the Chicago mixology scene, having designed the cocktail programs at many beloved local bars including Celeste, Broken Shaker, and more.
Boasting luxurious rooms, a stylish lobby, and a food and beverage program worth singing about, The Gwen is looking better than ever. The property's personality is fresh, yet classic and decidedly inviting. For those looking to jet set to the Windy City, the hotel has some fun packages you can book. Foodies will want to indulge in A Taste of The Gwen, which includes a guaranteed table at Upstairs at The Gwen, complimentary Gwen Signature Cocktail, a $50 credit towards food and beverage, complimentary room upgrade and bubbles upon arrival. If art is more to your liking, consider the Artist-in-Residence Experience, that offers superior accommodations, two VIP passes to the Art Institute Chicago, a canvas and paint supplies set up in-room (the hotel will pack and ship your masterpiece to your home after you depart!), an art-inspired turndown amenity and a keepsake journal. Undoubtedly, guests are guaranteed a simply stunning atmosphere and an above-and-beyond experience in the very heart of the city. You can book either package online or you can call 866-716-8136.