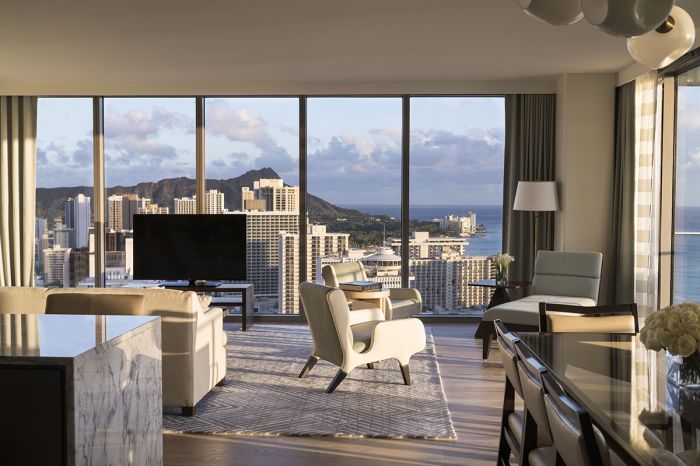 Photos Credit: Ritz-Carlton
There are few places on Earth like Hawaii— the beautiful beaches, the swaying palms, and a multitude of luxury hotels and resorts. Oahu is home to a new addition to that family: The Ritz-Carlton Residences Waikiki Beach. Amidst world-class shopping, sparkling clear Hawaiian waters and trade wind breezes, paradise is found at this luxury property.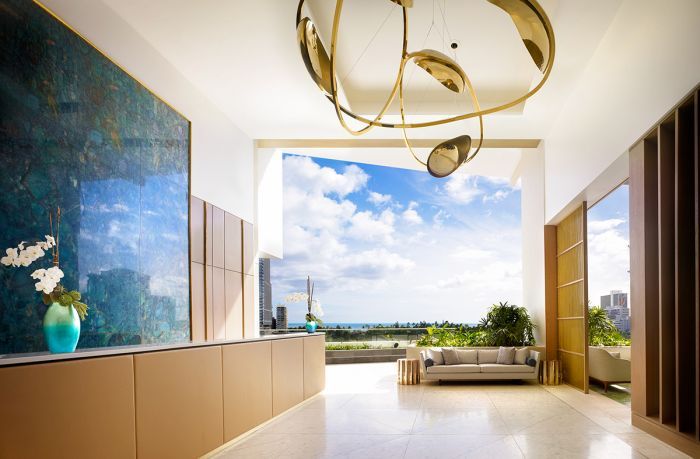 The sense of arrival is multi-faceted. Beautiful architectural elements blend seamlessly with water features and water-themed artwork on a private drive. Ritz-Carlton is of course known for its exemplary service, I have been to many properties and enjoyed every single one, but this property goes above and beyond, even within the Ritz-Carlton standard. The spirit of Aloha permeates every encounter from valet to front desk, spa attendants to wait staff.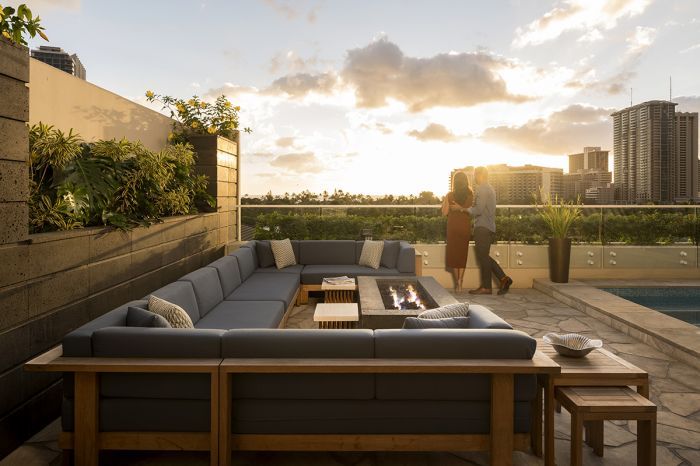 Located on the 8th floor, the lobby affords ocean views over swaying palm fronds. Steps from the lobby, Waikiki's highest infinity pool awaits with private cabanas and sun lounge chairs alike. With the upcoming opening of tower two in 2018, this pool will become the adults only relaxation sanctuary, while another pool will open across the lobby.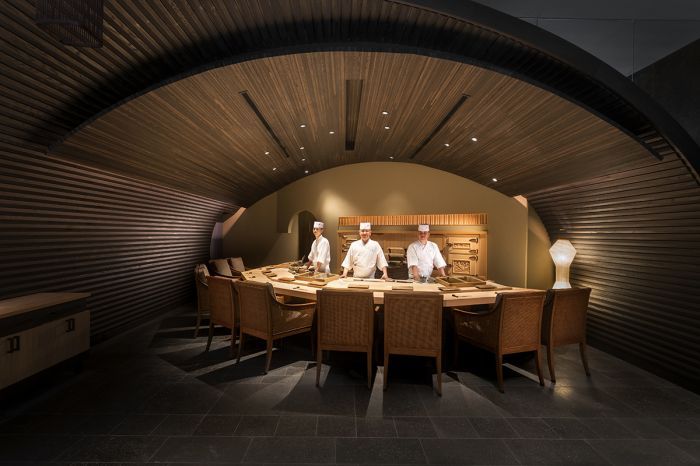 Adjacent to the lobby is BLT Market and Sushi Sho, BLT being the sister restaurant to BLT Steak and BLT Prime steakhouses in New York, Vegas, Hong Kong and other notable locations. This Waikiki breakfast, lunch and dinner concept melds fresh, local fare such as charred octopus and baby beet salads, Bubu Arare Crusted Hawaiian Tuna and Molokai Tenderloin. Sushi Sho seats 10, and reservations are suggested months in advance for one of Waikiki's hardest sushi restaurants to get into, but the food, presentation and atmosphere are definitely worth the effort with sushi master Keiji Nakazawa at the counter for an omakase-style dinner that will lastingly leave a mark on your memory.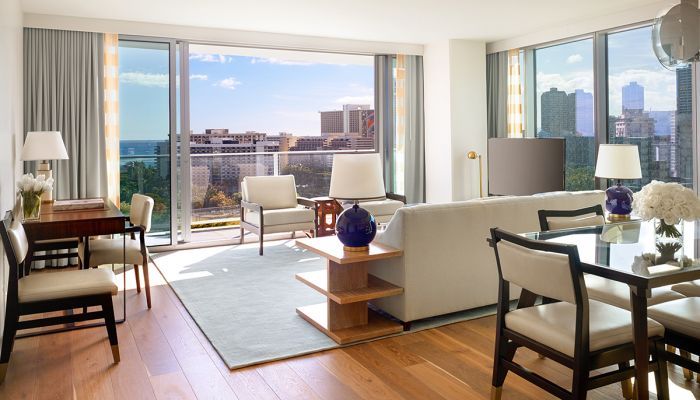 Rooms at the residences are just that; complete with kitchenettes or kitchens, studio layouts to four-bedroom penthouses. All are ocean-facing and beautifully finished. From marble countertops to floor-to-ceiling windows, the rooms feel light and airy, inviting and complete. Washers and dryers are found in each unit, as well as complimentary WiFi. After the completion of tower two in 2018, this will be the largest Ritz-Carlton property in the world with over 500 rooms for residents and visitors to enjoy.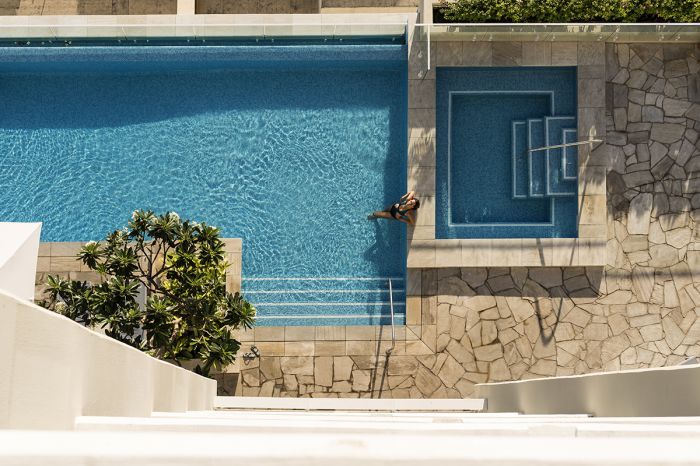 Each Ritz-Carlton also has a defining moment—Dove Mountain has an indigenous flute ceremony that echoes off the canyon walls, Half Moon Bay, a bagpiper at sunset. The Ritz-Carlton Residences Waikiki has a flower experience Mondays and Fridays where thousands of orchid petals cascade from the sky onto the pool deck below.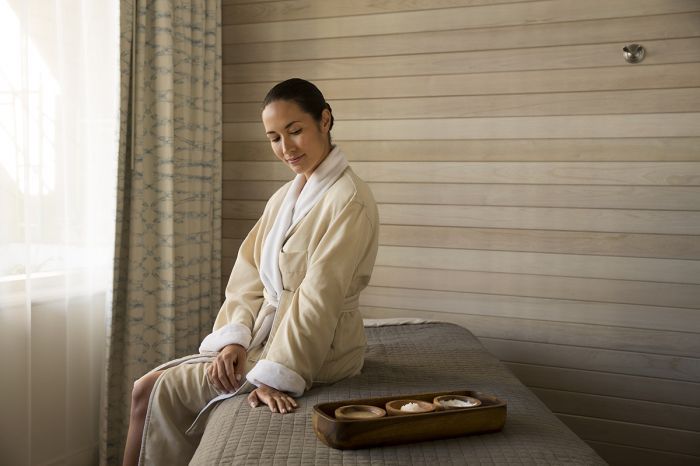 The spa is complete, but also receiving an expansion when tower two is opened; the light woods and stone accents, signature scents and local products make for a sanctuary within the hotel itself. I opted for the Huki Huki experience, which incorporates a mud wrap with volcanic ash, ti leaves and oils, as well as a deep lomilomi massage and scalp treatment. Aimed at cleansing the body, mind and spirit, I was left feeling a state of euphoria and made sure to purchase the oils for a similar state-side experience. Or an attempt at recreating the experience.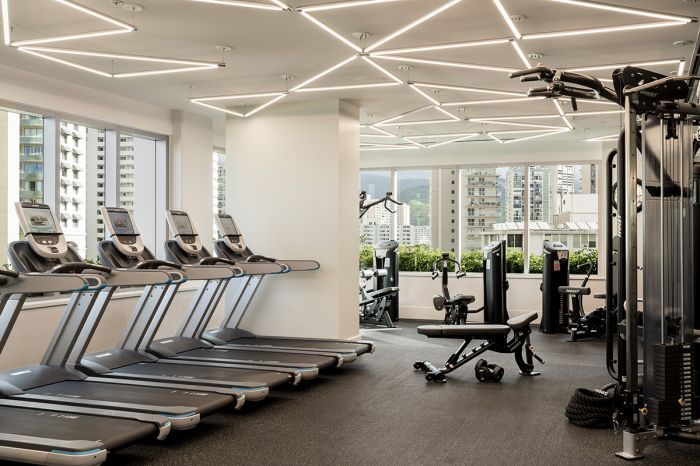 Hotel gyms are usually nothing to note; this is an exception. Designed by celebrity trainer Harley Pasternak, this fitness center has outstanding equipment, an intelligent layout, and comfortable space for an early-morning run or an afternoon workout. Waters and chilled towels add for an extra touch and a yoga studio is right next door for your Namaste needs.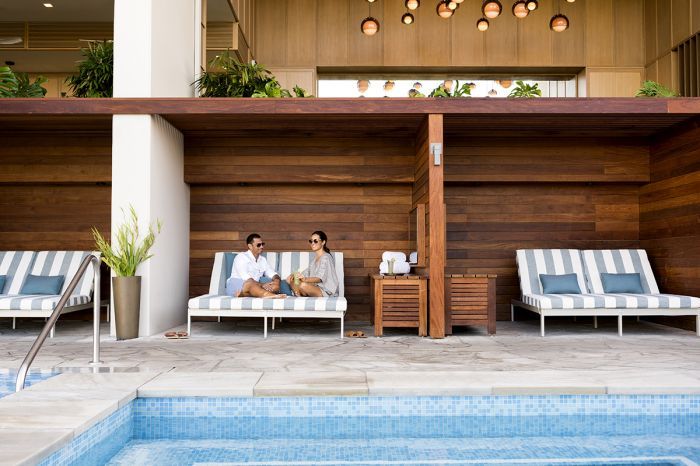 Insider tip: The Ritz-Carlton Residences Waikiki is located an easy five-minute walk to the beach. The concierge or valet staff have beach bags with towels and water available upon request. I suggest picking up an iced coconut coffee and buttery croissant from Dean and Deluca in the porte cochere, and head to the beach. If arriving early, an early bird special at Waikiki Shore Beach Service will only cost you about $35 before 7:30 a.m. for the entire day for beach umbrella, drink table and two lawn chairs. A great "home base" for swimming, strolling the beach and shopping nearby, I highly recommend this service. As the shallows can be rocky in spots at Waikiki, underwater shoes are suggested for sensitive feet.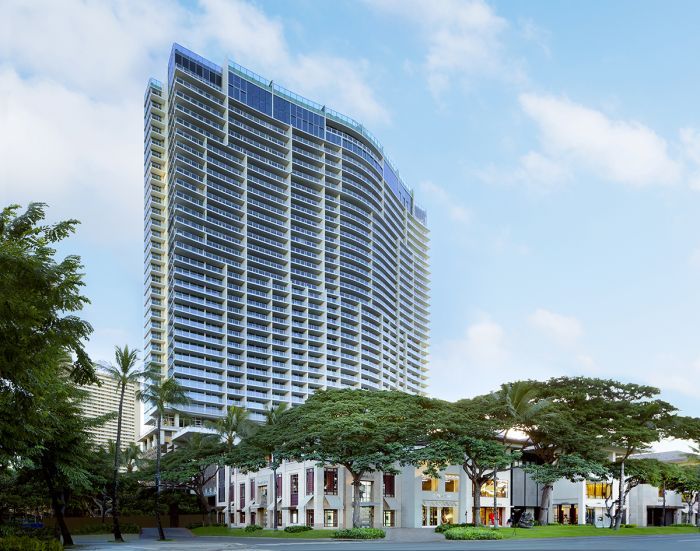 The Ritz-Carlton Residences Waikiki rises above the rest, literally and figuratively. Whether enjoying Waikiki for a beach holiday or shopping excursion, high-end dining experiences or lounging by the pool, this property is exceptional. Visitors looking for a quick retreat or extended stay will be pleased to find a plethora of amenities, outstanding service and location in the heart of Waikiki.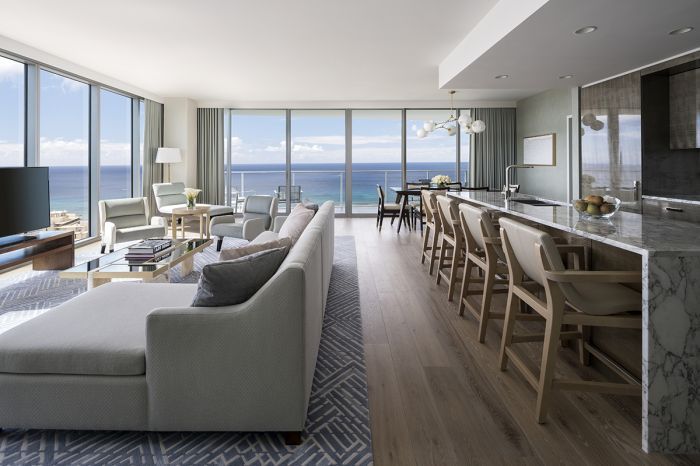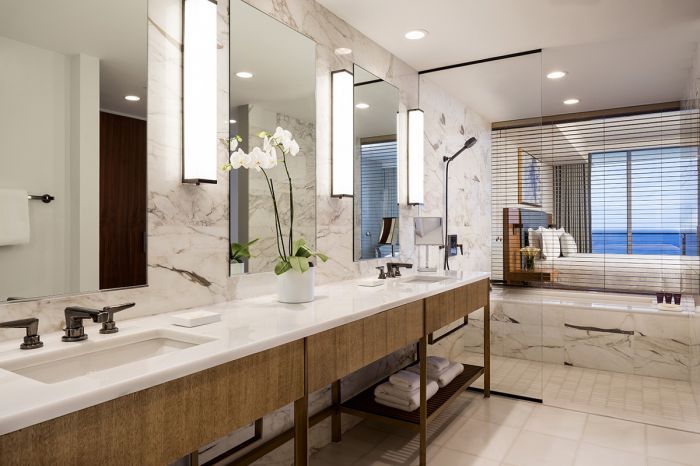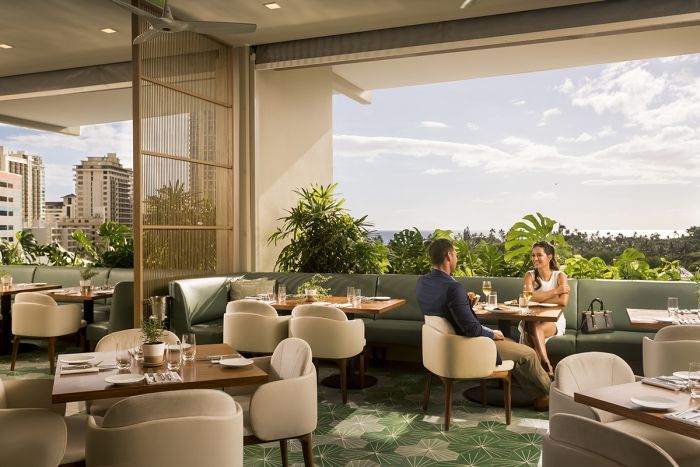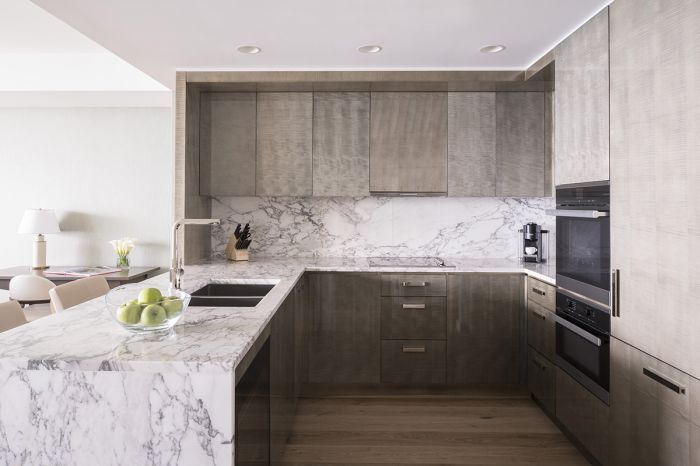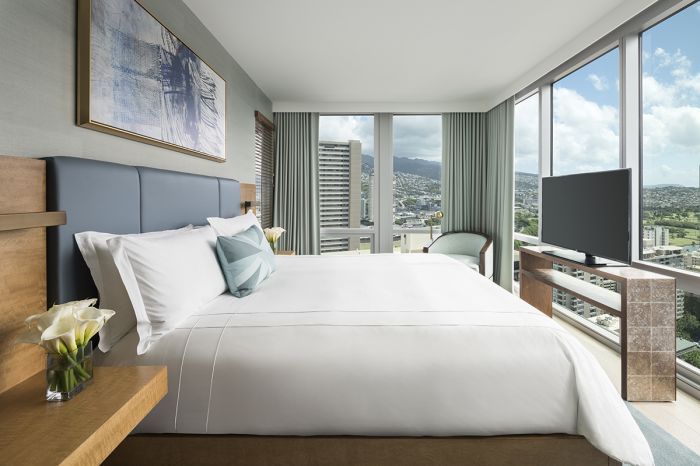 Find the Best Luxury Hotels click here