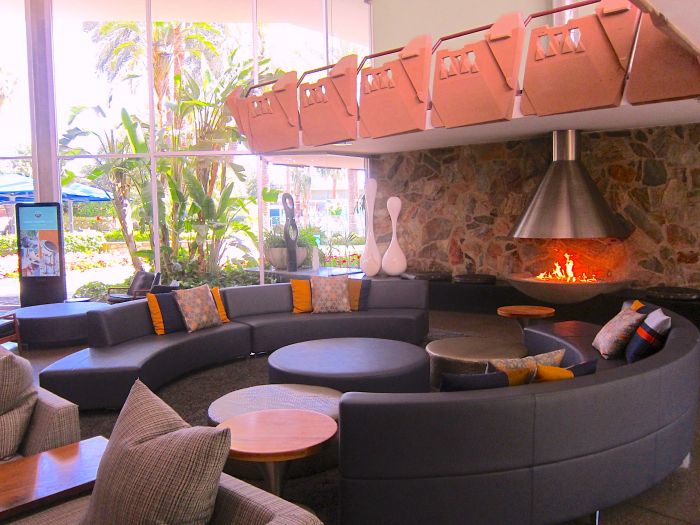 Photo by Michael Reiss
The mere mention of the city of Scottsdale evokes all manner of affluent lifestyle attributes--not the least of which is its reputation for upscale resort choices, many with architecturally significant elements. Even if you have a current favorite place to stay, you'll be tempted by some of the latest entrants to the list. Here are three to consider.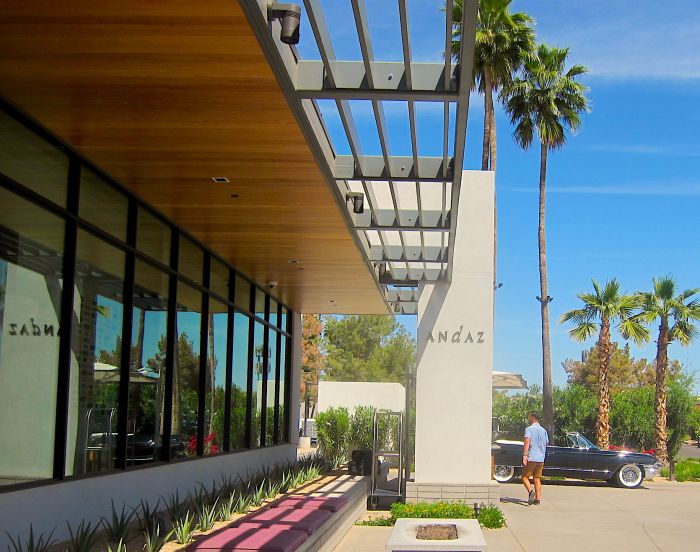 Photo by Michael Reiss
Conveniently located close to the hub of activity, Andaz Scottsdale Resort and Spa is quietly nestled on 23 acres in the shadow of Camelback Mountain. "Personality and passion with panache" are the hallmarks of the Andaz style. In fact, each of their properties is a unique reflection of the place and space. Here in Scottsdale, the public spaces, guest rooms, bungalows and spa are stylishly set in a mid-century modern motif which is reminiscent of the distinct architectural tradition of this area. Noteworthy of the Andaz brand is their pledge to incorporate the locale into every aspect of the experience. As you enter the Guest House of the Andaz Scottsdale Resort and Spa, you are warmly greeted and checked in by staff whose individuality and empowerment are experienced in their appearance and demeanor. No cookie-cutter uniforms here. Staff are encouraged to showcase their uniqueness and address each guest, not as a customer, but as an individual visitor.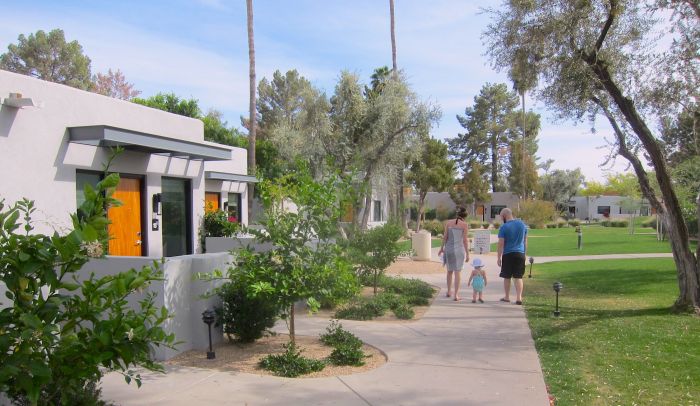 Photo by Michael Reiss
As any great host would do, the greeters offered us a beverage of choice and a snack (We enjoyed locally made brownies.) The Guest House, aka lobby, offers intimate seating arrangements and plenty of spaces to plug in digital devices. The adjacent open kitchen and dining area with communal tables further entices you to relax and unwind--even before you get to your room. At the Andaz Scottsdale Resort and Spa local art is displayed throughout the property and is sold in the gift shop. To further enhance the sense of place a weekly activity schedule includes complementary cooking demos featuring locally-sourced ingredients, mixology and wine tasting, yoga classes, artist talks and guided visits to a nearby artist collective to observe work in progress. A chauffeured Tesla and a vintage Cadillac convertible are available on request.
This artist collective is the Cattle Track Artistic Compound where artists work and live together, and you can enjoy the Artistic Compound Tour lead by the incomparable artist/musician Mark McDowell.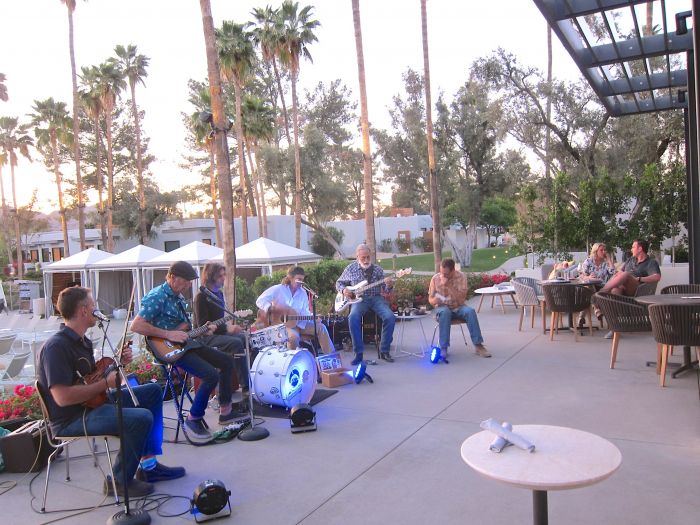 Photo by Michael Reiss
Happy hours with scheduled poolside live local band performances add to the vibe.
At the resort rooms are not only stylish and in keeping with a mid-century modern motif, but they are well appointed and carefully designed to accommodate both work and play.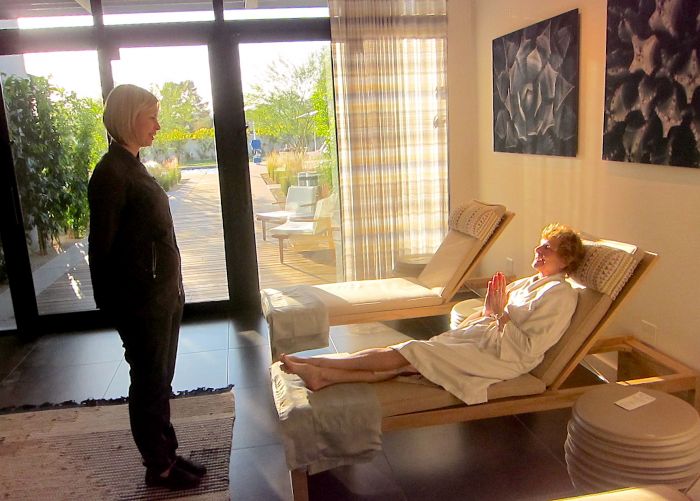 Photo by Michael Reiss
The Palo Verde Spa and Apothecary is designed to reflect the natural beauty of the Sonoran Desert with soft muted earth tones. Their treatments and products are tailored to your unique individual needs. My masseuse inquired about my issues and preferences and skillfully addressed them utilizing a variety of modalities. The Spa includes a total experience--including pool, jacuzzi, lounge area, with specially prepared pastries and an accommodating, professional staff left me feeling indulged, pampered and revitalized.
Dining at the resort's fine dining yet casual restaurant, Weft and Warp Art Bar + Kitchen, again reinforces the Andaz philosophy of attending to each person as an individual. For starters, breakfast is served until 3 PM, so there is no need to rush your morning routine, as they adjust to your schedule. Chef Adam Sheff's menu is designed for sharing to try several of his intriguing contemporary Sonoran preparations. He also offers weekly cooking demos to encourage interested guests to try their hand at food preparation. We made locally sourced goat cheese dumplings dusted with charred onion and placed on a puddle of Mornay sauce.
The wine list at Weft and Warp highlights its unique offerings of international boutique vintners, including a few select Arizona vintners. Each wine was selected for the unique story it represents, as well as its exemplary taste profile. The servers are well versed in the menu and wine list to suggest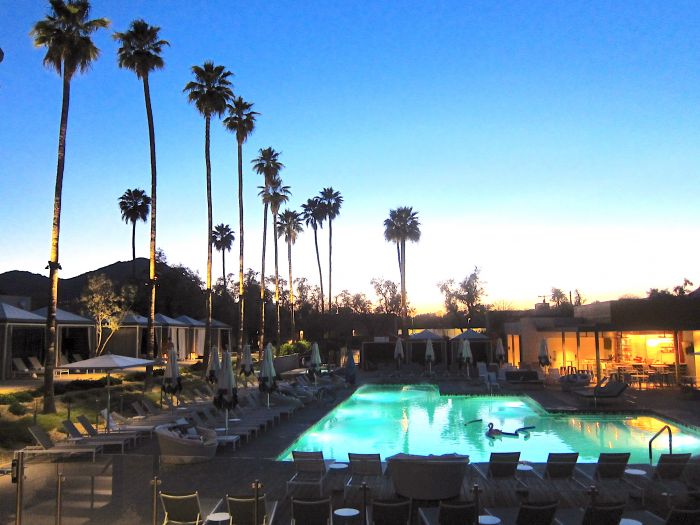 Photo by Michael Reiss
The word "andaz" is a Hindi word that means "personal style." This word was obviously chosen to reinforce the brand identity and the Andaz Scottsdale Resort and Spa is waiting for you to express yourself.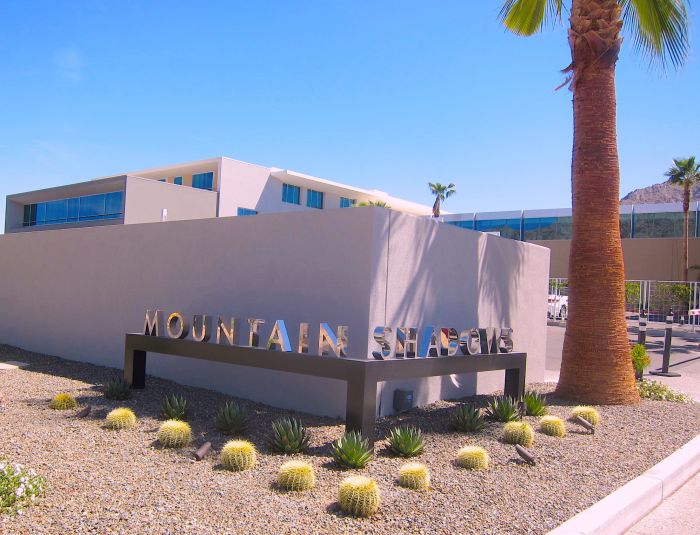 Photo by Michael Reiss
If you want to get even closer to Camelback Mountain, Mountain Shadows Resort and Spa will deliver. Although it retains the name and reputation of the historically significant original resort that closed its doors in 2004, this newly-built compound is a sleek nod to mid-century design.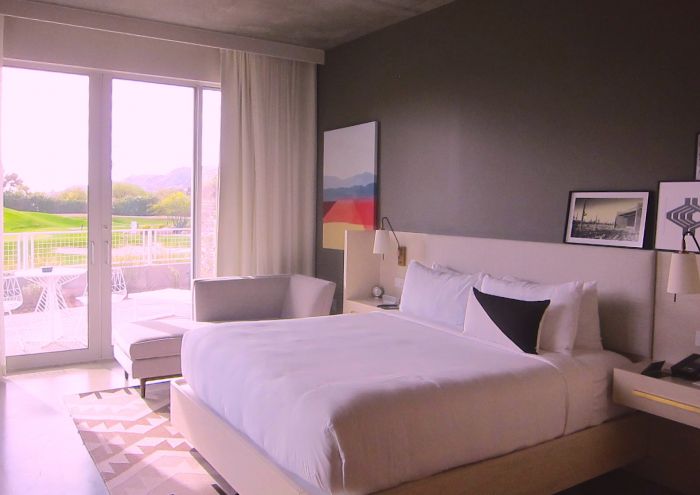 Photo by Michael Reiss
The clean lines, light-filled spaces, geometric shapes and understated surfaces create a "less-is-more" sensibility. The lobby, public rooms and guest rooms exude a calm, serene vibe. The cement floors and ceilings, floor to ceiling windows, and glass enclosed shower-- located in the middle of the room--reinforce the sparse, stunning, bold, spacious vistas of the surrounding mountains and desert. Here you are one with the environment.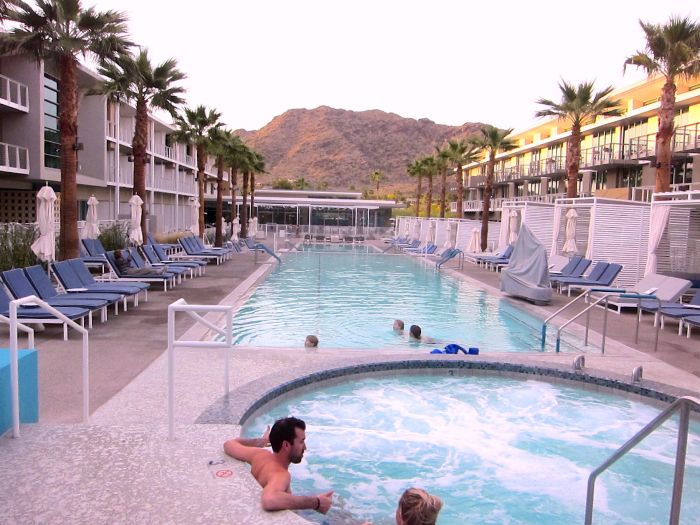 Photo by Michael Reiss
Enjoy Peet's Coffee made in your Keurig on the patio. Then save time to explore the golf course, utilize the state-of-the-art fitness center and dip into one of the two 75 ft. lap pools.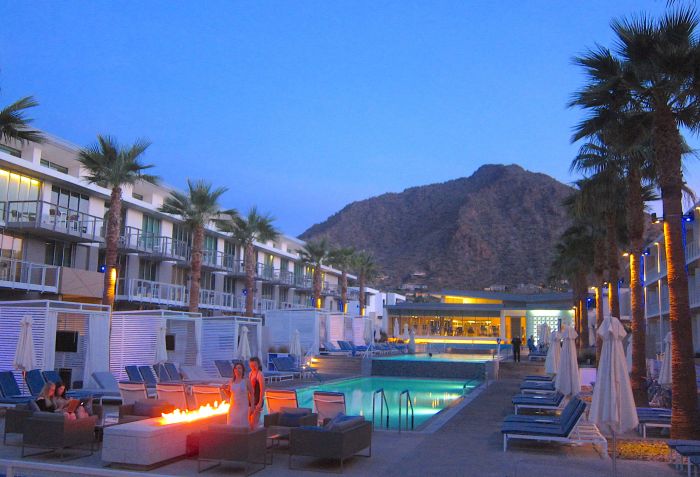 Photo by Michael Reiss
You can take in some of the unique activities, such as fitness classes on the lawn and the Friday Evening Sunset Sabering of Veuve Cliquot, with complimentary toasts to start the weekend off right.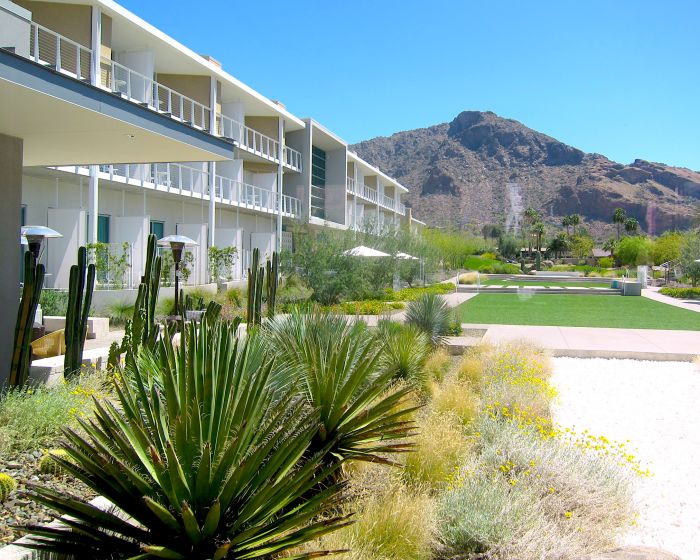 Photo by Michael Reiss
Enjoy the live music in the bar and pique your appetite for dinner at Hearth 61, named for the year that the city of Paradise Valley was incorporated.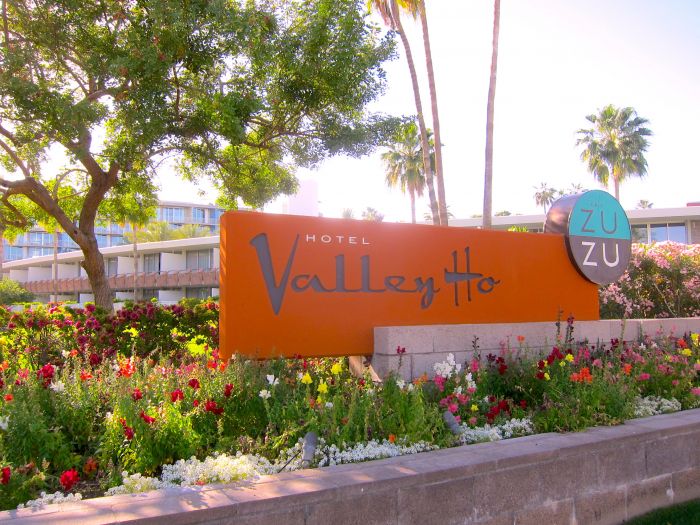 Photo by Michael Reiss
If the excitement of downtown Scottsdale beckons, beat a path to the newly renovated Hotel Valley Ho. With its opening in 1956, it was the first hotel in the Valley to blend Southwestern and mid-century modern architecture. The Hotel Valley Ho attracted a host of film celebs who were enchanted by the fresh design, décor and buzz of the property. Peruse the photo gallery on the second floor along the way to the spa and you will recognize some of Hollywood's glitterati enjoying the resort.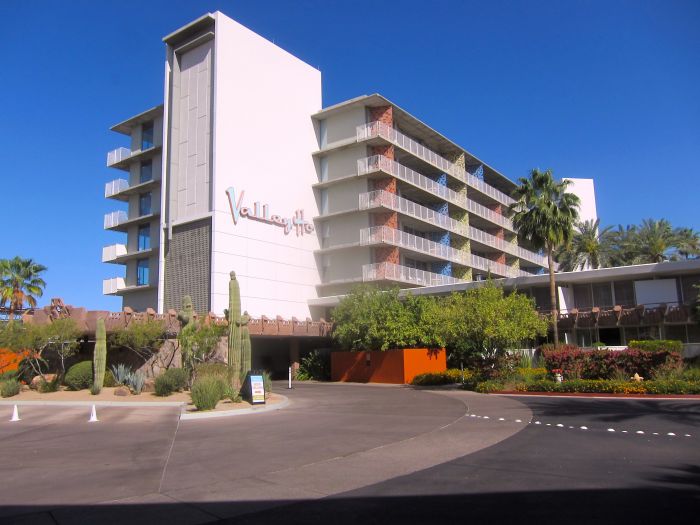 Photo by Michael Reiss
Now with its extensive restoration, mid – century modern has been combined with the standard of luxury that makes it a hip, trendy choice for today's trendsetters.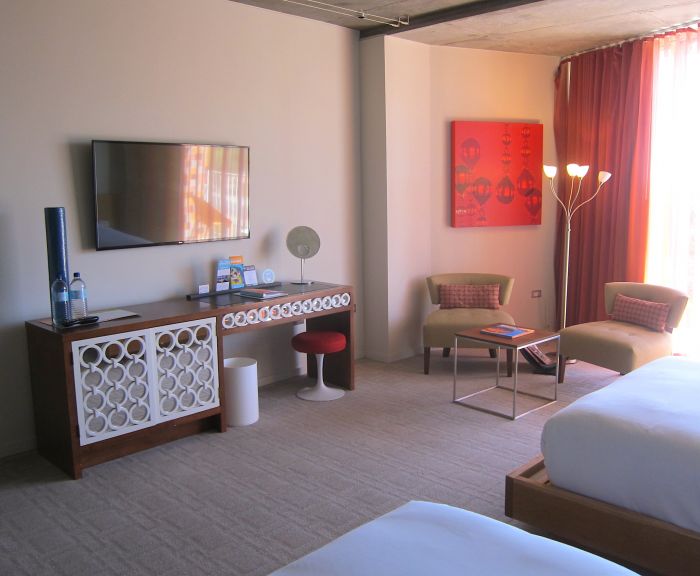 Photo by Michael Reiss
Stepping into the Hotel Valley Ho harkens back to the era when bold color, texture, curved lines, shapes and new materials like terrazzo made for exciting visual allure. Don't miss the Calder mobile in the lobby, or the exterior architectural details influenced by the Frank Lloyd Wright school of architecture as you make your way to your room.
Photo by Michael Reiss
At the Hotel Valley Ho the 13 room types include the largest standard rooms in downtown Scottsdale. All have floor to ceiling windows, comfortable, chic, functional retro furnishings, soaking tubs as well as separate showers and easy patio access to the pools and lush gardens that surround the property.
Whether you are pumping iron in the fitness center, relaxing poolside, sipping a drink in the lounge or dining at the hotel's restaurant, ZUZU, you will be energized by the lively décor and fresh vibe of Hotel Valley Ho.
Whatever your preference, these three Scottsdale resorts all offer the warm hospitality and distinctive architectural design that makes a trip or a staycation an intriguing architectural journey.