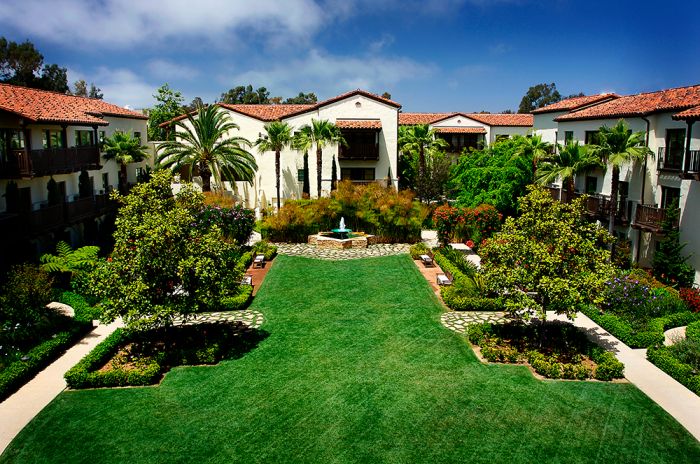 Estanica La Jolla
A place has to be good when it's called "the Jewel." La Jolla, the seaside "gem" community of San Diego, is loved by tourists and locals alike for its kelp-rich cove, lavish dining, and stunning views of seals, surfers, and hang gliders. One of La Jolla's dazzling assets is Estancia La Jolla, the former 10-acre equestrian ranch that attracts out-of-towners as well as San Diego residents. I recently stayed for the weekend and found several reasons to put Estancia La Jolla on my short list for a quick escape within Southern California.
The warm, "California Rancho" property puts one immediately at ease with its indoor and outdoor fireplaces, mosaic tiling, a ceiling of batten and board, and sun decks surrounded by citrus trees and birds of paradise flowers. I spent just as much time outdoors as inside during my stay, and this is the perfect use of a hacienda style property blessed to be in California sunshine. I spotted a wedding taking place on Saturday afternoon, too, and much of the occasion lasted easily for hours outside in one of the gardens that featured a fountain and flowering vine canopies. The hotel boasts 21,000 square feet of outdoor venue space, nearly as much as its indoor offerings. Rustic but rich is an ideal way to describe Estancia La Jolla, and its impossible not to like both indoors and outdoors on the property.

Estanica La Jolla
The Spa at Estancia is a destination itself. The 7,000 square-foot oasis was recently remodeled and earns consistent acclaim, most recently from Conde Nast Traveler for 2018's Best Spas in San Diego. Guests of the hotel can savor the large saltwater pool, cheery orange cabanas, and gym that surround the spa as well as partake in the seasonal yoga socials, which include Corepower Yoga classes, cocktails, and mini spa services. Inside the actual spa awaits nine indoor treatment rooms including a spacious couple's bungalow with a soaking tub for two. Consistent with the design of the hotel, The Spa at Estancia beckons guests outdoors and features a meditation garden and a beautifully tiled fireplace with bright lounge chairs. Despite it being a Saturday, one of the typically busiest days for most spas, The Spa at Estancia was absolutely serene.
I indulged in the spa's 80-minute Ginger Renewal, an invigorating massage that targeted the "problem areas" for me: the head, neck, back and shoulders. I loved targeted area massages, and The Spa at Estancia has a good roster of options. I'll be back to try the Sun Serenity massage that features a hair and scalp massage with ESPA products. For guests pressed for time (which I can relate to on most days), The Spa at Estancia offers a unique suite of services all under 25 minutes. The "Destress Express" menu includes a nourishing scalp massage, a Clarisonic body brush treatment for the back, and a cooling eye treatment.
Though I hardly need an incentive to return to Estancia La Jolla, the property is offering a "3rd Night Free" promotion for the month of June. A two-night stay booked through May receives a complimentary third night as well as all of the complimentary perks on the property, including the beach shuttle, the Salk Institute architectural tour (less than a block away), and a bottle of wine. The jewel town of La Jolla and its wonderful rancho escape, Estancia La Jolla, await my swift return.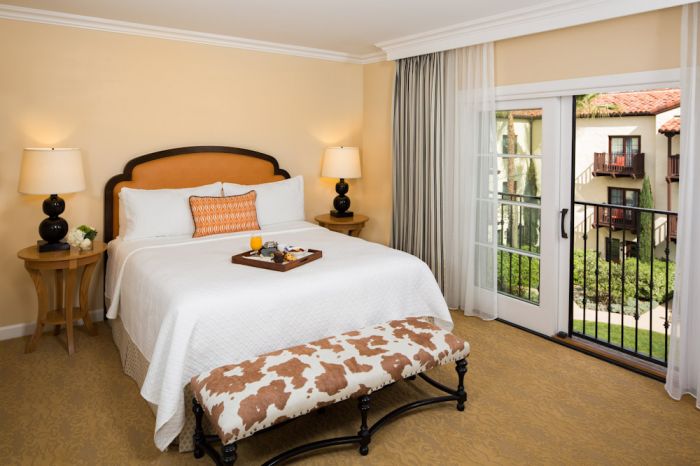 Estanica La Jolla
Estanica La Jolla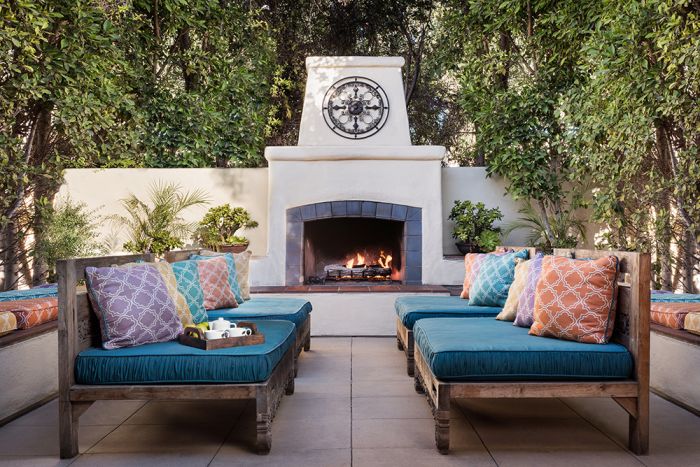 Estanica La Jolla