Video Credit: Capella Singapore
Capella Singapore Reigns as One of the City-State's Best Five-Star Resorts
Mar. 11th, 2015 | Updated Jun. 8th, 2018
Where and when is the summit taking place between U.S. President Donald Trump and North Korean leader Kim Jong Un?
The hotly anticipated summit is set to take place at the Capella Hotel on Singapore's Sentosa Island, with the first meeting kicking off at 9 a.m. local time on June 12. The hotel is a secluded luxury resort on the island with two presidential suites, one of which is a standalone property that could be prime for hosting the high-level talks.

The content below is from a previous post.
Singapore shines with the brightest facets of a star-studded jewel. This remarkable island nation lit the galaxy of first world nations just 50 years ago and continues to sparkle with world-class offerings in every category from aquariums to zoos and accommodations to nightlife.
Photo Credit: Capella Singapore
Capella Singapore on Sentosa Island is a stellar example of the city's best hotels. Less than a decade ago, the retired founder of the Ritz-Carlton Group decided to develop another resort brand with a goal to beat his former legend. The Capella Group, named after one of the brightest stars in the night sky (Capella in the Orion Constellation), was born.
Photo Credit: Capella Singapore
Each of the resorts of the Capella Group embraces the unique setting and history of its location. As one of the Leading Hotels of the World, Capella Singapore and its Auriga Spa both received a Forbes five-star rating in 2014, as well as being named TripAdvisor's "Best Hotel in Singapore" last year. Its lobby and lounge were original British colonial buildings used for special events in the 1880s. They are now architecturally-connected to the resort's 30-acre grounds, and newly built lodgings underneath similar red-tiled roofs.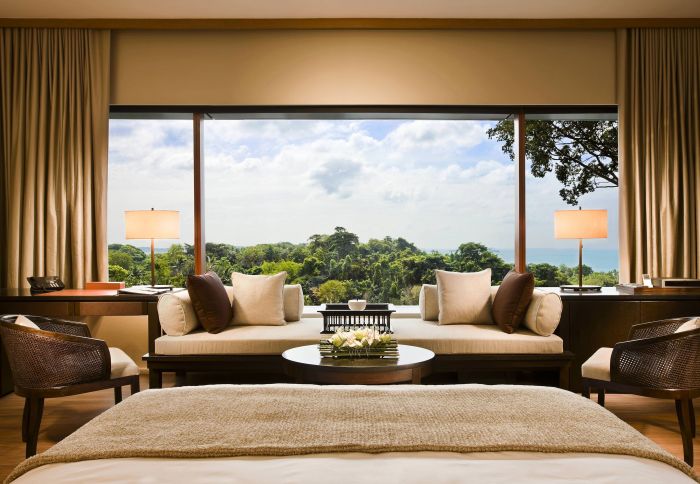 Photo Credit: Capella Singapore
The spacious contemporary suites and villas are surrounded by lush tropical flora, peacocks, pools and the Indian Ocean. To be just minutes from Singapore's downtown area as well as the fun- filled, family-friendly Sentosa Island and still be in the lap of spacious, beachfront privacy, is truly a luxury. As you arrive, you are greeted by hosts who have anticipated your arrival and greet you by name. You are then escorted to the lobby where cool towels and drinks await.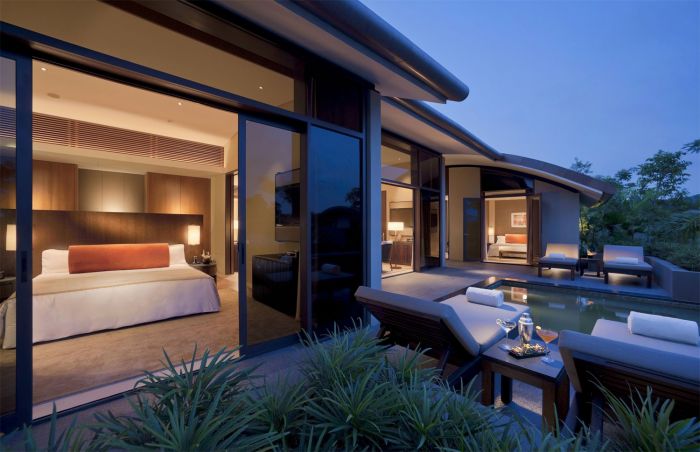 Photo Credit: Capella Singapore
Afterwards, you'll either stroll on over to your suite for check-in, or stop by the library for complimentary refreshments offered daily. As you orient yourself to the property, you will get a real feel for the sense of place that Capella creates. The sleek, contemporary décor, in-room complimentary refreshment center and the high-tech push-button room controls, makes your stay one that you will not soon forget.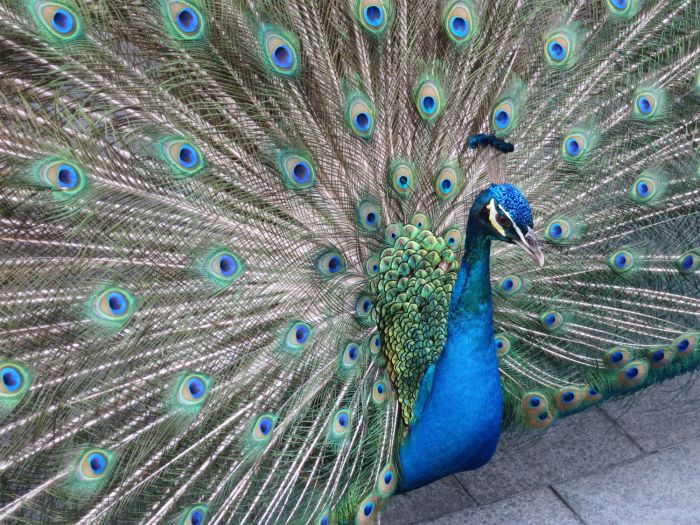 Photo Credit: Michael Reiss
Settle in and enjoy the pampering that seems to come so naturally to the Capella staff. They are invited to join the team that "makes dreams come true." Each staff member (at every level) is empowered to note guests' preferences, wishes, desires and to seize the moment "to surprise and delight them." One example occurred when our arrival hostess rang our suite bell—soon after we settled in—to present us with stuffed animals representing the resort mascot (the peacock), after having observed our delight at watching these fascinating birds roam around the property. In addition, several requests related to making our room even more personalized to our taste were immediately addressed. At Capella unobtrusive service with a smile is a hallmark of the brand.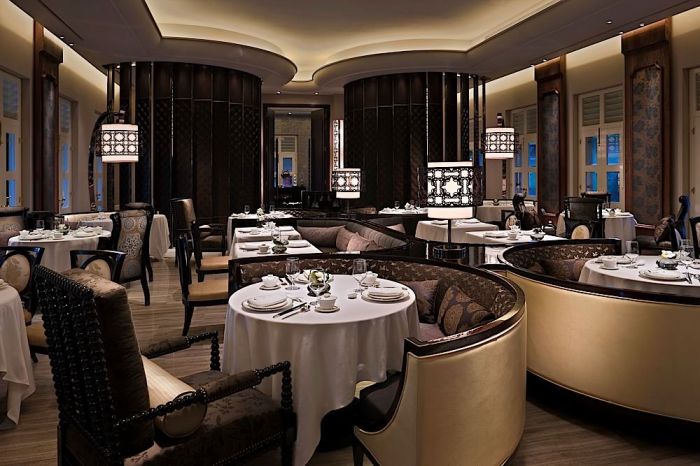 Photo Credit: Capella Singapore
Dinner at The Knolls offers gourmet fare and a world-class wine selection in a casual ambience. The menu includes an array of Mediterranean items from a tapas platter to foie gras, to truffled risotto with grilled sea bass, and seafood pasta puttanesca. Each dish was masterfully prepared and replicated. Both presentation and flavor were as exceptional as the quality ingredients used. The Restaurant Manager, informed us that although the menu is extensive and varied, Executive Chef David Sena and his staff are at the ready to prepare whatever dish you might crave. In addition, the breakfast buffet was bountiful and again, unlisted items were available upon request.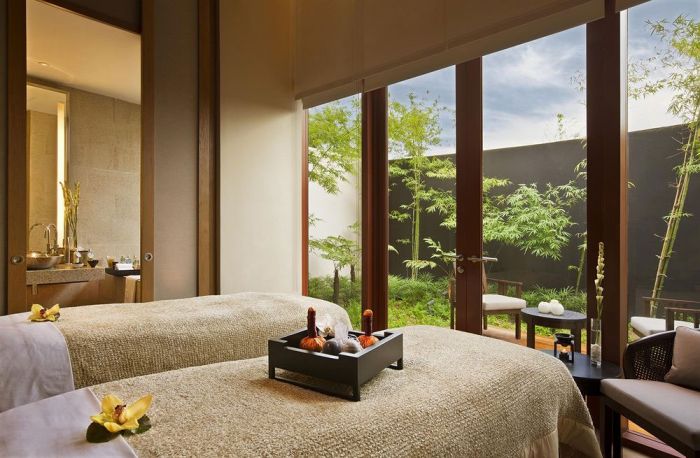 Photo Credit: Capella Singapore
Auriga is more than a resort spa; it is a distinguished wellness enclave that continues to garner recognition for its excellence. It is the only spa in Singapore that uses 100 percent natural and organic products from The Organic Pharmacy. Auriga's treatments rely on the best of therapeutic traditions to offer genuine relaxation and wellness. The facility is spacious and exudes a quiet, elegant repose.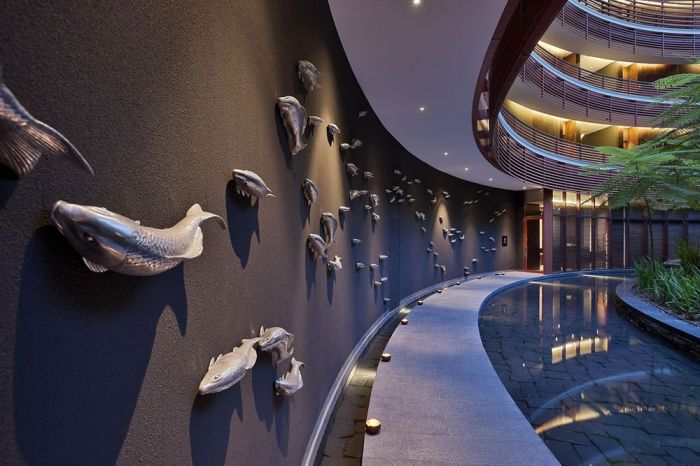 Photo Credit: Capella Singapore
After your treatment, plan time to rest in the Relaxation Lounge on Sound Wave Lounge Chairs with an organic ginger tea. These special beverages are designed to harmonize with the current phase of the moon. Numerous hot and cold, steam and wet shower facilities, as well as a Vitality Pool, complete your treatment and set you on a soothing path to rejuvenation.
Capella Singapore offers a unique oasis of casual exclusivity that provides just the right balance to the vibrant energy of the city-state. Rates being at around $430 a night on weekdays.