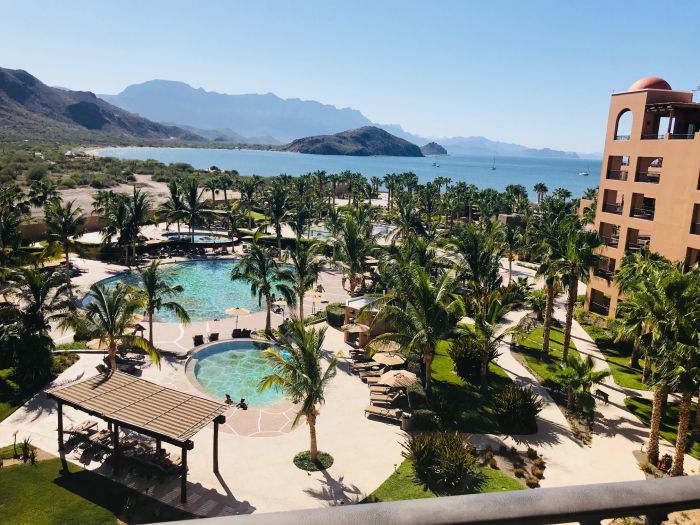 Jill Weinlein
Explorer Juan Maria Salvatierra founded the Mission Nueustria Señora de Loreto in 1697. Located above Cabo San Lucas and La Paz, the colonial town of Loreto is one of Baja Sur's gems. Surrounded by the sculpted Gigantic Sierra Mountains and the turquoise waters of the Sea of Cortez with five unique and dramatic islands, it's an ideal safe and quieter Mexican vacation, much different than lively Cabo San Lucas.
Alaskan Airlines flies directly to Loreto on Thursdays and Sunday from LAX, once you arrive at the airport it's about a 40-minute shuttle ride to Villa del Palmar overlooking Danzante Bay and Isla Danzante. This luxury resort offers almost 200 guest rooms and suites with ocean, golf course and the Gigantic Sierra Mountain views.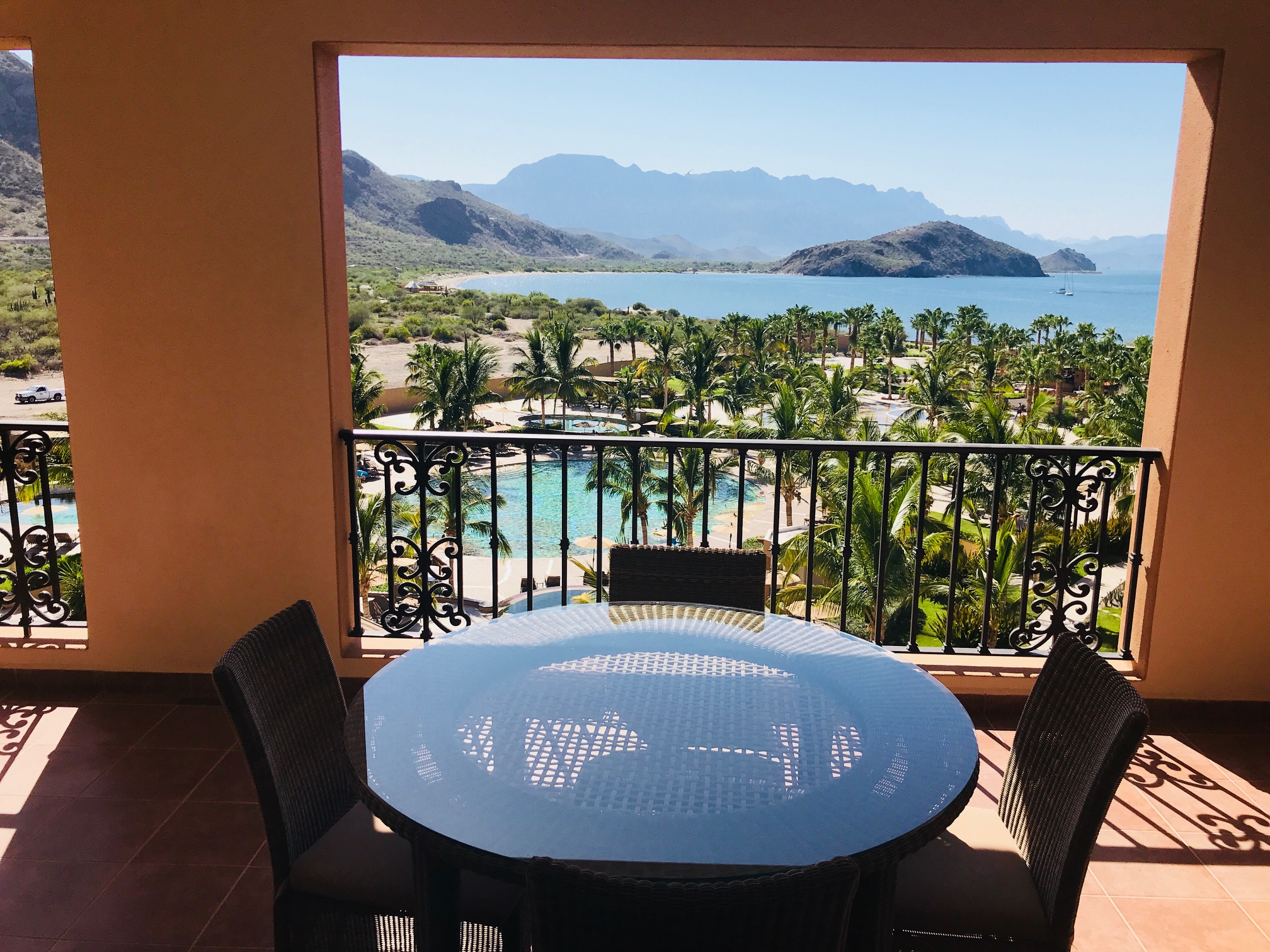 Jill Weinlein
I was pleasantly surprised by the spaciousness of my two room suite. Besides a kitchen, there is a living room, bedroom with a large whirlpool tub, walk-in tiled shower, large closet and security safe. Both the living and bedroom have glass sliding doors leading out to a veranda with a lounge chair, table with four chairs and a relaxing chair with an ottoman.
Guests will want to spend time in the two-story 39,000 square foot Sabila Spa offering an array of massage and beauty treatments. After a treatment, guests are welcome to enjoy the various hot and cold plunge pools, steam and sauna rooms and relax in a lounge chair with a cool washcloth and sliced cucumber to cool your eyes.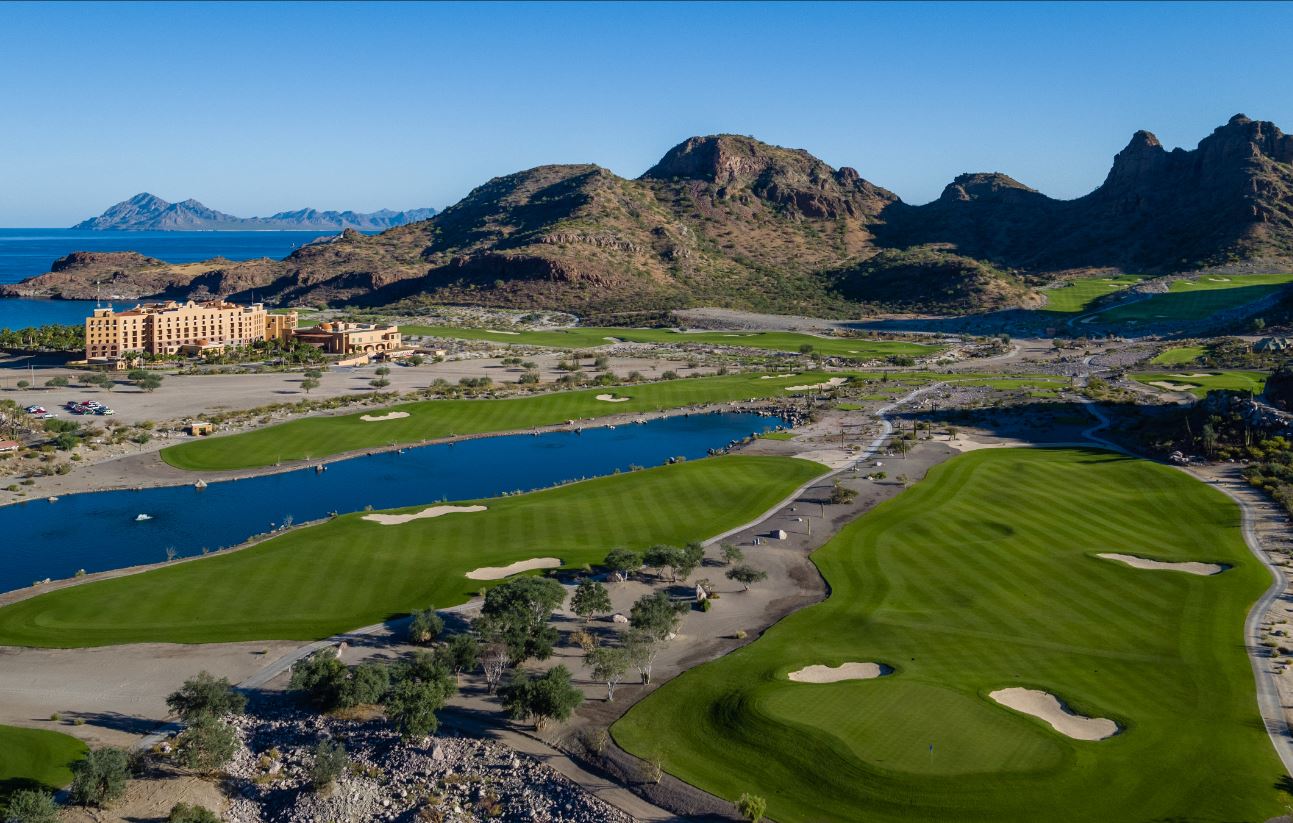 The Villa Group Beach Resorts
Golfers are hearing a buzz about the new 18 holes TPC Danzanta Bay golf course with a putting green and driving range. The exquisitely manicured Rees Jones designed golf course is challenging for all levels with four tees per hole. Each hole offers stunning beach, cliff and canyon views. In-house golf pro Danny Garcia is happy to give guests a tour of his course and provide instruction if needed. Be sure to visit the dramatic par 3 17th hole. It's already gained the reputation of the most beautiful hole in the Baja Sur.
Other activities include a morning hike to the top of a mountain, and over to an exquisite view spot overlooking the islands. There is a sign along the hike educating guests about the history of cave paintings and another directing hikers to a private beach.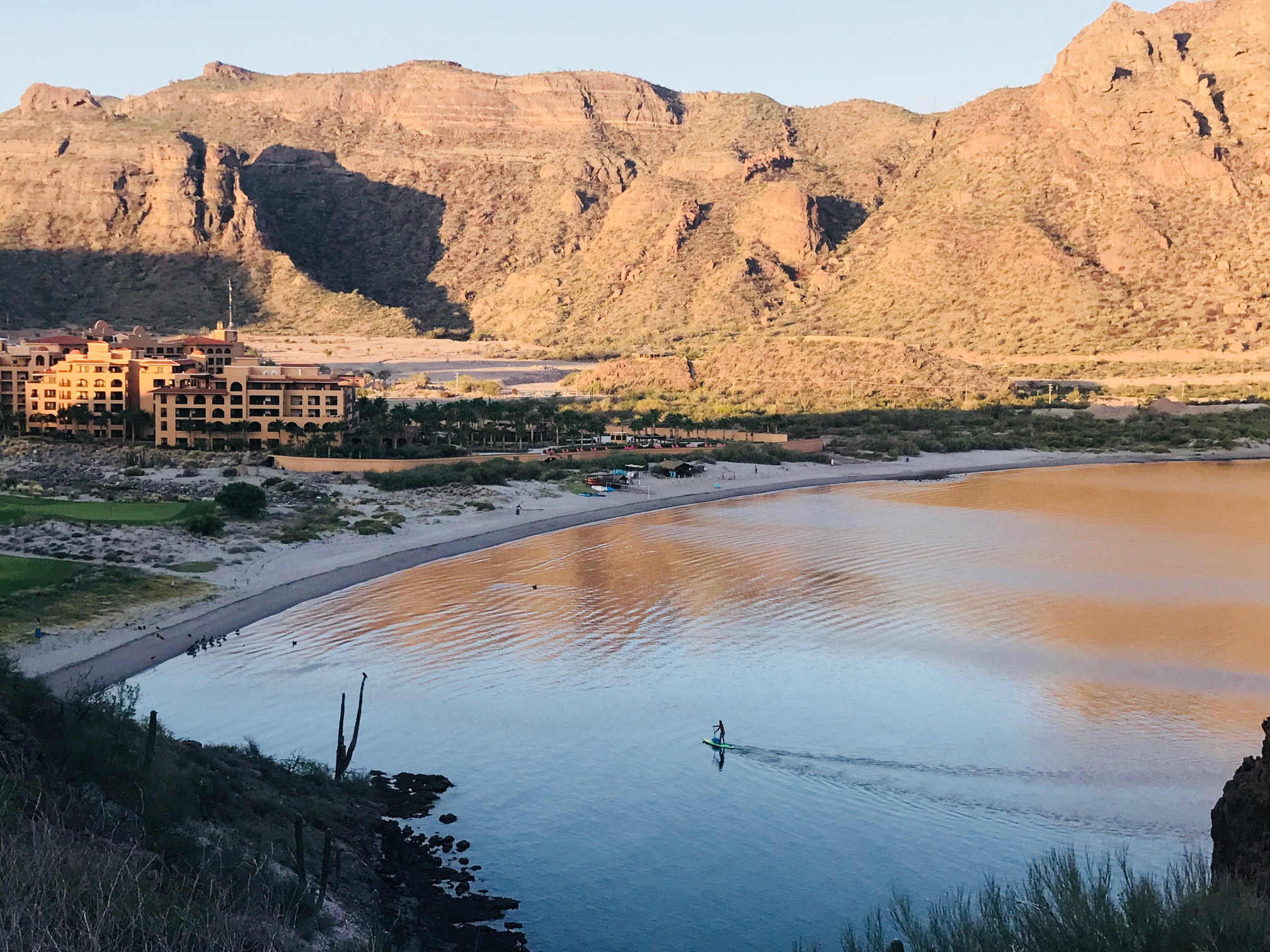 Jill Weinlein
Afterward paddle board and kayak in Danzante Bay to see rays and an abundance of fish swimming in schools. If you are lucky, rays will levitate above the water and belly flop down to create quite a splash.
Also in the morning, the staff yogi offers a beachfront one-hour yoga class. Afterward, swim in one of the five tile mosaic bottom pools to cool off. The staff host water exercise classes before lunch and pool volleyball games throughout the day.
A boat trip can be arranged with Danzante Tours to experience "The Aquarium of the World" by Jacques Cousteau. Isla Carmen, Isla Coronado, Isla Danzante, Isla Montserrat and Isla Catalina are all part of the Loreto National Marine peninsula. It's a marine aquarium offering a diversity of marine life and over 800 species of fish. Cruising close to the coastline, passengers will view rocky shoreline with dramatic sculpted walls.
Jill Weinlein
There are three restaurants onsite that include Casa Mia for lunch and dinner offering a variety of the margaritas, ceviche stuffed in half an avocado, and grilled fish tacos served with freshly made tortillas, guacamole, salsa and slaw. The Market is an all-day buffet venue featuring a wide variety of authentic Mexican and American favorites. In the evening theme night dinners include Mexican Fiesta, Mediterranean Feast and Italian Night. Nearby, Danzante is a fine dining experience with gourmet Mexican cuisine. Be sure to order the deconstructed tortilla soup, fresh fish of the day and Mexican coffee for dessert. A cart is rolled to your table and flaming coffee is made before your eyes.
Be sure to attend the Beach Party on Thursday on the sand near the water's edge. Slip your shoes off and enjoy a fiesta of Mexican delights under festive decorations. A DJ and staff encourage everyone to dance on the sand as the sun sets to the West over the mountains. Be sure to send a flaming lantern soaring with a $10 donation to an Eagle refuge organization. It's one of those bucket list experiences where you make a wish and watch the lit lantern soar above in the dark night sky.
While I let my lantern soar, I wished that I could come back to Villa del Palmar again this year. The next day guests were offered a tour of the model home overlooking the TPC Danzante Bay golf course. Lots are available for around $300,000 and four different floor plans to choose from ranging in size from 2,967 sq. ft. to 4,352 sq. ft. The resort will help you build a dream home for over $1,000,000.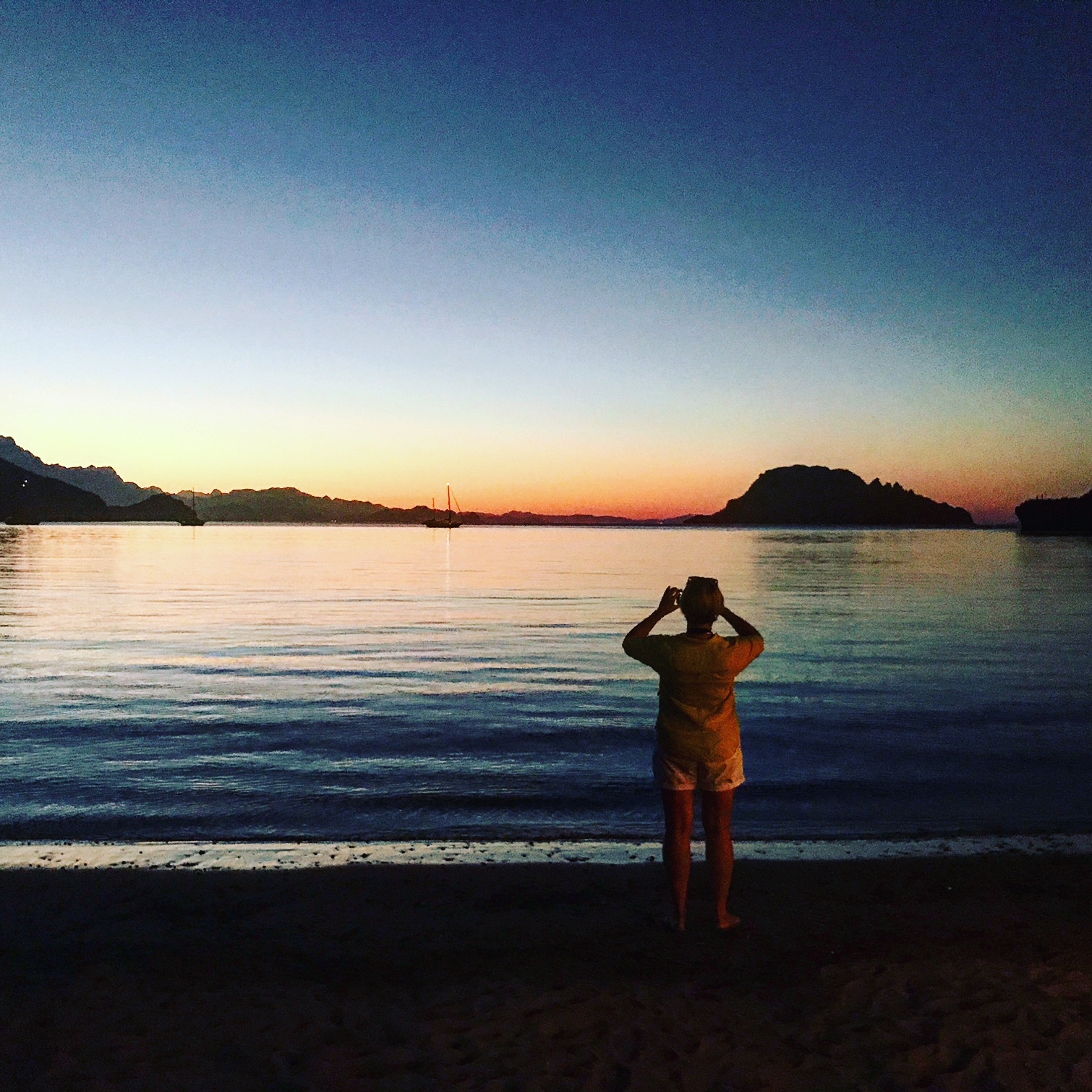 Jill Weinlein
Exquisite sunsets over the Islands of Loreto.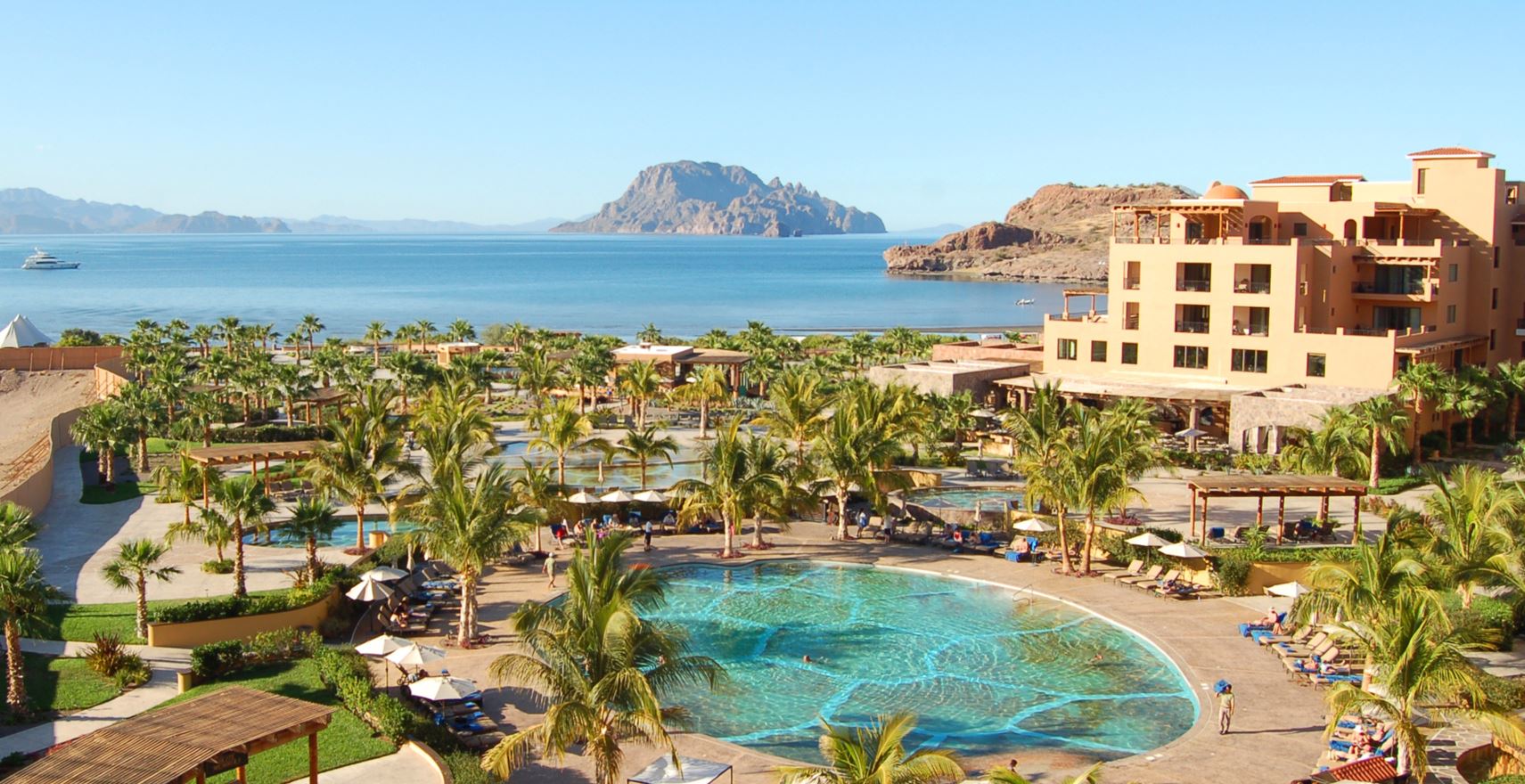 The Villa Group Beach Resorts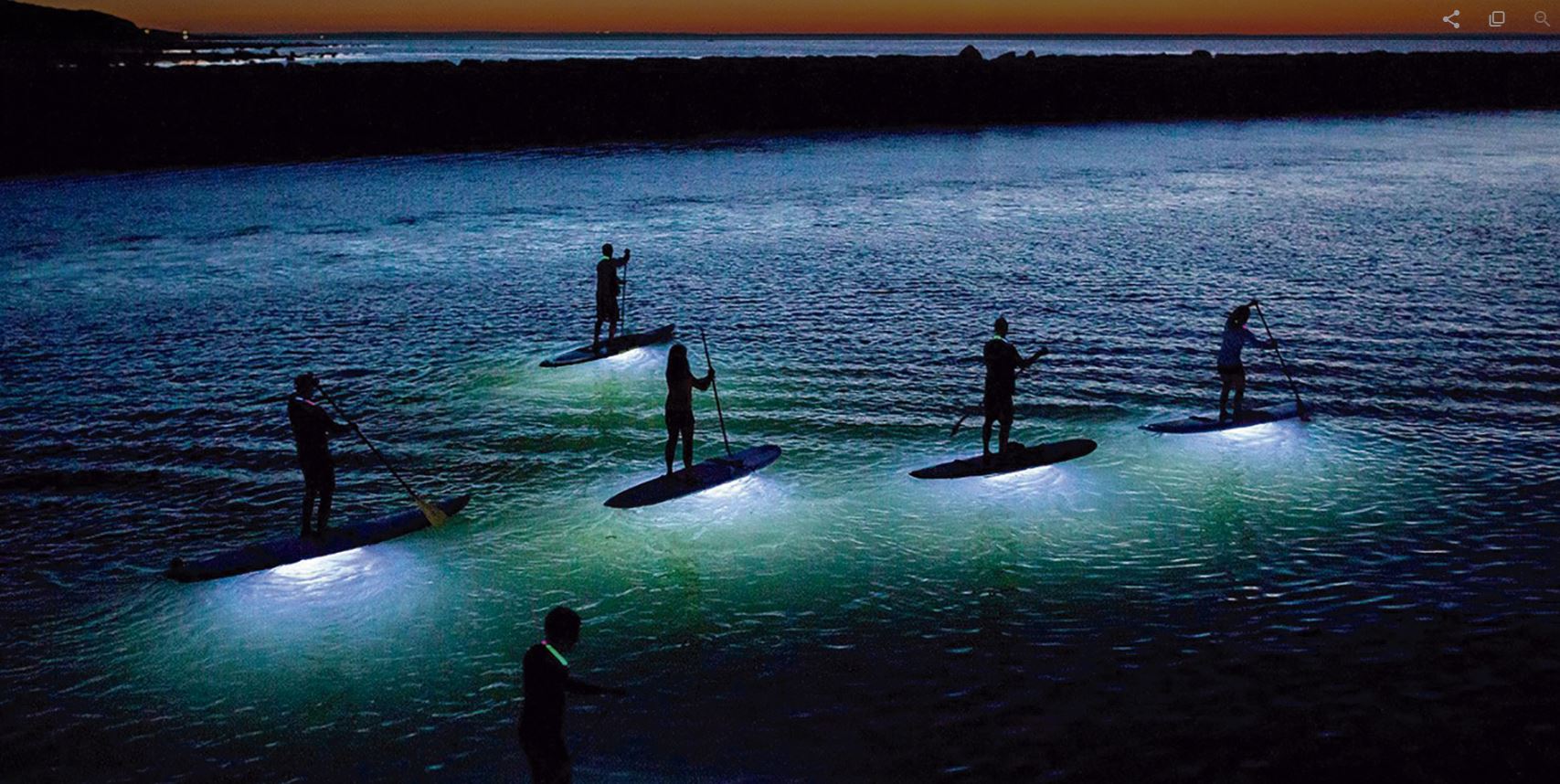 The Villa Group Beach Resorts
Living in Cabo: Your Guide to Living and Playing in Baja