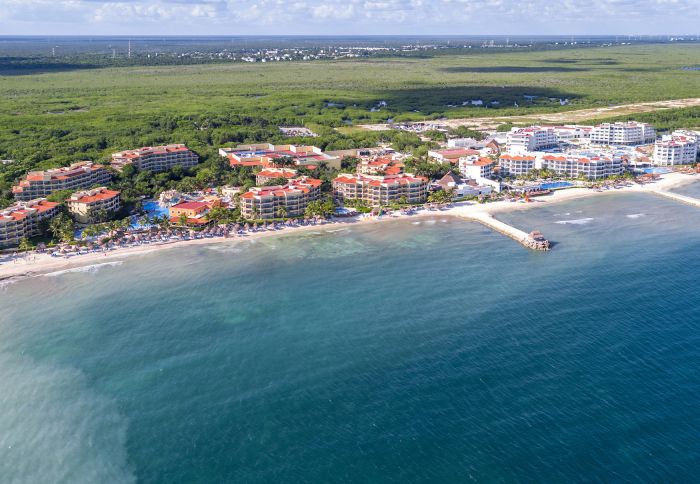 Ventus at Marina El Cid
The attractions of Mexico's Riviera Maya are legendary, and justly so. Wisely, to preserve its appeal, any new luxury resorts adhere to stringent standards of design and ecological consideration, which allows the area's intense natural beauty to be preserved while offering visitors a world-class experience. The latest player on the scene is the Ventus at Marina El Cid Spa & Beach Resort, an all-inclusive luxury property from hospitality powerhouse El Cid Resorts in Cancun. El Cid's seventh property in México, it builds on the success of its sister property, Hotel Marina El Cid Spa & Beach Resort, also in Riviera Maya, along with several other properties in equally attractive locales.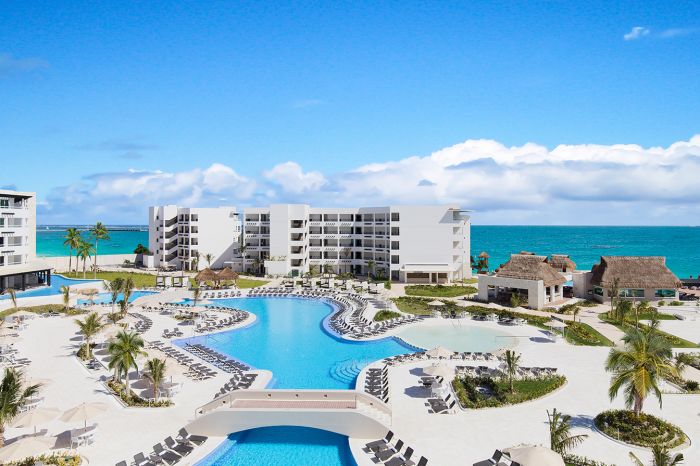 Ventus at Marina El Cid
Ventus at Marina El Cid has a privileged position outside of Cancun proper on the way to Playa del Carmen. The boutique luxury property consists of whitewashed buildings housing 290 luxury suites with private balconies, ranging from 575 to 2,854 sq. ft., several of them swim-up style. That's in addition to a full-service spa, a 2,088 sq. ft fitness center, two infinity pools, a 3,675 sq. ft. main pool, two adult-only jacuzzis, several gourmet dining venues, marina services and more. "This stunning resort is an exciting addition to our El Cid portfolio," says Carlos Berdegué, President and CEO of El Cid Resorts, "as it boasts not only breathtaking views and surroundings, but also provides a modern approach and feel to cultural and traditional experiences that will keep visitors returning year-after-year."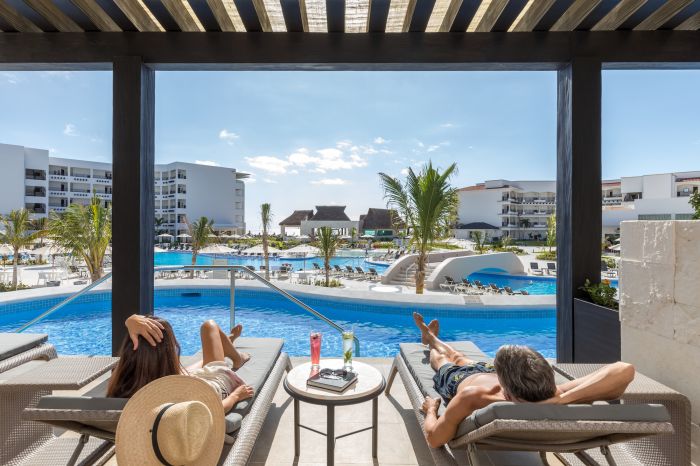 Ventus at Marina El Cid
The resort's impressive all-inclusive plan treats you to a la carte and buffet meals, all domestic and imported beverages, waiter service at the pool and beach areas, 24-hour room service, water sports, a full-service concierge, and more. Upgrading to Platinum status (highly recommended) adds guaranteed ocean view accommodations, top-of-the-line extra comfortable beds and linens, dedicated check-in and checkout areas, reservation of palapa huts on the beach, butler service, special turndown service, a room aroma menu, and complimentary access to the Platinum Club lounge with beverages, snacks, fruit, computers with Internet, TV, and newspapers daily.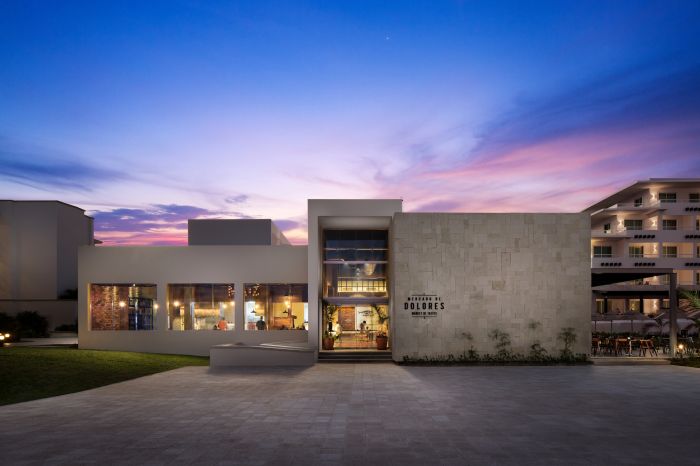 Ventus at Marina El Cid
The resort was designed by a team headed by Fernando Berdegué Sacristán, VP of Construction and new product development, providing top-notch expertise in constructing "sleek, modern and comfortable" concepts and designs. For Ventus at Marina El Cid Spa & Beach Resort, the team worked with award-winning designers and architects Ezequiel Farca and Cristina Grappin, who used natural materials to create elegant spaces and finishes in keeping with the El Cid brand ethos. The palette is organic and soothing and every space is designed to make the most of the gorgeous surrounding sea and sky.
You will not find a friendlier or more welcoming staff anywhere on this famed strip of white sand beach, a tribute to El Cid's top-drawer hospitality legacy. In addition to excellent staffing, "while building this resort, we had nothing but sophisticated details in mind, as we focused in creating our signature scent, to developing our unique spa treatments, the design of each suite, our gourmet dining options, and our one-of-a-kind adventures and excursions," Berdegué adds. "As Ventus at Marina El Cid Spa & Beach Resort is located next to its sister property, Hotel Marina El Cid Spa & Beach Resort, our guests are welcome to enjoy both resorts' amenities, allowing access to each property's pools, restaurants, bars and more."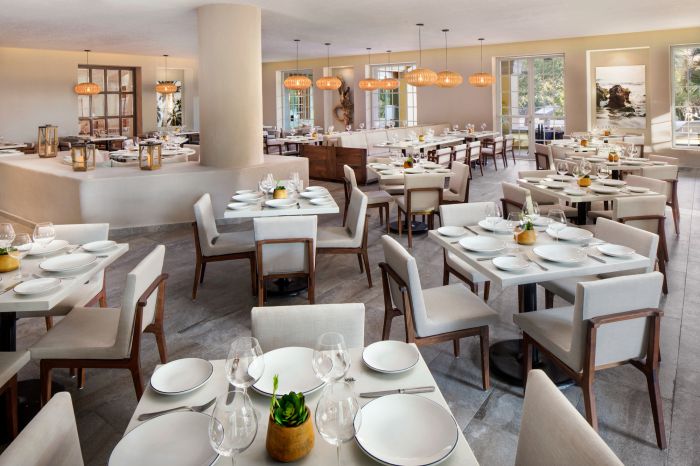 Ventus at Marina El Cid
That makes for an incredible array of offerings including Île de France, an authentic French fine-dining experience with a delectable a la carte menu; Mercado de Dolores, a stylish market setting featuring seven distinct cuisine specialties including authentic delicatessen fare, seafood, Italian, Thai and amazing desserts; Pizzeria II Peccato, a tribute to the rich flavors and textures of Italy; Sea Place, a "window into the delicious bounty of the Caribbean"; Maiz, an array of authentic Mexican cuisine; Wok Asian Cuisine starring unique noodle and rice dishes; and Fresko, featuring crisp, healthy salads, paninis and more. Lounges and Bars where one can find refreshment include the Macondo ocean deck bar with tropical cocktails overlooking the infinity pool; Abnia, an elegant lobby bar with an updated Midcentury Modern vibe and mixology to match; and the Zanza lounge bar, located between the two main pools with live music in the afternoons.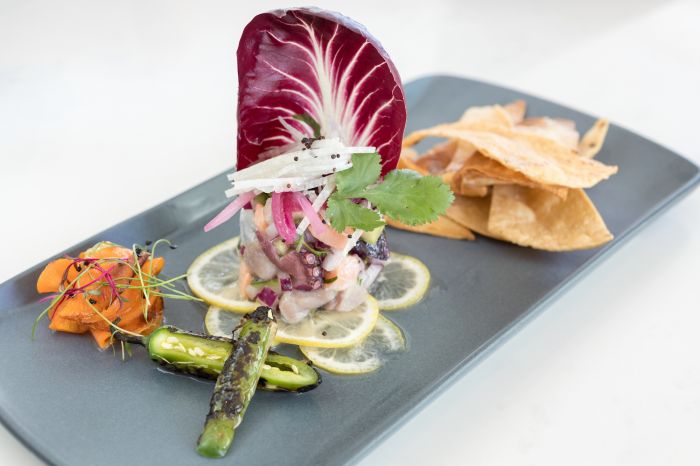 Ventus at Marina El Cid
A visit to the property's stunning El Cocay spa is a must. Services on offer include hot-stone massages, revitalizing facials, herbal wraps, Temazcal, a Mayan inspired steam bath experience, hydrotherapy facilities, a Zen garden and meditation areas, a steam room and sauna, yoga and Tai-Chi instruction, and a wide variety of massages which you can also choose to have outdoors in a thatched-roof palapa overlooking the deep blue ocean. For a truly out-of-this-world experience opt for the four-hand Kukulkan Body Massage, described as a "massage worthy of the Mayan gods" and performed by two therapists simultaneously, every bit as indulgent, relaxing and sybaritic as it sounds.
As for the boating facilities, there you'll find a sportfishing fleet for hire and a full-service 120 slip marina should you wish to arrive on your own yacht, which many do from all over the world, with moorage protected from the north, east, and southeast winds by a breakwater. Of course some of the world's finest fishing and diving is to be found in the immediate area. The marina is also home to yet another stunning restaurant, La Marina. The recently refurbished spot serves up expertly prepared seafood which is brought in every day by local fisherman and can't be equaled for excellence and freshness anywhere.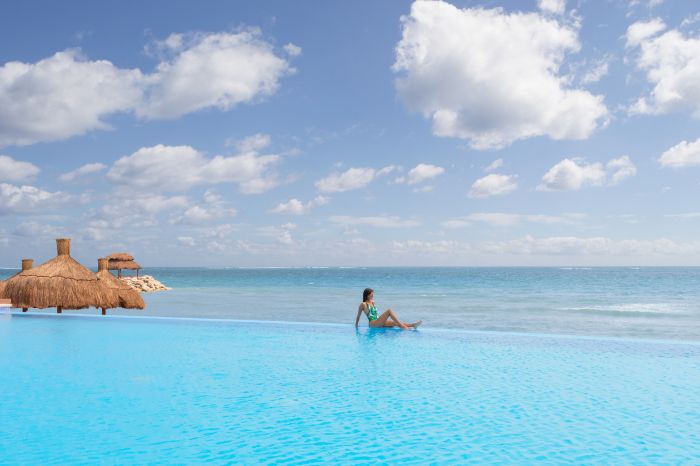 Ventus at Marina El Cid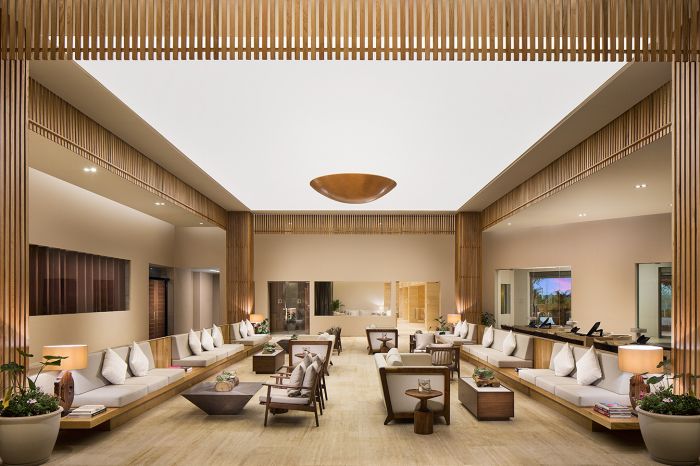 Ventus at Marina El Cid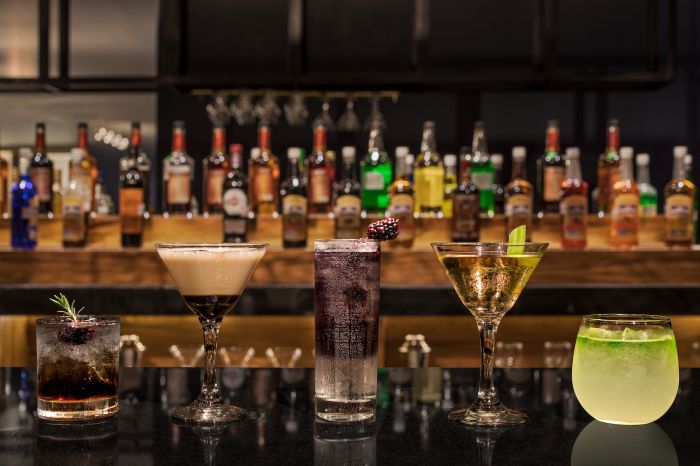 Ventus at Marina El Cid