Photos Credit: El Cielo Winery & Resort
Exploring Valle de Guadalupe's Newest Winery Hotel
Just south of the California and Mexico border, lies Valle de Guadalupe, a sprawling wine country tucked away alongside dirt roads and farm land. From the San Diego International Airport, it's only about a 2.5-hour drive as you wind your way past the Pacific Ocean and begin heading east into the region. Over the last few years, this valley has gotten its fair share of attention, being called "Mexico's Napa Valley" and having the amazing wines to support the comparison.
But before the Valle was booming with wineries, Gustavo Ortega and Daly Negron began concepting their own winery in the region following a trip to France's Loire Valley. Upon their return, the pair got to work to open El Cielo and had plans to one day build a small, B&B-style residence on property.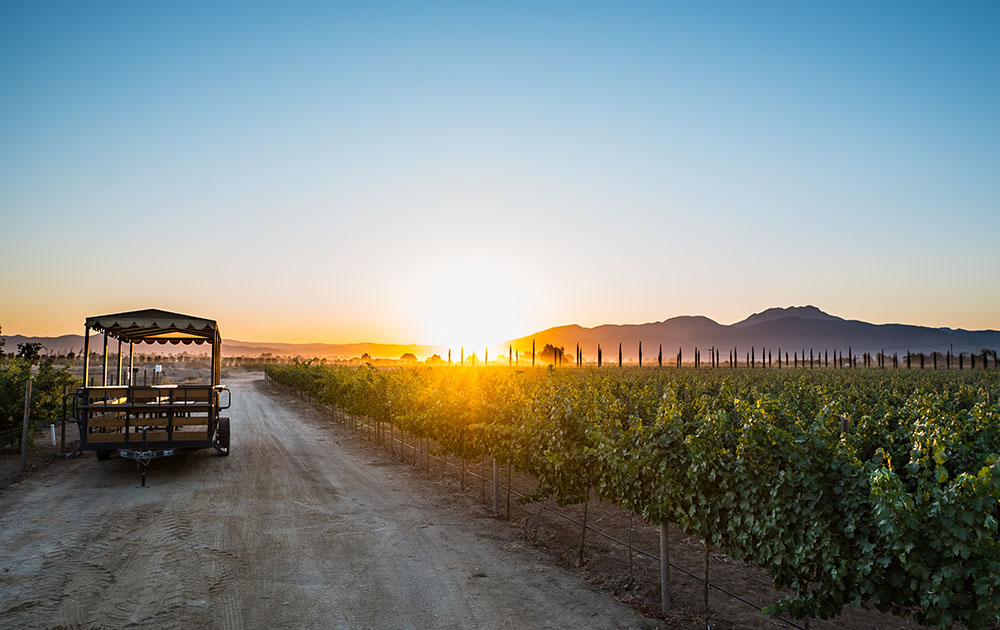 As they grew and found success with their wines, what had originally started as a dream of a boutique hotel and winery, turned into a larger project once Karisma Hotel & Resorts—a luxury hotel collection with properties in Latin America, the Caribbean and Europe—decided to team up with the pair.
This year, while the winery commemorated its fifth anniversary, Ortega and his team also celebrated the opening of their newest venture: a 56 villa resort among El Cielo's vineyards. Although not fully completed, El Cielo Winery & Resort is currently home to 33, two-story residences comprised of junior and master suites. As some of the first guests to stay within the resort, we were able to get a firsthand look at the new villas and experience El Cielo's food, wines and entertainment offerings.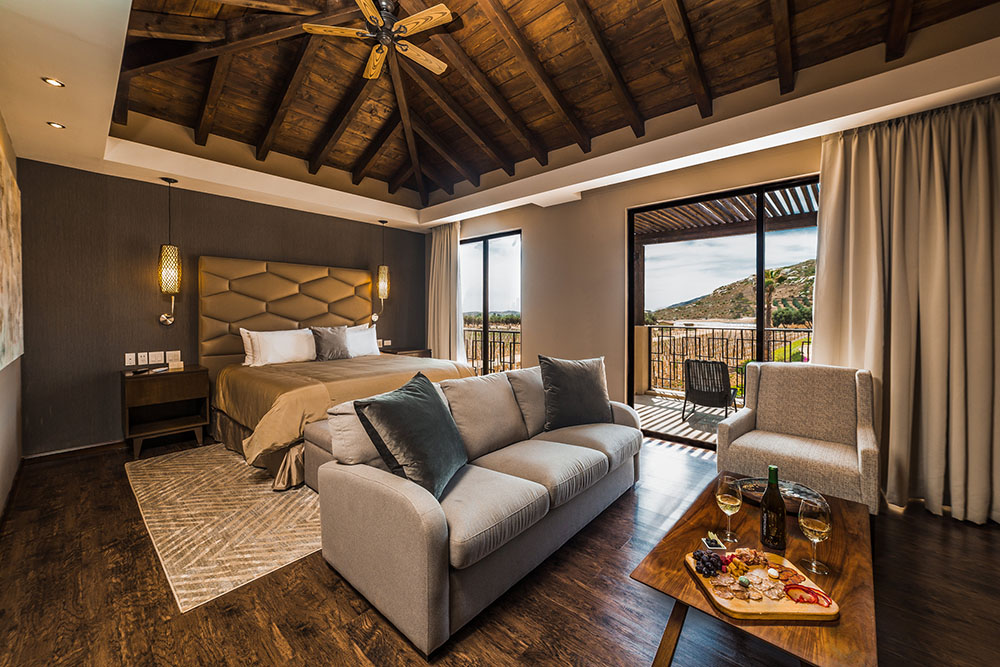 Upon arrival, guests are welcomed with a chilled glass of white wine—a sneak peek of what's to come during your stay—as they check into the property. Once ready to retreat to your villa, you'll be transported to your accommodations via guest shuttles. Each villa includes three separate suites (all with private key card access) that can be booked as singles or all together to be used as a private home.
Of the 95 suites, two are 2,777-square-foot, two-bedroom presidential residences available for groups of up to eight. Upstairs, you'll find two separate rooms with balconies. Inside, each comes with hardwood flooring; high, exposed-beam ceilings; separate sitting areas and a large marble bathroom with his and her sinks. One nice touch are the thoughtful guest amenities such as full-sized products and in-room flat irons, lest you forget yours at home (which…I did).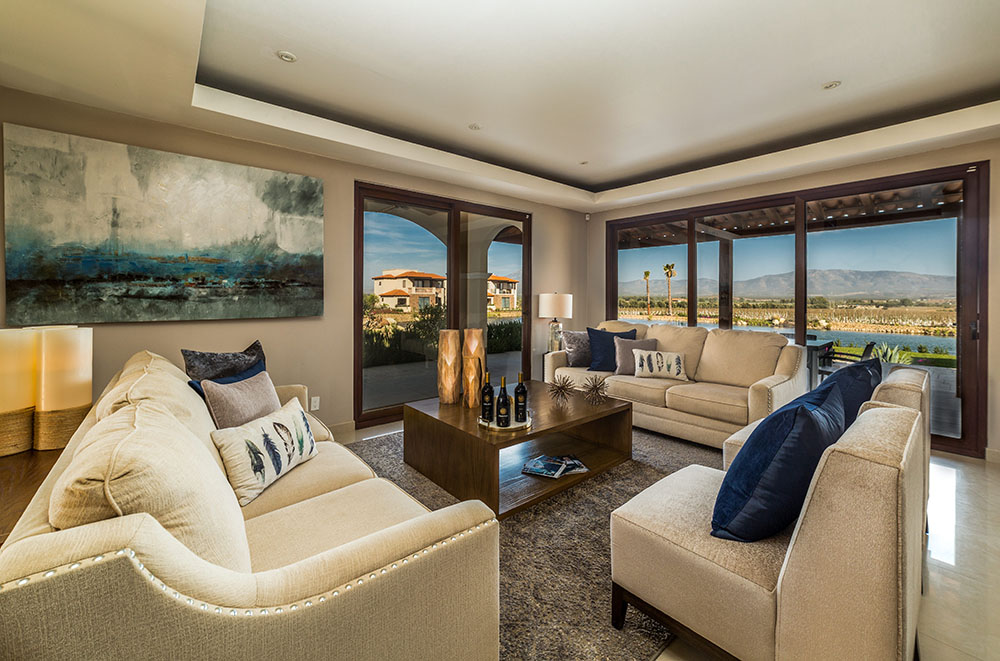 If you're looking for a more spacious option, the bottom floor of each villa—considered the master suite—offers more space and includes a kitchen, dining room and front patio with firepit. Regardless of room choice, all options come with views of the man-made lake, rows of vineyards and the beautiful mountains surrounding the valley.
Of course, while the rooms themselves are chic and cozy, the real draw here are the wines and dining offerings. On property, the hotel is home two gourmet restaurants: Latitud32 and Polaris helmed by Executive Chef Marco Marín. Grown right on property, both restaurants utilize the resort's on-site organic gardens and locally-sourced ingredients within their dishes. From fresh seafoods to flavorful vegetarian fare and traditional Baja and Yucatán dishes, the dining at El Cielo is worth a visit on its own. Meant to complement the property's wines, the seasonal menus at both restaurants offer gourmands an elevated dining experience that can only be found in this region.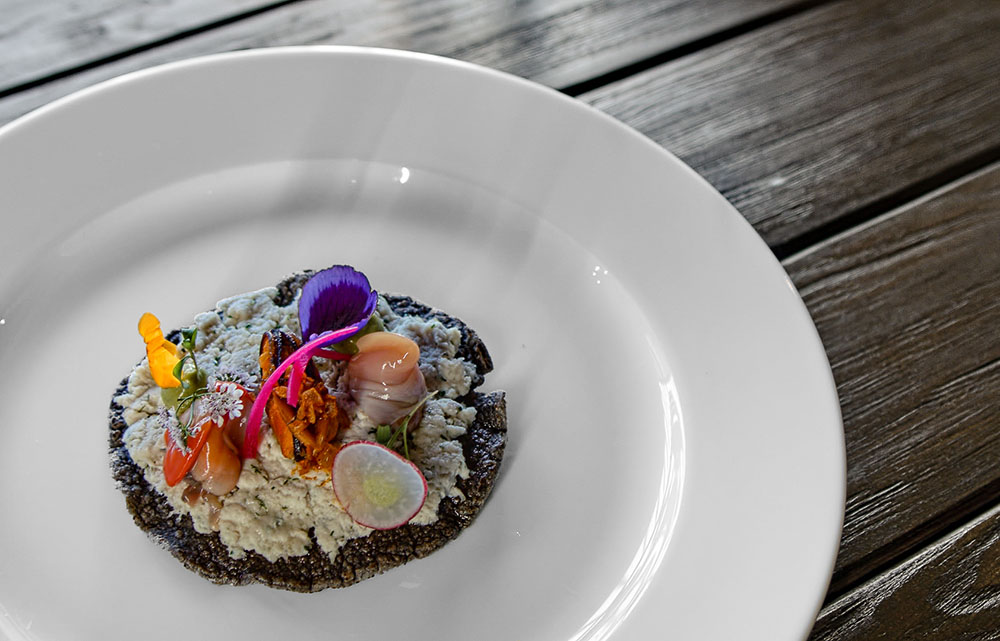 For those who are a little more adventurous, check out the resort's Dining in the Dark series which features an evening in pitch black inside a wine cellar. Prior to entering, all guests must leave their phones with the hotel staff and are then escorted into the cellar which is absent of all light. Although disorienting at first, once seated and talking with other guests, you'll quickly forget you can't see anyone or anything around you. For the dinner, all plates are served by blind waiters who will talk you through the dishes before you dig in. And yes, you will have to feel your way through the food, so using your fingers is completely acceptable.
When it comes to the wines, El Cielo produces 15 unique grape varietals including more traditional offerings such as Sauvignon Blanc, Chardonnay, Merlot, Cabernet Franc and Zinfandels. The property is also creating more modern mixes with newer varietals such as Sangiovese, Malbec and Nebbiolo. Using a holistic approach to wine making, the winery is the first in the country to use solar panels and as such has earned the title of being first eco-responsible company by the Ensenada government. Wine tours and tasting are available daily which include a buggy ride through the vineyards and a look at the wine-making process in the underground cellars.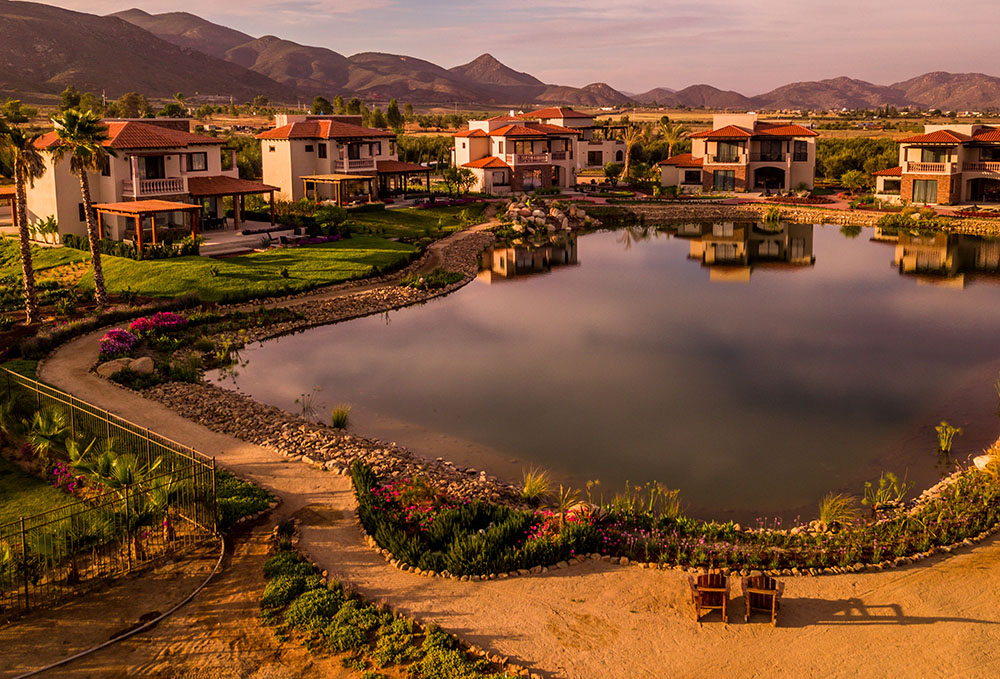 Around the resort, guests can partake in a number of activities including grape stomping, horseback riding and ATV'ing. In the future, El Cielo plans to open a spa on property and a second pool. The hotel is also about 45-minutes away from Ensenada where you can spend a day at the beach, sampling fish tacos or browsing shops for local goods and souvenirs. Whether you come for the wines or need a unique quiet getaway, visiting the Valle and staying at El Cielo Winery & Resort should be on your travel bucket list. With the popularity of the region only getting greater, chances are, reservations there will go up in demand as well. So be sure to get your visit in now and earn some bragging rights about the newest hot spot in the Valle.