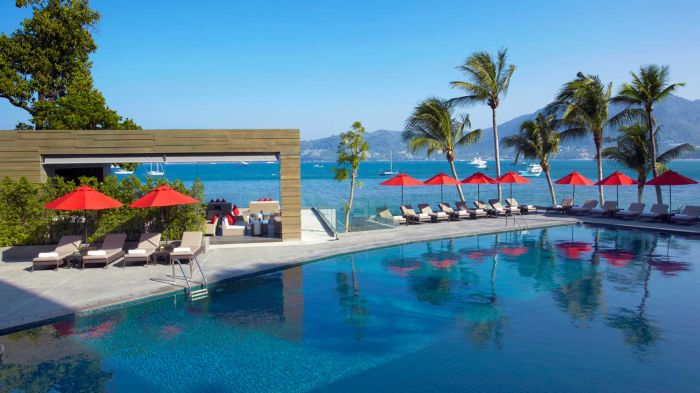 Amari Phuket
Ideally, with any luxury beach holiday you want to feel that you are on a remote and exclusive retreat but without being too far away from the action. Amari Phuket is Phuket's perfect destination for those who want sun, sand, exclusivity, and luxury within minutes of Kata or Patong Beach and Phuket's colorful Bangla Road. With every amenity that one could want on a luxury beach getaway such as 3 restaurants, two bars, live entertainment on select nights, snorkeling, 3 pools, a spa and a kid's activity center, one never has to set foot outside of the resort if one desires.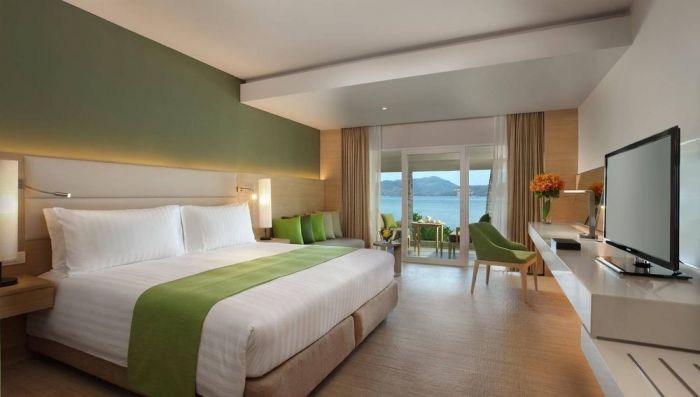 Amari Phuket
Located 25 miles from Phuket International Airport and just a 5 minute walk to Patong Beach, guests can choose from 380 rooms and suites including a luxury Ocean Wing and Club Ocean View Suites that offer access to the resort's Clubhouse. Guests of the luxurious Club Ocean View One or Two Bedroom Suites (with or without balcony) can take advantage of Clubhouse privileges including exclusive access to the following: Infinity pool, sun deck, and FIT Centre; daily buffet breakfast and a complimentary daily Cocktail Hour with a selection of wines, spirits and cocktails that accompany the chef's choice of canapés and a carving station; private dining and lounge area with a la carte dining; complimentary tea, coffee and light snacks.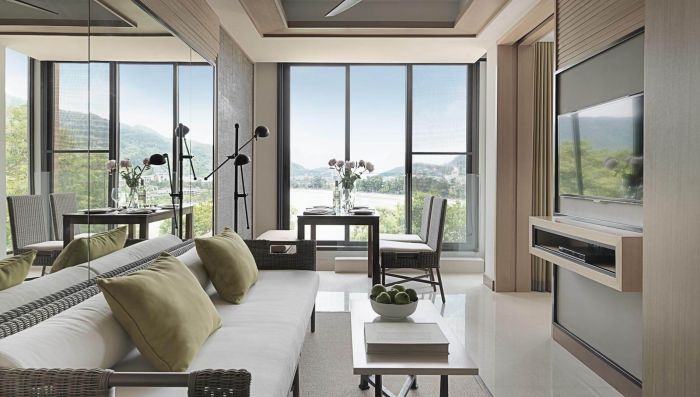 Amari Phuket
Those who are privileged enough to book a stay in a Club Ocean View Suite or an Ocean View Suite (both available in a One or Two Bedroom layout) will be treated to the impressive and awe-inspiring beauty of Patong Bay with its spine-tingling sunsets, a chicly furnished, separate living area, fully equipped kitchen with microwave, a dining area, two large LED TVs and a mini bar. The highlight of booking a Club Ocean View Suite is that you have the option of lounging quietly poolside with a good book or simply having an intimate moment with your loved one in virtual privacy or you can head over to the main pool if you prefer to enjoy some prime-people watching in a more social environment.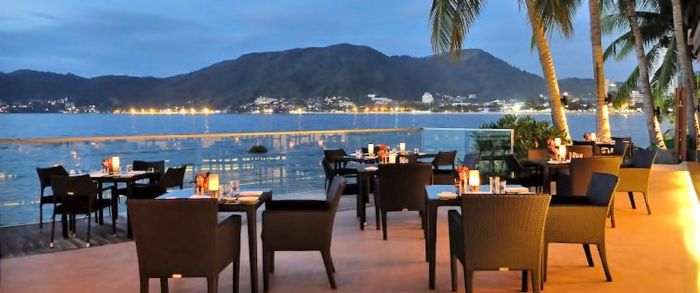 La Gritta- Amari Phuket
Whatever suits your mood, Amari Phuket has a dining or bar venue to meet your needs. Fancy a romantic, beachside dinner with your love? La Gritta offers sumptuous Italian food from talented Chef de Cuisine Patrizia Battolu. La Gritta is one of Phuket's preeminent restaurants. Hailing from Italy, Chef Battolu began her culinary career working for several hotels and restaurants in Italy before making her way to Thailand. Her more than 20 years of experience can be tasted in every dish that she creates and her passion shines through in her food. Her signature dishes include the following;: a mouth-watering Marinated Hokkaido Scallop on a beetroot carpaccio with salmon caviar; Veal Tenderloin with tuna sauce and caper berry fruit; Wild Mushroom Soup with roasted cauliflower, watercress and white truffle essence; Hand Filled-Ravioli with Australian Tajima wagyu beef topped with mushroom, sage and pancetta bacon sauce; and Passion Fruit Panna Cotta with blackberry jelly and chocolate sauce.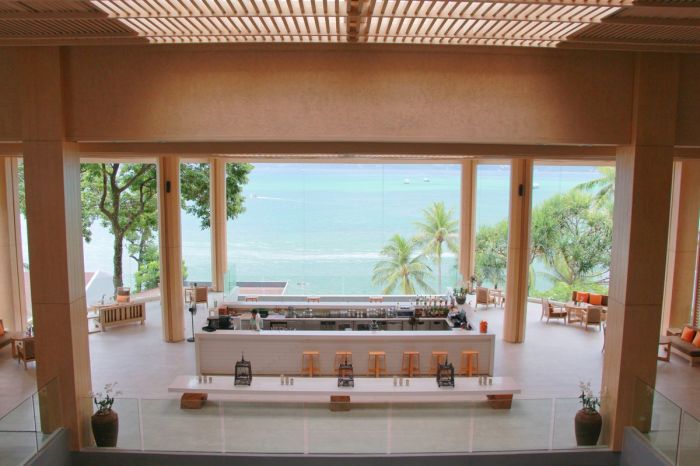 Samutr Bar-Amari Phuket
If a more casual but equally stunning atmosphere is to your liking, Samutr Bar is an excellent choice with its comfortable seating and panoramic views of Patong Bay. Enjoy a light mid-day snack or a light lunch in between sunning yourself or grab a refreshing cocktail at sunset with your friends and family while you watch the sun sink into the bay. If you have no desire to move from the pool, fortunately you can grab a quick bite and an ice-cold beverage by the beach at Amari's own Rim Talay Pool Bar.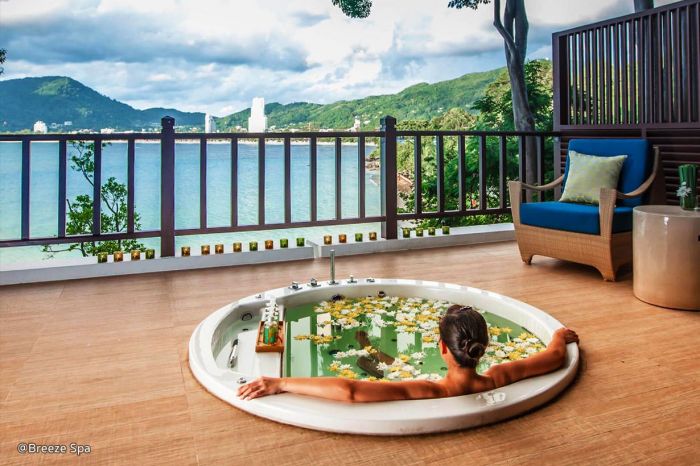 Breeze Spa-Amari Phuket
When it's time to take your hedonistic relaxation up a few notches, book an appointment with a skilled masseuse at Amari's Breeze Spa. Set on a lush tropical hillside amidst a forest and the bay, Breeze Spa offers four gorgeous teak wood, open-air massage salas that are separated by a landscaped walkway for privacy. Each sala has an outdoor shower, a wet area and a sun terrace while the larger, deluxe sala features a steam room and an outdoor Jacuzzi. The selection of treatments offered include a traditional Thai massage, aromatherapy massage, body polishes and wraps, facials, water treatments and classic beauty therapies. Amari Phuket has everything you could possibly want or need for your relaxing and luxurious beachfront getaway.