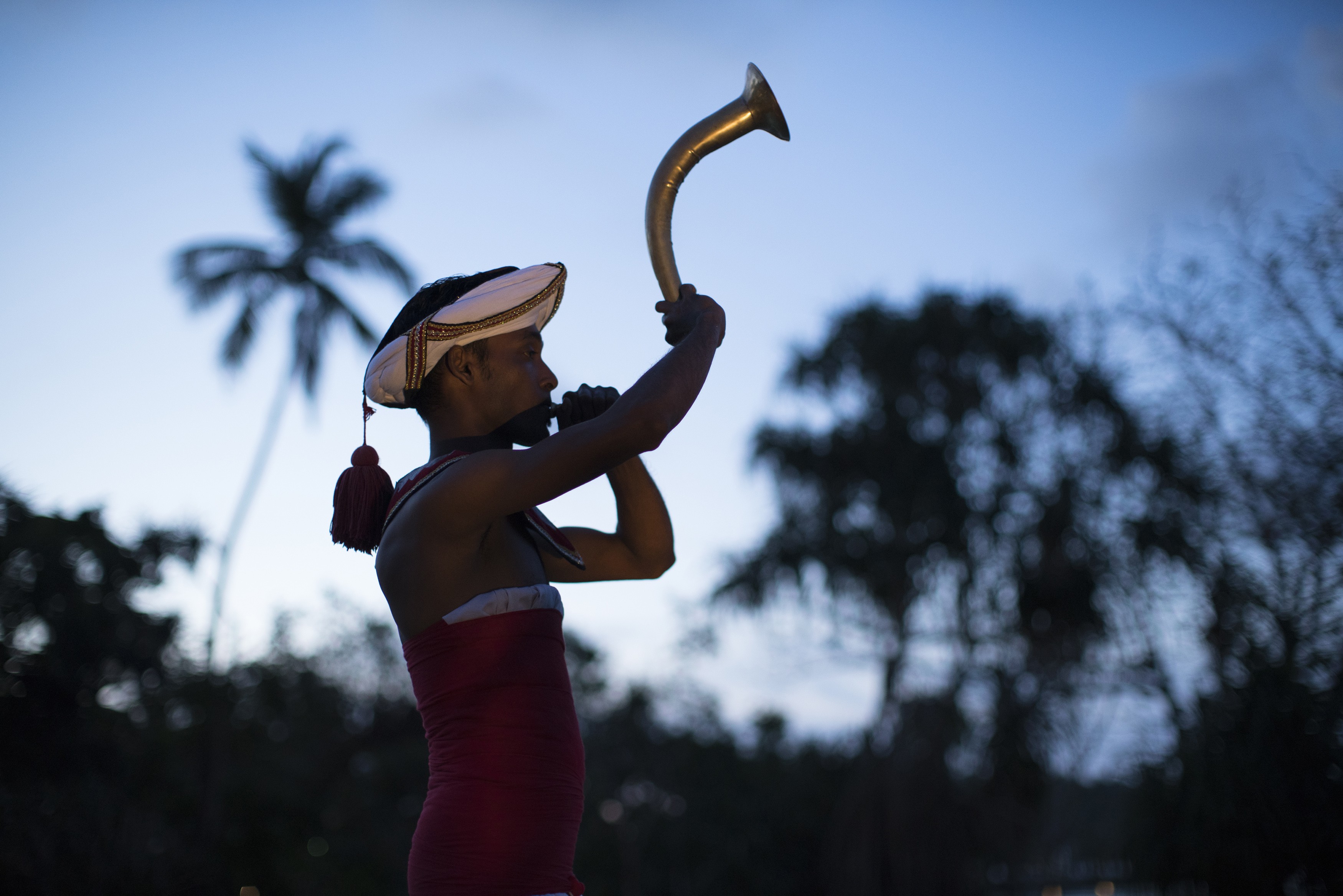 Photos Credit Anantara
Shri Lanka is a wonderfully exotic destination with lush rainforests, unusual wildlife, and faun and fauna. The cities are full of hustle and bustle and chaos where the countryside could not be more peaceful and tranquil. Set between a beautiful bay and a long sandy beach and the Indian Ocean on the other is where you'll find the Anantara Kalutara, a resort created for guests to thoroughly immerse and enjoy all of the tropical beauty and rich culture that Sri Lanka has to offer.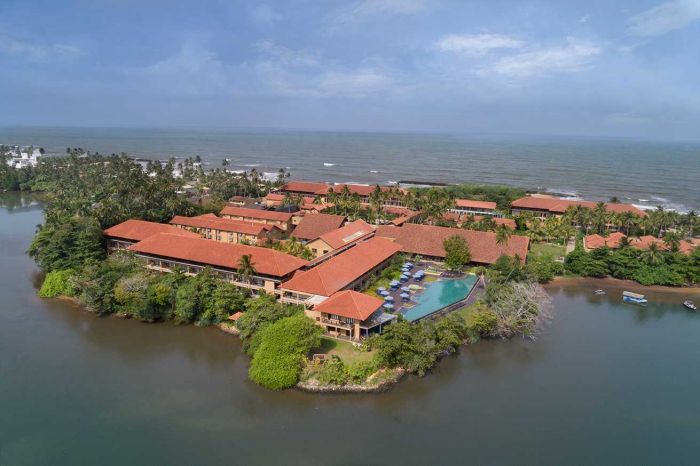 Guests will be immediately be taken aback by the size and pure beauty of this grand resort which recently opened in 2017. Around the property, the tropical nature blends with an eye for detail with carefully manicured gardens, interesting outdoor art pieces, and colorful flowering plants at every turn. The resort is located on a space of land between two bodies of water, lagoon of the Kalu River estuary and the rolling seas of the Indian ocean. The resort makes the most of its location by giving uninterrupted views of these beautiful waters from many of the rooms as well as the pools and common areas.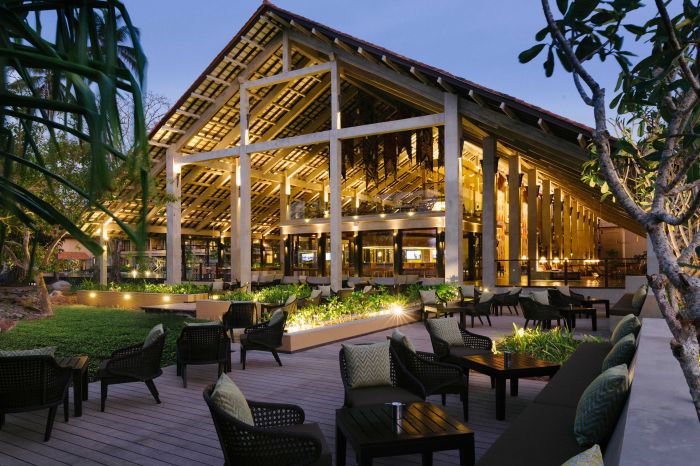 The design of the hotel's main building is striking as well with a unique style of design where the roof soars three stories high under a terracotta tiled roof yet is open air to let the air circulate while keeping the space below cool. One quickly notices that indoor décor, design and details are created to compliment the natural beauty of the outdoors. Fine tapestries, intricate carved local artwork, and the artwork is lovely This is where the reception is located as well as several common areas for sitting and reading, a bar, the all-day dining restaurant and a casual lounge with pool table area.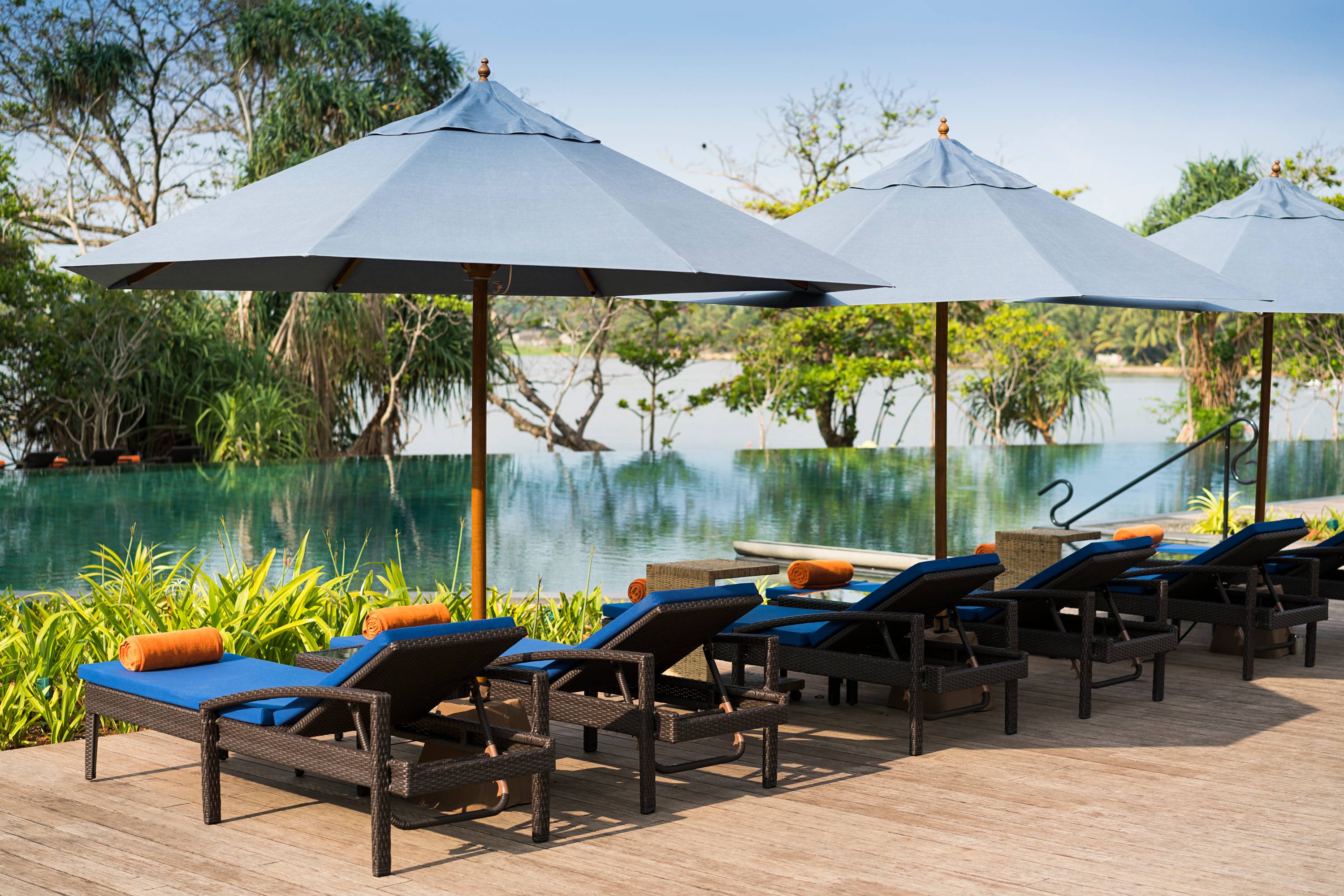 The design of the resort is by Sri Lanka's most recognized architects, Geoffrey Bawa. It embraces his design ethos is a focus on ascetic beauty, superior craftsmanship and functionality as well as using design to create cool spaces in tropical environments.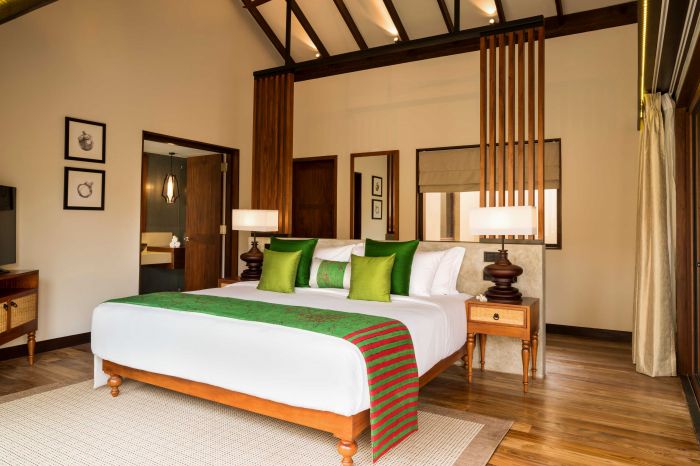 The resort's 141 accommodations are just as impressive with nine categories that range from spacious guest rooms to elaborate specialty suites fit for their many visiting dignitaries, VVIPs and celebrities.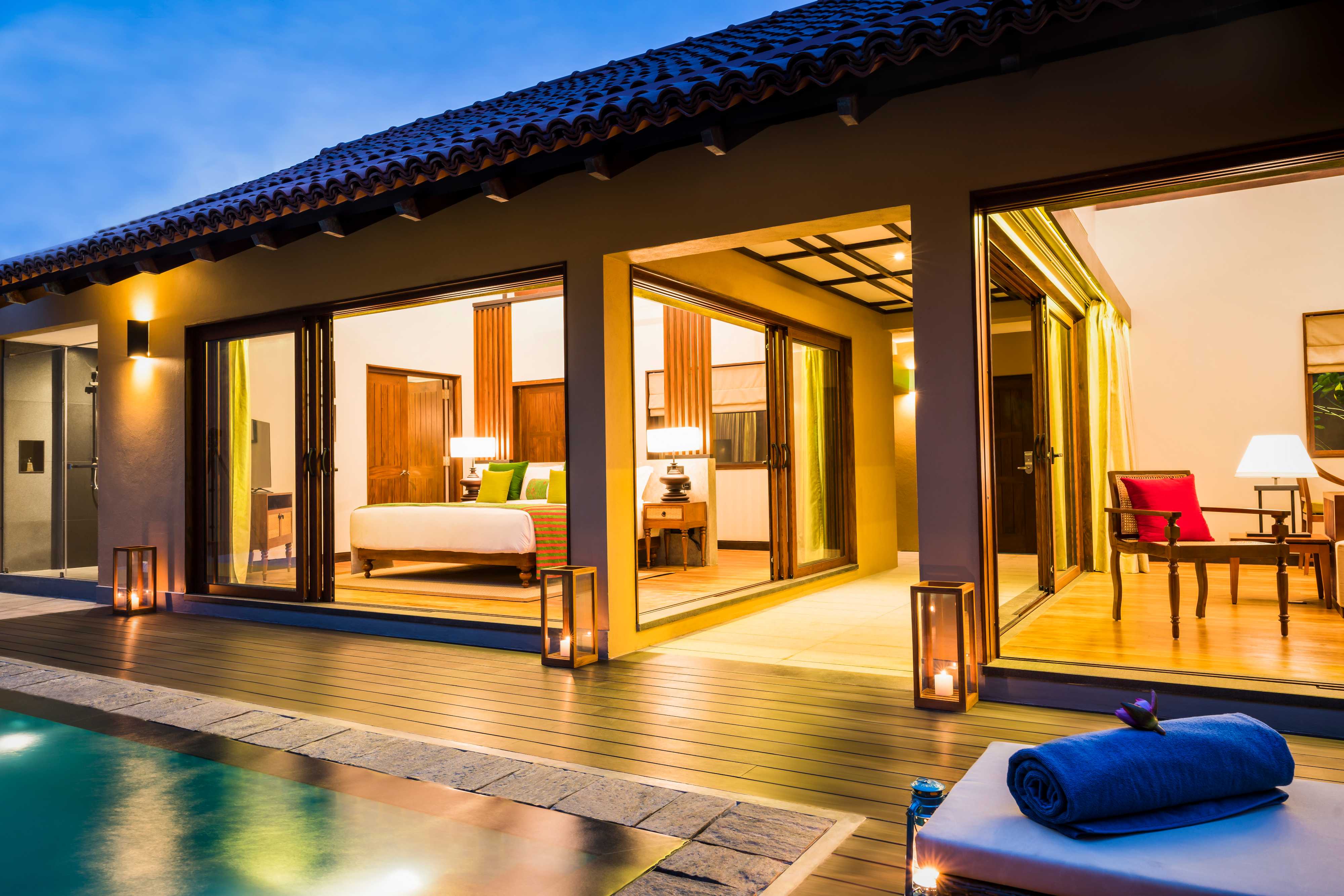 The villas are superb with an open-plan layout, contemporary Asian décor and colonial era furnishings as well as the personalized services of a Villa Host. Through the villa's entrance guess will find two glass-enclosed; rooms, on one side is the living pace which is generous in size with Sri Lankan colonial era furnishings, colorful wall hangings and artwork. The latest in electronics are in place with flat screen tv, sound system as well as a kitchenette, Nespresso coffee machine and wine humidor. Sliding glass doors surrounding the space so that when opened fresh air flows as well it creates and indoor-outdoor space with the facilities beyond.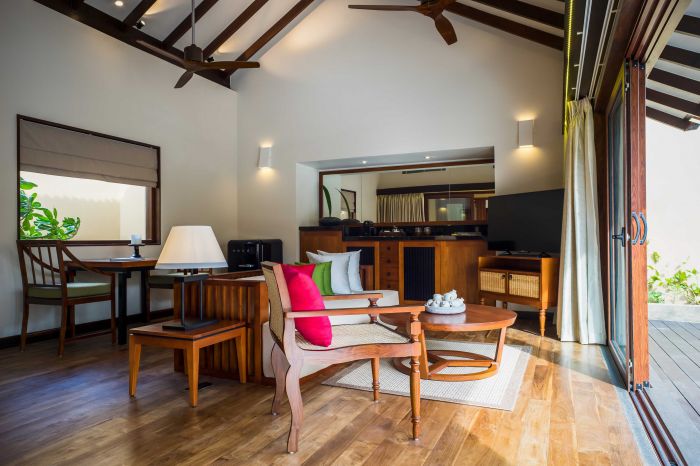 Across the outdoor corridor is the bedroom with rich detailed teak floors and colonial era mahogany furnishings, an uber comfortable king size bed, lovely local silks and batik fabric bed throws distinctive color and crackle design. The bathroom is exceptional as well, large in size with rain showers, separate bath and shower.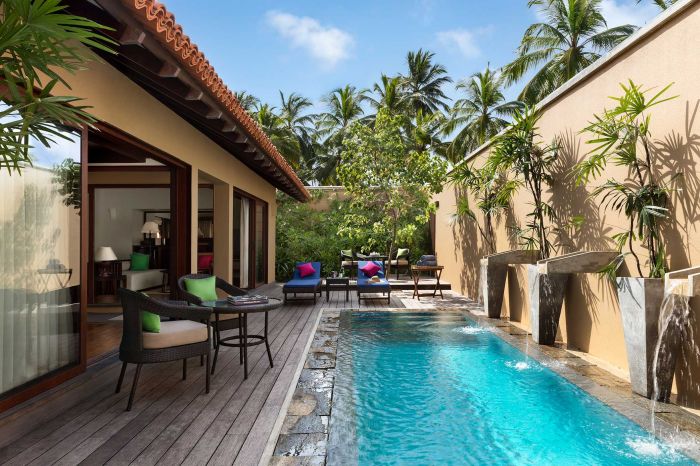 As side from the exquisite living space and bedroom, what will make guests fall in love with the villas at the Anantara Kalutara is the private and secluded outdoor pool and living space. Four spouts cascade water into the full-size pool creating an ambiance of tranquility from its soothing sound. There's a patio table for private en-suite as well as chaise lounges for sunbathing without those pesky tan lines. There's also an outdoor shower and the outdoor bath for two, ideal for a night time bath under the stars. The villas create an environment that could not be more ideal or honeymooners, couples celebrating an anniversary or just looking to reconnect.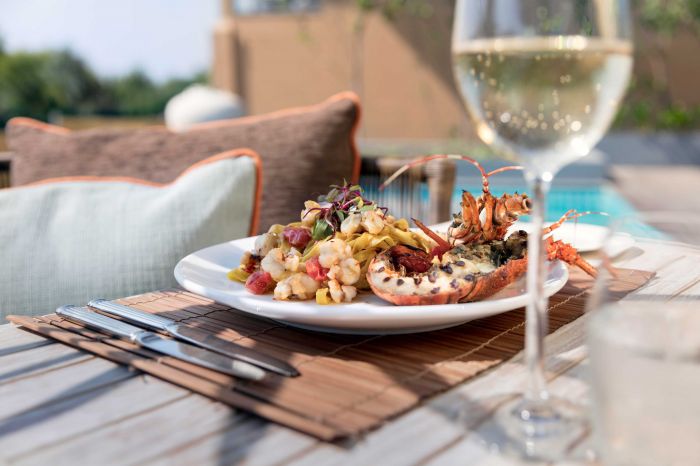 The resort has an extensive array of dining options including their all-day dining restaurant Olu serves international cuisine while Spice Traders is there Asian restaurant specializing in a wide array of dishes from Chinese to Thai, Indian and of course Sri Lankan specialties.
Their third venue is Acquolina, the fine Italian restaurant, with the Mediterranean feel to it, where couples nibble on antipasti with prosecco while others choose the baked sea bass with garlic, herbs complemented by a selection from their extensive wine cellar.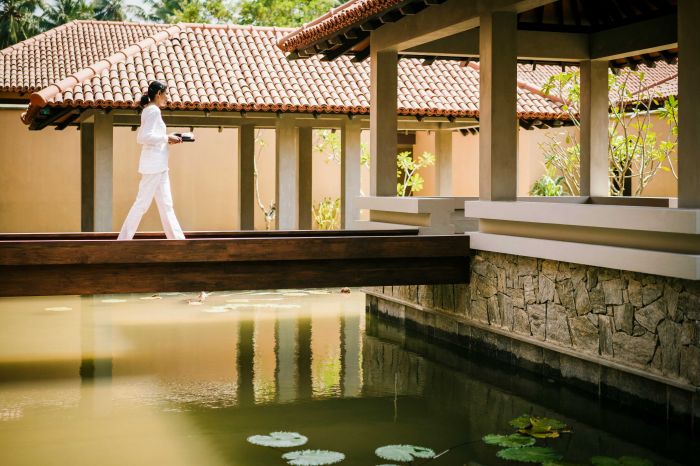 The Anantara Kalutara Resort offers a top not destination spa with a staff of well-trained professionals dedicated to the relaxation and rejuvenation of their guests. The facilities are beautiful with pretty lotus flowers, tropical gardens, reflecting ponds and tranquil places to relax before and after treatments. This is a full-service facility with ten treatments rooms providing services from Balinese, Thai, Western as well as the 5000-year-old health science, Ayurveda. Facilities include a sauna, a steam bath, a beauty salon, massage treatments and the Ayurveda applications.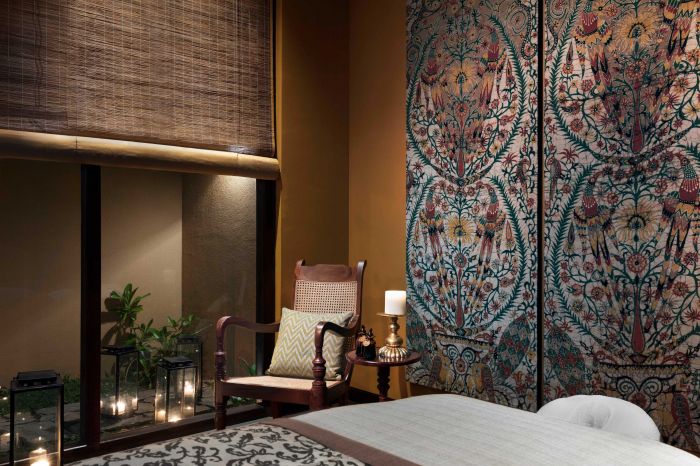 This is a large resort spread over a vast area with plenty of activities to enjoy from the two pools, beach time as well as tennis and a first rate work out facility as well as all types of water sports. The Anantara Kulata is a family focused resort as well and provides numerous activities for children and teens.
Beyond the resort, Sri Lanka has many options to explore its unspoiled nature with caves, well preserved rainforests, and national parks with safaris with roaming elephants and other exotic wildlife. Not far from the resort, a must visit destination is the Dutch Fortressed UNESCO World Heritage Site of Galle .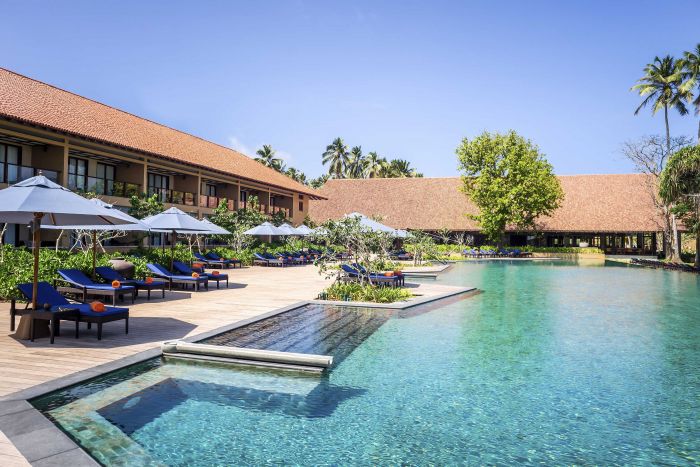 The history and cultural exploration of Sri Lanka include the resort itself as it was the last project of Sri Lanka's most celebrated architect, Geoffrey Bawa. The hotel's library is named in his honor and contains many books on his works as well as some of his original works and mementos.
To get to know more about Geoffrey Bawa guests can also visit, Lunu Ganga, his last home which is now also a national park and a short drive away. The estate is well preserved with lush gardens teaming with towering Mahogany, Teak, Ebony trees with lily ponds framed with frangipani and the sweeping lake views. His work and entertainment areas, as well as his bedroom and guestrooms filled with his art collections, paintings, furnishings, are still in tack. It's a treat to view this period home built in 1947and gain an insight into the man who created such wonderful works in Sri Lanka and beyond.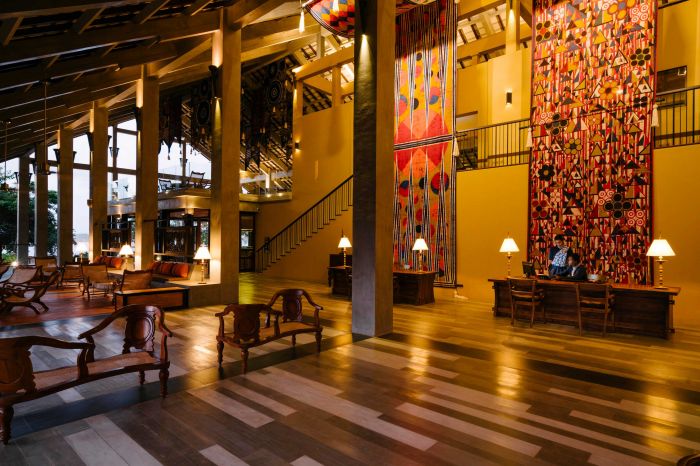 Another fascinating destination to visit is the Brief Garden which was created by Bevis Bawa, the brother of Geoffrey Bawa. The gardens are enchanting in their beautiful design and layout as well in the pretty flowers and the diverse flora and fauna and ponds and lakes.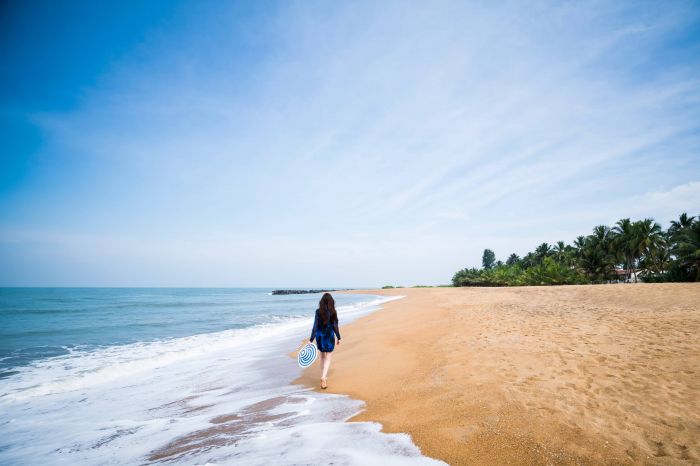 Sri Lanka is an exciting and exotic offering an unspoiled tropical destination that is also rich in the culture of its people. The Anantara Kalutara is the ideal resort to take in all that this wonderful destination has to offer, luxurious accommodations, exceptional dining experiences, and world-class spa. That along with their warm and welcoming staff ensures this is an enjoyable holiday the romantic couples and active families will long cherish.