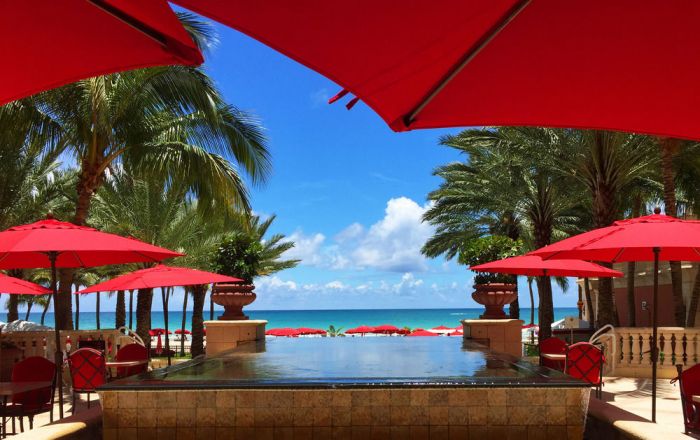 Aqualina Resort
Nestled between Miami Beach and Fort Lauderdale in Sunny Isles Beach, Acqualina Resort is one of the few resorts in the area to hold both the AAA Five Diamond Award and Forbes Travel Guide Award for their hotel and spa.
It's no secret why when you arrive. The driveway is lined with Rolls-Royces and a team of staff members eager to serve their discerning guests. As you step into the expansive Mediterranean style lobby, you are drawn in by its elegance and friendly team members. The upscale and casual dining options, pristine pool and 4.5 acres of beach areas and carefully curated activities provide the perfect setting for guests looking for a first class tropical vacation.

Acqualina Resort
Never resting comfortably on their laurels, Acqualina is constantly devising new and innovative ways to wow their guests with unique experiences.
Acqualina just unveiled their Grand Deluxe Three-Bedroom Oceanfront Suite, designed by the resort's ownership, Stephanie Trump and Deborah Yager Fleming together with the design firm, SBI. The 2,375 square foot seaside haven features a distinctive design with a strong sense of coastal living. An elegant foyer with chic marble flooring opens up to three stunning bedrooms, a full gourmet kitchen and an impressive living room with sweeping views of the Atlantic Ocean.
Acqualina Resort
In celebration of the reveal, guests who reserve three nights or more in the Grand Deluxe Suite through April 1 will enjoy the rare opportunity to drive a Rolls-Royce Ghost for a day.
What better way to drive off into a Miami sunset?
Acqualina Resort & Spa is located at 17875 Collins Ave., Sunny Isles Beach. For more information, call 305-918-8000 or visit acqualinaresort.com.
For more information or to make a reservation, please call844.845.5089.