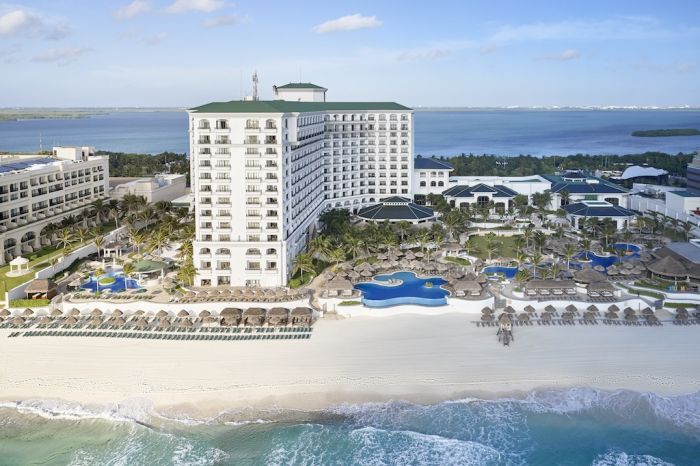 JW Marriott Cancun
Imagine waking up every morning to views of a sparkling, blue sea for as far as the eye can see and allowing the sound of the crashing waves drown out all of your anxiety? Say goodbye to the winter blues and book a stay at the newly renovated JW Marriot Cancun Resort & Spa. From now until December 2, guests can experience the JW Marriott Cancun's new, Mayan-inspired look with the "New Point of Blue" package that includes accommodation in a newly renovated room, daily breakfast at Sedona Grill, a beach bag welcome amenity, a margarita flight or tasting from the new 150 Margaritas menu, and a $100 USD resort credit for use at the spa or specialty restaurants. Rates start at $409 per night and the package is valid for bookings made before March 31, 2019.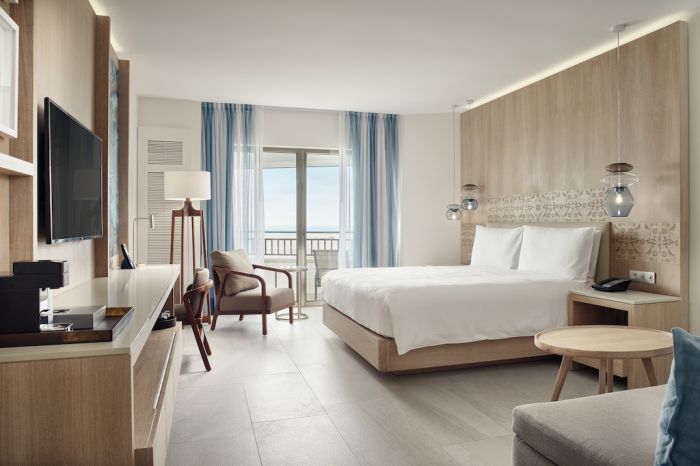 JW Marriott Cancun
The JW Marriott Cancun recently completed a $40 million renovation of its 447 ocean-facing guest rooms and suites. Led by Martha Gaos and Claudia Gonzales of G+G Interiorismo, the design overhaul drew its inspiration from the warm sand and the tonal blues of the Mexican Caribbean and an excerpt from "Popol Vuh" of Mayan literature that chronicles the creation of humankind. The designers infused Mayan culture throughout the rooms as illustrated by reclaimed wood accents intricately embellished with carved drawings and adorned with hummingbirds, quetzals (local birds), four-petal flowers, snail fossils, amate bark paintings and other emblems common in knitting patterns of local huipiles (indigenous garments).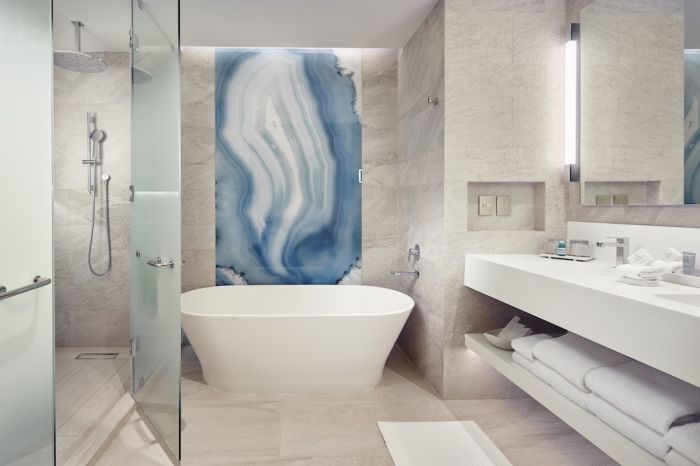 JW Marriott Cancun
Locally sourced materials and authentic Mexican textiles were used to craft the wood furnishings and elegant, herringbone-patterned floors. Sand-colored curtains and textured tan rugs offer finishing touches that tie the culturally inspired design together. Expect contemporary, oversized bathrooms with freestanding soaking tubs, rainfall showers, his and her sinks, and granite vanity tops with chrome finishes. The 74 redesigned suites utilize wood screw that is typically used in the Yucatan Peninsula while the 4,000 square-foot Presidential Suite features oak and ceramic tile by renowned Spanish designer Patricia Urquiola.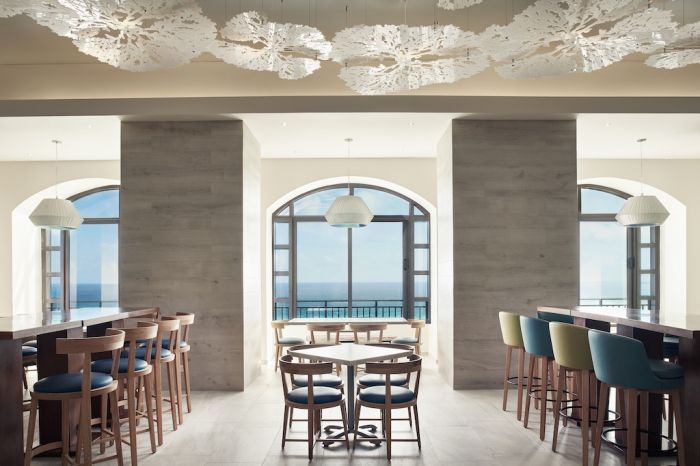 JW Marriott Cancun
If the luxurious touches that are a signature of the JW Marriott hotels have you wanting more, book a package the includes access to the property's exclusive Club 91 lounge. Located on the 14th floor, the lounge was renovated to match the guest rooms' new interiors with navy blue and olive-colored chairs and a coral reef ceiling décor. Guests are treated to 5 meals per day for two adults and two children under 6 including a live preparation of a Signature dish, a private concierge, wireless internet access, 4 private balconies with stunning ocean views, and airport transportation for two guests.
JW Marriott Cancun has three restaurants that will suit every culinary desire: Sedona Grill serves authentic, mouth-watering southwest cuisine with views of the Caribbean and is open for breakfast, lunch and dinner. Gustino offers Italian and seafood dishes for dinner in a fine dining setting while Beach Walk is a poolside bar and restaurant with dreamy ocean views.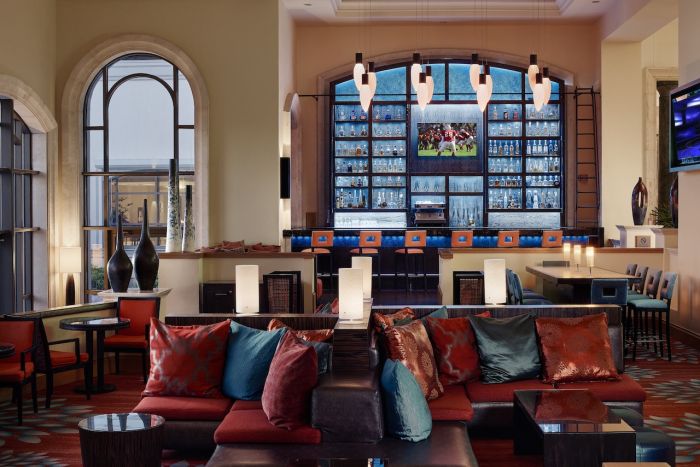 JW Marriott Cancun
Before dinner make sure to try the innovative 150 Margaritas menu at the JW Lobby Bar. The menu evolved as a passion project for the property's expert mixologists and skilled tequila connoisseurs. The margaritas are crafted using silver, reposado and añejo varieties in addition to mescal and are divided into four categories: Classic, Modern, Fusion and Exotic. Try a classic Red Dragon Rita with Don Julio Añejo, raspberries, Cointreau, lemon juice, simple syrup and mint leaves. If your tastes are leaning toward the more modern flavors, opt for the Jalapeño Fresa Margarita made from Casa Noble Crystal Blanco, strawberry-jalapeño, lemon juice, Cointreau and simple syrup. For the more adventurous, order a Romerita Margarita from the Fusion section with Avion Reposado, cucumber juice, rosemary sprig and syrup, lime juice and Cointreau. The margaritas from the Exotic section echo the flavors of the region such as the 7 Moles Margarita with Herradura Seleccion Suprema Extra Añejo, black mole, Cointreau, simple syrup, and lemon juice. With so many enticing offers and deals, it's easy to change your point of view with the 'New Point of View' with JW Marriott Cancun.
For more Luxury Travel inspiration click the link to find more ideas.