All Images Credit Four Seasons Resorts and Spas
The Four Seasons Resort Bali At Jimbaran Bay, Indulge in Bali's Grand Dame of Beach Resorts
Bali is more than one place. It is a destination of destinations offering a range of experiences from the full-on party central of Seminyak to the spiritual calm and serenity of Ubud. The cerulean seas and their beaches are simply perfect as are the tropical landscapes. One of its most scenic beaches is Jimbaran Bay, an enormous horseshoe-shaped bay of white sand beaches and blue seas. Perched along the beach and hillside is where you'll find the grand dame of luxury Bali's beachfront hotels, the Four Seasons Resort Bali At Jimbaran Bay.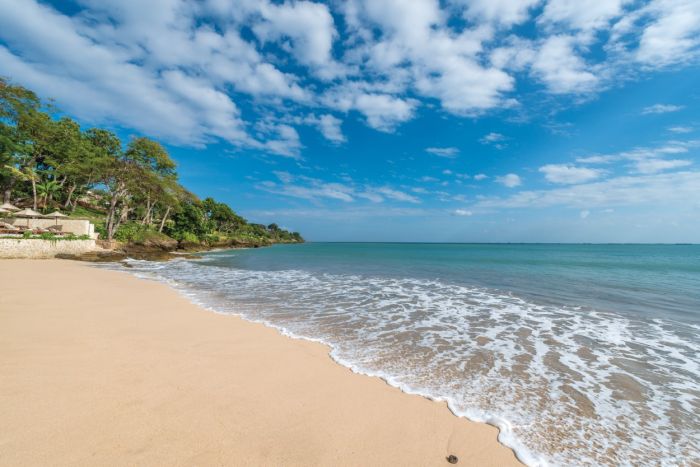 The Four Seasons Resort Bali At Jimbaran Bay has what most would look for in a tropical island resort. The resort is laid out like a traditional Balinese village with 147 Balinese style villas spread over the 35 acres full of colorful flowers, swaying palm trees and the resort's private three-mile stretch of flawless beach. The resort style is opulent yet welcoming with a friendly and switched on staff who go beyond to ensure a wonderful vacation for all their guest. It is an uber-romantic resort with private plunge pools and outdoor showers, couples spa treatments and romantic candlelit dinners make it ideal for couples celebrating a special occasion or the steady flow of honeymooners. It is also ideal for families with Four Seasons kids club as well as the pools and plenty of activities for the little ones as well.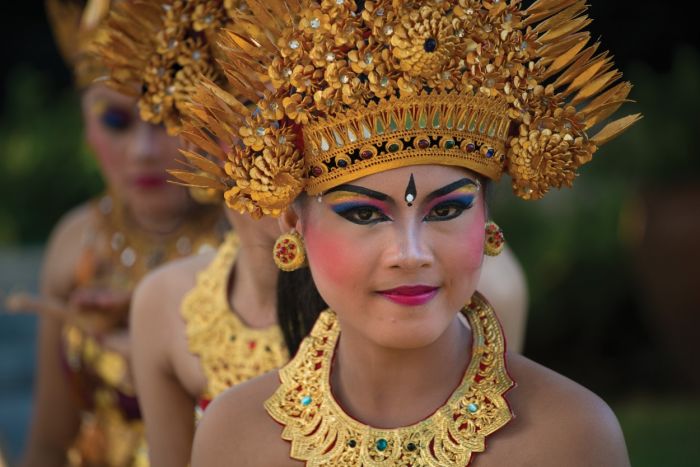 Bali is a spiritual place and throughout the island you'll encounter ornate stone temples ordained with grotesque stone statues known to ward off evil spirits. This aspect of Balinese heritage is part of the guests' welcome experience which goes beyond a cool drink and towel. Guests are greeted by the resort's Balinese Hindu priest who provides a spiritual ritual and blessing on the property's authentic Hindu temple. It's truly a moving experience where guests, upon arrival, begin to feel the spiritual gravitas for which Bali is well known.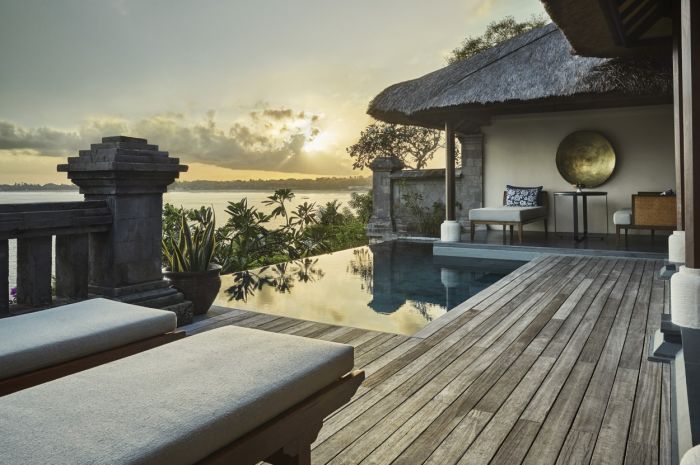 Through the resort's manicured tropical gardens and past the lava rock walls are the one and two bedroom stand-alone villas. They are situated to afford optimal privacy and serenity yet provide delicious views of the Indian Ocean. Past the external doors of the villa grounds is a stone walled courtyard with a tropical garden with a wood deck patio and daybeds creating an idyllic outdoor living space. There is also a thatch roof gazebo with a lounge area overlooking the infinity edge pool and beautiful seascapes.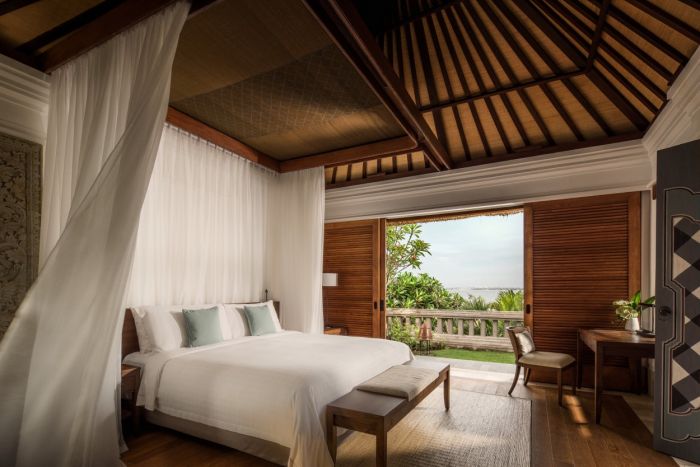 Inside features a balance of British colonial design and Balinese décor and details of teak furniture, batik prints and stone carvings and artwork as well as the latest technology demanded by today's traveler. The centerpiece is the uber-comfortable bed shrouded in white curtains. The opulence continues in the bathrooms with an outdoor rainforest showers as well as a large deep soaking bath, big enough for two, fully accessorized with bath salts and candles. There are even larger and elaborate villas with generous sized pools made for families and groups of friends traveling together. All of the villas are a jealous mistress who dares all who enter to want to leave.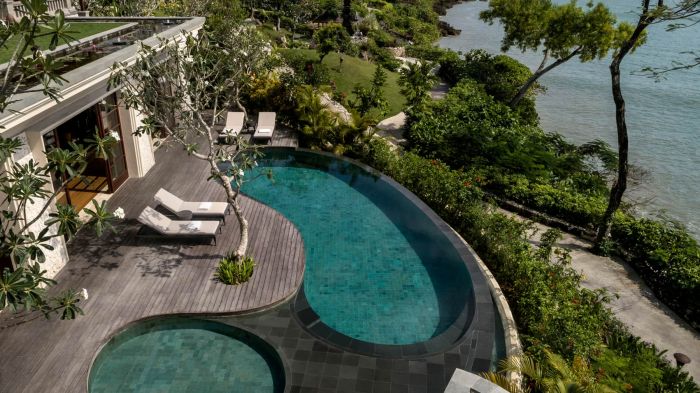 Indonesian food is as vibrant and flavorful as the awe-inspiring landscapes and energy of the islands. The Four Seasons Resort Bali At Jimbaran Bay embraces the culinary richness of the destination with several dining options throughout the resort.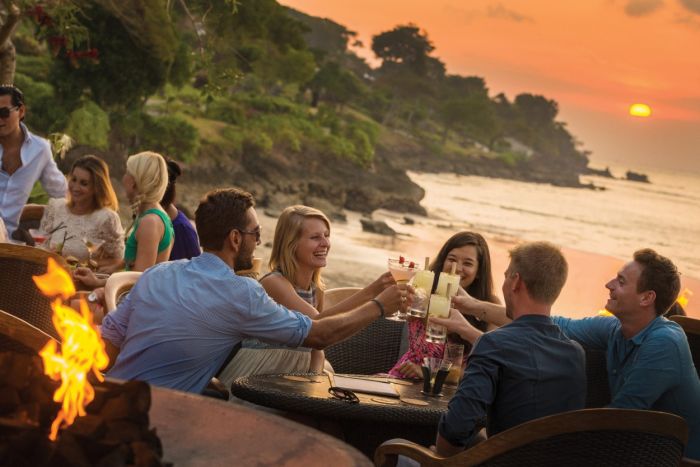 Their signature restaurant is Sundara which also doubles as a beach club during the day and a posh cocktail lounge in the evening. During and after sunset, this is a chic and glam setting offering tasty cocktails to share with your loved one as the sun goes down over the bay's horizon. Candles dot tables under the canopy of stars as live pop music plays by local artists. The is an ideal setting for a romantic evening ahead as couples dine alfresco on Sundara's contemporary Asian cuisine.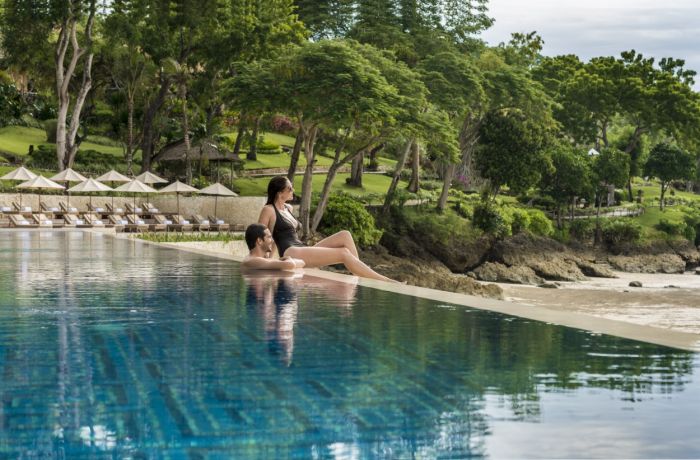 During the day, guests dine in between strolls on the beach, sunbathing, or cooling off in the infinity edge pool or the Jimbaran Bay sea which is steps from spacious indoor-outdoor lounge and restaurant. There are canopied day beds that line the wood deck where guests lounge about having Aperol spritz and noshing on tapas-style light lunches.
Taman Wantilan is the all-day dining restaurant and offers a smorgasbord of options from haute international and local dishes. It is part buffet and part live cooking stations where chefs put on a performance of culinary artistry as while preparing fresh dishes while you wait and watch. Local seafood, meats, and ingredients are presented in a wide array of options including Indian and Asian and intercontinental. The options don't end at the main courses as there is a dedicated room just for a sweet ending offering irresistible freshly prepared crepes made live as well as a dizzying offering of sweet treats.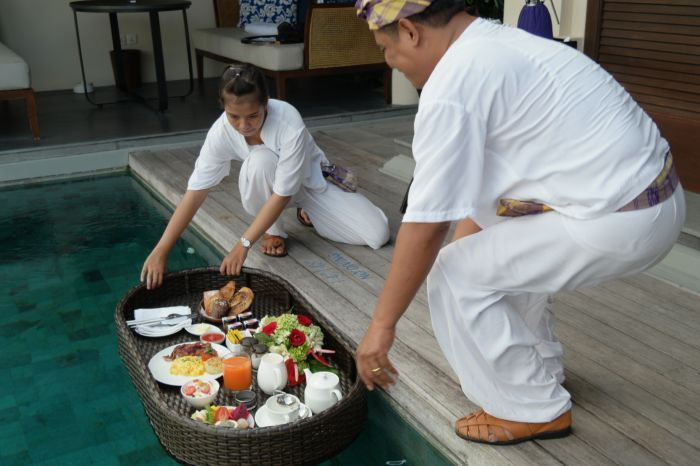 The Four Seasons caters to honeymooners and others who may find it difficult to get away from the villa or each other by providing some exceptional in villa dining experiences. None is more unforgettable than their Floating Breakfast. Yes, no typo here. It's a literally a full-on breakfast served in your pool with omelets, eggs benedict, waffles, juice and coffee. It's basically whatever you like, complete with discrete service of their exceptional staff there to make sure you have all you need and then disappear leaving you and your loved one to dine in the cooling waters of the pool overlooking the magical views of the bay.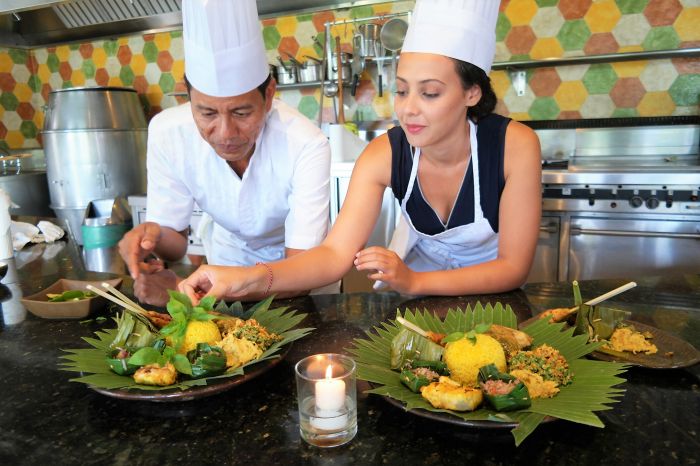 The Four Seasons Resort Bali At Jimbaran Bay has done well at incorporating the local culture into the guest experience with a culinary adventure and a day of foodie exploration. The experience begins with an early visit to the Jimbaran Bay Fish Market which is a few minutes from the resort. The tour is led by Head Chef Kristya Yudha, who has been with the resort for over 20 years. He points out every manner of exotic sea creature from that morning's haul as fishermen sell their catch of the day for to locals and restaurants. From there it's on to their state-of-the-art show kitchen for a course on making traditional Balinese dishes culminating with the joy of dining on local delicacies made by the guests' own hands.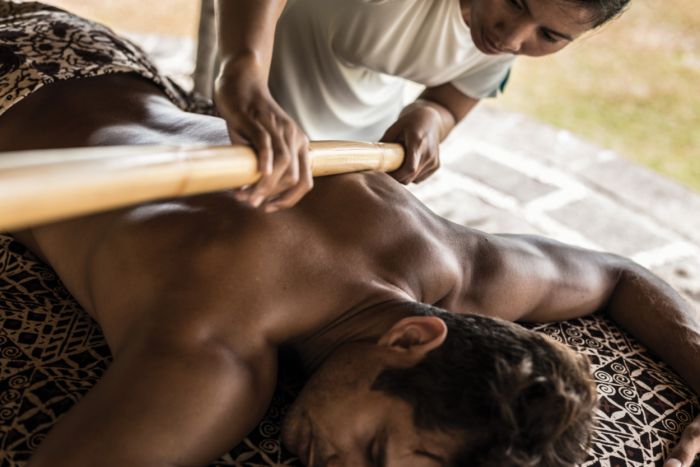 Bali is known around the world for their healing treatments and restorative rituals. The Four Seasons incorporates their own kind of spa services with at the resort's Healing Village which is one of the best on the island. This is a full-service spa will a complete range of facilities from Jacuzzi's, saunas and steam rooms as well as a first-rate fitness center.
There are eight treatment rooms where a host of treatments are provided from facials, to beauty, to massages or more ethereal chakra-opening rituals and physic healing. A treatment easy to recommend is the Balinese massage which includes a body scrub with ancient Himalayan salt crystals which is a full body massage that combines stretching, long strokes, palm and thumb pressure techniques and leaves the body refreshed, exfoliated, and restored.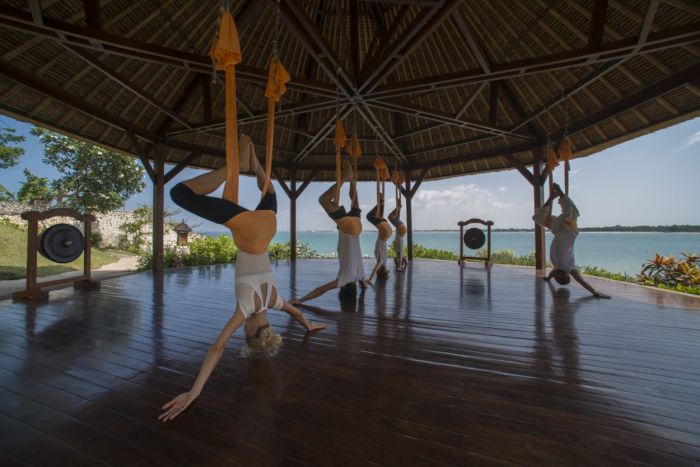 The wellness services go beyond the spa with yoga classes as well lead by a highly certified trainer which take place in a pavilion on a bluff overlooking the bay. One of the more fun courses is the anti-gravity yoga that incorporates cirque du sole type harnesses where the class dangles from the rafters moving and shifting into various stretching and strengthening positions. Probably something not to try at home but a wonderful experience for the novice or expert yoga student.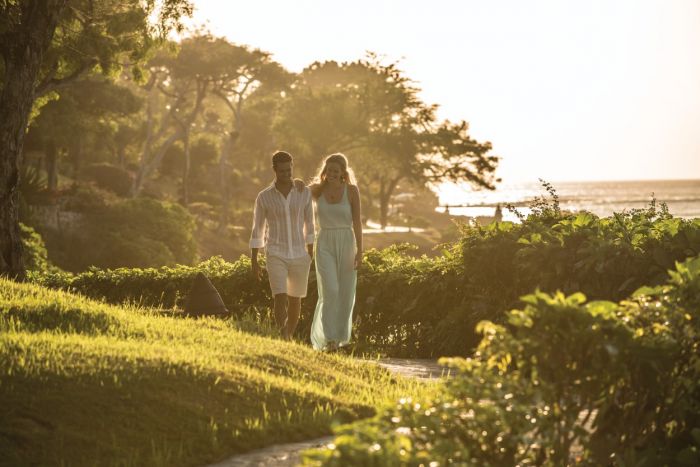 The Four Seasons Resort Bali At Jimbaran Bay is a resort that has all that one could desire in a tropical vacation. An idyllic setting, uber-romantic villas with private pools and luxurious amenities, exceptional dining experiences spa, not to mention the perfect island setting on a two-mile beach. For the ideal tropical getaway, Bali and the Four Seasons Resort Bali At Jimbaran Bay is an ideal option.