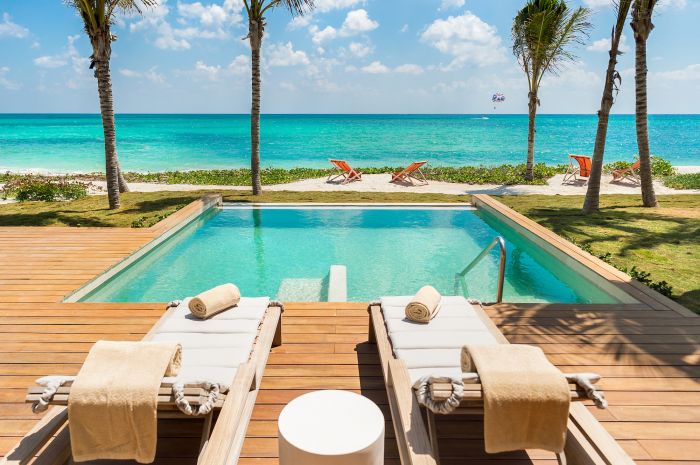 Andaz Mayakoba
Few names are as evocative of luxurious getaways to Mexico as Mayakoba, the exclusive eco-luxe development on the Riviera Maya. For years the 1,600-acre property was home to just three resorts, the Banyan Tree, Rosewood Mayakoba and Fairmont Mayakoba. More recently a fourth, and most likely final, property joined the coveted group in the form of the Andaz Mayakoba Resort Riviera Maya, catering to a slightly younger clientele with an emphasis on great food and design. With an impressive Presidential Suite and a new beachfront restaurant concept now open for business, the Andaz Mayakoba, part of Hyatt's Andaz resort collection, now assumes its place as one of the most stylish beach escapes in the Caribbean.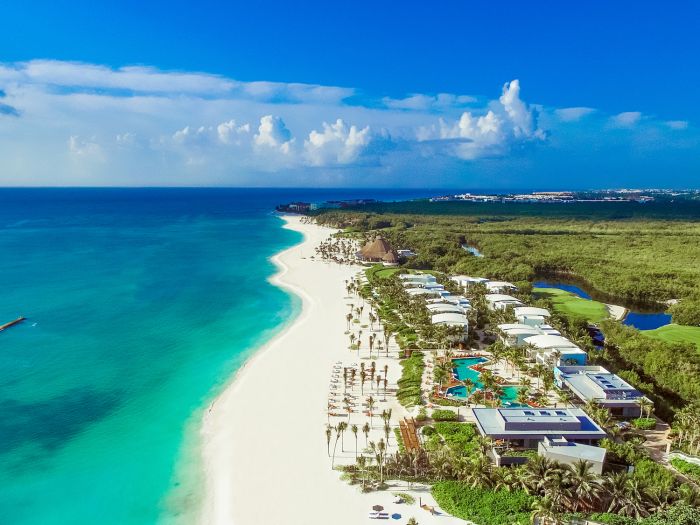 Andaz Mayakoba
Located just north of Playa del Carmen, the Andaz Mayakoba occupies 590 lushly tropical acres featuring Mayakoba's renowned beaches, mangroves and lagoons. The property's 214 spacious guest rooms, including 41 suites, are spread out over several buildings giving each a sense of privacy and seclusion, done in color palettes reflective of stone, sand and water. The beach is the centerpiece of the resort, with a gorgeous swimming pool, and a bar and restaurant located in adjacent buildings, designed in a fresh, contemporary style with a luxe Mexican beach villa flair that is in no way contrived. The newest offering is Sotavento, located directly on the beach. Inspired by a shipwreck that washed up on the Mayakoba shore, Sotavento, which means "where the wind takes you", is a casually elegant dining venue where you can enjoy your food with sand in your toes and the ocean spread out before you.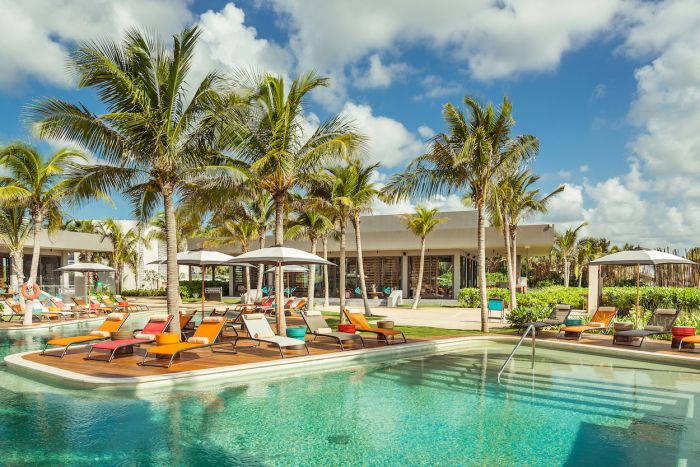 Andaz Mayakoba
The menu is Mediterranean in style, curated by Executive Chef Miguel Gomez, features fresh fish and oysters, with a variety of salads, a couple of grilled steaks for good measures, several sumptuous side dishes, and refreshing frozen deserts. Nestled in a grove of palm trees, the furniture is made of wood and natural fabrics, lending a light and airy feel, and it's also the ideal spot to enjoy live music or the resident DJ while sipping a cocktail or glass of wine. Sotavento joins the property's other culinary offerings including Tinta del Pulpo, a "market-style feast" of tacos and Yucatán specialties, and Casa Amate, one of the best dining experiences in all of Mexico. Designed to resemble a private and very elegant modern Mexican house, its different rooms are patterned after a library, living room, and dining room, each designed and furnished in a distinctive style.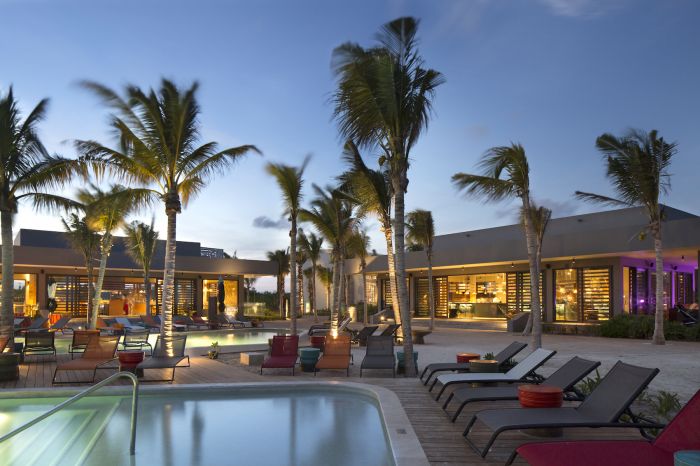 Andaz Mayakoba
And, perhaps best of all in our opinion, is the Latin American-style restaurant's intimate bar, one of our all-time favorite cocktail experiences in the country, where the mixology is expert yet not pretentious, where of course you can get the perfect margarita but that is merely the beginning. The drinks menu is travel-inspired, and the bar itself is like the private study of some gentleman explorer. Signature cocktails include the Barca Pirata with spiced rum, ancho chile liqueur, lime and passion fruit; and the Pueblo Antiguo with Patron reposado tequila, mezcal, Mexican chile agave syrup and Angostura bitters. As for dinner options, try the Firewood Grilled Paguas Salad with tuna, toasted pumpkin seed, grilled avocado, Nicaraguan red beans, pickled papaya and smoked lemon vinaigrette; and the Prime Beef Filet with blackened molcajete sauce, creamy white beans, Mexican sausage corn dough joroches, cheese and fresh sour cream.
Andaz Mayakoba
The only thing that could make you want to leave this glorious bar and restaurant might be the prospect of returning to the Andaz Mayakoba's Presidential Suite. Spanning an incredible 4,575 square feet across two floors, it's one of the most lavish accommodations in all of Mexico. The beachfront suite with a private terrace overlooking the ocean has a private pool and separate outdoor dining area, along with two generous bedrooms on separate floors, each with its own walk-in closet and private balconies and whirlpools. Natural light floods in from the floor-to-ceiling windows and can be further expanded via a connected room. Presidential Suite guests can opt for an in-suite private dining experience with one of the resort's renowned chefs as well as tequila and mezcal tastings, and cooking demonstrations, while a personal butler looks after their every whim while in residence.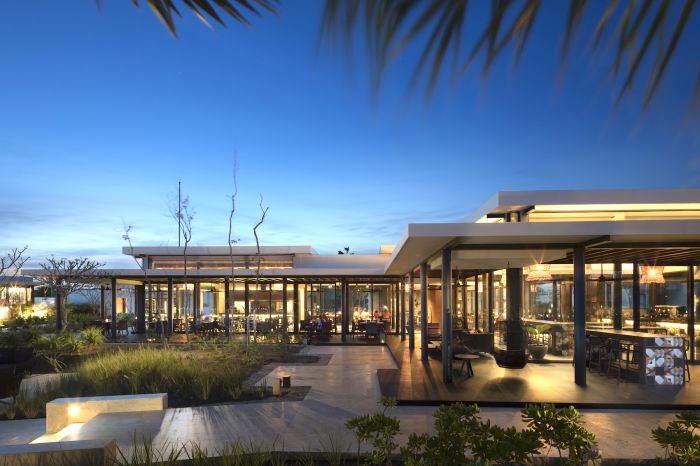 Andaz Mayakoba
Andaz Mayakoba's structures were designed by acclaimed architect and Costa Rican native Ronald Zürcher, who conceived of them as "conversational elements between trees, bedrocks and water without competing in form, inspired by the richness of nature and its wilderness, and organic forms and shapes," as well as Mayan culture. Designed to "seamlessly integrate the property's beautiful environment and local heritage," the resort is at once contemporary and timeless. The tone is set upon arrival at the lobby and lounge area, which features stone clad walls, wood floors and a cane ceiling. As a centerpiece is a circular water feature and oculus in homage to the Riviera Maya's famed cenotes, natural water-filled pits or sinkholes resulting from the collapse of limestone bedrock that were revered by the ancient Mayans and remains a strong attraction for visitors today.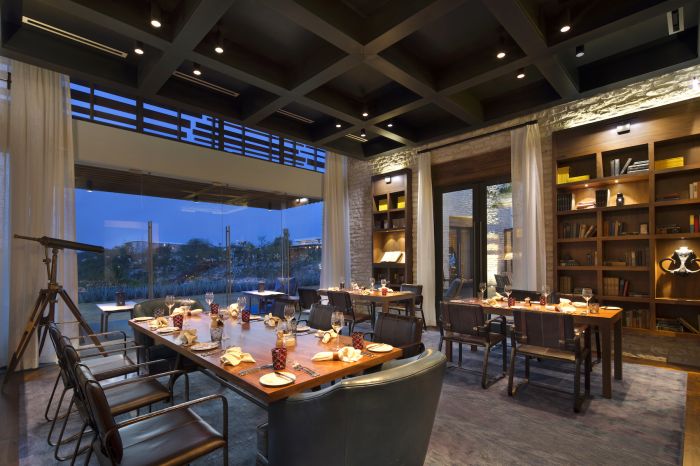 Andaz Mayakoba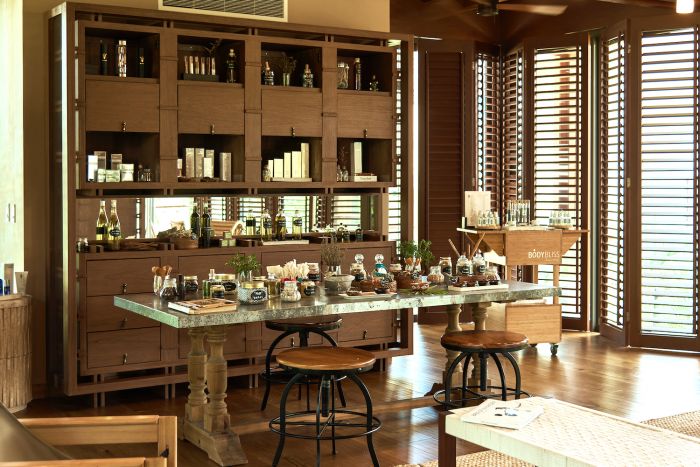 Andaz Mayakoba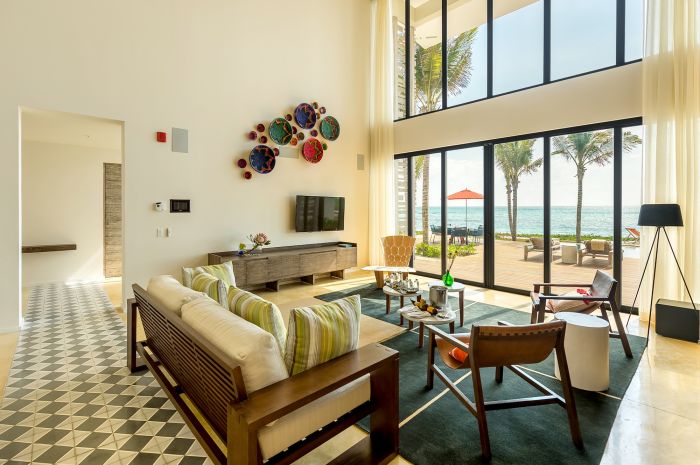 Andaz Mayakoba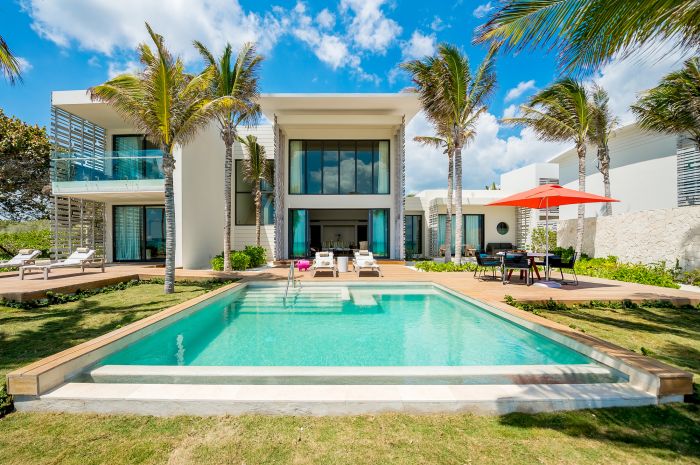 Andaz Mayakoba