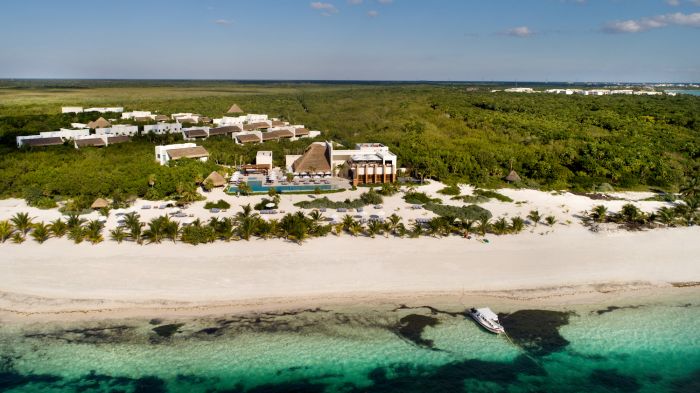 Chable Maroma
There's a common misconception that for a truly exceptional eco-luxe experience in Mexico these days you have to go to Tulum. With the recent opening of Chablé Maroma, one of the only Mexico members of Leading Hotels of the World (LHW), in Playa del Carmen however that no longer holds true. Chablé Maroma is a world-class boutique resort whose motto is "Redefining Wellness", and we have rarely experienced a more seamless merger of natural beauty and luxury. The best parts of Playa del Carmen offer the attractions of both lush tropical jungle and pristine white sand beach. Chablé Maroma's property boasts both, with the added benefit of being more secluded than most of the other resorts in the area, lending an air of privacy and exclusivity.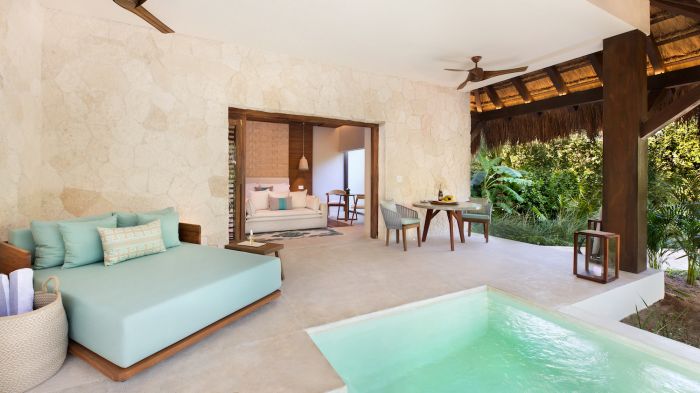 Chable Maroma
The five-star beach resort, which the New York Times called "the region's latest exciting spot," is home to just 70 picture-perfect thatch-roofed casitas spread over 11.8 acres, comprised of two outstanding three-bedroom Presidential Villas, eight Stand-Alone Villas and 60 Standard Villas. All accommodations, as well as public spaces, display design genius thanks to features such as retractable glass walls, indoor-outdoor rain showers, private pools and outdoor terraces, the work of architect Javier Fernandez. The interior is a harmonious mix of tropical woods, stone, marble, natural fabrics and original designs by Mexican artisans, all in a soothing neutral palette. And all of the villas are a short walk from the 650-foot private beach dotted by private cabanas and the beautiful pool that acts as a centerpiece for the property.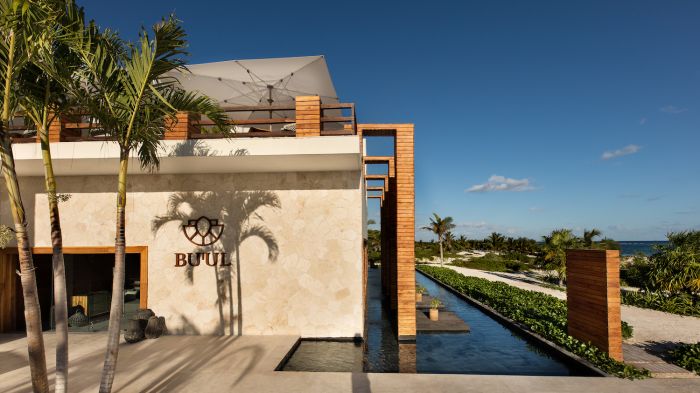 Chable Maroma
Chablé Maroma can also boast of an oceanside yoga pavilion, fitness center, 17,000 square-foot spa, and notably excellent dining options. A resort of this size would typically be lucky to have one good restaurant; Chablé Maroma has three. And as the resort is committed to supporting local fisherman, farmers, businesses and producers, all of the ingredients for its top-class cuisine is grown, caught or created nearby. Renowned Mexican chef Jorge Vallejo, who trained at Copenhagen's legendary Noma, is at the helm; this is his third endeavor following the opening of Quintonil in Mexico City, which ranked #11 in the 2018 World's Best 50 Restaurants list, and the award-winning Ixi'im Restaurant at the original Chablé Resort near Merida in the Yucatan.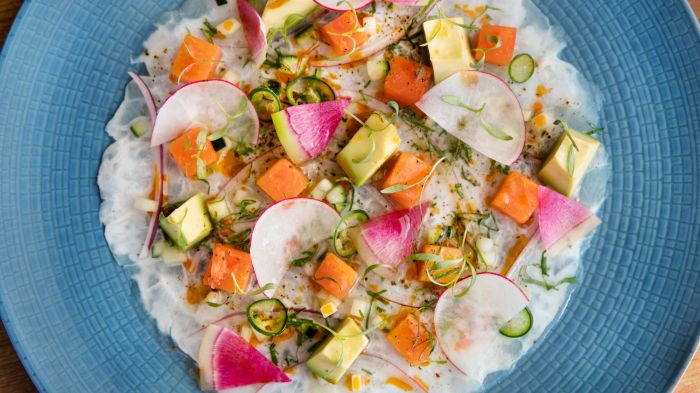 Chable Maroma
Chablé Maroma's signature restaurant is called Bu'ul after the Mayan word for beans, which along with corn have been the basis of much of Mexican cooking for hundreds of years, and which inspired the menu. Chef Vallejo professes "an abiding respect for local ingredients and techniques," and stresses both seasonal and organic offerings, complemented by more than 300 wines, including several Mexican labels, from the restaurant's wine cellar. One standout dish is roasted fresh line-caught boquinete, which is marinated with achiote sauce and sour oranges and then wrapped in banana leaves. The other full-service venue is Kaban, a casual nautical-flavored poolside eatery under a soaring thatch-roofed palapa where guests can have breakfast, lunch or dinner with louvered doors open to the outside. "Fresh ingredients take on a starring role in a kitchen where everything is made from scratch," as the resort notes.
Before or after dinner a visit to the Raw Bar by Bu'ul, located on a rooftop terrace above the main restaurant and offering unparalleled ocean views, is a must for cocktails and light bites including raw and grilled clams, oysters, prawns, shrimp, crab and more, accompanied by baked rice or fresh greens. Equally therapeutic in an entirely different way is the 17,000 square-foot spa, home to eight massage rooms, a hot tub and steam bath. The spa's treatment program aims to blend "Mayan traditions of restoration, integrating cultural wellness wisdom with modern technology," via an extensive selection of facials, messages and bodywork rituals, "focusing on the guest's journey towards purification, balance and transformation."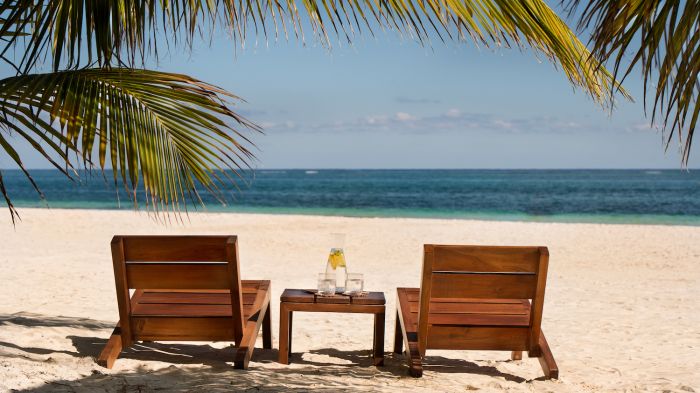 Chable Maroma
Chablé Maroma is one of just 12 resorts in Mexico affiliated with Leading Hotels of the World, a collection of "authentic and uncommon" luxury properties originally established in 1928 by a group of influential and forward-thinking European hoteliers and now comprised of more than 400 hotels in over 80 countries. With excellence as a common factor, each property strives to "embody the very essence of their destinations." Offering "varied styles of architecture and design, and immersive cultural experiences delivered by passionate people," the collection is "curated for the curious traveler in search of their next discovery."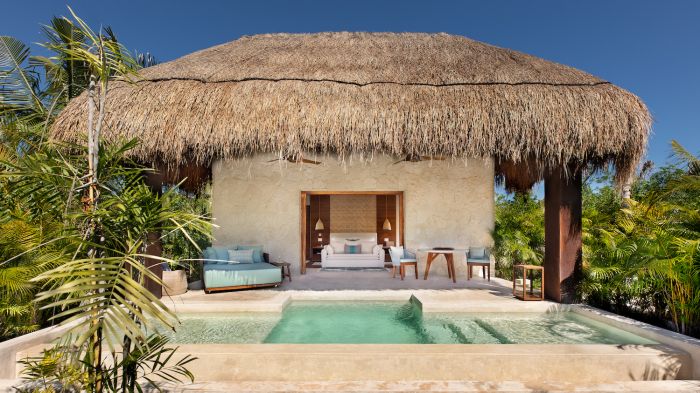 Chable Maroma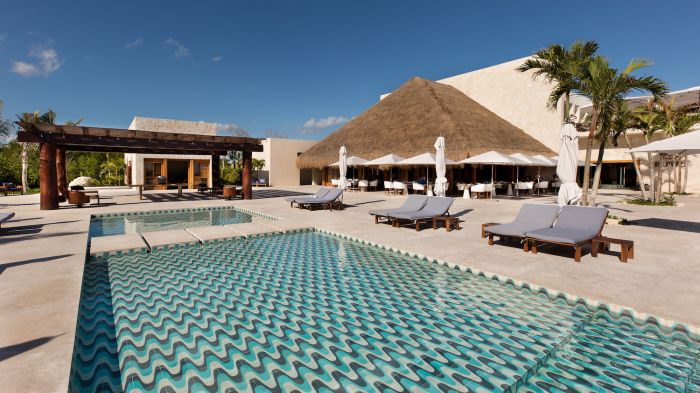 Chable Maroma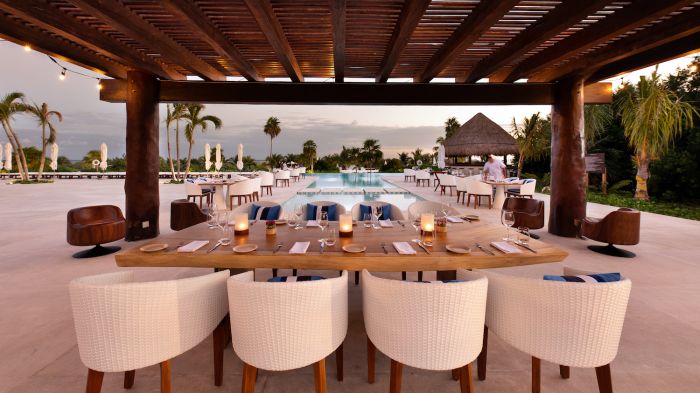 Chable Maroma