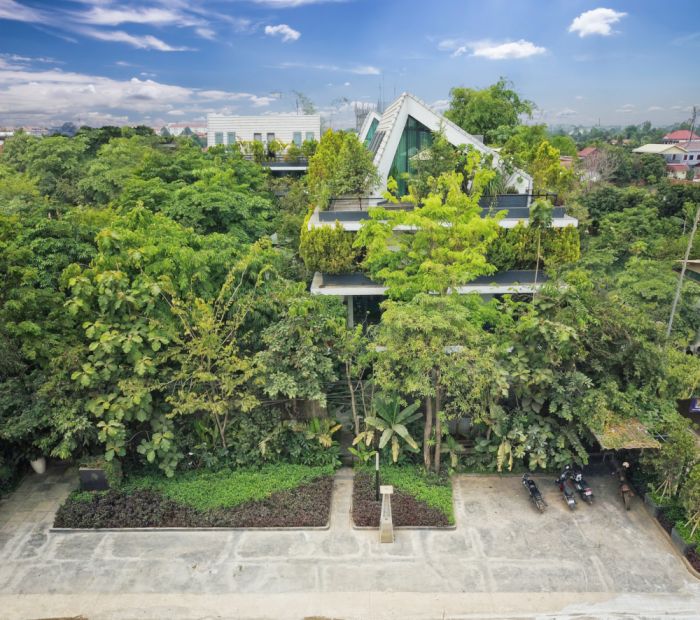 (credit: Antony Holvoet)
Located a short ride from the hustle and bustle of Siem Reap city center, Siem Reap International Airport and the splendid temples of Angkor Wat, Anjali by Syphon is a peaceful upscale retreat in Siem Reap. Surrounded by tropical hanging gardens and lavish gardens filled with flowers, the resort provides an intimate atmosphere in which to relax. A 10-minute tuk tuk ride into town (the resort offers free downtown tuk tuk service), it sits on an unsurfaced road giving the illusion that it is in the middle of nowhere.
Combining cutting-edge design with peaceful design shaped by its surroundings and local culture, its sustainable approach (they pride themselves on being a plastic-free resort) is seen throughout. The contemporary resort provides a quiet and private experience starting with guests entering along a pathway covered in greenery emulating a small jungle. The sense of Zen comes across with its rattan leaf sculptures and furniture throughout which is made in Cambodia.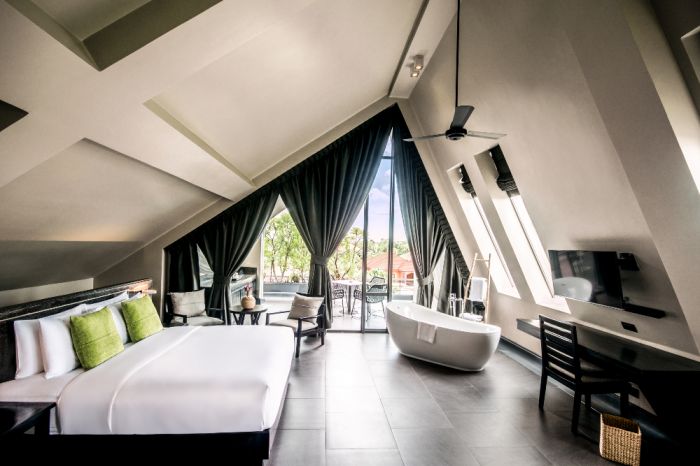 (credit: Raphael Winer)
Featuring 29 rooms, each luxuriously appointed guest room comes with direct access to the salt-water whirl and 17-meter swimming pool and includes a rain shower. Each room provides a quiet reprieve from the city, with floor-to-ceiling windows and modern amenities and either a balcony or terrace with pool access.
Unwind from jet lag from visiting from afar or a long day temple touring at Anjali Spa. With five treatment rooms and a hot tub and is open to hotel guests only, the spa offers authentic traditional Asian healing rituals providing the ultimate wellness experience. Each treatment is personalized by their knowledgeable staff, ensuring each guest to reduce stress and reset their inner balance.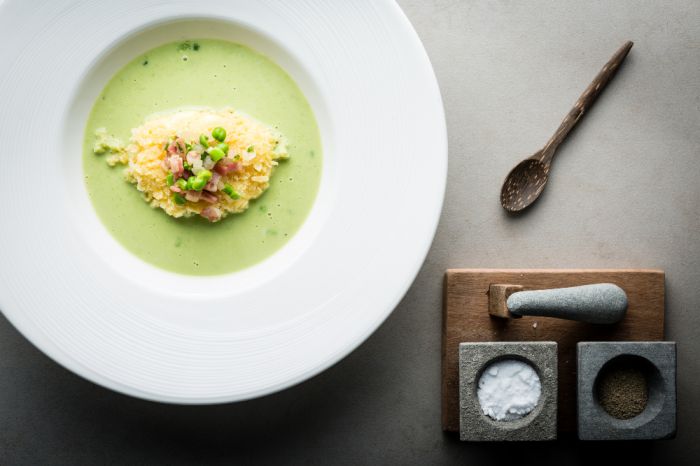 (credit: Regis Binard)
At HUNKAAR Table, chef Hak Serey invites guests on a culinary journey of Khmer and Western dishes. Serving breakfast and a sophisticated lunch and dinner service, produce is sourced locally each day for optimal freshness. Serey crafted his menu to have each guest discover new flavors and aromas through the carefully selected menu that is presented just as beautifully as it tastes. The HUNKAAR Lounge overlooks the swimming pool and provides a good mixture of good music and unique and innovative cocktails along the bright retro-style furniture.
(credit: Antony Holvoet)
Other amenities offered to guests include bicycles for rent, half-day cooking classes and all guests are given a phone with local SIM card. The hotel also boasts special offers like the Suite VIP Package, 4-Days/3-Nights Adventure, 4-Days/3-Nights Ultimate and more, taking all the planning out of the guest's hands to allow them to explore and experience breathtaking structures, history and beauty of Cambodia.