All Photos Credit Six Senses Resorts and Spas
The Six Senses Uluwatu Review; Rejuvenating in Bali's Latest Wellness Sensation
Bali is a destination of many faces. For some, it's a party place for revelers who flock to Seminyak in the droves for its nonstop nightlife. For others it is about catching waves at of Bali's surf towns such as Canguu and Nusa Dua. Many will opt for Ubud, known for its spiritual energy, tropical rainforests and miles and miles of emerald rice fields. Today's discerning traveler will seek to get off of the beaten path and away from the maddening crowds for a holiday within a bit more laid back and a serene environment. Those travelers will head to the island's most southern coast where soaring limestone cliffs offer ocean views that are only interrupted by the distant horizon. This is a place of peace and solitude and is also where you'll find the recently opened Six Senses Uluwatu.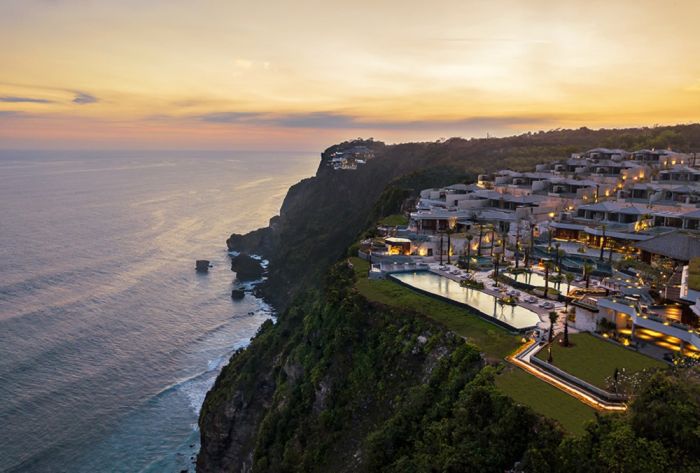 Located in the southernmost part of the island on a jagged cliff overlooking the Indian Ocean is the Six Senses Uluwatu. Upon arrival, guests are instantly impressed with the wide-open reception area and the mesmerizing views overlooking the resort and the ocean. The minimalist-chic design of the resort reveals itself with a simple reflecting pool adorned by a series of monkey statues that spans the width of the room. Ubiquitous water elements, exquisite works by local artists, and a pared-back design in clean and uncluttered spaces are what you can expect throughout the resort.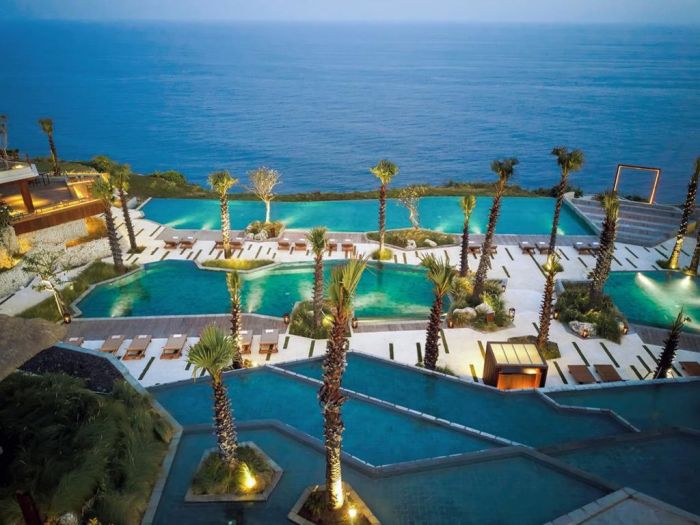 The resort sits on a hillside slope and terminates at the rugged oceanfront cliff. The expansive resort's villas span across terraces with the common areas of the restaurants, spa and other facilities below. The buildings are constructed with limestone exteriors, resembling a Mediterranean village, yet are completely Balinese with ornate entry gates, temple altars and lush indigenous vegetation. At the cliff's edge is a dramatic terrace of swimming pools with lounge chairs, daybeds and gazebos. The last of the terrace pools is also largest with an infinity edge that blends seamlessly with the Indian Ocean beyond. It is difficult to find a more gorgeous place in Bali to take in the sunset than from the pool terraces of the resort.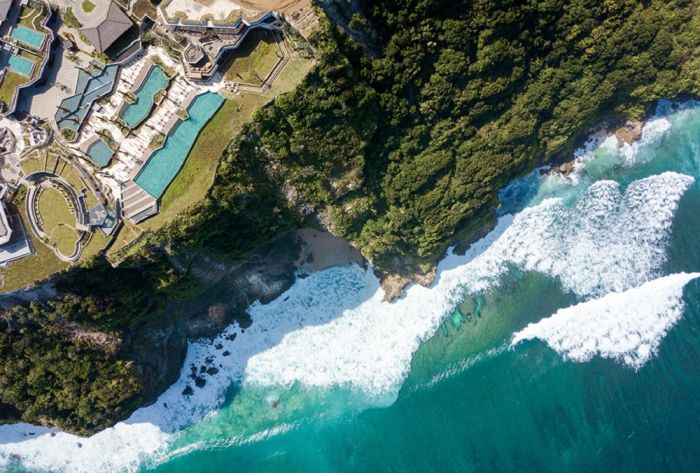 The Six Senses Uluwatu is a discreet and exclusive resort created for the discerning few and not made for the masses. The resort offers an unpretentious style of luxury where the simple things are done well. The Six Senses Uluwatu has 139 Guestrooms and 78 Villas in several categories from their Sky Suites, which feature outdoor baths and spacious decks, to their over the top Presidential Villa which is straight out of an episode of Robin Leach's Lifestyles of the Rich and Famous.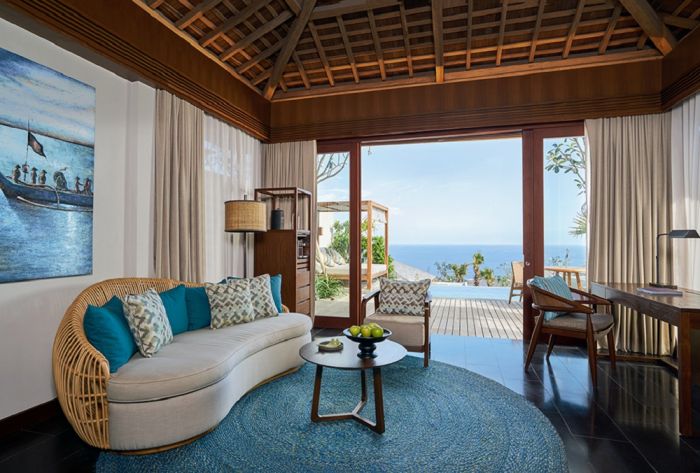 The Cliff Pool Villas are a more down-to-earth fantasy that most would dream about with a stay in Bali. Villas are spread out across terrace levels to ensure uninterrupted views of the ocean from an expansive yet secluded outdoor living space made private with lush vegetation and landscaping between villas. These villas are the ideal place for honeymooners or couples looking to rekindle romance. The only downside is the conflict of deciding to indulge in all there is to do on the property and Uluwatu area or to just stay put and not leave these beautiful villas.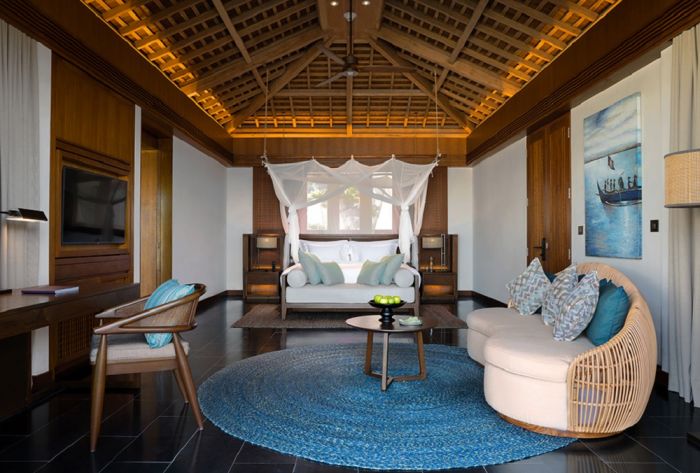 The décor and design is chic and easy with a color palate inspired by the hues of the ocean and island nature with blue accent pillows, white gauze bed canopies, and natural wood surfaces. Rooms feature handcrafted rattan furniture, ulta-modern electronics and every conceivable creature-comfort. The Six Senses Uluwatu goes beyond the norm with complimentary extra touches such as a cookie jar of yum-tastic brownies and daily replenished fresh healthy juices.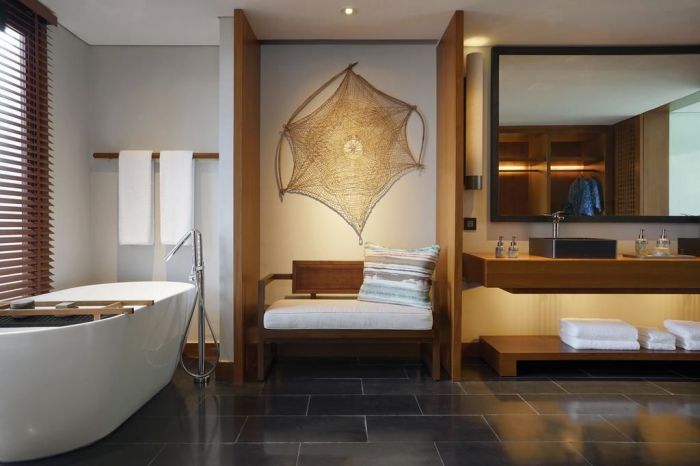 The fact that guests will sleep a bit more peacefully and awake even more refreshed is no accident. The Six Senses has put additional emphasis on the quality of sleep for its guest consulting with sleep experts to create the optimal sleep experience using bespoke mattresses, pillows and duvets as well as uber soft organic cotton sheets.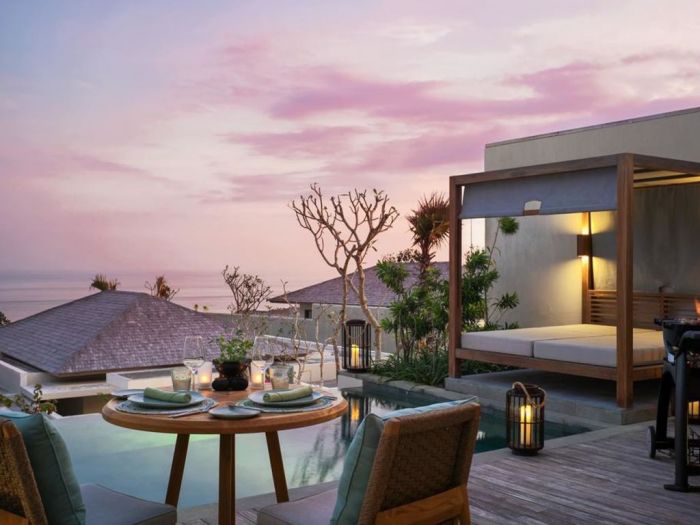 The bathrooms are spectacular as well with a beautiful Balinese décor, rainfall shower, electronic hygienic toilet and locally made bathroom amenities. What makes the bathroom a standout is the enormous egg-shaped bath in an indoor outdoor space ideal for an alfresco bath experience. If that wasn't enough, there's also an outdoor shower with water that flows from a bamboo rain spout. The villas are created for outdoor living with a completely private space with a wooden deck, dining area and a gazebo with day bed for two. The centerpiece is the picture perfect infinity edge pool overlooking the flawless sunsets of the Indian Ocean.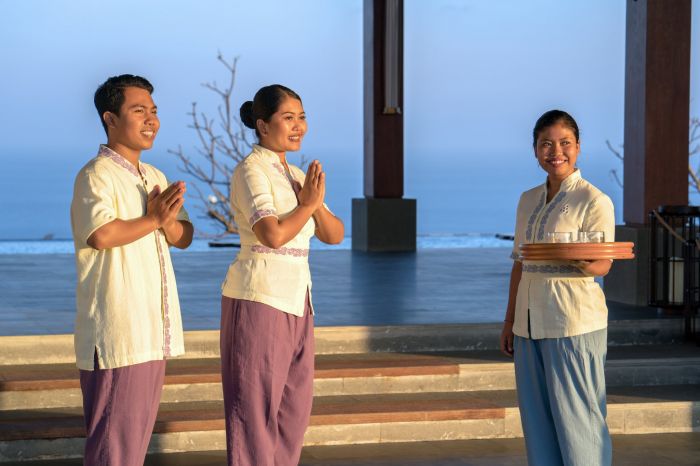 What brings the experience all together, beyond the wonderful setting and accommodations, is the service. Each villa comes with its own GEM or Guest Experience Manager which is kind of a cross between a butler, concierge, and super customer care agent. The GEM feels more like your friendly host and are just a quick call away, day or night, to sort out any of your needs from room service to changing a spa appointment or for helping you create a special surprise evening for your loved one.
The dining experiences at the Six Senses are exceptional as well. Crudo is their signature restaurant serving Japanese Nikkei which is an Asian-Peruvian fusion of taste and technique in a menu that ranges from cerviche to sushi and sashimi. The mood is romantic and chic where guests can opt to dine at the teppanyaki grill, indoors, or alfresco on the terrace. Their other restaurant is Rocka which offers a changing menu of Asian and international dishes sourced from local sustainable ingredients.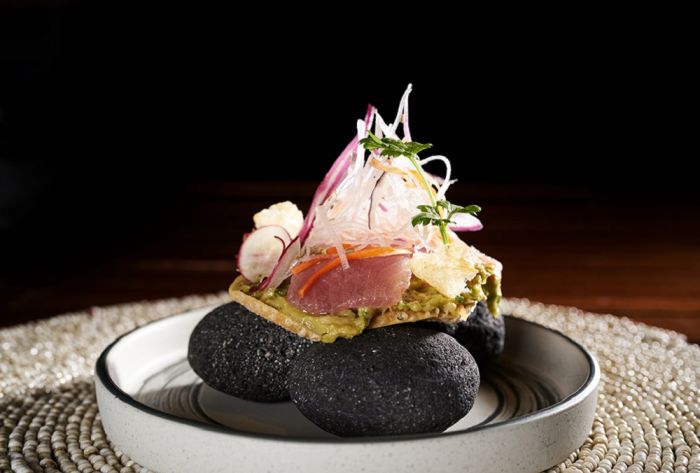 The Six Senses is a vacation experience that appeals to all types from those seeking relaxation, a romantic getaway or an exotic island vacation. Be that as it may, the Six Senses is first and foremost known as a wellness retreat where worn out bodies go for rejuvenation and restoration.
The Six Senses Uluwatu offers a world-class spa experience with 10 treatment rooms, an outdoor massage facility as well as signature spa rituals, restorative massages and reflexology and wellness screening. For a deeper holistic healing experience, the resort offers Integrated Wellness programs developed by their expert spa team to help guest change their habits and put them on a long-term path to a healthier lifestyle.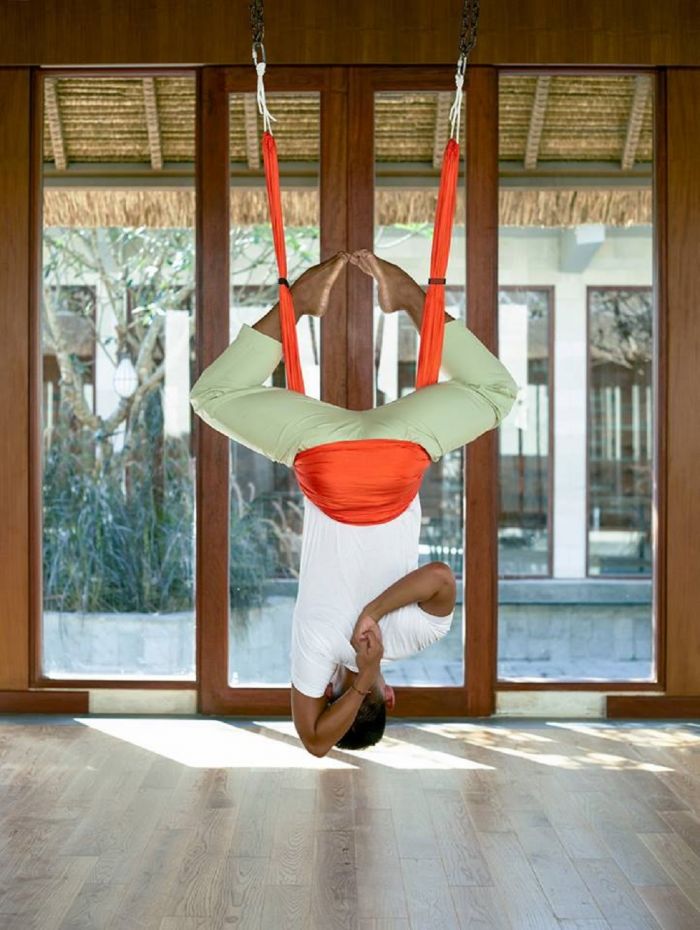 Wellness services include Balinese massage, yoga, fitness center with physical trainers, Pilates as well as spiritual and alternative medicine therapy. There's even an aerial yoga where guests dangle from rafters and use their weight and gravity for an even more enriching yoga workout. Each day there are complimentary wellness experiences offered to guests as well including yoga to Pilates and meditation.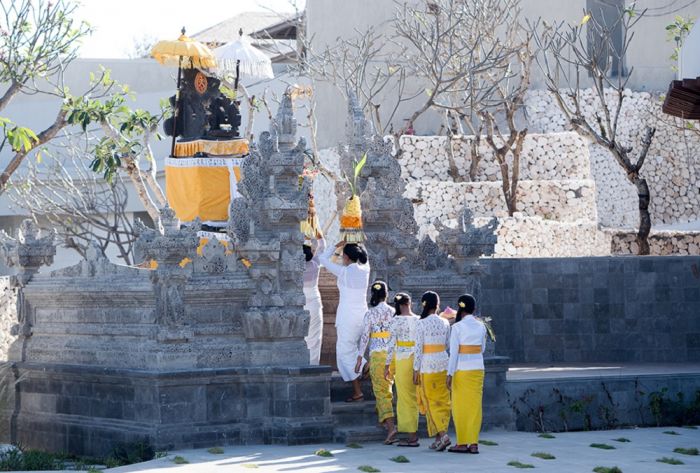 There's so much do on or away from the property that one would never need to worry about getting bored. Nearby is the iconic Uluwatu Temple where a must see experience is the Kecak Fire Dance. Other experiences offered are culinary classes, an outdoor cinema as well as nearby surfing, hiking or island touring and sightseeing.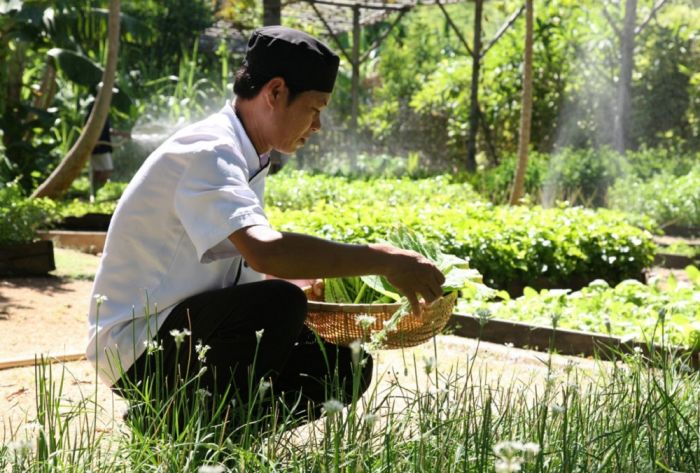 One of today's buzzwords that is popular with millennials is sustainability. Many hotels will see this as more of a marketing term and do little more than ask guests to reuse towels. That is not the case for the Six Senses brand who are eco warriors and are in fact Bali's only green resort certified by the World Green Council. At the Six Sense Uluwatu sustainably was literally built into the resort with gray water recycling ponds, use of indigenous wood and materials in the construction as well as heat-absorbing lava rocks in the rooftops to reduce the need for air conditioning. Throughout the property you'll see gardens and even a mushroom hut for growing the herbs and vegetables used in their restaurants. Ingredients are sourced locally where possible for the restaurants, the property does not have single use plastic, and their bathroom amenities which are locally produced. And finally, the hotel seeks to hire staff from the local area within a few miles of the hotel. The Six Sense truly walks the walk on environmental responsibility and is setting a new bar as it relates to sustainability for Bali and the hospitality industry.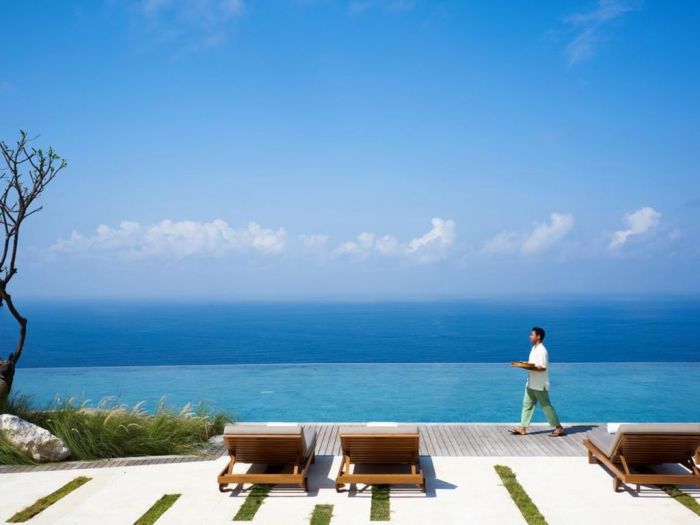 Bali is a destination like no other. The Six Senses Uluwatu is an experience that captures the best to Bali and marries it with a wellness retreat and holiday that only Six Senses can provide. For those looking to for a romantic getaway, to experience with exotic beauty of Bali, or to give themselves the gift of healthy living, the Six Senses Bali is a vacation option they will surely cherish.